Joe
From the Super Mario Wiki, the Mario encyclopedia
Jump to navigation
Jump to search
This article is about the recurring character from the WarioWare series. For other uses, see Joe (disambiguation).
"I'm the manager of this joint! My name is Joe!"
Joe is a dog businessman from the WarioWare series and usually Mona's employer. Throughout the series, he owns a variety of businesses and changes his title depending on his current occupation.
History
[
edit
]
WarioWare, Inc.: Mega Microgame$!

[

edit

]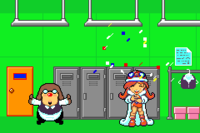 In WarioWare, Inc.: Mega Microgame$!, Joe owns the Gelateria as Gelato Joe and works alongside Mona. In Mona's story, he is the first to arrive at the Gelateria. He brings out the gelato sculpture and opens the restaurant. When Mona barely reaches the Gelateria in time, Joe congratulates her with some confetti.
WarioWare: Twisted!

[

edit

]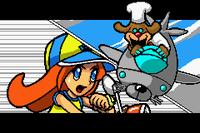 In WarioWare: Twisted!, he goes by Pizza Joe and now runs Mona Pizza. When Mona is attacked by the Dinosaurs while delivering pizza, Joe flies in with a plane and places the Yum Yums onto her head. In the Telephone souvenir, he reveals that he is the only working dog in his family except for a cousin who works with the blind. In addition, he is the manager at Mona Pizza because he is trusted not to eat the pizzas.
WarioWare: Touched!

[

edit

]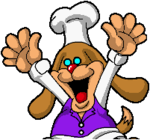 In WarioWare: Touched!, Pizza Joe makes a minor appearance in the Mona Pizza souvenir.
WarioWare: Smooth Moves

[

edit

]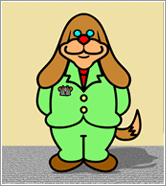 In WarioWare: Smooth Moves, he goes by Manager Joe and is in Mona's story, as usual, this time along with Ken the Reporter as an announcer of the Diamond City Roughs match against the Dinosaurs. Joe later appears working at a dumpling stand with Mona and her pets in Young Cricket & Master Mantis's story. The Japanese website for Smooth Moves shows that he is also the curator of the Temple of Form and the original owner of the entire area where it is located.[1]
WarioWare: D.I.Y.

[

edit

]
According to the D.I.Y. Forums in WarioWare: D.I.Y., Manager Joe runs Diamond Software, the company that provides the game's pre-made microgames and was created when Wario's staff left WarioWare, Inc. Also in WarioWare: D.I.Y., Manager Joe can be seen at the beginning of Mona's stage as the cameraman.
Game & Wario

[

edit

]
Editor Joe is featured extensively in Shutter, Mona's minigame in Game & Wario. He is the editor of the Diamond City Times newspaper and asks Mona to catch suspects on camera, giving the player instructions and evaluating the photographs sent to him.
WarioWare Gold

[

edit

]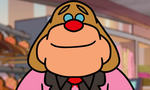 Joe appears during Mona's story in WarioWare Gold as the owner of Joe's Clothes, where he helps Mona choose an outfit for a party she is hosting. After finding the outfit she wants, Mona invites Joe to the party, only to then leave on her scooter in a rush before Joe can get her to help him decide what he should wear. He is later seen in the first stage of the Ultra League as the owner of a nightclub, Club Joe. As Joe is cleaning, he is about to close the club early due to it being empty, but he is interrupted by the arrival of Jimmy T, Mona, Dr. Crygor, Penny, Kat, Ana, Mike, Fronk, Young Cricket, and Master Mantis, all of whom help attract people to the club, to Joe's bewilderment.
WarioWare: Get It Together!

[

edit

]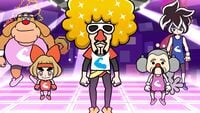 Joe appears during Jimmy T's story in WarioWare: Get It Together!. He participates in Jimmy T's workout program alongside Lulu, Young Cricket, and Master Mantis at Feelin' Groovy Fitness. Though his solo performance in front of the Club Goers is met with tepid reactions, Jimmy T jumps in and leads the group in a more enthusiastic workout, much to the Club Goers' enjoyment. In his gallery, it is hinted that he owns the Café in the Rhythm Heaven games.
WarioWare: Move It!

[

edit

]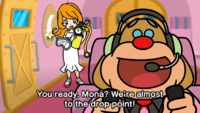 Joe appears during Mona's story, "Mermaid Meet and Greet", in WarioWare: Move It!. When Mona realizes she could meet mermaids in the ocean of Caresaway Island, she calls Joe for a favor. Joe arrives at the seaside flying a plane, with Mona catching onto its rope ladder. Aboard the plane, Mona prepares scuba gear while Joe flies above the drop point, where Mona proceeds to jump into the ocean. Although Joe does not appear again in the story, his plane can be seen on the level select map flying above the island.
Profiles
[
edit
]
Game & Wario character card

[

edit

]
-The boss at Mona's part-time jobs
-Always changing occupations
-Huge fan of singer Sal Out
WarioWare Gold character card

[

edit

]
Rank C – For an easygoing dog, Joe's pretty ambitious. He runs a boutique, a disco, and even more shops.
Rank B – Each time shoppers get their fashions at Joe's Clothes, they earn points for his homemade hamburgers.
Rank A – Those who dance until the morning hours at Club Joe will get a free breakfast, courtesy of Joe!
Gallery
[
edit
]
Names in other languages
[
edit
]
Language
Name
Meaning
Japanese
ジェラートや てんちょう ジョー (WarioWare, Inc.: Mega Microgame$!)
Jerātoya Tenchō Jō
モナピザてんちょう ジョー (WarioWare: Twisted! and WarioWare: Touched!)
Mona Piza Tenchō Jō
ジョー店長[2] (WarioWare: Smooth Moves)
Jō-tenchō
ジョー (Game & Wario onwards)
Jō
Gelateria Manager Joe

Mona Pizza Manager Joe

Manager Joe

Joe
Chinese (Simplified)
乔
Qiáo
乔店长
Qiáo Diànzhǎng
Joe

Joe Shop Manager
Chinese (Traditional)
喬
Qiáo
喬店長
Qiáo Diànzhǎng
Joe

Joe Shop Manager
Dutch
Joe
-
French
Joe la glace (WarioWare, Inc.: Mega Microgame$!)
Joe le gérant
Ice Cream Joe
Joe the manager
German
Joe
-
Italian
Joe
Joe Gelato (WarioWare, Inc.: Mega Microgame$!)
Manager Joe (WarioWare: Smooth Moves)
-
Ice Cream Joe
-
Korean
모나 피자 점장 조 (WarioWare: Touched!)
Mona Pija Jeomjang Jo
점장 조 (WarioWare: Smooth Moves)
Jeomjang Jo
Mona Pizza Manager Joe

Store Manager Joe
Spanish
Joe
-
References
[
edit
]