Megagame Muscles
From the Super Mario Wiki, the Mario encyclopedia
Jump to navigation
Jump to search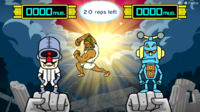 Megagame Muscles is one of the extra stages in the Story mode of WarioWare: Move It!, hosted by Mr. Sparkles. Acting as the successor to the Kelorometer in WarioWare: Smooth Moves, the stage features 20 microgames which primarily focus on vigorous movements.
The intermission stage consists of Dr. Crygor standing on a stone fist as Mr. Sparkles floats in the air, wearing a toga and making poses. Mr. Sparkles moves up close holding a stone tablet to show the form. Similar to the Kelorometer, a four-digit muscle density indicator is present above Dr. Crygor with a gold frame, and a swirling vortex shows how many microgames (referred to as reps) are left.
If the player wins regardless of how much muscle they gained, Dr. Crygor jumps around, swinging large golden dumbells and exerting heavy effort. If the player loses but still gains muscle (or in the case of megagames, performs poorly), Dr. Crygor moves side-to-side holding small gray dumbells and exerting less effort; if the player loses and does not gain any muscle, Dr. Crygor lays on the fist, resting. After all the microgames are completed, Mr. Sparkles picks up Dr. Crygor and shakes him, with his body transforming based on how much muscle has been gained. Upon scoring a muscle density of 4400 or higher, the next extra stage is unlocked.
In multiplayer, Mike is also present on a stone fist as the second player, behaving in the same manner as Dr. Crygor. The stage also becomes competitive, with the player who gains the highest muscle density winning.
Microgames
[
edit
]
The first and second microgames are selected from the following:
The third and fourth microgames are selected from the following:
The fifth microgame is a long microgame, and is selected from the following:
The sixth and seventh microgames are selected from the following:
The eighth and ninth microgames are selected from the following:
The tenth microgame is a megagame, taking 16 seconds, and can be one of the following:
The eleventh and twelfth microgames are selected from the following:
The thirteenth and fourteenth microgames are selected from the following:
The fifteenth microgame is a long microgame, and is selected from the following:
The sixteenth and seventeenth microgames are selected from the following:
The eighteenth and nineteenth microgames are selected from the following:
The last microgame is a megagame, taking 16 seconds, and can be one of the following:
Gallery
[
edit
]
Names in other languages
[
edit
]
Language
Name
Meaning
Japanese
マッスル★エクササイズ
Massuru ★ ekusasaizu
Muscle ★ Exercise
Chinese (Simplified)
肌肉★锻炼
Jīròu ★ Duànliàn
Muscle ★ Workout
Chinese (Traditional)
肌肉★鍛鍊
Jīròu ★ Duànliàn
Muscle ★ Workout
Dutch
-
-
French
Méga-jeu du muscle
Mega-game of muscle
German
★ Muskel-training ★
★ Muscle training ★
Italian
Giochi Muscolimpici
Muscolympic Games
Korean
머슬★엑서사이즈
Meoseul ★ Egseosaijeu
Muscle ★ Exercise
Spanish
Juegos musculímpicos
Muscolympic Games