Cavity
From the Super Mario Wiki, the Mario encyclopedia
Jump to navigation
Jump to search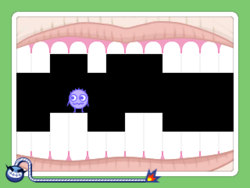 A cavity is an abscess or infection created in a tooth due to a variety of oral issues or concerns, such as bacteria, excess sugar, and poor general hygiene. Cavities appear very occasionally, often in the WarioWare series, causing as much difficulty and discomfort for certain characters as they would in real life.
In WarioWare: Touched!, Wario receives a full mouth of cavities having consumed a number of sugary sweets. He becomes in deep pain and drives himself to Dr. Payne's Dental Clinic, where Dr. Payne removes all of Wario's cavities, prompting the very first practice microgame for the player. With Wario's teeth back to normal and rather shiny, the dentist reminds him not to consume any more sweets. However, on the way back, Wario finds The Sweet Spot. Despite remembering what the dentist told him, Wario eats the pies he gets from Bridget the Baker. His teeth become yellowed again, and he returns to the clinic immediately, as Dr. Payne claims he knew he would be back soon. A cavity is listed in the credits for this game.
Cavity Calamity, a microgame featured in both WarioWare, Inc.: Mega Microgame$! and WarioWare Gold, requires the player to guide a cavity horizontally between two slowly connecting rows of teeth. The player must get the cavity between a gap before the teeth completely close to keep the cavity safe. Another microgame, Tooth Trouble, featured in WarioWare: Twisted! and WarioWare Gold, requires the player to tilt the system to extract one or two cracked teeth as the result of a cavity or cavities. A third microgame, Budget Dentistry from WarioWare: Smooth Moves, has the player add fillings to fix cavities so flowers, leaves, or roses can come out of the mouth. A fourth microgame, Cavity Grinder from WarioWare: Move It!, has the player drill cavities until they disappear.
Names in other languages
[
edit
]
Language
Name
Meaning
Japanese
むしばきん
Mushibakin
Caries bacteria
Italian
Carie
Cavity
Korean
충치균
Chungchigyun