Pro Bowl
From the Super Mario Wiki, the Mario encyclopedia
Jump to navigation
Jump to search
Pro Bowl
Appears in
WarioWare Gold
Type
Minigame Souvenir
Info
"This bowling game is the real deal with all 10 frames! Join your friend for a rolling showdown, or play solo and beat your own high score!"
Controls
- Roll ball
"This bowling game is the real deal with all 10 frames! Join your friend for a rolling showdown, or play solo and beat your own high score!"

—

In-game description

, WarioWare Gold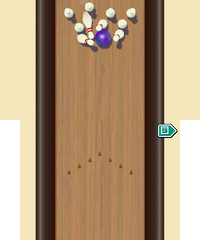 Pro Bowl is a souvenir in WarioWare Gold. It is a minigame which can be unlocked in the game's Toy Room. Pro Bowl is quite similar to the microgame Pro Bowling, in which the player must use a stylus to roll a bowling ball to knock down a set of pins. However, unlike in the microgame, the pins are always set up in standard bowling position rather than in different varities, and the player only has 2 balls to roll instead of 4 to knock down pins.
The standard bowling rules apply to this minigame. There are a total of 10 frames. If the player knocks down all the pins in one frame after using both balls, they will receive a spare. If they are able to knock down all the pins in one frame by using just one ball, it will result in a strike.
Additionally, there is a multiplayer option, in which the player can play with a friend and will take turns bowling. The person with the highest score after 10 rounds is the winner.
Names in other languages
[
edit
]
Language
Name
Meaning
Japanese
ボウリング
Bōringu
Bowling
Italian
Pro Bowling
-
Spanish (NOA)
Bolos
Bowling