Jet Tank One
From the Super Mario Wiki, the Mario encyclopedia
Jump to navigation
Jump to search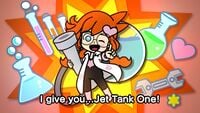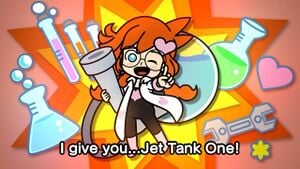 The Jet Tank One is an water blaster invented by Penny, and is her main gameplay mechanic in WarioWare: Get It Together!
The Jet Tank One is first unveiled when Penny finishes constructing it in her lab. While giving it a test run, she receives a call from Dr. Crygor. She quickly flies to WarioWare, Inc. using the water blaster and enters the game Wario's crew is inside of. When she arrives, she combines the Golden Beehive, Golden Toilet Paper Roll, and the Golden Holey Mug that the crew had collected into a Golden Watering Can and fills it with water from the Jet Tank One, at which point it floats towards a nearby toilet and waters it, causing a massive beanstalk to grow from it.
The Jet Tank One enables Penny to fly, though she has a different form of control than other flying characters. Tilting
in a direction makes Penny spray water toward that direction, with the recoil of the water blaster pushing her the opposite direction. Pressing
allows her to hover in midair, which negates the recoil of the water blaster, and pressing
again cancels the hover, allowing her to move again. The water from the Jet Tank One acts as projectiles that can affect objects in microgames.
The Jet Tank One can uniquely affect microgames that involve water, fire, or heat. These microgames include the following: