Don Lloyd
From the Super Mario Wiki, the Mario encyclopedia
Jump to navigation
Jump to search
"What? How would stealing a history game stop you? And stop you from what? Hey, wait a minute! You're... you're MARIO!! You should go see Greno right away!!"
Don Lloyd, occasionally called Murphy, is a former employee of The Software Toolworks. He served as the project manager for both the PC version of Mario's Time Machine, and outside of the Super Mario franchise, the technical director for Nerf Arena Blast, and is currently a consultant-at-large. Within the PC version of Mario's Time Machine, he appears as a physical character, and talks to Mario after the latter travels to Novato in 1993 (1994 in the Deluxe re-release).
History
[
edit
]
Mario's Time Machine

[

edit

]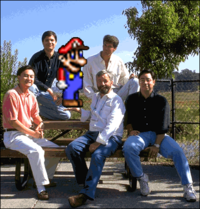 According to Mario's Time Machine, Don Lloyd was working in The Software Toolworks' headquarters when Bowser steals the Floppy Disk holding the final version of Mario's Time Machine and Mario travels to the headquarters to return it. Mario first shows him the disk and asks him what it is, and Lloyd plainly responds that is it a floppy disk. He asks Mario if it contains the new artwork for Mario's Time Machine, as he has been waiting on it. While it does not, Mario obtains the Art File from Jeff Griffeath and gives it to Lloyd, who thanks him and asks why Griffeath had not posted it on their bulletin board system. Mario asks about their system, and Lloyd assumes that Mario is a new employee from quality assurance before explaining that it is the messaging system that the company uses. He then introduces himself as Don Lloyd, with his nickname being "Murphy", and he gives Mario the Bug Fix that the QA group wanted. Mario asks about the person recklessly driving around the headquarters, and Lloyd tells him that Anthony Farmer (one of the game's programmers) is angry about a new feature being put into a product that is supposed to ship next week and is taking out his stress by driving. Mario asks if he gets angry often, and Lloyd replies that it only happens whenever the game's product director, Marc Roegiers, wants to change something, or when the game's vice president, Don Labbs, wishes to improve gameplay. He then realizes that Farmer becomes angry fairly often. Mario spontaneously asks him if he knows Bowser, and he responds that he thinks that was the person David Grenewetzki asked him to send the Floppy Disk to. Mario worriedly asks why Bowser could want the disk, leading Lloyd to surmise that Bowser wants to stop the company from shipping Mario's Time Machine, though he does not know why. Mario exclaims that Bowser is trying to stop him, and Lloyd realizes that Mario is, in fact, the protagonist of the game that they are producing. He then tells him to see Grenewetzki immediately.
External links
[
edit
]