Bones (character)
From the Super Mario Wiki, the Mario encyclopedia
Jump to navigation
Jump to search
It has been requested that this article be rewritten and expanded to include more information.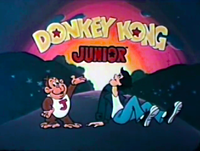 Bones is a greaser and the clumsy companion of Donkey Kong Jr. throughout the Donkey Kong Junior segment of Saturday Supercade.
Bones finds Donkey Kong Jr. depressed on the street, as he was unable to find his father, Donkey Kong (who had previously escaped from his circus). Bones takes pity on Donkey Kong Jr. and decides to aid him in his search for his father. The two then wander across the country on Bones' motorcycle, going on various misadventures during their search. Donkey Kong Junior's favorite expression is "Monkey muscle!", which he also said Bones should use to believe in himself. Although clumsy and diffident at times, Bones is a good voice of reason when Donkey Kong Jr. gets in over his head.