San Francisco
From the Super Mario Wiki, the Mario encyclopedia
Jump to navigation
Jump to search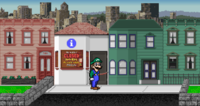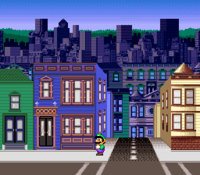 San Francisco is a city in California, located on the west coast of the United States of America. It is one of the first five cities Luigi has to rescue from invading Koopa Troopas in Mario is Missing!, except for in the NES version, where it is instead in the second pair of levels alonside Sydney, Australia. The enemies have stolen a fog horn from the Golden Gate Bridge, the top of the Transamerica Pyramid, and a window from Coit Tower; in the PC version, instead of Coit Tower, they have also stolen a striped prison shirt from Alcatraz and the bell from a Cable Car. To expel the Koopas, Luigi has to find the missing objects and return these to their respective landmarks.
Later in the game, the city is mentioned by a tourist in Rio de Janeiro. When Luigi shows him a cable car that the Troopas stole from Sugar Loaf Mountain, he says that "San Francisco doesn't seem quite so far, when I look at that cable car."
Information from Mario is Missing!

[

edit

]
Boy:

"July 4th is the most important date when you're in the land of the fifty states."
"Besides the Golden Gate bridge, the cable cars are the stars."

Tourist:

"A few American dollars will buy baseball, hamburgers and Mom's apple pie."
"California here I am, on the west coast with Uncle Sam."

Business Woman:

"Welcome to the Golden West. Have you visited that other California city, Los Angeles?"
"If you're wandering around in a fog and feeling crabby, have some Dungeness crab on San Francisco sourdough."

Scientist:

"This city was named for Saint Francis of Assisi in 1776."
"No one was interested in San Francisco until the Gold Rush."

Police Officer:

"Wherever you go, locals hate it if you call the city 'Frisco."
"To be more specific, you're on the Pacific in the northern half of California."
Gallery
[
edit
]