Globulator
From the Super Mario Wiki, the Mario encyclopedia
Jump to navigation
Jump to search
This article is under construction. Therefore, please excuse its informal appearance while it is being worked on. We hope to have it completed as soon as possible. This article is currently under construction by Time Turner.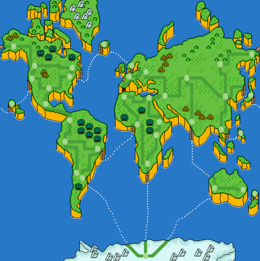 The Globulator is an item in Mario is Missing! After the player presses the

/
button, a picture of Earth is shown. It shows all the lands that the player has beaten up to that point. It can also be used to exit a level. After determining his location, Luigi can also summon Yoshi to assist him.
Aside from the levels of the game, the Globulator also displays cities that cannot be visited by the player which, according to the SNES version, are:
Addis Ababa, Ethiopia
Amsterdam, Netherlands (accessible in the MS-DOS version)
Anadyr, Russia
Anchorage, United States
Auckland, New Zealand
Bangkok, Thailand
Barcelona, Spain
Belgrade, Yugoslavia
Berlin, Germany (accessible in the MS-DOS version)
Bogotá, Colombia
Bombay, India (accessible in the MS-DOS version)
Cape Town, South Africa
Casablanca, Morocco
Dallas, United States
Dublin, Ireland (accessible in the MS-DOS version)
Gibraltar, United Kingdom
Honolulu, United States
Irkutsk, Russia
Lagos, Nigeria
Lima, Peru
Lisbon, Portugal
Madrid, Spain (accessible in the MS-DOS version)
Manila, Philippines
Montreal, Canada (accessible in the NES version)
Omsk, Russia
Oslo, Norway
Perth, Australia
Reykjavík, Iceland
Santiago, Chile
Sofia, Bulgaria
Tehran, Iran
Vancouver, Canada
Venice, Italy
Warsaw, Poland
The MS-DOS and PC versions of the game includes numerous other cities. Armenia, Benin, Brunei, Kyrgyzstan, and Tajikistan are clickable but have no cities. There are several names that have spelling mistakes; they are listed correctly in the list below, while any errors are listed on Mario is Missing! § Mistakes and errors.
Abadan, Iran
Aberdeen, United Kingdom
Abidjan, Côte D'Ivoire
Abu Dhabi, United Arab Emirates
Accra, Ghana
Aden, Yemen
Aleppo, Syria
Alexandria, Egypt
Algiers, Algeria
Almaty, Kazakhstan
Amman, Jordan
Ankara, Turkey
Antananarivo, Madagascar
Ashgabat, Turkmenistan
Asmara, Ethiopia
Asunción, Paraguay
Aswan, Egypt
Atlanta, United States
Baghdad, Iraq
Bahia Blanca, Argentina
Baku, Azerbaijan
Bamako, Mali
Bangui, Central African Republic
Beirut, Lebanon
Belem, Brazil
Belfast, United Kingdom
Belmopan, Belize
Bordeaux, France
Bratislava, Czechoslovakia
Brazzaville, Congo
Brussels, Belgium
Bucharest, Romania
Budapest, Hungary
Bujumbura, Burundi
Cairns, Australia
Calcutta, India
Calgary, Canada
Caracas, Venezuela
Cayenne, French Guiana
Chiang Mai, Thailand
Chicago, United States
Christchurch, New Zealand
Conakry, Guinea
Constatine, Algeria
Copenhagen, Denmark
Cork, Ireland
Dakar, Senegal
Damascus, Syria
Dar es Salaam, Tanzania
Darwin, Australia
Delhi, India
Detroit, United States
Dhaka, Bangladesh
Djibouti, Djibouti
Edinburgh, United Kingdom
El Obeid, Sudan
Entebbe, Uganda
Florence, Italy
Francistown, Botswana
Freetown, Sierra Leone
Fuerte Olimpo, Paraguay
Gaborone, Botswana
Gdansk, Poland
Geneva, Switzerland
Georgetown, Guyana
Glasgow, United Kingdom
Guadalajara, Mexico
Guangzhou, China
Guatemala City, Guatemala
Guayaquil, Ecuador
Hamburg, Germany
Hanoi, Vietnam
Harare, Zimbabwe
Havana, Cuba
Helsinki, Finland
Herat, Afghanistan
Ho Chi Minh City, Vietnam
Houston, United States
Jakarta, Indonesia
Johannesburg, South Africa
Kabul, Afghanistan
Kampala, Uganda
Kankossa, Mauritania
Karachi, Pakistan
Khartoum, Sudan
Kiev, Ukraine
Kigali, Rwanda
Kingston, Jamaica
Kinshasa, Zaire
Kisangani, Zaire
Kishinev, Moldova
Kota Kinabalu, Malaysia
Kuala Lumpur, Malaysia
Kufra Oasis, Libya
Kumasi, Ghana
Kuwait City, Kuwait
La Paz, Bolivia
Lhasa, China
Libreville, Gabon
Lilongwe, Malawi
Little America, Antarctica
Livingstone, Zambia
Lome, Togo
Los Angeles, United States
Luanda, Angola
Lugano, Switzerland
Lusaka, Zambia
Luxembourg, Luxembourg
Lyon, France
Managua, Nicaragua
Manama, Bahrain
Maputo, Mozambique
Maracaibo, Venezuela
Marseille, France
Maseru, Lesotho
Mbabane, Swaziland
Mecca, Saudi Arabia
Medellín, Colombia
Melbourne, Australia
Miami, United States
Minsk, Belarus
Mogadishu, Somalia
Mombasa, Kenya
Monrovia, Liberia
Monte Carlo, Monaco
Monterrey, Mexico
Montevideo, Uruguay
Munich, Germany
Muttrah, Oman
N'djamena, Chad
Niamey, Niger
Nicosia, Cyprus
Nottingham, United Kingdom
Nouakchott, Mauritania
Nuuk, Greenland
Odessa, Ukraine
Osaka, Japan
Ottawa, Canada
Ouagadougou, Burkina Faso
Padang, Indonesia
Panama City, Panama
Paramaribo, Suriname
Phnom Penh, Cambodia
Plovdiv, Bulgaria
Port-au-Prince, Haiti
Port Moresby, Papua New Guinea
Porto Alegre, Brazil
Prague, Czechoslovakia
Puerto Barrios, Guatemala
Puerto Montt, Chile
Pyongyang, North Korea
Quito, Ecuador
Riga, Latvia
Riyadh, Saudi Arabia
Salzburg, Austria
San Jose, Costa Rica
San Juan, Puerto Rico
San Salvador, El Salvador
Santo Domingo, Dominican Republic
São Paulo, Brazil
Sapporo, Japan
Sarajevo, Yugoslavia
Seattle, United States
Seoul, South Korea
Seville, Spain
Shanghai, China
Smara, Western Sahara
Stockholm, Sweden
St. Petersburg, Russia
Stuttgart, Germany
Sucre, Bolivia
Tabriz, Iran
Taipei, Taiwan
Tallinn, Estonia
Tangier, Morocco
Tashkent, Uzbekistan
Tbilisi, Georgia
Tegucigalpa, Honduras
Tel Aviv-Yafo, Israel
Thessaloniki, Greece
Thimphu, Bhutan
Timbuktu, Mali
Tripoli, Libya
Trujilo, Peru
Tunis, Tunisia
Ulaanbaatar, Mongolia
Valencia, Spain
Vienna, Austria
Vientiane, Laos
Vilnius, Lithuania
Vlore, Albania
Washington, United States
Windhoek, Namibia
Winnipeg, Canada
Yangon, Myanmar
Yaounde, Cameroon
Zurich, Switzerland