Nintendo Sound Selection Vol.2: Loud Music
From the Super Mario Wiki, the Mario encyclopedia
Jump to navigation
Jump to search
It has been suggested that audio and/or video file(s) related to this article be uploaded.
Please upload all related music, sound effects, voice clips, or any videos for this section. See the help page for information on how to get started.
Nintendo Sound Selection Vol.2: Loud Music
Composed by:
Taro Bando, Yumiko Kanki, Ryoji Yoshitomi, Koji Kondo, Kazumi Totaka, Toru Minegishi, Soyo Oka, Minako Hamano, Kenta Nagata
Publisher(s)
Nintendo
Release date
2004

Media
Compact Disc
Track(s)
23
Length
50:50
Catalog number(s)
CN-P018
Nintendo Sound Selection Vol.2: Loud Music is a compilation album exclusive to Club Nintendo members. Like the Healing Music CD, the Loud Music CD could only be obtained by redeeming 400 points. The focus of this CD is on louder and heavier music.
Tracks from eight different Mario games are featured on this CD, including one each from Wario Land 4, WarioWare, Inc.: Mega Microgame$!, Super Mario World 2: Yoshi's Island, Super Mario World, Super Mario Kart, Mario Kart: Super Circuit, and Luigi's Mansion. The "Fortress Boss" music from Super Mario Bros. 3 appears once in its original form, then again in track 22 as an extended "arranged" version by Nintendo sound staff.
Track list
[
edit
]
NOTE: Tracks 22 and 23 are performances by Nintendo music staff.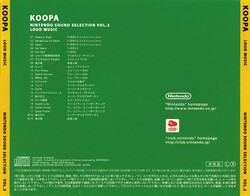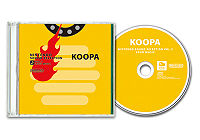 The Bowser's Castle Course track from Mario Kart: Super Circuit on the CD is actually the uncompressed version of the original heard in the game.[1]
References
[
edit
]