Nintendo Super Famicom Game Music
From the Super Mario Wiki, the Mario encyclopedia
Jump to navigation
Jump to search
It has been suggested that audio and/or video file(s) related to this article be uploaded.
Please upload all related music, sound effects, voice clips, or any videos for this section. See the help page for information on how to get started.
Nintendo Super Famicom Game Music
Cover:
Composed by:
Koji Kondo, Yumiko Kanki, Soyo Oka, Naoto Ishida
Publisher:
Toshiba EMI
CD Info:
1 CD - 32 Tracks
Released:
March 4, 1992 (Japan)
Nintendo Super Famicom Game Music is an album released in 1992 only in Japan. It is a compilation album including various music from SNES games. Tracks 1 to 8 are arranged by Takami Asano.
Track List
[
edit
]
Disc One (71:57)
[
edit
]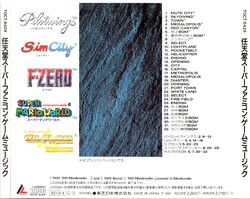 01. MUTE CITY (F-Zero)
3:23
02. SKYDIVING (Pilotwings)
4:13
03. TOWN (SimCity)
3:25
04. MEGALOPOLIS (SimCity)
4:30
05. RED CANYON (F-Zero)
3:22
06. Above Ground BGM (Legend of Zelda: A Link to the Past)
3:51
07. Reverse World Above Ground BGM (Legend of Zelda: A Link to the Past)
4:18
08. Ending (Super Mario World)
6:08
09. SELECT (Pilotwings)
0:42
10. LIGHTPLANE (Pilotwings)
1:54
11. ROCKETBELT (Pilotwings)
1:48
12. HELICOPTER (Pilotwings)
1:30
13. ENDING (Pilotwings)
1:14
14. OPENING (SimCity)
0:46
15. CITY (SimCity)
1:59
16. CAPITAL (SimCity)
1:44
17. METROPOLIS (SimCity)
1:44
18. MEGALOPOLIS (SimCity)
2:18
19. DIASTER (SimCity)
0:35
20. OPENING (F-Zero)
0:37
21. PORT TOWN (F-Zero)
2:14
22. WHITE LAND (F-Zero)
1:53
23. SELECT (F-Zero)
0:31
24. FIRE FIELD (F-Zero)
1:46
25. ENDING (F-Zero)
1:11
26. Above Ground BGM (Super Mario World)
1:33
27. In the Water BGM (Super Mario World)
1:52
28. Castle BGM (Super Mario World)
2:49
29. Bonus Screen BGM (Super Mario World)
1:12
30. Hyrule Castle BGM (Legend of Zelda: A Link to the Past)
3:03
31. Kakariko Village BGM (Legend of Zelda: A Link to the Past)
1:53
32. Battle with Ganon (Legend of Zelda: A Link to the Past)
1:59