Donkey Kong Goes Home
From the Super Mario Wiki, the Mario encyclopedia
Jump to navigation
Jump to search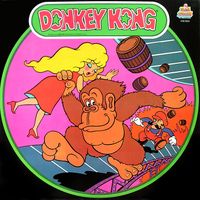 Donkey Kong Goes Home is a very rare album produced by Kid Stuff Records. It is one in a set of 12" LPs produced in 1982 and 1983. The other albums in the series are Asteroids, Yars' Revenge, Missile Command, The Amazing Adventures of Pac-Man, and The Pac-Man Album.
From the album: "Everyone in Gamesville turns out to welcome Donkey Kong to the circus. What a day for excitement!! However, things don't quite turn out as they are planned. Donkey Kong becomes homesick for his old home at the zoo. He breaks out of his cage! Will his old friend Mario be able to help? Will Donkey Kong run away? We'll find out when 'Donkey Kong Goes Home.'"
The songs are "Donkey Kong Theme", "No More Zoo For You", "The Climber", "On Top Of The World", "Jump Up", "Mario Delivers", and "Donkey Kong Theme (Reprise)".
External links
[
edit
]