Donkey Konga: The Hottest Hits
From the Super Mario Wiki, the Mario encyclopedia
Jump to navigation
Jump to search
It has been suggested that audio and/or video file(s) related to this article be uploaded.
Please upload all related music, sound effects, voice clips, or any videos for this section. See the help page for information on how to get started.
Donkey Konga: The Hottest Hits
.
Composed by:
Various
Publisher(s)
Nintendo of Europe
Release date
2004

Media
Compact Disc
Track(s)
7
Length
13:01
Donkey Konga: The Hottest Hits is a promotional release from Nintendo of Europe. It includes seven songs from the game Donkey Konga.
Track List
[
edit
]
Disc One (13:01)
[
edit
]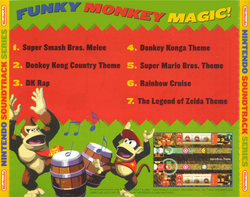 1) Super Smash Bros. Melee
1:31
2) Donkey Kong Country Theme
1:42
3) DK Rap
1:57
4) Donkey Konga Theme
2:19
5) Super Mario Bros. Theme
1:44
6) Rainbow Cruise
1:25
7) The Legend of Zelda Theme
2:23