Mario Kart 64: Greatest Hits Soundtrack
From the Super Mario Wiki, the Mario encyclopedia
Jump to navigation
Jump to search
It has been suggested that audio and/or video file(s) related to this article be uploaded.
Please upload all related music, sound effects, voice clips, or any videos for this section. See the help page for information on how to get started.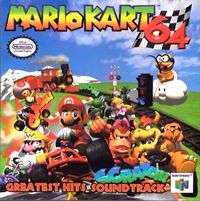 Mario Kart 64: Greatest Hits Soundtrack is a partial soundtrack by Nintendo, featuring the music from Mario Kart 64.
Track list
[
edit
]
Mario Kart 64 Theme
Circuit Select
Koopa Castle
Battle #1
Results Theme
Trophy Presentation
Victory Lap
The secret loop in the results theme plays after two loops in this album, whereas it plays after 64 loops in Mario Kart 64.