Giant Egg
From the Super Mario Wiki, the Mario encyclopedia
Jump to navigation
Jump to search
Giant Eggs[1] are objects used by Yoshis in the Yoshi's Island series. They are much larger than a normal Yoshi Egg. The Giant Egg can only be made if a Yoshi swallows a Fat Guy.
History
[
edit
]
Yoshi's Island series

[

edit

]
Super Mario World 2: Yoshi's Island

[

edit

]
Giant Eggs make their first appearance in Super Mario World 2: Yoshi's Island. They can defeat all on-screen enemies merely from the shock-wave they give off when thrown (similar to hitting a POW Block), though Yoshi will get dizzy when he is holding one that he is ready to throw (much like if he had touched or swallowed a Fuzzy). When Yoshi has three or more Giant Eggs at his disposal, all of the Fat Guys will disappear; likewise for two Giant Eggs and the big Shy Guys during the Prince Froggy boss fight. However, they reappear once Yoshi has less Giant Eggs. Giant Eggs are usually colored green, but in the final battle of the game, Giant Eggs are red and carried by balloons on the stage; Yoshi must grab these and aim them at Big Baby Bowser's face. Big Baby Bowser will be defeated once successfully hit with a few Giant Eggs.
Yoshi's Island DS

[

edit

]
Giant Eggs also appeared later Yoshi's Island DS, where they are used to fight Bowser. In this game, Yoshi has to throw Giant Eggs at Bowser in order to flip him over on his back to make Bowser vulnerable to a Ground Pound. Bowser could also grab the Giant Eggs and throw them at Yoshi. Kamek turns Bowser giant-sized for the last phase of the battle, which is very similar to Super Mario World 2: Yoshi's Island. This time, four Giant Eggs are brought on the stage by one balloon. Each of the four Yoshis get one – then as all of the Yoshis aim the eggs at Bowser and throw them at him, Bowser will be defeated after a few hits. Additionally, when a Super Star is used, Yoshi turns into a Giant Egg and follows Superstar Mario.
Yoshi's New Island

[

edit

]
Although Giant Eggs do not appear in Yoshi's New Island, there are Mega Eggdozers, which are larger than Giant Eggs.
Mario Kart series

[

edit

]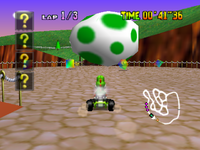 Outside the Yoshi's Island series, a Giant Egg appears in Mario Kart 64, Mario Kart 8, Mario Kart 8 Deluxe, and Mario Kart Tour (referred to in this game as a big egg) at the end of Yoshi Valley before the last bridge. It spins and moves in a circle; in Mario Kart 8 and later games, a few coins follow it. If racers get too close to the egg, it can flatten them in Mario Kart 64 or flip out them in later games. The big egg can be taken out by hitting it with a Super Horn or by driving into it while invincible or under the effects of a Mega Mushroom. In Mario Kart Tour, players earn bonus points for taking out the big egg.
In Mario Kart DS and Mario Kart Wii, Yoshi Falls has a large egg in the middle as decoration.
Names in other languages
[
edit
]
Language
Name
Meaning
Japanese
おおきなタマゴ
Ōkina Tamago
Large egg
Chinese
巨蛋[2]
Jù Dàn
巨大的蛋
Jùdà De Dàn

Huge Egg
French
Œuf géant
Giant egg
German
Großes Ei
Big egg
Italian
Uovo gigante
Giant egg
Korean
커다란 알
Keodaran Al
Large Egg
Portuguese
Ovo grande
Big egg
Spanish
Huevo grande
Big egg
References
[
edit
]
Mario Kart 8 / Mario Kart 8 Deluxe
Racers
Featherweight
Baby Mario • Baby Luigi • Baby Peach • Baby Daisy • Baby Rosalina • Lemmy Koopa • Dry Bones
Light
Toad • Koopa Troopa • Shy Guy (Light-blue* · Black* · Green* · Yellow* · White* · Blue* · Pink* · Orange*) • Lakitu • Toadette • Larry Koopa • Wendy O. Koopa • Cat Peach* • Villager (Female)* • Isabelle* • Bowser Jr. • Inkling Girl
Medium
Princess Peach • Princess Daisy • Yoshi (Light-blue* · Black* · Red* · Yellow* · White* · Blue* · Pink* · Orange*) • Mario • Luigi • Iggy Koopa • Ludwig von Koopa • Tanooki Mario* • Villager (Male)* • Inkling Boy
Cruiser
Rosalina • Metal Mario (Gold ) • Pink Gold Peach • Donkey Kong • Waluigi • Roy Koopa • Link* • King Boo
Heavy
Bowser • Wario • Morton Koopa Jr. • Dry Bowser*
Any
Mii
Vehicle parts
Bodies
Karts
Standard Kart • Pipe Frame • Mach 8 • Steel Driver • Cat Cruiser • Circuit Special • Tri-Speeder • Badwagon • Prancer • Biddybuggy • Landship • Sneeker • Sports Coupe • Gold Standard • GLA* • W 25 Silver Arrow* • 300 SL Roadster* • Blue Falcon* • Tanooki Kart* • B Dasher* • Streetle* • P-Wing* • Koopa Clown
Standard bikes
Standard Bike • The Duke • Flame Rider • Varmint • Mr. Scooty • City Tripper* • Master Cycle Zero **
Sport bikes
Comet • Sport Bike • Jet Bike • Yoshi Bike • Master Cycle*
ATVs
Standard ATV • Wild Wiggler • Teddy Buggy • Bone Rattler* • Inkstriker • Splat Buggy
Tires
Standard • Monster • Roller • Slim • Slick • Metal • Button • Off-Road • Sponge • Wood • Cushion • Blue Standard • Hot Monster • Azure Roller • Crimson Slim • Cyber Slick • Retro Off-Road • Gold Tires • GLA Tires* • Triforce Tires* • Leaf Tires* • Ancient Tires **
Gliders
Super Glider • Cloud Glider • Wario Wing • Waddle Wing • Peach Parasol • Parachute • Parafoil • Flower Glider • Bowser Kite • Plane Glider • MKTV Parafoil • Gold Glider • Hylian Kite* • Paper Glider* • Paraglider **
Courses
New courses
Mushroom Cup
Mario Kart Stadium • Water Park • Sweet Sweet Canyon • Thwomp Ruins
Flower Cup
Mario Circuit • Toad Harbor • Twisted Mansion • Shy Guy Falls
Star Cup
Sunshine Airport • Dolphin Shoals • Electrodrome • Mount Wario
Special Cup
Cloudtop Cruise • Bone-Dry Dunes • Bowser's Castle • Rainbow Road
Classic courses
Shell Cup
Wii Moo Moo Meadows • GBA Mario Circuit • DS Cheep Cheep Beach • N64 Toad's Turnpike
Banana Cup
GCN Dry Dry Desert • SNES Donut Plains 3 • N64 Royal Raceway • 3DS DK Jungle
Leaf Cup
DS Wario Stadium • GCN Sherbet Land • 3DS Music Park • N64 Yoshi Valley
Lightning Cup
DS Tick-Tock Clock • 3DS Piranha Plant Slide • Wii Grumble Volcano • N64 Rainbow Road
DLC courses*
Egg Cup
GCN Yoshi Circuit • Excitebike Arena • Dragon Driftway • Mute City
Triforce Cup
Wii Wario's Gold Mine • SNES Rainbow Road • Ice Ice Outpost • Hyrule Circuit
Crossing Cup
GCN Baby Park • GBA Cheese Land • Wild Woods • Animal Crossing
Bell Cup
3DS Neo Bowser City • GBA Ribbon Road • Super Bell Subway • Big Blue
Booster courses***
Golden Dash Cup
Tour Paris Promenade • 3DS Toad Circuit • N64 Choco Mountain • Wii Coconut Mall
Lucky Cat Cup
Tour Tokyo Blur • DS Shroom Ridge • GBA Sky Garden • Ninja Hideaway
Turnip Cup
Tour New York Minute • SNES Mario Circuit 3 • N64 Kalimari Desert • DS Waluigi Pinball
Propeller Cup
Tour Sydney Sprint • GBA Snow Land • Wii Mushroom Gorge • Sky-High Sundae
Rock Cup
Tour London Loop • GBA Boo Lake • 3DS Rock Rock Mountain • Wii Maple Treeway
Moon Cup
Tour Berlin Byways • DS Peach Gardens • Merry Mountain • 3DS Rainbow Road
Battle courses
Wii U
Wii Moo Moo Meadows • GCN Dry Dry Desert • SNES Donut Plains 3 • N64 Toad's Turnpike • Mario Circuit • GCN Sherbet Land • N64 Yoshi Valley • Toad Harbor
Switch
3DS Wuhu Town • GCN Luigi's Mansion • SNES Battle Course 1 • Urchin Underpass • Dragon Palace • Battle Stadium • Sweet Sweet Kingdom • Lunar Colony
Other
Items
Banana • Blooper • Boo • Boomerang Flower • Bullet Bill • Coin • Crazy Eight • Feather • Fire Flower • Golden Mushroom • Green Shell • Lightning • Mushroom • Piranha Plant • Red Shell • Spiny Shell • Super Horn • Triple Bananas • Triple Green Shells • Triple Mushrooms • Triple Red Shells
Course objects
Antigravity Panel • Arrow field *** • Barrel • Bell* • Board • Boulder • Bowser Statue • Bus • Bumper *** • Cannon • Car • Cargo truck • Cash • Coin • Crate • Current • Dash Panel • Dash panel ramp truck • Drain Pipe • Fire Bar • Fire Chain • Flipper *** • Glide Ramp • Hot-air balloon • Half-pipe *** • Item Box • Lava Geyser • Leaf pile* • Lovúška s syurikenami *** • Master Sword* • Metal ball *** • Millstone • Mine Cart* • Mushroom Platform *** • Mushroom Trampoline *** • Oil slick • Pit* • Ring • Rupee* • Snowboy* • Snowman • Spin Boost Pillar • Spinner • Submarine • Tire • Traffic cone • Train* • Truck • Volcanic debris • Water Geyser ***
Enemies and species
Bone Piranha Plant • Boo • Bouncing Note • Bowser Monument • Chain Chomp • Cheep Cheep • Deku Baba* • Dolphin • Dry Bones • Fire Snake • Fish Bone • Freezie • Frogoon • Goomba • Goomba Tower • Hammer Knight • Jellybeam • Keese* • Little bird • Manta • Mecha Cheep • Mechakoopa • Mini Toad* • Monty Mole • Moo Moo • Mr. Resetti* • Noki • Penguin *** • Pianta • Piranha Plant • Pokey • Raving Piranha Plant • Screaming Pillar • Sidestepper • Skating Shy Guy • Super Thwomp* • Swoop • Thwomp • Tiki Goon • Toad • Unagi • Wiggler *** • Whomp *** • Yoshi
Techniques
Anti-gravity • Drift • Hop • Mini-Turbo • Rocket Start • Slipstream • Spin Boost • Spin Turn • Jump Boost • U-turn • Underwater driving
Miscellaneous
Andrew Trego • Animal Crossing × Mario Kart 8* • Cheese* • Daisy Cruiser* • DK's Tree House • Emblem • Finish Line • From the Pit • Ghost • Gravity • Highlight Reel • In-game statistics (Deluxe) • Item probability distributions • Lakitu • The Legend of Zelda × Mario Kart 8* • Mario Kart 8 Deluxe – Booster Course Pass *** • Mario Kart Band • Mario Kart TV • Mercedes-Benz × Mario Kart 8* • Miiverse • Official tournaments • Pre-release and unused content • Soundtrack • Sponsors • Staff (Deluxe) • Stamp (list) • Starting Grid
Related

Play Nintendo

activities:


Take a spin in one of these beauties!

•

Racing through this poll

•

One cup, four tracks…

•

Leaf it to me

•

Gaming gardens trivia quiz

•

Mario Kart 8 Deluxe Memory Match-Up

* - Indicates downloadable content in Mario Kart 8 • ** - Indicates content available in version 1.6.0 and later of Mario Kart 8 Deluxe • *** - Indicates content available in the Mario Kart 8 Deluxe – Booster Course Pass • - Indicates exclusivity to Mario Kart 8 • - Indicates exclusivity to Mario Kart 8 Deluxe
Mario Kart Tour
Drivers
Normal
Baby Mario • Baby Peach • Baby Daisy • Baby Rosalina • Baby Luigi • Koopa Troopa • Shy Guy • Dry Bones • Iggy • Larry • Lemmy • Ludwig • Morton • Roy • Wendy
Super
Mario • Peach • Yoshi • Daisy • Toad • Toadette • Rosalina • Luigi • Toad (Pit Crew) • Red Yoshi • Blue Yoshi • Pink Yoshi • Yellow Toad (Pit Crew) • Light-blue Toad (Pit Crew) • Red Toad (Pit Crew) • Orange Yoshi • Bowser • Donkey Kong • Diddy Kong • Lakitu • Bowser Jr. • Wario • Waluigi • King Boo • Black Shy Guy • Red Koopa (Freerunning) • Birdo • Pink Shy Guy • Birdo (Light Blue) • Hammer Bro • Boomerang Bro • Ice Bro • Fire Bro • Birdo (Yellow) • Monty Mole • Green Shy Guy • Blue Koopa (Freerunning) • Birdo (Blue) • Purple Koopa (Freerunning) • Light-blue Shy Guy • Blue Shy Guy
High-End
Metal Mario • Peachette • Pauline • Mario (Musician) • Peach (Kimono) • Mario (Hakama) • Rosalina (Halloween) • Peach (Vacation) • Mario (Santa) • Pink Gold Peach • Daisy (Holiday Cheer) • Yoshi (Reindeer) • Pauline (Party Time) • Mario (Happi) • Toad (Party Time) • Peach (Wintertime) • Penguin Luigi • Ice Mario • Baby Peach (Cherub) • Rosalina (Aurora) • Mario (Classic) • Luigi (Classic) • Baby Rosalina (Detective) • Yoshi (Egg Hunt) • Black Yoshi • Builder Mario • Builder Toad • Daisy (Fairy) • Mario (Chef) • Peach (Wedding) • Rosalina (Swimwear) • Mario (Swimwear) • Captain Toad • Toadette (Explorer) • Daisy (Yukata) • Mario (SNES) • Mario (Sunshine) • Mario (Halloween) • Peach (Halloween) • Peach (Explorer) • Builder Luigi • Fire Rosalina • Luigi (Lederhosen) • Cat Peach • Cat Toad • Pauline (Rose) • Penguin Toad • Mario (Racing) • White Yoshi • Baby Mario (Koala) • Builder Toadette • Mario (Tuxedo) • Luigi (Painter) • Daisy (Swimwear) • Mario (Baseball) • Peach (Happi) • Penguin Mario • Yoshi (Kangaroo) • Tanooki Mario • Tanooki Rosalina • Mario (Satellaview) • Penguin Toadette • Cat Rosalina • Luigi (Vacation) • Mario (Golf) • Luigi (Golf) • Mario (Aviator) • Mario (Samurai) • Peach (Yukata) • Yoshi (Gold Egg) • Rosalina (Volendam) • Daisy (Farmer) • Dr. Mario • Dr. Luigi • Dr. Peach • Cat Mario • Cat Luigi • Rosalina (Chef) • Daisy (Thai Dress) • Daisy (Sailor) • Toadette (Sailor) • White Tanooki Mario • Luigi (Knight) • Mario (King) • Luigi (Chef) • Kitsune Luigi • Dry Bowser • King Boo (Luigi's Mansion) • Shy Guy (Pastry Chef) • Waluigi (Bus Driver) • Gold Koopa (Freerunning) • Wario (Hiker) • Dry Bones (Gold) • Funky Kong • Dixie Kong • Dry Bowser (Gold) • Wario (Cowboy) • Nabbit • Bowser Jr. (Pirate) • King Bob-omb • Donkey Kong Jr. (SNES) • Shy Guy (Gold) • King Boo (Gold) • Bowser (Santa) • Lakitu (Party Time) • Birdo (Black) • Shy Guy (Ninja) • King Bob-omb (Gold) • Kamek • Waluigi (Vampire) • Meowser • Chargin' Chuck • Pink Shy Guy (Ninja) • Birdo (White) • Dr. Bowser • Petey Piranha • Chargin' Chuck (Gold) • Petey Piranha (Gold) • Mii Racing Suits
Coin Rush
Gold Mario
Vehicle parts
Karts
Normal
Pipe Frame • Birthday Girl • Mushmellow • Koopa Dasher • Biddybuggy • Blue Biddybuggy • Cheep Charger • Pink Mushmellow • Birthday Girl Rosalina • Green Kiddie Kart • Red Kiddie Kart • Bullet Blaster • Bull's-Eye Banzai • Landship • Pipe Buggy • Warship • Green Cheep Charger
Super
Mach 8 • Daytripper • Turbo Yoshi • Soda Jet • Super Blooper • Gold Blooper • Royale • Cloud 9 • Poltergust 4000 • Streamliner • White Royale • Zucchini • Red Streamliner • Red Turbo Yoshi • Blue Seven • Super 1 • Dasher II • Tea Coupe • Yellow Turbo Birdo • Egg 1 • Birthday Girl Daisy • Red Standard 8 • Green Standard 8 • Cucumber • Blue Royale • Blue Turbo Yoshi • Flame Flyer • Barrel Train • DK Jumbo • Chrome DK Jumbo • Koopa Clown • Dark Clown • Para-Wing • Turbo Birdo • Light-blue Turbo Birdo • Bolt Buggy • Rambi Rider • Blue Turbo Birdo
High-End
B Dasher • Black B Dasher • Yellow Taxi • Quickshaw • Kabuki Dasher • Circuit Special • Black Circuit • Bumble V • Queen Bee • Trickster • Ghost Ride • Macharon • Carrot Kart • Cheermellow • Wild Wing • Radish Rider • Wildfire Flyer • Ribbon Rider • Double-Decker • Swift Jack • Red B Dasher • Jingle Bells • Platinum Taxi • Glam Bruiser • Gilded Prancer • Ice-blue Poltergust • P-Wing • Apple Kart • Comet Tail • Bright Bunny • Dozer Dasher • Clanky Kart • Wild Black • Karp Kart • Prancer • Rose Queen • Green Apple Kart • Choco Macharon • Gold Egg • Sweet Daytripper • Red Taxi • Pink Wing • Happy Ride • Blue Soda • Clackety Kart • Gold Clanky Kart • Festival Girl • Black Kabuki Dasher • 8-Bit Pipe Frame • Gold Pipe Frame • Surf Sailer • Star-Spangled Flyer • Green Circuit • Sports Coupe • Pumpkin Kart • Dark Trickster • Sunset Cloud • Steel Driver • Holiday King • Gold Snow Skimmer • Dreamy Egg • Fast Frank • Iron Cucumber • Cat Cruiser • Wild Pink • Rose Taxi • B Dasher Mk. 2 • Decal Streamliner • Orange Streamliner • White Turbo Yoshi • Sakura Quickshaw • Jet Cruiser • Inferno Flyer • Rambi Runner • Pink Dozer • Grand Badwagon • Paintster • Lime Tea Coupe • Sunny Surf Sailer • Pinch Hitter • Cleanup Hitter • Ice Dozer • Green Double-Decker • Black Cat Cruiser • Red B Dasher Mk. 2 • Pink B Dasher Mk. 2 • Classic B Dasher Mk. 2 • Sky-Blue B Dasher Mk. 2 • Metal B Dasher Mk. 2 • Cream B Dasher Mk. 2 • Green B Dasher Mk. 2 • Tanooki Kart • Gold Pumpkin Kart • Lunar Cruiser • Sleigh Rider • White Snow Skimmer • Frosty Bells • Frost Wing • Gray Cat Cruiser • Sports Coupe 2022 • Roaring Racer • Jukebox Buggy • Sneeker • Green Lightning • Cupid's Arrow • Wild Slugger • Prop Kart • Magma Broom • Star Broom • Yellow 8-Bit Pipe Frame • Warrior Wagon • Armored Rider • Black Turbo Yoshi • Gold Bunny • Flower Kart • Dragonfly • Firefly • Daikon Rocket • Capsule Kart • Blue-Green Capsule Kart • White Bruiser • Coconut 1 • Pink Capsule Kart • Cream Cat Cruiser • Green Cat Cruiser • Goo-Goo Buggy • Goo-Goo Pink • Gold Kiddie Kart • Sweet Ride • White Fast Frank • Tuk-Tuk Kart • Tropical Truck • Gold Zucchini • Lightning Streamliner • Flowery Badwagon • Coral Jet Cruiser • Watermelon Kart • Ice-Cream Minibus • Chocolate Banana Minibus • Strawberry Soft Swerve • Shielded Speedster • Gold Standard • Gold Double-Decker • Black Carriage • Green Speeder • Flaming Speeder • Gold Sweet Ride • Streetle • Blue Speeder • Swift Talon • Gold Eagle • Blazing Eagle • Camo Tanooki Kart • Gold Rambi Rider • Moo Moo Offroader • Pink Speeder • Pink Sneeker • Badwagon • Blue Badwagon • Gold Train • Bruiser • Snow Skimmer • Offroader • Banana Master • Poison Apple Kart • Cheep Snorkel • Gold Cheep Snorkel • Gold Cheep Charger • Dark Buggy • Koopa King • Brown Offroader • Cact-X • Pirate Sushi Racer • Silver Bullet Blaster • Head Honcho • DK Maximum • Sushi Racer • Gilded King • Crawly Kart • Black Dozer • Party-Wing • Penguin Slider • Black Penguin Slider • Cact-Ice • Black Turbo Birdo • Purple Bunny • Jade Hop Rod • Crimson Hop Rod • Dark Hop Rod • Kamek's Zoom Broom • Silver King • Vampire Flyer • Red Crawly Kart • Yellow Offroader • Cact-R • Cheership • Candy Clown • Tiger Bruiser • Combo Cruiser • Sakura Hop Rod • White Turbo Birdo • Green-Yellow Capsule Kart • Piranha Pipes • Red Offroader • Goo-Goo Black • Cact-B • Gold Bullet Blaster • Red Vampire Flyer • Gold Trickster • Gold Bruiser • Black Sneeker
Gliders
Normal
Super Glider • Parachute • Parafoil • Paper Glider • Droplet Glider • BBIA Parafoil • Minion Paper Glider • Piston Glider • Piranha Plant Parafoil
Super
Peach Parasol • Flower Glider • Oilpaper Umbrella • Lightning Oilpaper • Pink Flower Glider • 8-Bit Jumping Mario • ? Block • Plaid Ribbon • Eggshell Glider • 8-Bit Jumping Luigi • Mushroom Glider • Bob-omb Parafoil • Shell Parachute • Wario Wing • Waluigi Wing • BaNaNa Parafoil • Blue Flower Glider
High-End
Gold Glider • Fare Flier • Purple Oilpaper Umbrella • Full Flight • Strawberry Crêpe • Le Tricolore • Starchute • Royal Parachute • Glitter Glider • Soaring Jack • Gift Glider • New Year's 2020 • New Year's Kite • Fireworks Parachute • Crimson Crane • Blizzard Parasol • Blizzard Balloons • Sweetheart Glider • Heart Balloons • Luma Parafoil • Rainbow Starchute • Bright Glider • Safety Glider • Daisy Glider • Pink Gold Paper Glider • Butterfly Sunset • Chocolate Donut • Gold Crane • Chocolate Banana Crêpe • Strawberry Donut • Silver Bells • Silver-and-Gold Hearts • Manta Glider • Treasure Map • Butterfly Wings • Great Sail • Festival Wings • 8-Bit Star • Super Mario Kart Glider • Star-Spangled Glider • Spider Glider • Sunset Balloons • Silver Starchute • Jolly Bells • Butterfly Prism • Planet Glider • New Year's 2021 • Gold New Year's Kite • Toe-Bean Balloons • Calico Parafoil • Black Great Sail • Silver Manta Glider • Rose Parasol • Snow Crystals • 8-Bit Fire Flower • Surf Master • Starry Great Sail • Black Toe-Bean Balloons • 8-Bit Bullet Bill • Glinting Glider • Flying Easel • Sunny Surf Master • Polka-Dot Manta Glider • Home-Field Glider • Gold Home-Field Glider • Springtime Crane • Yukata Ribbon • Silver Surf Master • Ship's Wheel • Tanooki Parafoil • Gold Tanooki Parafoil • Magic Parasol • 8-Bit Super Mushroom • Meteor Balloons • Pink Gold Meteors • Galaxy Glider • Candlelight Flight • Gold Penguin Wingtip • Aurora Balloons • New Year's 2022 • Black Cat Parafoil • Cat Parafoil • Gold Toe-Bean Balloons • Glittering Parasol • Luigi Parafoil • Sky-High Flyer • Record Setter • Mario's Mustache • Luigi's Mustache • Origami Glider • Sakura Origami Glider • Gold Eggshell Glider • Green Sprout • Magniflying Glass • Flybrary Book • Pink Magniflying Glass • Cream Toe-Bean Balloons • Green Cat Parafoil • Candlelight Flight Cake • Pretzel Glider • Tulip Corsage • Red and Gold Umbrella • 8-Bit 1-Up Mushroom • Tropical Balloons • Fire Manta Glider • Mint & Berry Balloons • Vanilla & Chocolate Balloons • Icy Mario's Mustache • Flying Flappers • Silver Luigi's Mustache • Mario's Hat Balloon • Luigi's Hat Balloon • Gold Cloud Balloons • White Waves Origami Glider • Chocolate Pretzel • Para-Panini • Silver Candlelight Flight • Autumn Leaves • Calico Toe-Bean Balloons • Wonderful Garnet • Swooper • Bullet Bill Parachute • Cloud Glider • Rainy Balloons • Wicked Wings • Gold Swooper • Banana Wingtip • Tropical Glider • Dragon Wings • Blooper Wingtip • Nabbit Oilpaper Umbrella • Cheep Cheep Masks • Dry Bowser Umbrella • Penguin Wingtip • Bright Balloons • Ninja Scroll • Dream Glider • Vampire Wings • Golden Wings • Wario's Mustache • Waluigi's Mustache • Wonderful Wings • Wicked Topaz • Piranha Plant Balloons • Secret Scroll • Lava Rocks • Black Starchute • Boo Masks • Baby Mario Hanafuda • Yoshi's Egg Hanafuda • Peach Hanafuda • Barrel Hanafuda • Blooper Hanafuda • Cape Mario Hanafuda • Bullet Bill Hanafuda • Boo Hanafuda • Piranha Plant Hanafuda • Goomba Hanafuda • Jumping Mario Hanafuda • Bowser Hanafuda
Tires
Blue Standard • Cyber Slick • Gold Tires • Metal • Monster • Mushroom • Off-Road • Red Monster • Retro Off-Road • Roller • Slick • Slim • Sponge • Standard • Wood
Courses
New courses
City courses
New York Minute (R, T, R/T, 2, 2R, 2T, 2R/T, 3, 3R, 3T, 3R/T, 4, 4R, 4T, 4R/T) (tour appearances) • Tokyo Blur (R, T, R/T, 2, 2R, 2T, 2R/T, 3, 3R, 3T, 3R/T, 4, 4R, 4T, 4R/T) (tour appearances) • Paris Promenade (R, T, R/T, 2, 2R, 2T, 2R/T, 3, 3R, 3T, 3R/T) (tour appearances) • London Loop (R, T, R/T, 2, 2R, 2T, 2R/T, 3, 3R, 3T, 3R/T) (tour appearances) • Vancouver Velocity (R, T, R/T, 2, 2R, 2T, 2R/T, 3, 3R, 3T, 3R/T) (tour appearances) • Los Angeles Laps (R, T, R/T, 2, 2R, 2T, 2R/T, 3, 3R, 3T, 3R/T) (tour appearances) • Berlin Byways (R, T, 2, 2R, 2T, 2R/T, 3, 3R, 3T) (tour appearances) • Sydney Sprint (R, T, R/T, 2, 2R, 2T, 2R/T, 3, 3R, 3T) (tour appearances) • Singapore Speedway (R, T, R/T, 2, 2R, 2T, 2R/T) (tour appearances) • Amsterdam Drift (R, T, R/T, 2, 2R, 2T, 2R/T, 3, 3R, 3T, 3R/T) (tour appearances) • Bangkok Rush (R, T, R/T) (tour appearances)
Other courses
Merry Mountain (R, T, R/T) (tour appearances) • Ninja Hideaway (R, T, R/T) (tour appearances) • Sky-High Sundae (R, T, R/T) (tour appearances)
Remix courses
RMX Mario Circuit 1 (R, T, R/T) (tour appearances) • RMX Choco Island 1 (R, T, R/T) (tour appearances) • RMX Rainbow Road 1 (R, T, R/T) (tour appearances) • RMX Rainbow Road 2 (R, T, R/T) (tour appearances) • RMX Choco Island 2 (R, T) (tour appearances) • RMX Vanilla Lake 1 (R, T) (tour appearances) • RMX Ghost Valley 1 (R, T, R/T) (tour appearances) • RMX Bowser's Castle 1 (R, T) (tour appearances) • RMX Donut Plains 1 (R, T, R/T) (tour appearances)
Classic courses
SNES courses
Mario Circuit 1 (R, T, R/T) (tour appearances) • Donut Plains 1 (R, T, R/T) (tour appearances) • Ghost Valley 1 (R, T, R/T) (tour appearances) • Mario Circuit 2 (R, T, R/T) (tour appearances) • Choco Island 1 (R, T, R/T) (tour appearances) • Ghost Valley 2 (R, T, R/T) (tour appearances) • Donut Plains 2 (R, T, R/T) (tour appearances) • Mario Circuit 3 (R, T, R/T) (tour appearances) • Choco Island 2 (R, T, R/T) (tour appearances) • Vanilla Lake 1 (R, T, R/T) (tour appearances) • Donut Plains 3 (R, T, R/T) (tour appearances) • Koopa Troopa Beach 2 (R, T) (tour appearances) • Vanilla Lake 2 (R, T) • (tour appearances) • Rainbow Road (R, T, R/T) (tour appearances)
N64 courses
Luigi Raceway (R, T) (tour appearances) • Koopa Troopa Beach (R, T, R/T) (tour appearances) • Kalimari Desert (R, T, R/T, 2, 2R, 2T, 2R/T) (tour appearances) • Frappe Snowland (R, T, R/T) (tour appearances) • Choco Mountain (R, T, R/T) (tour appearances) • Royal Raceway (R, T, R/T) (tour appearances) • Yoshi Valley (R, T) (tour appearances)
GBA courses
Riverside Park (R, T, R/T) (tour appearances) • Bowser's Castle 1 (R, T, R/T) (tour appearances) • Boo Lake (R, T, R/T) (tour appearances) • Bowser's Castle 2 (R, T, R/T) (tour appearances) • Sky Garden (R, T) (tour appearances) • Cheep-Cheep Island (R, T) (tour appearances) • Sunset Wilds (R, T, R/T) (tour appearances) • Bowser's Castle 3 (R, T) (tour appearances)
GCN courses
Baby Park (R, T) (tour appearances) • Daisy Cruiser (R, T) (tour appearances) • Yoshi Circuit (R, T, R/T) (tour appearances) • DK Mountain (R, T, R/T) (tour appearances) • Dino Dino Jungle (R, T, R/T) (tour appearances)
DS courses
Luigi's Mansion (R, T, R/T) (tour appearances) • Waluigi Pinball (R, T, R/T) (tour appearances) • DK Pass (R, T, R/T) (tour appearances) • Airship Fortress (R, T, R/T) (tour appearances) • Peach Gardens (R, T, R/T) (tour appearances)
Wii courses
Mushroom Gorge (R, T) (tour appearances) • Coconut Mall (R, T) (tour appearances) • DK Summit (R, T) (tour appearances) • Koopa Cape (R,T) (tour appearances) • Maple Treeway (R, T, R/T) (tour appearances)
3DS courses
Toad Circuit (R, T, R/T) (tour appearances) • Daisy Hills (R, T, R/T) (tour appearances) • Cheep Cheep Lagoon (R, T, R/T) (tour appearances) • Shy Guy Bazaar (R, T, R/T) (tour appearances) • Mario Circuit (R, T, R/T) (tour appearances) • Rock Rock Mountain (R, T) (tour appearances) • Piranha Plant Slide (R,T) (tour appearances) • Wario Shipyard (R, T, R/T) (tour appearances) • Neo Bowser City (R, T, R/T) (tour appearances) • Rosalina's Ice World (R, T, R/T) (tour appearances) • Bowser's Castle (R, T, R/T) (tour appearances) • Rainbow Road (R, T, R/T) (tour appearances)
Battle courses
New courses
New York Minute B (tour appearances)
Classic courses
GBA Battle Course 1 (tour appearances) • GCN Cookie Land (tour appearances) • DS Twilight House (tour appearances)
Other
Bonus challenges
Ready, Set, Rocket Start • Time Trial • Ring Race • Do Jump Boosts • Big Reverse Race • Goomba Takedown • Glider Challenge • Steer Clear of Obstacles • Break Item Boxes • Smash Small Dry Bones • Vs. Mega • Combo Attack • Take them out quick! • Snap a Photo • Precision Gliding
Cups
Baby Daisy Cup • Baby Luigi Cup • Baby Mario Cup • Baby Peach Cup • Baby Rosalina Cup • Birdo Cup • Bowser Cup • Bowser Jr. Cup • Cat Peach Cup • Chargin' Chuck Cup • Daisy Cup • Diddy Kong Cup • Dixie Kong Cup • Donkey Kong Cup • Dry Bones Cup • Dry Bowser Cup • Fire Bro Cup • Funky Kong Cup • Hammer Bro Cup • Ice Bro Cup • Ice Mario Cup • Iggy Cup • Kamek Cup • King Boo Cup • Koopa Troopa Cup • Lakitu Cup • Larry Cup • Lemmy Cup • Ludwig Cup • Luigi Cup • Mario Cup • Metal Mario Cup • Mii Cup • Monty Mole Cup • Morton Cup • Nabbit Cup • Pauline Cup • Peach Cup • Peachette Cup • Pink Gold Peach Cup • Rosalina Cup • Roy Cup • Shy Guy Cup • Toad Cup • Toadette Cup • Waluigi Cup • Wario Cup • Wendy Cup • Yoshi Cup
Tours
2019
New York • Tokyo • Halloween • Paris • Winter • London • Holiday
2020
New Year's • Ice • Valentine's • Vancouver • Mario Bros. • Baby Rosalina • Hammer Bro • Yoshi • Trick • Flower • Jungle • Cooking • Peach • Marine • Exploration • Wild West • Pirate • Summer Festival • Super Mario Kart • Los Angeles • 1st Anniversary • Halloween • Sunset • Mario vs. Luigi • Winter • Rosalina • New Year's 2021
2021
Berlin • Cat • Peach vs. Daisy • Snow • Mario • Yoshi • Ninja • Sydney (April–May) • Bowser vs. DK • Trick • Wedding • Paris • Summer • Los Angeles • Mario vs. Peach • Frost • Kamek • Sydney (September) • 2nd Anniversary • Autumn • Halloween • Toad vs. Toadette • Space • Holiday • Penguin • New Year's 2022
2022
Singapore • Wario vs. Waluigi • Los Angeles • Sky • Mii • Samurai • Yoshi • Amsterdam • Doctor • Peach vs. Bowser (May) • Cat • Metropolitan • Bangkok • Piranha Plant • Ocean • Sundae • Bowser • Mario vs. Luigi • Anniversary • Battle • Halloween • Autumn • Animal • Peach vs. Bowser (November–December)
Items
Regular items
Banana • Green Shell • Red Shell • Spiny Shell • Bob-omb • Mushroom • Mega Mushroom • Bullet Bill • Blooper • Lightning • Super Horn • Coin • Star • Feather*
Special items
Triple Bananas • Giant Banana • Triple Green Shells • Bowser's Shell • Double Bob-ombs • Triple Mushrooms • Fire Flower • Boomerang Flower • Ice Flower • Heart • Yoshi's Egg • Birdo's Egg • Bubble • Banana Barrels • Mushroom Cannon • Bob-omb Cannon • Lucky Seven • Dash Ring • Coin Box • Hammer • Giga Bob-omb • Super Bell • Super Leaf • Capsule
Inventory items
Coin • Coin Rush ticket • Event token* • Grand Star • Item ticket • Level-boost ticket • Point-boost ticket • Points-cap ticket* • Ruby • Star ticket • Team token* • Quick ticket
Course elements
Banzai Bill • Barrel • Barrel Bomb • Barrel Cannon • Big egg • Blimp • Boo • Boo Buddies • Burner • Cannon • Car • Chain Chomp • Cheep Cheep • Clampy • Crate • Dash Panel • Dash panel ramp truck • Exploring Shy Guy • Festive tree • Flipper • Floaty • Flying Shy Guy • Glide Ramp • Goat • Goomba • Goomba Tower • Half-pipe • Hot-air balloon • Inky Piranha Plant • Jack-o'-lantern • Jar • Jump Boost field • Kadomatsu • Lava Bubble • Lava Geyser • Leaf pile • Lovúška s syurikenami • Maw-Ray • Metal ball • Mud • Mushroom Platform • Mushroom Trampoline • Noshi • Oil slick • Painting • Penguin • Pipe • Piranha Plant • Puddle • Ramp • Rocky Wrench • Rolling rock • Shy Guy Tent • Sidestepper • Skating Shy Guy • Snow block • Snowball • Snowboarding Shy Guy • Snowperson • Star Ring • Star Thwomp • Swoop • Table • Thwomp • Traffic cone • Train • Truck • Walking Tree • Water Geyser • Wiggler • Whomp • Wooden cutout
Techniques
Drift • Hop • Jump Boost • Mini-Turbo • Rocket Start • Slipstream
Notable landmarks, sightings, and areas
New York Minute
New York • Manhattan • Broadway • 30 Rockefeller Plaza • 200 Park Avenue • 383 Madison Avenue • 1501 Broadway • 1540 Broadway • Carnegie Hall Tower • Central Park • Chrysler Building • Empire State Building • Metropolitan Museum of Art • New York Marriott Marquis • New York Times Tower • Times Square • St. Patrick's Cathedral • Statue of Liberty • Rockefeller Center
Tokyo Blur
Tokyo • Daikanransha • Ginza • Asahi Beer Hall • Fuji TV Headquarters • Kaminarimon • Miraikan • Mount Fuji • National Diet Building • Rainbow Bridge • Sensō-ji • Saint Luke's Tower • Tokyo Big Sight • Tokyo Metropolitan Government Building • Tokyo Skytree • Tokyo Tower • Wako
Paris Promenade
Paris • Arc de Triomphe • Cathedral of Notre Dame • Eiffel Tower • Gardens of the Trocadéro • La Madeleine • Montmartre • Opéra Garnier • Luxor Obelisk • Paris Observatory • Saint Augustin Church • Seine River
London Loop
London • Westminister • Admiralty Arch • Buckingham Palace • Bush House • Charing Cross • Elizabeth Tower (Big Ben) • The Gherkin • Leadenhall Market • London City Hall • London Eye • Nelson's Column • Palace of Westminister • River Thames • The Shard • St. James's Park • Tower Bridge • Tower of London • Trafalgar Square • St Paul's Cathedral • Victoria Memorial • The Walkie Talkie • Westminister Bridge • Waterloo Bridge
Vancouver Velocity
Vancouver • 2010 Winter Olympics cauldron • BC Place • Burrard Inlet • Capilano Suspension Bridge • Lions Gate Bridge • Rogers Arena • Science World • Stanley Park • Vancouver Convention Centre • Vancouver Public Library
Los Angeles Laps
Los Angeles • Santa Monica • Beverly Hills • Inglewood • 777 Tower • Beverly Hills City Hall • Capitol Records Building • Dodger Stadium • Inglewood Oil Field • Los Angeles City Hall • Los Angeles Convention Center • Muscle Beach • Rodeo Drive Walk of Style • Santa Monica Pier • Tongva Park • Venice Beach • Westin Bonaventure Hotel
Berlin Byways
Berlin • Berlin Cathedral • Berlin Central Station • Berlin Palace • Berlin Television Tower • Berlin Victory Column • Berlin Wall • Berlin Zoo • Bode Museum • Brandenburg Gate • Charlottenburg Palace • East Side Gallery • Gendarmenmarkt • Haus der Kulturen der Welt • Kaiser Wilhelm Memorial Church • Mercedes-Benz Arena • Molecule Man • Neptune Fountain • New Synagogue • Oberbaum Bridge • Paul-Löbe-Haus • Reichstag • Rotes Rathaus • Schiller Monument • Sony Center • Spree River • St. Mary's Church • Tempodrom • Tiergarten
Sydney Sprint
Sydney • Port Jackson • Barangaroo Reserve • Bennelong Apartments • Circular Quay • Government House • International Towers Sydney • Luna Park • Museum of Contemporary Art • Sydney Customs House • Sydney Government House • Sydney Harbour Bridge • Sydney Observatory • Sydney Opera House • Sydney Tower • Uluru
Singapore Speedway
Singapore • Chinatown • ArtScience Museum • Esplanade Theatres • The Float @ Marina Bay • The Fullerton Hotel Singapore • Gardens by the Bay • Helix Bridge • Marina Bay Financial Centre • Marina Bay Sands • Merlion Park • One Marina Boulevard • The Sail @ Marina Bay • Singapore Flyer
Amsterdam Drift
Amsterdam • Zaanse Schans • Amsterdam Centraal Station • Amsterdam University of the Arts • Basilica of Saint Nicholas • Bloemenmarkt • Canals of Amsterdam • De Gooyer • Hotel Die Port van Cleve • IJtunnel • Magere Brug • Magna Plaza • Montelbaanstoren • Munttoren • National Maritime Museum • Nieuwezijds Voorburgwal • National Monument • NEMO Science Museum • North Sea Canal • Rembrandt House Museum • Rijksmuseum • Royal Concert Hall • Royal Palace of Amsterdam • Royal Theater Carré • The Singel • Stedelijk Museum Amsterdam • Van Gogh Museum • Waag • Westerkerk
Bangkok Rush
Bangkok • Asiatique Sky • BTS Skytrain • Chao Phraya River • Democracy Monument • Giant Swing • Grand Palace • King Power Mahanakhon • MBK Center • Siam Paragon • State Tower • Wat Arun • Wat Phra Kaew • Wat Saket • Wat Saman Rattanaram • Wat Suthat
Other
Boo Woods (DS Luigi's Mansion) • Bowser's Castle (3DS Bowser's Castle) • Daisy Cruiser (GCN Daisy Cruiser) • Luigi's Mansion (DS Luigi's Mansion) • Peach's Castle (3DS Mario Circuit, N64 Royal Raceway)
Favored and favorite courses
New • Remix • Super Mario Kart (SNES) • Mario Kart 64 (N64) • Mario Kart: Super Circuit (GBA) • Mario Kart: Double Dash!! (GCN) • Mario Kart DS (DS) • Mario Kart Wii (Wii) • Mario Kart 7 (3DS) • Battle
Miscellaneous
Action names in other languages • Badges • Challenge cards • Coin Rush • Emblem • Experience Point • In-game statistics • Finish Line • Frenzy • Gallery (Artwork · Badges · Course icons · Screenshots · Sprites and models) • Item probability distributions • Media • Pipe • Pre-release and unused content • Race points system • Special pipe • Special skill • Sponsors • Starting Grid • Trick animations • Underwater driving • Update history
* In version 2.1.0 or later