Lots O'Jelly Fish
From the Super Mario Wiki, the Mario encyclopedia
Jump to navigation
Jump to search
It has been requested that this article be rewritten and expanded to add a layout section.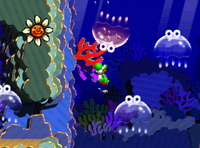 Lots O'Jelly Fish is the first Ocean level in Yoshi's Story. Most of the level seems to be a large underwater maze filled with various fruit and dangerous creatures. As stated by the title of the level, jellyfish are the most common enemy in the level. Several of these jellyfish have fruit floating inside their bodies, which can be eaten by a Yoshi by sticking out its tongue. Parts of the level take place on an island (or islands) above the main level. The level also contains an area specifically for one enemy, the Snorkel Snake. This area is a small "X"-shaped cave to make it easier for the fish to poke a Yoshi. Other enemies include Sensuikan Heihō, Spiny Fish, Tehee Butterflies, Cheep Cheeps, and sea cacti.
Other information
[
edit
]
Storybook segment
[
edit
]
To go any farther, the Yoshis had to brave the Ocean. They jumped in! They liked to swim, but the jellyfish's sting spoiled their fun. So they swam to dry land. Now they were almost to the end of the book!
Names in other languages
[
edit
]
Language
Name
Meaning
Japanese
うみといえば クラゲボン
Umi to ieba Kuragebon
Sea of Kuragebon
French
Méduses à gogo
Galore jellyfish
German
Quallensee
Jellyfish Lake