Mini Boo
From the Super Mario Wiki, the Mario encyclopedia
Jump to navigation
Jump to search
Mini Boos, originally known as Little Boos[1][2], Baby Boos[3][4], or simply Boo Buddies[5], are smaller variants of Boos.
History
[
edit
]
Yoshi's Story

[

edit

]

In Yoshi's Story, swarms of Little Boos appear in Ghost Castle. These tiny ghosts will swoop at Yoshi very rarely, unless he throws an egg at one of the members of the group. Then, all of the Little Boos will stop in their tracks and swoop at Yoshi. It is impossible to defeat all of the Little Boos, as more will just appear from off-screen. If Yoshi eats a Heart Fruit and does a Ground Pound near them, they will turn into Lucky Fruit, much like Shy Guys do. They resemble Boo Crews from Super Mario World, except their position moving back and forth is more fixed instead of swooping from above, and they are never transparent. Big & Little Boos also make an appearance in Jelly Pipe and are comprised of one regular-sized Boo followed by three smaller Boos, which are larger than the Little Boos in Ghost Castle.
Luigi's Mansion

[

edit

]
In Luigi's Mansion and the 3DS version, Boolossus is comprised of fifteen smaller Boos, which are smaller than the other Boos found in the game. Luigi much suck them all up in the Poltergust 3000 to defeat the boss.
Mario Power Tennis

[

edit

]
In Mario Power Tennis, Boo's Offensive Power Shot, Boo Blast, involves Little Boos. The move summons many Little Boos into a large tennis racket, hitting the ball with it, then allowing them to cloak the ball in hopes of earning a point. As is the case again, opposing players are still able to return the ball if they know where to be.
Super Mario Galaxy

[

edit

]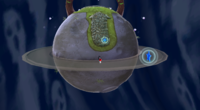 In Super Mario Galaxy, transparent Little Boos can be spotted on the finish line planet of Ghostly Galaxy during the mission A Very Spooky Sprint. They merely come from the planet's surface a short distance before disappearing.
Mario Super Sluggers

[

edit

]
In Mario Super Sluggers, Mini Boos appear under their current name as an item. The Mini Boo item makes the ball invisible to the player in the outfield. They are found in Wario City and are required for King Boo to join the player's team in Challenge Mode.
Profiles and statistics
[
edit
]
Yoshi's Story

[

edit

]
Nintendo 64 Spieleberater: Die Feiglinge fühlen sich nur in der Clique stark. Aber meinem Eierwurf halten sie nicht stand! [6](The cowards feel strong only in their clique. But they can't stand up to my egg toss!)
Names in other languages
[
edit
]
Language
Name
Meaning
Japanese
ちびテレサ[7]
Chibi Teresa
ミニテレサ
Mini Teresa
Mini Boo
German
Buu-Rudlies[6] (Yoshi's Story)
-
References
[
edit
]