Jump! Jump! Jump! (song)
From the Super Mario Wiki, the Mario encyclopedia
Jump to navigation
Jump to search
It has been requested that more images be uploaded for this article. Remove this notice only after the additional image(s) have been added. Reason: player character during song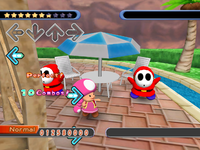 "Jump! Jump! Jump!" is a playable song in Dance Dance Revolution: Mario Mix. It is a Eurobeat arrangement of the "Athletic Theme" from Super Mario Bros. 3.
The song is played as Corkscrew Hotel, the first stage of World 2 in Story Mode. On its way over a seaside area, Toad and Mario's (or Luigi's) vessel, the SS Brass, has been spun out of control by a cyclone and caused a seashell-shaped hotel owned by Toadette to unfurl into a tall helical shape. She demands the two fix it, which they decide to do by dancing due to the lack of time to repair it the conventional way.
The background for the song features the player character dancing with Shy Guys on scaffolding in front of the deformed hotel, which squashes and stretches vertically as the song plays. Toadette can also be seen dancing next to a table around the back of the hotel. At the end of the song, the hotel flies into the sky and comes back down in the correct shape.
In Mush Mode, the enemies that appear are Goombas, which replace and act identically to normal notes, and Koopa Troopas, which must be stepped on twice in quick succession. Doing so successfully kicks the Koopa's shell down at another note, destroying both.
Story Mode text
[
edit
]
The hotel is twisted up like a corkscrew! You'd better fix it!
Names in other languages
[
edit
]
Language
Name
Meaning
Japanese
ジャンプ! ジャンプ! ジャンプ!
Janpu! Janpu! Janpu!
Jump! Jump! Jump!
French
Saute! Saute! Saute!
Jump! Jump! Jump!
German
Singt und springt!
Sing and jump!
Italian
Salta! Salta! Salta!
Jump! Jump! Jump!
Spanish
El fontanero saltarín
The jumping plumber