Boo, Goo, Bones, and Kipp
From the Super Mario Wiki, the Mario encyclopedia
Jump to navigation
Jump to search
Boo, Goo, Bones, and Kipp are four minor characters in Super Mario RPG: Legend of the Seven Stars, where they are a part of Dr. Topper's final question in one of his two puzzle courses in Bowser's Keep. They are a High Boo, a Goomba, a Vomer, and a Cheep Cheep, respectively, and say they had taken part in a triathlon together beforehand. Dr. Topper challenges Mario to deduce which of the four finished in each place, with each giving a single hint. The events were swimming, cycling, and a marathon. The character who gives each hint is randomized each playthrough, though each hint corresponds to a specific final placement.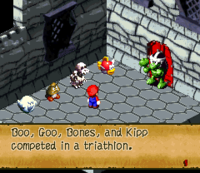 The one who finished first says that they outrode another on their bike, with the other never being able to pass them. The one in second says that they ended up in fourth place in cycling, but in the marathon got the same place they had in swimming. The one in third says they had the same placement in swimming and cycling, but were beaten by two others in the marathon. The one who placed last says they placed third in swimming.
Names in other languages
[
edit
]
Language
Name
Meaning
Japanese
テレボー
Terebō
クリタ
Kurita
カロリン
Karorin
プックン
Pukkun
From「テレサ」(Teresa, High Boo) and「坊」(bō, an affectionate suffix for boys); shared with Octoboo

From「クリボー」(Kuribō, Goomba) and「~た」(-ta, a masculine names ending)

Portmanteau of「カロン」(Karon, Dry Bones) and「~りん」(-rin, a diminutive suffix used for indicating endearment); shared with Calorite

A contraction of「プクプク」(Pukupuku, Cheep Cheep) and the honorific「~くん」(-kun)
French
Tiboo
Goo
Kélé
Cheep
Clipping of "Petit Boo" (Little Boo)
Clipping of "Goomba"
Clipping of "Skelerex" (Dry Bones)
Clipping of "Cheep Cheep"
Italian
Boo
Goo
Tarto
Smakko
Boo
Clipping of "Goomba"
Clipping of "Tartosso" (Dry Bones)
From "Pesce Smack" (Cheep Cheep), pun on "che smacco" (what a shame/what a blow)
Korean
부끄돌이
Bukkeudori
굼타
Gumta
와를린
Wareullin
뽀꿈
Ppokkum
From "부끄부끄" (Bukkeu-bukkeu, Boo) and "-돌이" (-dol'i, a suffix used to denote "guy" friendly)

From "굼바" (Gumba, Goomba) and the Japanese name

From "와르르" (Wareureu, Dry Bones) and the Japanese name

Corruption of "뽀꾸뽀꾸" (Ppokku-ppokku, Cheep Cheep)
Spanish
Boo
Goo
Huesi
Cheep
Boo
Clipping of "Goomba"
Clipping of "Huesitos" (Dry Bones)
Clipping of "Cheep Cheep"