Monstro Town
From the Super Mario Wiki, the Mario encyclopedia
Jump to navigation
Jump to search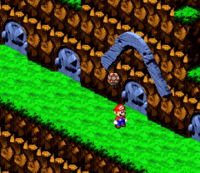 "Oh, my! A traveler from afar. Welcome to Monstro Town, where many of our kind mingle."
Monstro Town is a cliff-side town in Super Mario RPG: Legend of the Seven Stars. It is accessible after successfully clearing Belome Temple. It is home to a mixed group of reformed monsters as well as a Toad woman by the name of Monstermama. Goomba and Jagger, who fled the Koopa Troop, have relocated here; the former is managing a store with her children, and the latter is accepting challenges with his sensei Jinx at the dojo.
Of the notable monsters, there is a Chow who keeps track of the number of Super Jumps Mario has performed, and who will award prizes at 30 and 100 consecutive Super Jumps. There is also a Chester who tells Mario how many invisible chests are left to be found, and a Starslap who dances to a tune (which is the third song for Toadofsky at Melody Bay). Sleeping in the free bed causes the 3 Musty Fears to visit Mario and send him on a scavenger hunt.
Also of note is the visitor, Culex, who is statistically the strongest boss in the game. Culex can be encountered by using a Shiny Stone (traded in Moleville for a Fireworks) on the sealed door. However, fighting him is entirely optional.
Names in other languages
[
edit
]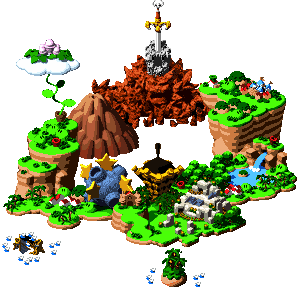 Language
Name
Meaning
Japanese
モンスタウン
Monsutaun
Portmanteau of English words "monster" and "town"