Midas River
From the Super Mario Wiki, the Mario encyclopedia
Jump to navigation
Jump to search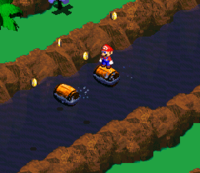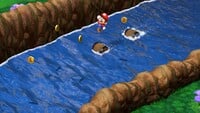 Midas River is a large river that is fed by Midas Waterfall; it is seen in Super Mario RPG: Legend of the Seven Stars. When Mario and Mallow are flushed out of the Kero Sewers, they end up being flung down the falls. They land on a barrel floating in the river, and ride it to the end, collecting coins along the way. The path from Midas River leads to Tadpole Pond. The name "Midas" comes from the Greek mythological character King Midas, who turned everything he touched into gold, which is fitting since many gold coins can be collected in the river.
Participating in a barrel jumping event, Mario collects many coins and has to avoid the river's irritable jumping fish. The Toad at the course's end exchanges the coins Mario collected down the falls and river for Frog Coins. When Mario does well enough, he might even get a Koopa Shell.
The bucket in Moleville serves as a warp to the Midas River. If it is accessed this way, the Toad at the bottom of the river will be absent, leaving a note saying that the course is closed for the day; reading the note will give the player any coins they earned on the course to keep.
This river briefly reappears in the short book, Mario and the Incredible Rescue, where Mario, Luigi and Toad pass through here to reach Tadpole Pond.
Names in other languages
[
edit
]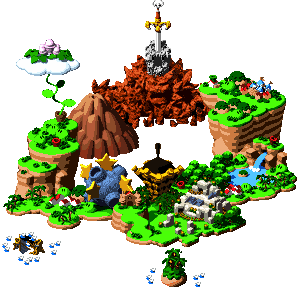 Language
Name
Meaning
Japanese
ワイン川
Wain Kawa
ワイン川のほとり
Wain Kawa no Hotori
Wine River (course)

Wine River Bank (map)
Dutch
Midas-Kanaal
Midas Canal
French
Rivière Midas
Midas River
German
Fluss Krösus
Croesus River
Italian
Fiume Mida[1]
Midas River
Korean
와인강
Wain Gang
와인강 둔치
Wain Gang Dunchi
Wine RIver (course)

Wine River Bank (map)
Spanish
Río Midas
Midas River
References
[
edit
]