Frog Coin
From the Super Mario Wiki, the Mario encyclopedia
Jump to navigation
Jump to search
This article is about the green coins with an image of a frog. For the yellow medals with an image of a frog, see Medal (Wario Land 4). For the green coins without an image of a frog, see Green Coin.
"You're a first timer, aren't you? Listen up. The green coins you find periodically are Frog Coins. Accumulate them and you can buy items at Tadpole Pond."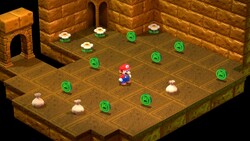 Frog Coins are a special type of coin in Super Mario RPG: Legend of the Seven Stars. Unlike regular coins, a Frog Coin makes a deep, musical clunking sound when picked up. They usually appear the same size as big coins, though they appear small in a few locations, such as the Lava Blubble room in Booster Tower. They are hidden in several Hidden Treasures and are given during some minigames by performing well.
On Midas Waterfall, four Frog Coins appear outside of the caves. The player can also exchange 60 coins from the waterfall and Midas River for one Frog Coin. By collecting 100 coins in one session, the player is awarded with five Frog Coins.
By completing Sky Bridge's Expert course in Land's End, the player gets a Frog Coin.
Collecting a Golden Beetle during Beetle Race and giving it to the Snifster at Beetles Are Us rewards the player with one Frog Coin.
Successfully scaling the Tall Cliff in Land's End in under twelve seconds (eleven in the remake) rewards the player with one Frog Coin; scaling the cliff in under eleven seconds (ten in the remake) rewards the player with five. This can be done an unlimited amount of times.
At Grate Guy's Casino, the player can get one Frog Coin by lining up three symbols in the slot machine. The player can also bet one Frog Coin in Blackjack. By winning, they win an additional Frog Coin.
Jumping on a Wiggler consecutively ten times on the field in Forest Maze rewards the player with one Frog Coin; likewise the player earns a Frog Coin for jumping on a Shogun in the desert whirlpools consecutively three times.
The player can sell the Bright Card to an NPC in the Marrymore shop for up to ten Frog Coins, but to buy it back, the player must pay fifteen Frog Coins.
There are two shops that sell items in exchange for Frog Coins. The first is the "Frog Coin" emporium at Tadpole Pond, and the second is a small shop set up by Frog Sage's Student in Seaside Town. Both shops sell rare items in exchange for Frog Coins. A unique Rare Frog Coin gets stolen from Mallow by Croco. When Croco returns it, it is used to buy a Cricket Pie.
In the remake, "Special Enemies" are guaranteed to drop one Frog Coin when the player defeats them. In Booster Pass, the player can purchase missing Monster List entries from a hidden NPC for three Frog Coins each.
Gallery
[
edit
]
Names in other languages
[
edit
]
Language
Name
Meaning
Japanese
カエルコイン
Kaeru Koin
Frog Coin
French
Pièce grenouille
Frog coin
German
Froschgroschen
Frog Penny
Italian
Moneta rana[1]
Frog coin
Korean
개구리코인
Gaeguli Koin
Frog Coin
Spanish
Moneda rana
Frog Coin
References
[
edit
]