Tic-Tac-Glow
From the Super Mario Wiki, the Mario encyclopedia
Jump to navigation
Jump to search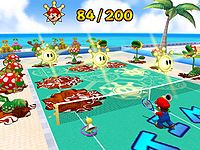 Tic-Tac-Glow is a minigame that appears in Mario Power Tennis. Its name and gameplay are based on tic-tac-toe.
Gameplay
[
edit
]
The minigame takes place in the Delfino Plaza Court, in which the player must shoot water balls to the opposite field filled with goop (3×3 goop spots) to free Shine Sprites. To score points, the players take turns trying to clear three squares of goop with the Shine Sprites underneath them. This is the only minigame in Mario Power Tennis that involves players taking turns. Water balls are shot out by pressing buttons to turn on the water nozzles only in the GameCube version. After a square is cleaned, the miniature Petey Piranhas soil the square again, allowing the player to accumulate points.
In the Wii version, the water balls are automatically shot out from the water nozzles instead of requiring the player to press the buttons on the floor.
GameCube version
[
edit
]
| Name | Difficulty | Condition |
| --- | --- | --- |
| Glimmer Shine | Easy | The player must score 50 points in two minutes. |
| Sparkle Shine | Normal | The player must score 75 points in two minutes. |
| Dazzle Shine | Hard | The player must score 75 points in 90 seconds. |
| Tic-Tac-Glow Challenge | Bonus | The player must score as many points as they can in three minutes. |
Wii version
[
edit
]
| Name | Difficulty | Condition |
| --- | --- | --- |
| Glimmer Shine | Easy | The player must score 10 points in one minute. |
| Sparkle Shine | Normal | The player must score 30 points in one minute. |
| Dazzle Shine | Hard | The player must score 60 points in 90 seconds. |
| Tic-Tac-Glow Challenge | Bonus | The player must score as many points as they can in three minutes. |
Names in other languages
[
edit
]
| Language | Name | Meaning |
| --- | --- | --- |
| Spanish | Rescate contrarreloj | Time Trial Rescue |