Mega Guy
From the Super Mario Wiki, the Mario encyclopedia
Jump to navigation
Jump to search
It has been requested that this article be rewritten and expanded to include more information. Reason: include info on big Shy Guys in more games, including the Mario Party series and Mario Kart Tour
Mega Guys[1], also known as Big Shy Guys[2], Giant Shy Guys[3], or Mega Shy Guys[4], are Shy Guys that are larger than normal.
History
[
edit
]
Yoshi's Island series

[

edit

]
Super Mario World 2: Yoshi's Island/Yoshi's Island: Super Mario Advance 3

[

edit

]
In Super Mario World 2: Yoshi's Island and its GBA remake, big Shy Guys[5] appear during the boss fight with Froggy. Yoshi must eat them to produce the Giant Eggs needed to damage the boss. These big Shy Guys are technically about the size of a regular Shy-Guy, if not actually smaller, but are large in relation to Yoshi and Baby Mario, who are shrunken by Kamek.
Yoshi's New Island

[

edit

]
In Yoshi's New Island, Mega Guys spawn from large pipes, and unlike the game's regular-sized Shy Guys, they are impervious to stomps and constantly walk forward, only turning around once they reach a wall. Yoshi can swallow them to turn them into Mega Eggdozers, which can be used to destroy otherwise indestructible obstacles. Mega Guys require a bit more effort than normal to swallow, as the player has to rapidly press
to do it. A metallic variant known as Metal Guys also appear, which are used to make Metal Eggdozers.
Super Mario Advance

[

edit

]
Big Shy Guys appear in Super Mario Advance. They act much like normal Shyguys, except that they provide a Heart when they are thrown at the ground or defeated. They take a few more seconds to be picked up due to their heavy size.
Super Mario-kun

[

edit

]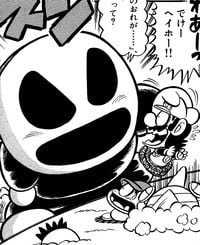 In the small short that concludes the chapter in volume 26 of Super Mario-kun, a Big Shy Guy attacks Mario, Goombario, and Kooper. It then pits Mario against Robirdo. Mario, however, grabs the Big Shy Guy and throws it against Robirdo, defeating both.
WarioWare: D.I.Y. Showcase

[

edit

]
In WarioWare: D.I.Y. Showcase, a Big Shy Guy is one of the enemies that can appear in the microgame Mario Adv.
Mario Tennis Aces

[

edit

]
In Mario Tennis Aces, a black Mega Guy appears in Snowball Fight, acting as a regular Shy Guy. In addition to the aforementioned type appearing in blue, in Ver. 2.3.0 onwards, much bigger black Mega Guy bandits wearing yellow or red bandanas are encountered individually in the added Shy Guy Train Tussle Co-op Challenge. They have increased health and can be attacked by either hitting back the projectiles shot by the four cannons overhead or hitting back the Bob-ombs or Mega Bob-ombs tossed by it. When defeated, they drop a key to a golden treasure chest with coins.
Other appearances
[
edit
]
Big Shy Guys appear in an early trailer of Yoshi's Story, though they are not present in the final game.[6] They also appear in the Yoshi Demo, where stomping one would turn it into a regular Shy Guy.
Profiles
[
edit
]
Yoshi's New Island

[

edit

]
Shogakukan guide: 通常サイズより何倍も大きいへイホー。舌を伸ばしてボタンを連打すると、メガタマゴを作ることができる。メガどかんから出現することが多い。[7](A Shy Guy that is many times larger than normal. By extending your tongue and pressing the button repeatedly, you can create a Mega Eggdozer. They often appear from Mega Warp Pipes.)
Gallery
[
edit
]
Names in other languages
[
edit
]
Language
Name
Meaning
Japanese
ビッグヘイホー[8]
Biggu Heihō
メガヘイホー[7]
Mega Heihō
Big Shy Guy (Super Mario Advance)

Mega Shy Guy (Yoshi's New Island)
French
Méga Maskache[9]
Mega Shy guy
Italian
Mega Tipo Timido
Mega Shy Guy
Korean
메가헤이호
MegaHeyho
Mega Shy Guy
Russian
Мегаскромняга
Megaskromnyaga
Mega Shy Guy
References
[
edit
]
Mario Kart Tour
Drivers
Normal
Baby Mario • Baby Peach • Baby Daisy • Baby Rosalina • Baby Luigi • Koopa Troopa • Shy Guy • Dry Bones • Iggy • Larry • Lemmy • Ludwig • Morton • Roy • Wendy
Super
Mario • Peach • Yoshi • Daisy • Toad • Toadette • Rosalina • Luigi • Toad (Pit Crew) • Red Yoshi • Blue Yoshi • Pink Yoshi • Yellow Toad (Pit Crew) • Light-blue Toad (Pit Crew) • Red Toad (Pit Crew) • Orange Yoshi • Green Toad (Pit Crew) • Pink Toad (Pit Crew) • Light-blue Yoshi • Bowser • Donkey Kong • Diddy Kong • Lakitu • Bowser Jr. • Wario • Waluigi • King Boo • Black Shy Guy • Red Koopa (Freerunning) • Birdo • Pink Shy Guy • Birdo (Light Blue) • Hammer Bro • Boomerang Bro • Ice Bro • Fire Bro • Birdo (Yellow) • Monty Mole • Green Shy Guy • Blue Koopa (Freerunning) • Birdo (Blue) • Purple Koopa (Freerunning) • Light-blue Shy Guy • Blue Shy Guy • Birdo (Orange) • White Shy Guy • Koopa (Freerunning) • Orange Shy Guy
High-End
Metal Mario • Peachette • Pauline • Mario (Musician) • Peach (Kimono) • Mario (Hakama) • Rosalina (Halloween) • Peach (Vacation) • Mario (Santa) • Pink Gold Peach • Daisy (Holiday Cheer) • Yoshi (Reindeer) • Pauline (Party Time) • Mario (Happi) • Toad (Party Time) • Peach (Wintertime) • Penguin Luigi • Ice Mario • Baby Peach (Cherub) • Rosalina (Aurora) • Mario (Classic) • Luigi (Classic) • Baby Rosalina (Detective) • Yoshi (Egg Hunt) • Black Yoshi • Builder Mario • Builder Toad • Daisy (Fairy) • Mario (Chef) • Peach (Wedding) • Rosalina (Swimwear) • Mario (Swimwear) • Captain Toad • Toadette (Explorer) • Daisy (Yukata) • Mario (SNES) • Mario (Sunshine) • Mario (Halloween) • Peach (Halloween) • Peach (Explorer) • Builder Luigi • Fire Rosalina • Luigi (Lederhosen) • Cat Peach • Cat Toad • Pauline (Rose) • Penguin Toad • Mario (Racing) • White Yoshi • Baby Mario (Koala) • Builder Toadette • Mario (Tuxedo) • Luigi (Painter) • Daisy (Swimwear) • Mario (Baseball) • Peach (Happi) • Penguin Mario • Yoshi (Kangaroo) • Tanooki Mario • Tanooki Rosalina • Mario (Satellaview) • Penguin Toadette • Cat Rosalina • Luigi (Vacation) • Mario (Golf) • Luigi (Golf) • Mario (Aviator) • Mario (Samurai) • Peach (Yukata) • Yoshi (Gold Egg) • Rosalina (Volendam) • Daisy (Farmer) • Dr. Mario • Dr. Luigi • Dr. Peach • Cat Mario • Cat Luigi • Rosalina (Chef) • Daisy (Thai Dress) • Daisy (Sailor) • Toadette (Sailor) • White Tanooki Mario • Luigi (Knight) • Mario (King) • Luigi (Chef) • Kitsune Luigi • Toad (Astronaut) • Toadette (Astronaut) • Poochy • Toad (Tourist) • Dry Bowser • King Boo (Luigi's Mansion) • Shy Guy (Pastry Chef) • Waluigi (Bus Driver) • Gold Koopa (Freerunning) • Wario (Hiker) • Dry Bones (Gold) • Funky Kong • Dixie Kong • Dry Bowser (Gold) • Wario (Cowboy) • Nabbit • Bowser Jr. (Pirate) • King Bob-omb • Donkey Kong Jr. (SNES) • Shy Guy (Gold) • King Boo (Gold) • Bowser (Santa) • Lakitu (Party Time) • Birdo (Black) • Shy Guy (Ninja) • King Bob-omb (Gold) • Kamek • Waluigi (Vampire) • Meowser • Chargin' Chuck • Pink Shy Guy (Ninja) • Birdo (White) • Dr. Bowser • Petey Piranha • Chargin' Chuck (Gold) • Petey Piranha (Gold) • Larry (Wintertime) • Light-blue Shy Guy (Explorer) • Yellow Shy Guy (Explorer) • Mii Racing Suits
Coin Rush
Gold Mario
Vehicle parts
Karts
Normal
Pipe Frame • Birthday Girl • Mushmellow • Koopa Dasher • Biddybuggy • Blue Biddybuggy • Cheep Charger • Pink Mushmellow • Birthday Girl Rosalina • Green Kiddie Kart • Red Kiddie Kart • Bullet Blaster • Bull's-Eye Banzai • Landship • Pipe Buggy • Warship • Green Cheep Charger
Super
Mach 8 • Daytripper • Turbo Yoshi • Soda Jet • Super Blooper • Gold Blooper • Royale • Cloud 9 • Poltergust 4000 • Streamliner • White Royale • Zucchini • Red Streamliner • Red Turbo Yoshi • Blue Seven • Super 1 • Dasher II • Tea Coupe • Yellow Turbo Birdo • Egg 1 • Birthday Girl Daisy • Red Standard 8 • Green Standard 8 • Cucumber • Blue Royale • Blue Turbo Yoshi • Orange Turbo Yoshi • Pink Turbo Yoshi • Light-blue Turbo Yoshi • Flame Flyer • Barrel Train • DK Jumbo • Chrome DK Jumbo • Koopa Clown • Dark Clown • Para-Wing • Turbo Birdo • Light-blue Turbo Birdo • Bolt Buggy • Rambi Rider • Blue Turbo Birdo • Orange Turbo Birdo
High-End
B Dasher • Black B Dasher • Yellow Taxi • Quickshaw • Kabuki Dasher • Circuit Special • Black Circuit • Bumble V • Queen Bee • Trickster • Ghost Ride • Macharon • Carrot Kart • Cheermellow • Wild Wing • Radish Rider • Wildfire Flyer • Ribbon Rider • Double-Decker • Swift Jack • Red B Dasher • Jingle Bells • Platinum Taxi • Glam Bruiser • Gilded Prancer • Ice-blue Poltergust • P-Wing • Apple Kart • Comet Tail • Bright Bunny • Dozer Dasher • Clanky Kart • Wild Black • Karp Kart • Prancer • Rose Queen • Green Apple Kart • Choco Macharon • Gold Egg • Sweet Daytripper • Red Taxi • Pink Wing • Happy Ride • Blue Soda • Clackety Kart • Gold Clanky Kart • Festival Girl • Black Kabuki Dasher • 8-Bit Pipe Frame • Gold Pipe Frame • Surf Sailer • Star-Spangled Flyer • Green Circuit • Sports Coupe • Pumpkin Kart • Dark Trickster • Sunset Cloud • Steel Driver • Holiday King • Gold Snow Skimmer • Dreamy Egg • Fast Frank • Iron Cucumber • Cat Cruiser • Wild Pink • Rose Taxi • B Dasher Mk. 2 • Decal Streamliner • Orange Streamliner • White Turbo Yoshi • Sakura Quickshaw • Jet Cruiser • Inferno Flyer • Rambi Runner • Pink Dozer • Grand Badwagon • Paintster • Lime Tea Coupe • Sunny Surf Sailer • Pinch Hitter • Cleanup Hitter • Ice Dozer • Green Double-Decker • Black Cat Cruiser • Red B Dasher Mk. 2 • Pink B Dasher Mk. 2 • Classic B Dasher Mk. 2 • Sky-Blue B Dasher Mk. 2 • Metal B Dasher Mk. 2 • Cream B Dasher Mk. 2 • Green B Dasher Mk. 2 • Tanooki Kart • Gold Pumpkin Kart • Lunar Cruiser • Sleigh Rider • White Snow Skimmer • Frosty Bells • Frost Wing • Gray Cat Cruiser • Sports Coupe 2022 • Roaring Racer • Jukebox Buggy • Sneeker • Green Lightning • Cupid's Arrow • Wild Slugger • Prop Kart • Magma Broom • Star Broom • Yellow 8-Bit Pipe Frame • Warrior Wagon • Armored Rider • Black Turbo Yoshi • Gold Bunny • Flower Kart • Dragonfly • Firefly • Daikon Rocket • Capsule Kart • Blue-Green Capsule Kart • White Bruiser • Coconut 1 • Pink Capsule Kart • Cream Cat Cruiser • Green Cat Cruiser • Goo-Goo Buggy • Goo-Goo Pink • Gold Kiddie Kart • Sweet Ride • White Fast Frank • Tuk-Tuk Kart • Tropical Truck • Gold Zucchini • Lightning Streamliner • Flowery Badwagon • Coral Jet Cruiser • Watermelon Kart • Ice-Cream Minibus • Chocolate Banana Minibus • Strawberry Soft Swerve • Shielded Speedster • Gold Standard • Gold Double-Decker • Black Carriage • Green Speeder • Flaming Speeder • Gold Sweet Ride • Streetle • Blue Speeder • Swift Talon • Gold Eagle • Blazing Eagle • Camo Tanooki Kart • Gold Rambi Rider • Moo Moo Offroader • Pink Speeder • Pink Sneeker • Gold Jingle Bell • Holiday Speeder • Wild Gold • Rainbow Taxi • Blooper Shuttle • Gold Lunar Cruiser • Gold Quickshaw • Pineapple 1 • Hot Pot Hot Rod • Rainbow Streetle • Gold Capsule Kart • Gold 8-Bit Pipe Frame • Taiko Drum Dasher • Sakura Sports Coupe • Bright Girl • Huffin Puffin Egg • Jumbo Jetter • Gold Paintster • Silver Flower Kart • Bronze Cucumber • Cream Classic • Red Comet • Pink Comet • Green Comet • Gold Comet • Mach 8-R • Badwagon • Blue Badwagon • Gold Train • Bruiser • Snow Skimmer • Offroader • Banana Master • Poison Apple Kart • Cheep Snorkel • Gold Cheep Snorkel • Gold Cheep Charger • Dark Buggy • Koopa King • Brown Offroader • Cact-X • Pirate Sushi Racer • Silver Bullet Blaster • Head Honcho • DK Maximum • Sushi Racer • Gilded King • Crawly Kart • Black Dozer • Party-Wing • Penguin Slider • Black Penguin Slider • Cact-Ice • Black Turbo Birdo • Purple Bunny • Jade Hop Rod • Crimson Hop Rod • Dark Hop Rod • Kamek's Zoom Broom • Silver King • Vampire Flyer • Red Crawly Kart • Yellow Offroader • Cact-R • Cheership • Candy Clown • Tiger Bruiser • Combo Cruiser • Sakura Hop Rod • White Turbo Birdo • Green-Yellow Capsule Kart • Piranha Pipes • Red Offroader • Goo-Goo Black • Cact-B • Gold Bullet Blaster • Red Vampire Flyer • Gold Trickster • Gold Bruiser • Black Sneeker • Purple Dozer • Blue Crawly Kart • Rainbow Pipe Buggy • Gold Hop Rod • Black Jingle Bell • Gold Sushi Racer • Dry Bones Dasher
Gliders
Normal
Super Glider • Parachute • Parafoil • Paper Glider • Droplet Glider • BBIA Parafoil • Minion Paper Glider • Piston Glider • Piranha Plant Parafoil
Super
Peach Parasol • Flower Glider • Oilpaper Umbrella • Lightning Oilpaper • Pink Flower Glider • 8-Bit Jumping Mario • ? Block • Plaid Ribbon • Eggshell Glider • 8-Bit Jumping Luigi • Mushroom Glider • Bob-omb Parafoil • Shell Parachute • Wario Wing • Waluigi Wing • BaNaNa Parafoil • Blue Flower Glider
High-End
Gold Glider • Fare Flier • Purple Oilpaper Umbrella • Full Flight • Strawberry Crêpe • Le Tricolore • Starchute • Royal Parachute • Glitter Glider • Soaring Jack • Gift Glider • New Year's 2020 • New Year's Kite • Fireworks Parachute • Crimson Crane • Blizzard Parasol • Blizzard Balloons • Sweetheart Glider • Heart Balloons • Luma Parafoil • Rainbow Starchute • Bright Glider • Safety Glider • Daisy Glider • Pink Gold Paper Glider • Butterfly Sunset • Chocolate Donut • Gold Crane • Chocolate Banana Crêpe • Strawberry Donut • Silver Bells • Silver-and-Gold Hearts • Manta Glider • Treasure Map • Butterfly Wings • Great Sail • Festival Wings • 8-Bit Star • Super Mario Kart Glider • Star-Spangled Glider • Spider Glider • Sunset Balloons • Silver Starchute • Jolly Bells • Butterfly Prism • Planet Glider • New Year's 2021 • Gold New Year's Kite • Toe-Bean Balloons • Calico Parafoil • Black Great Sail • Silver Manta Glider • Rose Parasol • Snow Crystals • 8-Bit Fire Flower • Surf Master • Starry Great Sail • Black Toe-Bean Balloons • 8-Bit Bullet Bill • Glinting Glider • Flying Easel • Sunny Surf Master • Polka-Dot Manta Glider • Home-Field Glider • Gold Home-Field Glider • Springtime Crane • Yukata Ribbon • Silver Surf Master • Ship's Wheel • Tanooki Parafoil • Gold Tanooki Parafoil • Magic Parasol • 8-Bit Super Mushroom • Meteor Balloons • Pink Gold Meteors • Galaxy Glider • Candlelight Flight • Gold Penguin Wingtip • Aurora Balloons • New Year's 2022 • Black Cat Parafoil • Cat Parafoil • Gold Toe-Bean Balloons • Glittering Parasol • Luigi Parafoil • Sky-High Flyer • Record Setter • Mario's Mustache • Luigi's Mustache • Origami Glider • Sakura Origami Glider • Gold Eggshell Glider • Green Sprout • Magniflying Glass • Flybrary Book • Pink Magniflying Glass • Cream Toe-Bean Balloons • Green Cat Parafoil • Candlelight Flight Cake • Pretzel Glider • Tulip Corsage • Red and Gold Umbrella • 8-Bit 1-Up Mushroom • Tropical Balloons • Fire Manta Glider • Mint & Berry Balloons • Vanilla & Chocolate Balloons • Icy Mario's Mustache • Flying Flappers • Silver Luigi's Mustache • Mario's Hat Balloon • Luigi's Hat Balloon • Gold Cloud Balloons • White Waves Origami Glider • Chocolate Pretzel • Para-Panini • Silver Candlelight Flight • Autumn Leaves • Calico Toe-Bean Balloons • Wonderful Garnet • Festive Holly • Yellow Hard Hat Balloon • Fuzzy Kite • Gold Hard Hat Balloon • New Year's 2023 • Gold Meteors • Rainbow Fare Flier • Stealth Glider • Gold Umbrella • Wonderful Diamond • Gold Candlelight Flight • 8-Bit Super Glider • Gold 8-Bit Glider • 8-Bit Block Glider • 8-Bit Goomba • Bright Ribbon • Yoshi's Cookies • Smiley Flower Glider • Golden Glider • Gold Tulips • Gold Manta Glider • Red Checkered Glider • Pink Checkered Glider • Green Checkered Glider • Gold Checkered Glider • Gold Origami Glider • Swooper • Bullet Bill Parachute • Cloud Glider • Rainy Balloons • Wicked Wings • Gold Swooper • Banana Wingtip • Tropical Glider • Dragon Wings • Blooper Wingtip • Nabbit Oilpaper Umbrella • Cheep Cheep Masks • Dry Bowser Umbrella • Penguin Wingtip • Bright Balloons • Ninja Scroll • Dream Glider • Vampire Wings • Golden Wings • Wario's Mustache • Waluigi's Mustache • Wonderful Wings • Wicked Topaz • Piranha Plant Balloons • Secret Scroll • Lava Rocks • Black Starchute • Boo Masks • Nabbit Parachute • Gold Boo Masks • Roy Oilpaper • Baby Mario Hanafuda • Yoshi's Egg Hanafuda • Peach Hanafuda • Barrel Hanafuda • Blooper Hanafuda • Cape Mario Hanafuda • Bullet Bill Hanafuda • Boo Hanafuda • Piranha Plant Hanafuda • Goomba Hanafuda • Jumping Mario Hanafuda • Bowser Hanafuda
Tires
Blue Standard • Cyber Slick • Gold Tires • Metal • Monster • Mushroom • Off-Road • Red Monster • Retro Off-Road • Roller • Slick • Slim • Sponge • Standard • Wood
Courses
New courses
Cities
New York Minute (R, T, R/T, 2, 2R, 2T, 2R/T, 3, 3R, 3T, 3R/T, 4, 4R, 4T, 4R/T) (tour appearances) • Tokyo Blur (R, T, R/T, 2, 2R, 2T, 2R/T, 3, 3R, 3T, 3R/T, 4, 4R, 4T, 4R/T) (tour appearances) • Paris Promenade (R, T, R/T, 2, 2R, 2T, 2R/T, 3, 3R, 3T, 3R/T) (tour appearances) • London Loop (R, T, R/T, 2, 2R, 2T, 2R/T, 3, 3R, 3T, 3R/T) (tour appearances) • Vancouver Velocity (R, T, R/T, 2, 2R, 2T, 2R/T, 3, 3R, 3T, 3R/T) (tour appearances) • Los Angeles Laps (R, T, R/T, 2, 2R, 2T, 2R/T, 3, 3R, 3T, 3R/T) (tour appearances) • Berlin Byways (R, T, R/T, 2, 2R, 2T, 2R/T, 3, 3R, 3T) (tour appearances) • Sydney Sprint (R, T, R/T, 2, 2R, 2T, 2R/T, 3, 3R, 3T) (tour appearances) • Singapore Speedway (R, T, R/T, 2, 2R, 2T, 2R/T, 3, 3R, 3T, 3R/T) (tour appearances) • Amsterdam Drift (R, T, R/T, 2, 2R, 2T, 2R/T, 3, 3R, 3T, 3R/T) (tour appearances) • Bangkok Rush (R, T, R/T, 2, 2R, 2T, 2R/T, 3, 3R, 3T, 3R/T) (tour appearances) • Athens Dash (R, T, R/T, 2, 2R, 2T, 2R/T) (tour appearances)
Other
Merry Mountain (R, T, R/T) (tour appearances) • Ninja Hideaway (R, T, R/T) (tour appearances) • Sky-High Sundae (R, T, R/T) (tour appearances) • Piranha Plant Cove (R, T, R/T, 2, 2R, 2T, 2R/T, 3, 3R, 3T, 3R/T) (tour appearances) • Yoshi's Island (R, T, R/T) (tour appearances)
Remix courses
RMX Mario Circuit 1 (R, T, R/T) (tour appearances) • RMX Choco Island 1 (R, T, R/T) (tour appearances) • RMX Rainbow Road 1 (R, T, R/T) (tour appearances) • RMX Rainbow Road 2 (R, T, R/T) (tour appearances) • RMX Choco Island 2 (R, T, R/T) (tour appearances) • RMX Vanilla Lake 1 (R, T) (tour appearances) • RMX Ghost Valley 1 (R, T, R/T) (tour appearances) • RMX Bowser's Castle 1 (R, T, R/T) (tour appearances) • RMX Donut Plains 1 (R, T, R/T) (tour appearances)
Classic courses
SNES courses
Mario Circuit 1 (R, T, R/T) (tour appearances) • Donut Plains 1 (R, T, R/T) (tour appearances) • Ghost Valley 1 (R, T, R/T) (tour appearances) • Mario Circuit 2 (R, T, R/T) (tour appearances) • Choco Island 1 (R, T, R/T) (tour appearances) • Ghost Valley 2 (R, T, R/T) (tour appearances) • Donut Plains 2 (R, T, R/T) (tour appearances) • Mario Circuit 3 (R, T, R/T) (tour appearances) • Choco Island 2 (R, T, R/T) (tour appearances) • Vanilla Lake 1 (R, T, R/T) (tour appearances) • Bowser Castle 3 (R, T, R/T) (tour appearances) • Donut Plains 3 (R, T, R/T) (tour appearances) • Koopa Troopa Beach 2 (R, T) (tour appearances) • Vanilla Lake 2 (R, T) • (tour appearances) • Rainbow Road (R, T, R/T) (tour appearances)
N64 courses
Luigi Raceway (R, T, R/T) (tour appearances) • Koopa Troopa Beach (R, T, R/T) (tour appearances) • Kalimari Desert (R, T, R/T, 2, 2R, 2T, 2R/T) (tour appearances) • Frappe Snowland (R, T, R/T) (tour appearances) • Choco Mountain (R, T, R/T) (tour appearances) • Royal Raceway (R, T, R/T) (tour appearances) • Yoshi Valley (R, T, R/T) (tour appearances)
GBA courses
Peach Circuit (R, T, R/T) (tour appearances) • Riverside Park (R, T, R/T) (tour appearances) • Bowser's Castle 1 (R, T, R/T) (tour appearances) • Boo Lake (R, T, R/T) (tour appearances) • Bowser's Castle 2 (R, T, R/T) (tour appearances) • Sky Garden (R, T, R/T) (tour appearances) • Cheep-Cheep Island (R, T, R/T) (tour appearances) • Sunset Wilds (R, T, R/T) (tour appearances) • Snow Land (R, T, R/T) (tour appearances) • Yoshi Desert (R, T, R/T) (tour appearances) • Bowser's Castle 3 (R, T, R/T) (tour appearances) • Bowser's Castle 4 (R) (tour appearances)
GCN courses
Baby Park (R, T, R/T) (tour appearances) • Mushroom Bridge (R, T, R/T) (tour appearances) • Daisy Cruiser (R, T) (tour appearances) • Yoshi Circuit (R, T, R/T) (tour appearances) • DK Mountain (R, T, R/T) (tour appearances) • Dino Dino Jungle (R, T, R/T) (tour appearances)
DS courses
Luigi's Mansion (R, T, R/T) (tour appearances) • Waluigi Pinball (R, T, R/T) (tour appearances) • Shroom Ridge (R, T, R/T) (tour appearances) • DK Pass (R, T, R/T) (tour appearances) • Mario Circuit (R, T, R/T) (tour appearances) • Airship Fortress (R, T, R/T) (tour appearances) • Peach Gardens (R, T, R/T) (tour appearances)
Wii courses
Mushroom Gorge (R, T, R/T) (tour appearances) • Coconut Mall (R, T, R/T) (tour appearances) • DK Summit (R, T, R/T) (tour appearances) • Daisy Circuit (R, T, R/T) (tour appearances) • Koopa Cape (R, T, R/T) (tour appearances) • Maple Treeway (R, T, R/T) (tour appearances) • Dry Dry Ruins (R, T, R/T) (tour appearances) • Rainbow Road (R, T, R/T) (tour appearances)
3DS courses
Toad Circuit (R, T, R/T) (tour appearances) • Daisy Hills (R, T, R/T) (tour appearances) • Cheep Cheep Lagoon (R, T, R/T) (tour appearances) • Shy Guy Bazaar (R, T, R/T) (tour appearances) • Mario Circuit (R, T, R/T) (tour appearances) • Rock Rock Mountain (R, T) (tour appearances) • Piranha Plant Slide (R, T, R/T) (tour appearances) • Wario Shipyard (R, T, R/T) (tour appearances) • Neo Bowser City (R, T, R/T) (tour appearances) • Rosalina's Ice World (R, T, R/T) (tour appearances) • Bowser's Castle (R, T, R/T) (tour appearances) • Rainbow Road (R, T, R/T) (tour appearances)
Battle courses
New courses
New York Minute B (tour appearances) • Paris Promenade B (tour appearances)
Classic courses
GBA Battle Course 1 (tour appearances) • GCN Cookie Land (tour appearances) • DS Twilight House (tour appearances)
Other
Bonus challenges
Ready, Set, Rocket Start • Time Trial • Ring Race • Do Jump Boosts • Big Reverse Race • Goomba Takedown • Glider Challenge • Steer Clear of Obstacles • Break Item Boxes • Smash Small Dry Bones • Vs. Mega • Combo Attack • Take them out quick! • Snap a Photo • Precision Gliding • Big Reverse Race vs. 100
Cups
Baby Daisy Cup • Baby Luigi Cup • Baby Mario Cup • Baby Peach Cup • Baby Rosalina Cup • Birdo Cup • Bowser Cup • Bowser Jr. Cup • Cat Peach Cup • Chargin' Chuck Cup • Daisy Cup • Diddy Kong Cup • Dixie Kong Cup • Donkey Kong Cup • Dry Bones Cup • Dry Bowser Cup • Fire Bro Cup • Fire Rosalina Cup • Funky Kong Cup • Hammer Bro Cup • Ice Bro Cup • Ice Mario Cup • Iggy Cup • Kamek Cup • King Bob-omb Cup • King Boo Cup • Koopa Troopa Cup • Lakitu Cup • Larry Cup • Lemmy Cup • Ludwig Cup • Luigi Cup • Mario Cup • Metal Mario Cup • Mii Cup • Monty Mole Cup • Morton Cup • Nabbit Cup • Pauline Cup • Peach Cup • Peachette Cup • Pink Gold Peach Cup • Poochy Cup • Rosalina Cup • Roy Cup • Shy Guy Cup • Tanooki Mario Cup • Toad Cup • Toadette Cup • Waluigi Cup • Wario Cup • Wendy Cup • Yoshi Cup
Tours
2019
New York Tour • Tokyo Tour • Halloween Tour • Paris Tour • Winter Tour • London Tour • Holiday Tour • New Year's Tour
2020
Ice Tour • Valentine's Tour • Vancouver Tour • Mario Bros. Tour • Baby Rosalina Tour • Hammer Bro Tour • Yoshi Tour • Trick Tour • Flower Tour • Jungle Tour • Cooking Tour • Peach Tour • Marine Tour • Exploration Tour • Wild West Tour • Pirate Tour • Summer Festival Tour • Super Mario Kart Tour • Los Angeles Tour • 1st Anniversary Tour • Halloween Tour • Sunset Tour • Mario vs. Luigi Tour • Winter Tour • Rosalina Tour • New Year's 2021 Tour
2021
Berlin Tour • Cat Tour • Peach vs. Daisy Tour • Snow Tour • Mario Tour • Yoshi Tour • Ninja Tour • Sydney Tour (April–May) • Bowser vs. DK Tour • Trick Tour • Wedding Tour • Paris Tour • Summer Tour • Los Angeles Tour • Mario vs. Peach Tour • Frost Tour • Kamek Tour • Sydney Tour (September) • 2nd Anniversary Tour • Autumn Tour • Halloween Tour • Toad vs. Toadette Tour • Space Tour • Holiday Tour • Penguin Tour • New Year's 2022 Tour
2022
Singapore Tour • Wario vs. Waluigi Tour • Los Angeles Tour • Sky Tour • Mii Tour • Samurai Tour • Yoshi Tour • Amsterdam Tour • Doctor Tour • Peach vs. Bowser Tour (May) • Cat Tour • Metropolitan Tour • Bangkok Tour • Piranha Plant Tour • Ocean Tour • Sundae Tour • Bowser Tour • Mario vs. Luigi Tour • Anniversary Tour • Battle Tour • Halloween Tour • Autumn Tour • Animal Tour • Peach vs. Bowser Tour (November–December) • Holiday Tour • New Year's Tour
2023
Space Tour • Winter Tour • Exploration Tour • Doctor Tour • Mario Tour • Ninja Tour • Yoshi Tour • Spring Tour • Bowser Tour • Mii Tour • Princess Tour • Mario vs. Luigi Tour
Items
Regular items
Banana • Green Shell • Red Shell • Spiny Shell • Bob-omb • Mushroom • Mega Mushroom • Bullet Bill • Blooper • Lightning • Super Horn • Coin • Star • Feather*
Special items
Triple Bananas • Giant Banana • Triple Green Shells • Bowser's Shell • Double Bob-ombs • Triple Mushrooms • Fire Flower • Boomerang Flower • Ice Flower • Heart • Yoshi's Egg • Birdo's Egg • Bubble • Banana Barrels • Mushroom Cannon • Bob-omb Cannon • Lucky Seven • Dash Ring • Coin Box • Hammer • Giga Bob-omb • Super Bell • Super Leaf • Capsule
Inventory items
Coin • Coin Rush ticket • Event token* • Grand Star • Item ticket • Level-boost ticket • Point-boost ticket • Points-cap ticket* • Ruby • Star ticket • Team token* • Quick ticket
Course elements
Interactable
Banzai Bill • Barrel • Barrel Bomb • Barrel Cannon • Big egg • Blimp • Bob-omb Car • Bone Piranha Plant • Burner • Cannon • Car • Ceiling Needle • Chain Chomp • Cheep Cheep • Clampy • Crate • Dash Panel • Dash panel ramp truck • Exploring Shy Guy • Falling Pillar • Festive tree • Fire Piranha Plant • Flipper • Floaty • Flying Shy Guy • Glide Ramp • Goal Ring • Goat • Goomba • Goomba Tower • Half-pipe • Hot-air balloon • Inky Piranha Plant • Jack-o'-lantern • Jar • Jellybeam • Jump Boost field • Kadomatsu • Kanaami Road • Lava Bubble • Lava Geyser • Leaf pile • Maw-Ray • Metal ball • Mud • Mushroom Platform • Mushroom Trampoline • Noshi • Oil slick • Penguin • Pipe • Piranha Plant • Pokey • Puddle • Ramp • Rocky Wrench • Rolling rock • Sidestepper • Skating Shy Guy • Snow block • Snowball • Snowboarding Shy Guy • Snowperson • Spring egg • Star Ring • Star Thwomp • Stilt Guy • Swoop • Table • Thwomp • Traffic cone • Train • Truck • Walking Tree • Water Geyser • Wiggler • Wiggler Wagon • Whomp • Winged Cloud • Wooden cutout
Non-interactable
Big Cheep Cheep • Boo • Boo Buddies • Bulber • Goonie • Huffin Puffin • Incoming Chomp • Nep-Enut • Painting • Petal Guy • Shy Guy Tent • Star Bit • Vase
Techniques
Drift • Hop • Jump Boost • Mini-Turbo • Rocket Start • Slipstream
Favored and favorite courses
New • Remix • Super Mario Kart (SNES) • Mario Kart 64 (N64) • Mario Kart: Super Circuit (GBA) • Mario Kart: Double Dash!! (GCN) • Mario Kart DS (DS) • Mario Kart Wii (Wii) • Mario Kart 7 (3DS) • Battle
Miscellaneous
Action names in other languages • Badges • Challenge cards • Coin Rush • Emblem • Experience Point • In-game statistics • Finish line • Frenzy • Gallery (Artwork · Badges · Course icons · Screenshots · Sprites and models) • Item probability distributions • Media • Pipe • Pre-release and unused content • Race points system • Special pipe • Special skill • Sponsors • Trick animations • Underwater driving • Update history
* In version 2.1.0 or later