List of badges in Mario Kart Tour
From the Super Mario Wiki, the Mario encyclopedia
Jump to navigation
Jump to search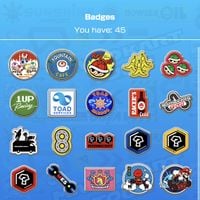 Badges in Mario Kart Tour are acquired by completing certain challenges during or after races. A badge is displayed accompanying the player's name when scores are displayed or before a race, as well as in rankings and the friend list. If a challenge is completed before the respective challenge card it is in is unlocked, the badge will not be awarded.
As of version 1.1.0, the player can view and equip any badge they have obtained throughout the course of the game from the badge list in the menu.
Character attributes
[
edit
]
Drivers have characteristics that allow them to earn certain badges. Most drivers have more than one character attribute.
Category
Attribute
Characters
Group
Baby
Kong family
Koopaling
Body part
Horns
Three hairs
Mustache
Extended tongue
Shell

Headwear
Hat
Crown
Helmet
Accessory
Earrings
Ribbon

Clothes
Gloves
Tie

Short sleeves
Dress
Standard badges
[
edit
]
Common badges
[
edit
]
Most badges are only accessible for a limited amount of time and change with every tour, though some (like those unlocked through the Standard Challenge sets) are always available. The following table depicts in dark gray the first tour in chronological order in which the badge was available to players. Most badges do appear in challenge cards in later tours, but collecting a badge identical to one already in the player's collection has no additional benefit.
No.
Badge
Tour
Challenge card
Challenge
000
Base game
Standard Challenges 1-3
Raise 5 drivers, karts, or gliders to skill level 2.
Base game
Standard Challenges 1-4
Raise 5 drivers, karts, or gliders to skill level 3.
Base game
Standard Challenges 1-5
Raise 5 drivers, karts, or gliders to skill level 4.
001
Ice
Tour Challenges 2
Clear all of the cups in the Ice Tour.
Los Angeles (2020)
Tour Challenges 1
Break 5 snow blocks.
Halloween (2020)
Tour Challenges 1
Take out 5 snowpeople.
Mario vs. Luigi (2020)
Tour Challenges 1
Break 5 snow blocks.
New Year's 2021
Tour Challenges 1
Break 5 snow blocks.
Bowser vs. DK
Tour Challenges 1
Break 5 snow blocks.
Holiday (2021)
Tour Challenges 2
Break 5 snow blocks.
Sundae (2022)
Tour Challenges 1
Get 3rd place or higher in a race 30 times.
Holiday (2022)
Tour Challenges 1
Get 1st place 2 times in a row in 100cc or above.
Winter (2023)
Tour Challenges 1
Get 3rd place or higher 30 times.
002
Winter (2019)
Tour Challenges 2
Land 5 hits with Bananas in a single race.
Los Angeles (2021)
Tour Challenges 1
Land 5 hits with Bananas.
Autumn (2021)
Tour Challenges 2
Land 5 hits with Bananas.
Toad vs. Toadette
Tour Challenges 2
Land 5 hits with Bananas.
Penguin
Tour Challenges 1
Land 5 hits with Bananas.
Sky
Tour Challenges 2
Land 5 hits with Bananas.
Cat (2022)
Tour Challenges 2
Land 5 hits with Bananas.
Bowser (2022)
Tour Challenges 2
Land 5 hits with Bananas.
New Year's (2023)
Tour Challenges 1
Land 5 hits with Bananas.
Doctor (2023)
Tour Challenges 1
Land 5 hits with Bananas.
Spring
Tour Challenges 2
Land 5 hits with Bananas.
Pipe
Tour Challenges 2
Land 5 hits with Bananas.
003
1st Anniversary
Anniversary Challenges
Activate Frenzy mode mode 3 times on a city course.
Kamek
Tour Challenges 1
Earn a score of 7,000 or higher on an RMX course.
Autumn (2021)
Tour Challenges 2
Get 1st place 3 times in a row in races 100cc or above.
Space (2021)
Tour Challenges 1
Use point-boost tickets 3 times.
Holiday (2021)
Tour Challenges 2
Get a Fantastic combo a total of 5 times.
Singapore
Tour Challenges 1
Get 1st place in a 100cc or higher race 2 times in a row.
Amsterdam
Tour Challenges 1
Get a Fantastic combo a total of 5 times.
Holiday (2022)
Tour Challenges 2
Drive a distance of 20,000 or more.
004
London
Tour Challenges 2
Land 3 hits with Bob-ombs in a single race.
Flower
Tour Challenges 1
Land 3 hits with Bob-ombs.
Wild West
Tour Challenges 2
Land 5 hits with Bob-ombs.
1st Anniversary
Anniversary Challenges
Get 1 item from the Daily Selects section of the Shop.
Sunset
Tour Challenges 1
Land 5 hits with Bob-ombs.
Yoshi (2021)
Tour Challenges 2
Land 3 hits with Bob-ombs.
Summer (2021)
Tour Challenges 1
Land 3 hits with Bob-ombs.
Singapore
Tour Challenges 2
Land 3 hits with Bob-ombs.
Amsterdam
Tour Challenges 1
Land 3 hits with Bob-ombs.
Sundae (2022)
Tour Challenges 1
Land 3 hits with Bob-ombs.
Yoshi (2023)
Tour Challenges 1
Land 3 hits with Bob-ombs.
Night
Tour Challenges 1
Land 3 hits with Bob-ombs.
Anniversary (2023)
Tour Challenges 1
Land 3 hits with Bob-ombs.
005
New Year's (2020)
Tour Challenges 1
Earn a score of 8,000 or higher on a T course.
Ice
Tour Challenges 2
Earn a score of 8,000 or higher on a T course.
Cooking
Tour Challenges 1
Earn a score of 8,000 or higher on a T or R/T course.
Bowser vs. DK
Tour Challenges 1
Get an item from the Tier Shop.
Paris (2021)
Tour Challenges 1
Use point-boost tickets 3 times.
Mario vs. Peach
Tour Challenges 2
Use a level-boost ticket.
Toad vs. Toadette
Tour Challenges 2
Earn a score of 7,000 or higher on 3 T or R/T courses.
Penguin
Tour Challenges 2
Earn a score of 7,000 or higher on an RMX course.
Singapore
Tour Challenges 1
Get a Fantastic combo a total of 5 times.
Samurai
Tour Challenges 2
Earn a score of 7,000 or higher on 3 T or R/T courses.
Amsterdam
Tour Challenges 1
Drive a distance of 20,000 or more on a city course.
Peach vs. Bowser (May 2022)
Tour Challenges 1
Get a Fantastic combo a total of 5 times.
Sundae (2022)
Tour Challenges 2
Use point-boost tickets 3 times.
Animal
Tour Challenges 2
Drive a distance of 20,000 or more.
Space (2023)
Tour Challenges 2
Earn a score of 7,000 or higher on 3 T or R/T courses.
006
Mario (2021) / Yoshi (2021)
1.5 Year Anniversary Challenges 1
Do 30 Mini-Turbo boosts on a Tokyo course.
Sydney (April–May 2021)
Tour Challenges 1
Get 1st place a total of 5 times on a Sydney course.
Wedding
Tour Challenges 1
Earn a score of 7,000 or higher on 3 T courses.
Los Angeles (2021)
Tour Challenges 2
Drive a distance of 15,000 or more on a Los Angeles course.
Holiday (2021)
Tour Challenges 2
Earn a score of 7,000 or higher on 3 T or R/T courses.
New Year's 2022
New Year's Challenges
Get 1st place in a race 10 times.
Singapore
Tour Challenges 1
Drive a distance of 20,000 or more on a city course.
Mii (2022)
Tour Challenges 2
Drive a distance of 20,000 or more.
Yoshi (2022)
Tour Challenges 2
Drive a distance of 20,000 or more.
Doctor (2022)
Tour Challenges 2
Drive a distance of 20,000 or more.
Bangkok
Tour Challenges 1
Race on 5 city courses.
Sundae (2022)
Tour Challenges 2
Get 1st place in a 100cc or higher race 2 times in a row.
Mario vs. Luigi (2022)
Tour Challenges 1
Glide a total distance of 5,000.
Animal
Tour Challenges 1
Get a Fantastic combo a total of 5 times.
007
Holiday (2019)
Tour Challenges 1
Cause opponents to crash using a Mega Mushroom.
Ice
Tour Challenges 2
Cause opponents to crash using a Mega Mushroom.
New Year's 2021
Tour Challenges 2
Send Greeting Coins to a friend.
Snow
Tour Challenges 2
Race in every course of every cup, including bonus challenges.
Bowser vs. DK
Tour Challenges 1
Get a combo count of ×30 or higher.
Los Angeles (2021)
Tour Challenges 1
Send Greeting Coins to a friend.
Kamek
Tour Challenges 2
Send Greeting Coins to a friend.
New Year's 2022
Tour Challenges 2
Earn a score of 7,000 or higher on 3 T or R/T courses.
Sky
Tour Challenges 1
Use point-boost tickets 3 times.
Yoshi (2022)
Tour Challenges 1
Get a Fantastic combo a total of 5 times.
Ocean
Tour Challenges 1
Get a Fantastic combo a total of 5 times.
Winter (2023)
Tour Challenges 1
Drive a distance of 20,000 or more.
008
New York
Tour Challenges 2
Take out 5 goats.
London
Tour Challenges 1
Take out 5 goats.
Holiday (2019)
Tour Challenges 2
Take out 5 goats.
Vancouver
Tour Challenges 2
Take out 5 goats.
1st Anniversary
Anniversary Challenges
Race on 5 city courses.
Sydney (September 2021)
Tour Challenges 1
Drive a distance of 20,000 or more.
Bangkok
Tour Multiplayer Challenges
Cause opponents to crash 5 times in multiplayer.
Bowser (2022)
Tour Multiplayer Challenges
Cause opponents to crash 5 times in multiplayer.
Halloween (2022)
Tour Multiplayer Challenges
Cause opponents to crash 5 times in multiplayer.
New Year's (2023)
Tour Multiplayer Challenges
Cause opponents to crash 5 times in multiplayer.
Ninja (2023)
Tour Multiplayer Challenges
Cause opponents to crash 5 times in multiplayer.
Mario vs. Luigi (2023)
Tour Multiplayer Challenges
Cause opponents to crash 5 times in multiplayer.
Summer (2023)
Tour Multiplayer Challenges
Cause opponents to crash 5 times in multiplayer.
009
Mario Bros.
Tour Challenges 1
Glide a total distance of 5,000.
Baby Rosalina
Tour Challenges 2
Ride on air currents 5 times.3
Trick (2020)
Tour Challenges 1
Perform a total of 3 Jump Boosts by bouncing off hot-air balloons.
Jungle
Tour Challenges 1
Cause opponents to crash 3 times while gliding.
Los Angeles (2021)
Tour Challenges 1
Cause an opponent to crash while gliding.
Autumn (2021)
Tour Challenges 1
Cause an opponent to crash while gliding.
Holiday (2021)
Tour Challenges 1
Glide a total distance of 5,000.
Wario vs. Waluigi
Tour Challenges 1
Glide a total distance of 5,000.
Sky
Tour Challenges 1
Glide a total distance of 5,000.
Yoshi (2022)
Tour Challenges 1
Cause an opponent to crash while gliding.
Peach vs. Bowser (May 2022)
Tour Challenges 1
Cause an opponent to crash while gliding.
Ocean
Tour Challenges 1
Glide a total distance of 5,000.
Anniversary (2022)
Tour Challenges 1
Cause an opponent to crash while gliding.
Autumn (2022)
Tour Challenges 2
Glide a total distance of 5,000.
Peach vs. Bowser (November–December 2022)
Tour Challenges 2
Glide a total distance of 5,000.
Exploration (2023)
Tour Challenges 1
Glide a total distance of 5,000.
Ninja (2023)
Tour Challenges 1
Drive a distance of 20,000 or more.
Yoshi (2023)
Tour Challenges 1
Glide a total distance of 5,000.
Princess
Tour Challenges 1
Glide a total distance of 5,000.
Night
Tour Challenges 1
Glide a total distance of 5,000.
Summer (2023)
Tour Challenges 2
Glide a total distance of 5,000.
010
Los Angeles (2021) / Mario vs. Peach
Summertime Challenges 2
Get an item from the Tier Shop.
Frost
Tour Challenges 2
Earn a score of 7,000 or higher on an RMX course.
2nd Anniversary
Tour Challenges 1
Get an item from the Tier Shop.
Halloween (2021) / Toad vs. Toadette
Autumn Challenges 2
Get an item from the Tier Shop.
Doctor (2022)
Tour Challenges 2
Earn a score of 7,000 or higher on 3 T or R/T courses.
Piranha Plant
Tour Challenges 1
Get a Fantastic combo a total of 5 times.
Battle
Tour Challenges 1
Use point-boost tickets 3 times.
011
Wario vs. Waluigi
Tour Challenges 1
Race in every course of every cup, including bonus challenges.
Night
Tour Challenges 1
Get a Fantastic combo a total of 5 times.
012
New York
Tour Challenges 2
Land 3 hits with Yoshi's EggT.
Yoshi (2021)
Tour Challenges 1
Get an item from the Tier Shop.
Yoshi (2022)
Tour Challenges 1
Do 50 Mini-Turbo boosts.
013
Los Angeles (2020)
Tour Challenges 2
Earn a score of 7,000 or higher on a Los Angeles course.
Sunset
Tour Challenges 1
Earn a score of 7,000 or higher using a Koopaling driverC.
Bowser (2022)
Tour Challenges 1
Get 1st place in a 100cc or higher race 2 times in a row.
Spring
Tour Challenges 1
Do 50 Mini-Turbo boosts.
014
Bowser (2022)
Tour Challenges 2
Drive a distance of 20,000 or more.
Summer (2023)
Tour Challenges 2
Use Lightning.
015
Los Angeles (2021) / Mario vs. Peach
Summertime Challenges 2
Cause opponents to crash 100 times.
Halloween (2021) / Toad vs. Toadette
Autumn Challenges 2
Cause opponents to crash 100 times.
Cat (2022)
Tour Challenges 1
Do 100 Jump Boosts.
Piranha Plant
Tour Challenges 1
Cause an opponent to crash while gliding.
Autumn (2022)
Tour Challenges 2
Get 1st place 2 times in a row in 100cc or above.
016
Mii (2023)
Tour Challenges 2
Get 1 item from the Daily Selects section of the Shop.
017
Bowser (2022)
Tour Challenges 2
Earn a score of 7,000 or higher on 3 T or R/T courses.
Princess
Tour Challenges 2
Do a total of 5 Slipstream boosts.
018
Trick (2020)
Tour Challenges 2
Land a hit with a Green Shell in a Standard Race.
Super Mario Kart
Tour Challenges 2
Land 5 hits with Green Shells.
Yoshi (2021)
Tour Challenges 2
Land 3 hits with Green Shells.
Wedding
Tour Challenges 2
Land 10 hits with Green Shells.
Mario vs. Peach
Tour Challenges 2
Land 10 hits with Green Shells.
Holiday (2021)
Tour Challenges 2
Land 3 hits with Green Shells.
New Year's 2022
Tour Challenges 1
Land 3 hits with Green Shells.
Los Angeles (2022)
Tour Challenges 1
Land 3 hits with Green Shells.
Samurai
Tour Challenges 2
Land 3 hits with Green Shells.
Doctor (2022)
Tour Challenges 2
Land 3 hits with Green Shells.
Peach vs. Bowser (May 2022)
Tour Challenges 2
Land 3 hits with Green Shells.
Ocean
Tour Challenges 1
Land 3 hits with Green Shells.
Anniversary (2022)
Tour Challenges 1
Land 3 hits with Green Shells.
Autumn (2022)
Tour Challenges 1
Land 3 hits with Green Shells.
Holiday (2022)
Tour Challenges 1
Land 3 hits with Green Shells.
Winter (2023)
Tour Challenges 1
Land 3 hits with Green Shells.
Pipe
Tour Challenges 1
Land 3 hits with Green Shells.
019
Exploration (2020)
Tour Challenges 2
Race in every course of every cup, including bonus challenges.
Summer (2021)
Tour Challenges 1
Get an item from the Tier Shop.
Mario vs. Peach
Tour Challenges 1
Send Greeting Coins to a friend.
Sydney (September 2021)
Tour Challenges 2
Cause opponents to crash using a Mega Mushroom.
Halloween (2021)
Tour Challenges 1
Send Greeting Coins to a friend.
Los Angeles (2022)
Tour Challenges 2
Use point-boost tickets 3 times.
Mii (2022)
Tour Challenges 2
Earn a score of 7,000 or higher on 3 T or R/T courses.
Bangkok
Tour Challenges 2
Use point-boost tickets 3 times.
Sundae (2022)
Tour Challenges 2
Earn a score of 7,000 or higher on 3 T or R/T courses.
Halloween (2022)
Tour Challenges 2
Drive a distance of 20,000 or more.
Exploration (2023)
Tour Challenges 1
Get 1 item from the Daily Selects section of the Shop.
020
New Year's (2020)
Tour Challenges 1
Take out 3 Thwomps.
Yoshi (2020)
Tour Challenges 2
Take out a Thwomp.
New Year's 2021
Tour Challenges 2
Earn a score of 8,000 or higher on a T or R/T course.
Halloween (2021) / Toad vs. Toadette
Autumn Challenges 2
Activate Frenzy mode 5 times.
Mario vs. Luigi (2022)
Tour Challenges 2
Earn a score of 7,000 or higher on 3 T or R/T courses.
New Year's (2023)
Tour Challenges 1
Do 50 Mini-Turbo boosts.
Bowser (2023)
Tour Challenges 2
Use 15 Mushrooms.
Mii (2023)
Tour Challenges 2
Use 10 Mushrooms.
Sunshine
Tour Challenges 2
Use 15 Mushrooms.
021
New York
Tour Challenges 1
Activate Frenzy mode 5 times.
Tokyo
Tour Challenges 1
Activate Frenzy mode 5 times.
Paris (2019)
Tour Challenges 1
Activate Frenzy mode 10 times.
Valentine's
Tour Challenges 1
Activate Frenzy mode 10 times.
Hammer Bro
Tour Challenges 1
Activate Frenzy mode 3 times.
Yoshi (2020)
Tour Challenges 2
Activate Frenzy mode 3 times.
Trick (2020)
Tour Challenges 2
Activate Frenzy mode 5 times.
Flower
Tour Challenges 2
Activate Frenzy mode 5 times.
Jungle
Tour Challenges 2
Activate Frenzy mode 3 times.
Peach
Tour Challenges 2
Finish a race in Frenzy mode.
Marine
Tour Challenges 1
Activate Frenzy mode 3 times.
Exploration (2020)
Tour Challenges 2
Activate Frenzy mode 3 times.
Pirate
Tour Challenges 1
Cause opponents to crash in Frenzy mode.
Super Mario Kart
Tour Challenges 2
Activate Frenzy mode 3 times.
Los Angeles (2020)
Tour Challenges 1
Activate Frenzy mode 5 times.
1st Anniversary
Tour Challenges 1
Activate Frenzy mode 3 times.
Winter (2020)
Tour Challenges 1
Activate Frenzy mode 5 times.
Berlin
Tour Challenges 2
Activate Frenzy mode 5 times on a Berlin course.
Snow
Tour Challenges 1
Activate Frenzy mode 5 times.
Trick (2021)
Tour Challenges 2
Earn a score of 10,000 or higher on a T or R/T course.
Summer (2021)
Tour Challenges 1
Activate Frenzy mode 5 times.
New Year's (2023)
Tour Challenges 2
Get 1st place 2 times in a row in 100cc or above.
022
Yoshi (2020)
Tour Challenges 1
Perform a total of 3 Jump Boosts by bouncing off hot-air balloons.
Mario vs. Luigi (2020)
Tour Challenges 1
Cause an opponent to crash while gliding.
Peach vs. Daisy
Tour Challenges 1
Cause an opponent to crash while gliding.
Yoshi (2021) / Ninja (2021)
1.5 Year Anniversary Challenges 2
Glide a total distance of 1,500 or more.
Mario vs. Peach
Tour Challenges 2
Cause an opponent to crash while gliding.
Space (2021)
Tour Challenges 1
Cause an opponent to crash while gliding.
New Year's 2022
Tour Challenges 1
Cause an opponent to crash while gliding.
Sky
Tour Challenges 1
Cause an opponent to crash while gliding.
Samurai
Tour Challenges 2
Cause an opponent to crash while gliding.
Doctor (2022)
Tour Challenges 1
Glide a total distance of 5,000.
Bangkok
Tour Challenges 1
Cause an opponent to crash while gliding.
Battle
Tour Challenges 1
Glide a total distance of 5,000.
New Year's (2023)
Tour Challenges 2
Glide a total distance of 5,000.
Mii (2023)
Tour Challenges 2
Glide a total distance of 5,000.
023
Wild West
Tour Challenges 2
Earn a score of 10,000 or higher on a T or R/T course.
Los Angeles (2021)
Tour Challenges 1
Cause opponents to crash 10 times using a driver wearing a helmetK.
Frost
Tour Challenges 2
Get a Fantastic combo a total of 5 times.
Autumn (2021)
Tour Challenges 1
Get a Fantastic combo a total of 5 times.
Space (2021)
Tour Challenges 2
Drive a distance of 20,000 or more.
Penguin
Tour Challenges 1
Get a Fantastic combo a total of 5 times.
Sky
Tour Challenges 2
Drive a distance of 20,000 or more.
Mii (2022)
Tour Challenges 2
Do 50 Mini-Turbo boosts using a driver wearing a helmetK.
Amsterdam
Tour Challenges 2
Earn a score of 7,000 or higher on 3 T or R/T courses.
Peach vs. Bowser (May 2022)
Tour Challenges 2
Earn a score of 7,000 or higher on 3 T or R/T courses.
Cat (2022)
Tour Challenges 2
Cause an opponent to crash while gliding.
Ocean
Tour Challenges 1
Cause an opponent to crash while gliding.
Halloween (2022)
Tour Challenges 1
Glide a total distance of 5,000.
024
Holiday (2019)
Tour Challenges 1
Do 3 Slipstream boosts in a single race.
Vancouver
Tour Challenges 2
Get a combo count of ×20 or higher.
Hammer Bro
Tour Challenges 2
Get a combo count of ×20 or higher.
Trick (2020)
Tour Challenges 2
Get a combo count of ×20 or higher.
Cooking
Tour Challenges 1
Do 10 Jump Boosts in a single race.
Peach
Tour Challenges 1
Get a combo count of ×10 or higher.
Exploration (2020)
Tour Challenges 2
Get a combo count of ×10 or higher.
Pirate
Tour Challenges 2
Get a combo count of ×20 or higher.
Halloween (2020)
Tour Challenges 2
Earn a score of 8,000 or higher on a T or R/T course.
Mario vs. Luigi (2020)
Tour Challenges 1
Get a combo count of ×30 or higher.
Winter (2020)
Tour Challenges 1
Get a combo count of ×30 or higher.
Cat (2021)
Tour Challenges 1
Get a combo count of ×30 or higher.
Ninja (2021)
Tour Challenges 1
Drive a distance of 16,000 or more on a 3DS course.
Los Angeles (2021)
Tour Challenges 2
Get a Fantastic combo a total of 5 times.
Mario vs. Peach
Tour Challenges 1
Get a Fantastic combo a total of 5 times.
Kamek
Tour Challenges 2
Get a combo count of ×30 or higher.
Halloween (2021)
Tour Challenges 2
Get 1 item from the Daily Selects section of the Shop.
New Year's 2022
Tour Challenges 1
Drive a distance of 16,000 or more on a 3DS course.
Wario vs. Waluigi
Tour Challenges 2
Drive a distance of 20,000 or more.
Sky
Tour Challenges 1
Get a Fantastic combo a total of 5 times.
Mii (2022)
Tour Challenges 1
Get 3rd place or higher in a race 30 times.
Ocean
Tour Challenges 2
Earn a score of 7,000 or higher on 3 T or R/T courses.
Autumn (2022)
Tour Challenges 1
Get a Fantastic combo a total of 5 times.
Space (2023)
Tour Challenges 2
Do 50 Mini-Turbo boosts using a driver wearing a helmetK.
025
Flower
Tour Challenges 2
Race in every course of every cup, including bonus challenges.
Peach vs. Daisy
Tour Challenges 2
Race in every course of every cup, including bonus challenges.
Space (2021)
Tour Challenges 2
Cause opponents to crash a total of 10 times using a driver wearing a crownJ.
Princess
Tour Challenges 1
Finish every course of every cup, including bonus challenges.
026
Tokyo
Tour Challenges 1
Land 3 hits with Super Horns.
Valentine's
Tour Challenges 1
Land 3 hits with Super Horns.
Bowser (2022)
Tour Challenges 1
Get an item from the Tier Shop.
Yoshi (2023)
Tour Challenges 1
Get a Fantastic combo a total of 5 times.
027
New York
Tour Challenges 1
Collect 30 coins in a single race.
Tokyo
Tour Challenges 1
Collect 30 coins in a single race.
Paris (2019)
Tour Challenges 2
Collect a total of 100 coins.
London
Tour Challenges 1
Collect a total of 200 coins.
New Year's (2020)
Tour Challenges 1
Collect a total of 100 coins.
Ice
Tour Challenges 1
Collect a total of 100 coins.
Hammer Bro
Tour Challenges 1
Collect a total of 100 coins in races.
1st Anniversary
Anniversary Challenges
Complete Coin Rush 1 time.
Mario vs. Luigi (2020)
Tour Challenges 2
Send Greeting Coins to a friend.
Winter (2020)
Tour Challenges 1
Send Greeting Coins to a friend.
Rosalina
Tour Challenges 1
Use point-boost tickets 3 times.
Snow
Tour Challenges 2
Send Greeting Coins to a friend.
Yoshi (2021)
Tour Challenges 1
Use point-boost tickets 3 times.
Ninja (2021)
Tour Challenges 2
Get an item from the Tier Shop.
Paris (2021)
Tour Challenges 2
Get an item from the Tier Shop.
Summer (2021) / Los Angeles (2021) / Mario vs. Peach
Summertime Challenges 1
Collect a total of 300 coins in races.
Kamek
Tour Challenges 2
Get an item from the Tier Shop.
Sydney (September 2021)
Tour Challenges 1
Get 1 item from the Daily Selects section of the Shop.
Autumn (2021)
Tour Challenges 1
Use point-boost tickets 3 times.
Toad vs. Toadette
Tour Challenges 1
Get 1 item from the Daily Selects section of the Shop.
Holiday (2021)
Tour Challenges 2
Use point-boost tickets 3 times.
Penguin
Tour Challenges 2
Get an item from the Tier Shop.
New Year's 2022
New Year's Challenges
Collect a total of 100 coins in races.
Singapore
Tour Challenges 2
Use point-boost tickets 3 times.
Wario vs. Waluigi / Los Angeles (2022) / Sky
Winter Challenges
Collect a total of 1,000 coins in races.
Mii (2022)
Tour Challenges 1
Get 1 item from the Daily Selects section of the Shop.
Yoshi (2022)
Tour Challenges 2
Get an item from the Tier Shop.
Doctor (2022)
Tour Challenges 1
Use point-boost tickets 3 times.
Piranha Plant
Tour Challenges 1
Get an item from the Tier Shop.
Ocean / Sundae (2022)
Summer Challenges
Collect a total of 300 coins in races.
Mario vs. Luigi (2022) / Anniversary (2022)
3rd Anniversary Challenges 1
Collect a total of 300 coins in races.
Halloween (2022) / Autumn (2022)
Autumn Challenges 2
Collect a total of 300 coins in races and battles.
Holiday (2022) / New Year's (2023)
Holiday Challenges
Collect a total of 300 coins in races and battles.
Winter (2023) / Exploration (2023)
Winter Challenges
Collect a total of 300 coins in races and battles.
Exploration (2023)
Tour Challenges 1
Finish every course of every cup, including bonus challenges.
Bowser (2023)
Tour Challenges 2
Send Greeting Coins to a friend.
Sunshine
Tour Challenges 2
Send Greeting Coins to a friend.
028
Los Angeles (2021)
Tour Challenges 2
Earn a score of 7,000 or higher using a driver wearing short sleevesO.
Ocean
Tour Challenges 1
Do 50 Mini-Turbo boosts.
New Year's (2023)
Tour Challenges 1
Drive a distance of 20,000 or more.
Sunshine
Tour Challenges 1
Finish every course of every cup, including bonus challenges.
029
Holiday (2019)
Tour Challenges 2
Cause opponents to crash 5 times while underwater.
Ice
Tour Challenges 1
Cause opponents to crash 5 times while underwater.
Summer Festival
Tour Challenges 1
Cause opponents to crash 3 times while underwater.
Los Angeles (2020)
Tour Challenges 2
Get a total of 5 Fantastic combos on a Los Angeles course.
Ocean
Tour Challenges 2
Send Greeting Coins to a friend.
Sunshine
Tour Challenges 1
Get 1st place 2 times in a row in 100cc or above.
030
Base game
Standard Challenges 1-1
Make 3 friends.
Base game
Standard Challenges 1-2
Make 5 friends.
031
2nd Anniversary
Tour Challenges 1
Send Greeting Coins to a friend.
Cat (2022)
Tour Challenges 1
Race in every course of every cup, including bonus challenges.
Holiday (2022)
Tour Challenges 2
Use point-boost tickets 3 times.
Doctor (2023)
Tour Challenges 2
Earn a score of 7,000 or higher on 3 T or R/T courses.
Yoshi (2023)
Tour Challenges 2
Complete Coin Rush 1 time.
Night
Tour Challenges 2
Complete Coin Rush 1 time.
032
Winter (2019)
Tour Challenges 1
Take out 5 snowpeople.
Vancouver
Tour Challenges 1
Take out 5 snowpeople.
Hammer Bro
Tour Challenges 1
Take out 5 snowpeople.
Sundae (2023)
Tour Challenges 2
Get 1st place 2 times in a row in 100cc or above.
033
Wild West
Tour Challenges 1
Finish the Wario Cup Time Trial bonus challenge within 1 minute and 30 seconds.
Yoshi (2023)
Tour Challenges 2
Land 5 hits with Red Shells.
Night
Tour Challenges 2
Land 5 hits with Red Shells.
Anniversary (2023)
Tour Challenges 2
Land 5 hits with Red Shells.
034
Summer Festival
Tour Challenges 1
Land a hit with a Bob-omb using a driver with a ribbonL.
Halloween (2020)
Tour Challenges 1
Earn a score of 7,000 or higher using a driver with a ribbonL.
Sunset
Tour Challenges 1
Land a hit with a Bob-omb using a driver with a ribbonL.
Bowser (2022)
Tour Challenges 1
Do 100 Jump Boosts.
Mii (2023)
Tour Challenges 2
Land a hit with a Bob-omb using a driver with a ribbonL.
035
Yoshi (2021)
Tour Challenges 1
Earn a score of 7,000 or higher on 3 T courses.
Trick (2021)
Tour Challenges 2
Race in every course of every cup, including bonus challenges.
Los Angeles (2022)
Tour Challenges 2
Earn a score of 7,000 or higher on a Los Angeles course.
Samurai
Tour Challenges 1
Use point-boost tickets 3 times.
Winter (2023)
Tour Challenges 2
Earn a score of 7,000 or higher on 3 T or R/T courses.
036
Winter (2019)
Tour Challenges 2
Ride on air currents 5 times.
Valentine's
Tour Challenges 2
Ride on air currents 5 times.
Baby Rosalina
Tour Challenges 2
Glide a total distance of 5,000.
Yoshi (2020)
Tour Challenges 1
Glide a total distance of 1,500 or more in Standard Races.
Jungle
Tour Challenges 1
Glide a total distance of 5,000.
Cooking
Tour Challenges 2
Cause an opponent to crash while gliding.
Exploration (2020)
Tour Challenges 1
Glide a total distance of 5,000.
Pirate
Tour Challenges 1
Finish a race by gliding over the finish line.
Halloween (2020)
Tour Challenges 1
Glide a total distance of 5,000.
Rosalina
Tour Challenges 2
Cause an opponent to crash while gliding.
New Year's 2021
New Year's Challenges
Glide a total distance of 2,021.
Berlin
Tour Challenges 2
Cause an opponent to crash while gliding.
Paris (2021)
Tour Challenges 2
Cause an opponent to crash while gliding.
Frost
Tour Challenges 2
Cause an opponent to crash while gliding.
Sky
Tour Challenges 1
Race in every course of every cup, including bonus challenges.
Metropolitan / Bangkok
City Course Challenges
Glide a total distance of 1,500 or more on a city course.
Sundae (2022)
Tour Challenges 1
Glide a total distance of 5,000.
Anniversary (2022)
3rd Anniversary Challenges 2
Glide a total distance of 1,500 or more on a city course.
Animal
Tour Challenges 1
Glide a total distance of 5,000.
Space (2023)
Tour Challenges 1
Cause an opponent to crash while gliding.
Ninja (2023)
Tour Challenges 2
Glide a total distance of 5,000.
Bowser (2023)
Tour Challenges 1
Cause an opponent to crash while gliding.
Sunshine
Tour Challenges 1
Cause an opponent to crash while gliding.
Sundae (2023)
Tour Challenges 2
Glide a total distance of 5,000.
037
Base game
Standard Challenges 1-1
Get 1 item from the Daily Selects section of the Shop.
Base game
Standard Challenges 1-2
Get 10 items from the Daily Selects section of the Shop.
Base game
Standard Challenges 1-3
Get 30 items from the Daily Selects section of the Shop.
Base game
Standard Challenges 1-4
Get 50 items from the Daily Selects section of the Shop.
Base game
Standard Challenges 1-5
Get 100 items from the Daily Selects section of the Shop.
038
Piranha Plant
Tour Challenges 1
Get 3rd place or higher in a race 30 times.
Mario vs. Luigi (2023)
Tour Challenges 1
Use point-boost tickets 3 times.
039
Trick (2020)
Tour Challenges 1
Use 1 point-boost ticket.
Flower
Tour Challenges 1
Earn a score of 9,000 or higher using a driver wearing a dressP.
Pirate
Tour Challenges 2
Perform a total of 3 Jump Boosts by bouncing off hot-air balloons.
Peach vs. Daisy
Tour Challenges 2
Get a combo count of ×30 or higher.
Summer (2021)
Tour Challenges 1
Do 10 Mini-Turbo boosts in a single race using a driver wearing earringsK.
Ocean
Tour Challenges 2
Do 10 Mini-Turbo boosts in a single race using a driver with a ribbonL.
Sunshine
Tour Challenges 1
Get 1 item from the Daily Selects section of the Shop.
040
London
Tour Challenges 2
Get 1st place without crashing.
Mario Bros.
Tour Challenges 2
Get 1st place in a course with Mario in its name.
Hammer Bro
Tour Challenges 2
Get 1st place without crashing.
Jungle
Tour Challenges 2
Get 1st place in a 100cc or higher race 3 times.
Peach
Tour Challenges 1
Get 1st place in a race 3 times.
Marine
Tour Challenges 2
Get 1st place without crashing.
Halloween (2020)
Tour Challenges 2
Get 1st place in a 100cc or higher race 2 times in a row.
Paris (2021)
Tour Challenges 1
Get 1st place in a 100cc or higher race 2 times in a row.
Mario vs. Peach
Tour Challenges 1
Earn a score of 7,000 or higher on 3 T or R/T courses.
Kamek
Tour Challenges 2
Use 10 Mushrooms.
Autumn (2021)
Tour Challenges 2
Cause opponents to crash using a Mega Mushroom.
Toad vs. Toadette
Tour Challenges 1
Cause opponents to crash using a Mega Mushroom.
Penguin
Tour Challenges 1
Cause opponents to crash using a Mega Mushroom.
Singapore
Tour Challenges 1
Cause opponents to crash using a Mega Mushroom.
Wario vs. Waluigi
Tour Challenges 1
Cause opponents to crash using a Mega Mushroom.
Mii (2022)
Tour Challenges 1
Cause opponents to crash using a Mega Mushroom.
Samurai
Tour Challenges 1
Cause opponents to crash using a Mega Mushroom.
Yoshi (2022)
Tour Challenges 2
Use 10 Mushrooms.
Amsterdam
Tour Challenges 1
Cause opponents to crash using a Mega Mushroom.
Doctor (2022)
Tour Challenges 1
Use 10 Mushrooms.
Sundae (2022)
Tour Challenges 1
Get a Fantastic combo a total of 5 times.
Mario vs. Luigi (2022)
Tour Challenges 1
Use 10 Mushrooms.
Halloween (2022) / Autumn (2022)
Autumn Challenges 2
Start a new tour.
Animal
Tour Challenges 1
Use 15 Mushrooms.
Exploration (2023)
Tour Challenges 2
Use 15 Mushrooms.
Mario (2023)
Tour Challenges 2
Use 15 Mushrooms.
Mii (2023)
Tour Challenges 1
Drive a distance of 20,000 or more.
041
New York
Tour Challenges 1
Land 3 hits with Red Shells.
Halloween (2019)
Tour Challenges 1
Land 3 hits with Red Shells.
Winter (2019)
Tour Challenges 1
Land 3 hits with Red Shells.
New Year's (2020)
Tour Challenges 2
Land 5 hits with Red Shells.
Valentine's
Tour Challenges 2
Land 3 hits with Red Shells.
Mario Bros.
Tour Challenges 1
Land 3 hits with Red Shells.
Yoshi (2020)
Tour Challenges 2
Land 5 hits with Red Shells.
Flower
Tour Challenges 2
Land 3 hits with Red Shells.
Cooking
Tour Challenges 1
Land 3 hits with Red Shells.
Peach
Tour Challenges 2
Land 5 hits with Red Shells.
Marine
Tour Challenges 1
Land 3 hits with Red Shells in a single race.
Exploration (2020)
Tour Challenges 1
Land 5 hits with Red Shells.
Super Mario Kart
Tour Challenges 2
Land 3 hits with Red Shells.
1st Anniversary
Tour Challenges 2
Land 3 hits with Red Shells.
Sunset
Tour Challenges 1
Land 3 hits with Red Shells.
Winter (2020)
Tour Challenges 1
Land 3 hits with Red Shells.
New Year's 2021
Tour Challenges 2
Land 5 hits with Red Shells.
Berlin
Tour Challenges 1
Land 10 hits with Red Shells.
Cat (2021)
Tour Challenges 2
Land 5 hits with Red Shells.
Peach vs. Daisy
Tour Challenges 1
Land 5 hits with Red Shells.
Snow
Tour Challenges 1
Land 10 hits with Red Shells.
Mario (2021)
Tour Challenges 2
Land 5 hits with Red Shells.
Yoshi (2021)
Tour Challenges 1
Land 5 hits with Red Shells.
Ninja (2021)
Tour Challenges 1
Land 5 hits with Red Shells.
Sydney (April–May 2021)
Tour Challenges 2
Land 5 hits with Red Shells.
Bowser vs. DK
Tour Challenges 1
Land 5 hits with Red Shells.
Trick (2021)
Tour Challenges 2
Land 5 hits with Red Shells.
Wedding
Tour Challenges 1
Land 5 hits with Red Shells.
Paris (2021)
Tour Challenges 2
Land 5 hits with Red Shells.
Summer (2021)
Tour Challenges 1
Land 5 hits with Red Shells.
Los Angeles (2021)
Tour Challenges 2
Land 5 hits with Red Shells.
Mario vs. Peach
Tour Challenges 1
Land 5 hits with Red Shells.
Frost
Tour Challenges 2
Land 5 hits with Red Shells.
Kamek
Tour Challenges 1
Land 5 hits with Red Shells.
Sydney (September 2021)
Tour Challenges 2
Land 5 hits with Red Shells.
Autumn (2021)
Tour Challenges 1
Land 5 hits with Red Shells.
Halloween (2021)
Tour Challenges 2
Land 5 hits with Red Shells.
Toad vs. Toadette
Tour Challenges 1
Land 5 hits with Red Shells.
Holiday (2021)
Tour Challenges 1
Land 5 hits with Red Shells.
Penguin
Tour Challenges 1
Land 10 hits with Red Shells.
New Year's 2022
Tour Multiplayer Challenges
Land 3 hits with Red Shells in multiplayer.
Singapore
Tour Multiplayer Challenges
Land 3 hits with Red Shells in multiplayer.
Wario vs. Waluigi
Tour Multiplayer Challenges
Land 3 hits with Red Shells in multiplayer.
Los Angeles (2022)
Tour Multiplayer Challenges
Land 3 hits with Red Shells in multiplayer.
Sky
Tour Challenges 2
Land 5 hits with Red Shells.
Mii (2022)
Tour Multiplayer Challenges
Land 3 hits with Red Shells in multiplayer.
Samurai
Tour Multiplayer Challenges
Land 3 hits with Red Shells in multiplayer.
Yoshi (2022)
Tour Challenges 1
Land 5 hits with Red Shells.
Amsterdam
Tour Multiplayer Challenges
Land 3 hits with Red Shells in multiplayer.
Doctor (2022)
Tour Challenges 2
Land 5 hits with Red Shells.
Peach vs. Bowser (May 2022)
Tour Multiplayer Challenges
Land 3 hits with Red Shells in multiplayer.
Cat (2022)
Tour Multiplayer Challenges
Land 3 hits with Red Shells in multiplayer.
Metropolitan
Tour Multiplayer Challenges
Land 3 hits with Red Shells in multiplayer.
Bangkok
Tour Challenges 1
Land 5 hits with Red Shells.
Piranha Plant
Tour Multiplayer Challenges
Land 3 hits with Red Shells in multiplayer.
Sundae (2022)
Tour Multiplayer Challenges
Land 3 hits with Red Shells in multiplayer.
Bowser (2022)
Tour Challenges 2
Land 5 hits with Red Shells.
Anniversary (2022)
Tour Multiplayer Challenges
Land 3 hits with Red Shells in multiplayer.
Battle
Tour Challenges 2
Land 5 hits with Red Shells.
Halloween (2022)
Tour Challenges 1
Land 5 hits with Red Shells.
Animal
Tour Multiplayer Challenges
Land 3 hits with Red Shells in multiplayer.
Peach vs. Bowser (November–December 2022)
Tour Multiplayer Challenges
Land 3 hits with Red Shells in multiplayer.
New Year's (2023)
Tour Challenges 2
Land 5 hits with Red Shells.
Space (2023)
Tour Multiplayer Challenges
Land 3 hits with Red Shells in multiplayer.
Exploration (2023)
Tour Multiplayer Challenges
Land 3 hits with Red Shells in multiplayer.
Doctor (2023)
Tour Multiplayer Challenges
Land 3 hits with Red Shells in multiplayer.
Mario (2023)
Tour Challenges 1
Land 5 hits with Red Shells.
Spring
Tour Multiplayer Challenges
Land 3 hits with Red Shells in multiplayer.
Bowser (2023)
Tour Multiplayer Challenges
Land 3 hits with Red Shells in multiplayer.
Mii (2023)
Tour Challenges 2
Land 5 hits with Red Shells.
Princess
Tour Multiplayer Challenges
Land 3 hits with Red Shells in multiplayer.
Pipe
Tour Multiplayer Challenges
Land 3 hits with Red Shells in multiplayer.
Sunshine
Tour Multiplayer Challenges
Land 3 hits with Red Shells in multiplayer.
Sundae (2023)
Tour Challenges 2
Land 5 hits with Red Shells.
042
Trick (2020)
Tour Challenges 2
Race in every course of every cup, including bonus challenges.
Cooking
Tour Challenges 2
Earn a score of 5,000 or higher on 3 SNES courses.
Wild West
Tour Challenges 1
Earn a score of 7,000 or higher on 3 SNES courses.
Summer Festival
Tour Challenges 2
Get 1st place 3 times on a Tokyo course.
Mario (2021)
Tour Challenges 1
Get an item from the Tier Shop.
Wedding
Tour Challenges 1
Get an item from the Tier Shop.
Summer (2021)
Tour Challenges 2
Get 1 item from the Daily Selects section of the Shop.
Mario vs. Peach
Tour Challenges 2
Earn a score of 9,000 or higher using a driver wearing glovesM.
Halloween (2021)
Tour Challenges 2
Earn a score of 7,000 or higher on 3 T or R/T courses.
Space (2021)
Tour Challenges 1
Get a Fantastic combo a total of 5 times.
Sky
Tour Challenges 2
Earn a score of 7,000 or higher on 3 T or R/T courses.
Mii (2022)
Tour Challenges 2
Cause opponents to crash a total of 3 times using a driver wearing glovesM.
Samurai
Tour Challenges 2
Get 1 item from the Daily Selects section of the Shop.
Ocean
Tour Challenges 2
Drive a distance of 20,000 or more.
Mario vs. Luigi (2022)
Tour Challenges 2
Send Greeting Coins to a friend.
Halloween (2022)
Tour Challenges 2
Get a Fantastic combo a total of 5 times.
043
New York
Tour Challenges 2
Collect a total of 100 coins using a babyA driver.
London
Tour Challenges 1
Earn a score of 7,000 or higher using a babyA driver.
Valentine's
Tour Challenges 1
Earn a score of 8,000 or higher using a babyA driver.
Hammer Bro
Tour Challenges 2
Pick up a dropped Mushroom for a burst of speed.
Trick (2020)
Tour Challenges 1
Earn a score of 7,000 or higher using a babyA driver.
Cooking
Tour Challenges 1
Earn a score of 7,000 or higher using a babyA driver.
Sydney (April–May 2021)
Tour Challenges 1
Activate Frenzy mode 5 times using a driver with a hatI.
Cat (2022)
Tour Challenges 1
Get 3rd place or higher in a race 30 times.
Princess
Tour Challenges 2
Get 1st place 2 times in a row in 100cc or above.
Vacation
Tour Challenges 2
Get 1st place 2 times in a row in 100cc or above.
044
Winter (2019)
Tour Challenges 2
Take out 5 goats.
Ninja (2023)
Tour Challenges 2
Earn a score of 7,000 or higher on 3 T or R/T courses.
045
New Year's (2020)
Tour Challenges 1
Use Lightning
Metropolitan
Tour Challenges 2
Use Lightning.
Spring
Tour Challenges 1
Land a hit with a Blooper.
046
Paris (2019)
Tour Challenges 2
Break 5 jars.
Marine
Tour Challenges 1
Break 5 jars.
Sundae (2023)
Tour Challenges 1
Get 3rd place or higher 30 times.
047
Yoshi (2021) / Ninja (2021)
1.5 Year Anniversary Challenges 2
Get 1st place a total of 5 times on a course with bamboo.
Princess
Tour Challenges 1
Get a Fantastic combo a total of 5 times.
Vacation
Tour Challenges 1
Get a Fantastic combo a total of 5 times.
048
Pirate
Tour Challenges 1
Drive a distance of 20,000 or more.
Halloween (2020)
Tour Challenges 2
Take out 3 Jack-o'-lanterns.
Cat (2022)
Tour Challenges 2
Earn a score of 7,000 or higher on 3 T or R/T courses.
Ninja (2023)
Tour Challenges 1
Get 3rd place or higher 30 times.
049
Jungle
Tour Challenges 1
Land 3 hits with Bananas in a single race.
Marine
Tour Challenges 2
Land 3 hits with Bananas in a single race.
Summer Festival
Tour Challenges 2
Land 5 hits with Bananas.
Los Angeles (2020)
Tour Challenges 2
Land 5 hits with Bananas.
Mario (2021)
Tour Challenges 1
Land 5 hits with Bananas.
Frost
Tour Multiplayer Challenges
Land 3 hits with Bananas in multiplayer.
Kamek
Tour Multiplayer Challenges
Land 3 hits with Bananas in multiplayer.
2nd Anniversary
Tour Multiplayer Challenges
Land 3 hits with Bananas in muliplayer.
Toad vs. Toadette
Tour Multiplayer Challenges
Land 3 hits with Bananas in multiplayer.
Holiday (2021)
Tour Multiplayer Challenges
Land 3 hits with Bananas in multiplayer.
Penguin
Tour Multiplayer Challenges
Land 3 hits with Bananas in multiplayer.
Singapore
Tour Multiplayer Challenges
Land 3 hits with Bananas in multiplayer.
Los Angeles (2022)
Tour Multiplayer Challenges
Land 3 hits with Bananas in multiplayer.
Mii (2022)
Tour Multiplayer Challenges
Land 3 hits with Bananas in multiplayer.
Samurai
Tour Multiplayer Challenges
Land 3 hits with Bananas in multiplayer.
Amsterdam
Tour Multiplayer Challenges
Land 3 hits with Bananas in multiplayer.
Doctor (2022)
Tour Multiplayer Challenges
Land 3 hits with Bananas in multiplayer.
Cat (2022)
Tour Multiplayer Challenges
Land 3 hits with Bananas in multiplayer.
Metropolitan
Tour Multiplayer Challenges
Land 3 hits with Banana in multiplayer.
Bangkok
Tour Multiplayer Challenges
Land 3 hits with Bananas in multiplayer.
Piranha Plant
Tour Multiplayer Challenges
Land 3 hits with Bananas in multiplayer.
Sundae (2022)
Tour Multiplayer Challenges
Land 3 hits with Bananas in multiplayer.
Bowser (2022)
Tour Multiplayer Challenges
Land 3 hits with Bananas in multiplayer.
Mario vs. Luigi (2022)
Tour Challenges 1
Land 5 hits with Bananas.
Anniversary (2022)
Tour Multiplayer Challenges
Land 3 hits with Bananas in multiplayer.
Halloween (2022)
Tour Multiplayer Challenges
Land 3 hits with Bananas in multiplayer.
Animal
Tour Multiplayer Challenges
Land 3 hits with Bananas in multiplayer.
Peach vs. Bowser (November–December 2022)
Tour Multiplayer Challenges
Land 3 hits with Bananas in multiplayer.
New Year's (2023)
Tour Multiplayer Challenges
Land 3 hits with Bananas in multiplayer.
Space (2023)
Tour Multiplayer Challenges
Land 3 hits with Bananas in multiplayer.
Winter (2023)
Tour Challenges 2
Land 5 hits with Bananas.
Exploration (2023)
Tour Multiplayer Challenges
Land 3 hits with Bananas in multiplayer.
Doctor (2023)
Tour Multiplayer Challenges
Land 3 hits with Bananas in multiplayer.
Ninja (2023)
Tour Multiplayer Challenges
Land 3 hits with Bananas in multiplayer.
Spring
Tour Multiplayer Challenges
Land 3 hits with Bananas in multiplayer.
Bowser (2023)
Tour Multiplayer Challenges
Land 3 hits with Bananas in multiplayer.
Princess
Tour Multiplayer Challenges
Land 3 hits with Bananas in multiplayer.
Mario vs. Luigi (2023)
Tour Multiplayer Challenges
Land 3 hits with Bananas in multiplayer.
Pipe
Tour Multiplayer Challenges
Land 3 hits with Bananas in multiplayer.
Sunshine
Tour Multiplayer Challenges
Land 3 hits with Bananas in multiplayer.
Summer (2023)
Tour Multiplayer Challenges
Land 3 hits with Bananas in multiplayer.
Sundae (2023)
Tour Multiplayer Challenges
Land 3 hits with Bananas in multiplayer.
050
Doctor (2022)
Tour Challenges 2
Glide a distance of 2,000 or longer using a driver with a mustacheF.
Cat (2022)
Tour Challenges 2
Get 1 item from the Daily Selects section of the Shop.
New Year's (2023)
Tour Challenges 1
Use point-boost tickets 3 times.
051
Mario Bros.
Tour Challenges 1
Do 100 Jump Boosts in courses with Mario in the name. (Excludes bonus challenges.)
Super Mario Kart
Tour Challenges 1
Earn a score of 7,000 or higher on an RMX course.
1st Anniversary
Anniversary Challenges
Use a level-boost ticket.
New Year's 2021
New Year's Challenges
Use point-boost tickets 3 times.
Peach vs. Daisy
Tour Challenges 2
Use a level-boost ticket.
Mario (2021)
Tour Challenges 2
Earn a score of 8,000 or higher on 3 T or R/T courses.
Ninja (2021)
Tour Challenges 1
Use point-boost tickets 3 times.
Wedding
Tour Challenges 2
Use point-boost tickets 3 times.
Summer (2021) / Los Angeles (2021) / Mario vs. Peach
Summertime Challenges 1
Participate in 100 races.
Autumn (2021) / Halloween (2021)
Autumn Challenges 1
Get 1st place in a race 50 times.
Holiday (2021) / Penguin / New Year's 2022
Holiday Challenges
Join 40 multiplayer races.
Wario vs. Waluigi / Los Angeles (2022) / Sky
Winter Challenges
Get 1st place in a race 100 times.
Doctor (2022)
Tour Challenges 1
Get 3rd place or higher in a race 30 times.
Cat (2022)
Tour Challenges 1
Get an item from the Tier Shop.
Piranha Plant
Tour Challenges 2
Earn a score of 7,000 or higher on 3 T or R/T courses.
Autumn (2022)
Tour Challenges 1
Use point-boost tickets 3 times.
Mario (2023)
Tour Challenges 2
Use point-boost tickets 3 times.
052
Halloween (2019)
Tour Challenges 2
Cause opponents to crash 10 times in a single race using a driver wearing a crownJ.
Vancouver
Tour Challenges 2
Earn a score of 8,000 or higher using a driver wearing a crownJ.
Marine
Tour Challenges 1
Do 20 Jump Boosts using a driver wearing a crownJ.
1st Anniversary
Anniversary Challenges
Use a points-cap ticket.
Cat (2021)
Tour Challenges 1
Activate Frenzy mode 5 times using a driver wearing a crownJ.
Wedding
Tour Challenges 2
Get 1 item from the Daily Selects section of the Shop.
Summer (2021) / Los Angeles (2021) / Mario vs. Peach
Summertime Challenges 1
Get 1st place in a race 50 times.
Sydney (September 2021)
Tour Challenges 2
Use point-boost tickets 3 times.
Wario vs. Waluigi / Los Angeles (2022) / Sky
Winter Challenges
Get 1st place in a race 50 times.
Cat (2022)
Tour Challenges 2
Drive a distance of 20,000 or more.
Sundae (2022)
Tour Challenges 1
Get 1 item from the Daily Selects section of the Shop.
Halloween (2022)
Tour Challenges 2
Use point-boost tickets 3 times.
Peach vs. Bowser (November–December 2022)
Tour Challenges 1
Get a Fantastic combo a total of 5 times.
053
Super Mario Kart
Tour Challenges 2
Do 50 Jump Boosts on an RMX course.
1st Anniversary
Anniversary Challenges
Use point-boost tickets 3 times.
Snow
Tour Challenges 1
Use point-boost tickets 3 times.
Summer (2021) / Los Angeles (2021) / Mario vs. Peach
Summertime Challenges 1
Get 1st place in a race 10 times.
Frost
Tour Challenges 2
Use point-boost tickets 3 times.
Autumn (2021) / Halloween (2021)
Autumn Challenges 1
Get 1st place in a race 10 times.
Holiday (2021) / Penguin / New Year's 2022
Holiday Challenges
Join 20 multiplayer races.
Wario vs. Waluigi / Los Angeles (2022) / Sky
Winter Challenges
Get 1st place in a race 10 times.
Cat (2022)
Tour Challenges 1
Get a Fantastic combo a total of 5 times.
Ocean
Tour Challenges 1
Use point-boost tickets 3 times.
Halloween (2022)
Tour Challenges 1
Get 1 item from the Daily Selects section of the Shop.
054
Holiday (2019)
Tour Challenges 1
Cause opponents to crash 3 times while gliding.
Valentine's
Tour Challenges 1
Cause opponents to crash while gliding.
Vancouver
Tour Challenges 1
Cause opponents to crash 3 times while gliding.
Mario Bros.
Tour Challenges 2
Cause opponents to crash 3 times while gliding.
Exploration (2020)
Tour Challenges 2
Cause opponents to crash 3 times while gliding.
Summer Festival
Tour Challenges 2
Cause an opponent to crash while gliding.
1st Anniversary
Anniversary Challenges
Join a multiplayer race.
Mario (2021)
Tour Challenges 2
Cause an opponent to crash while gliding.
Los Angeles (2021)
Tour Challenges 2
Glide a total distance of 5,000.
Sky
Tour Challenges 1
Get 3rd place or higher in a race 30 times.
Samurai
Tour Challenges 1
Glide a total distance of 5,000.
Holiday (2022)
Tour Challenges 1
Glide a total distance of 5,000.
Vacation
Tour Challenges 1
Glide a total distance of 5,000.
055
New Year's 2021
New Year's Challenges
Use a points-cap ticket.
Bowser vs. DK
Tour Challenges 2
Use point-boost tickets 3 times.
Summer (2021) / Los Angeles (2021) / Mario vs. Peach
Summertime Challenges 1
Get 1st place in a race 30 times.
2nd Anniversary
Tour Challenges 2
Use point-boost tickets 3 times.
Autumn (2021) / Halloween (2021)
Autumn Challenges 1
Get 1st place in a race 30 times.
Holiday (2021) / Penguin / New Year's 2022
Holiday Challenges
Join 10 multiplayer races.
Wario vs. Waluigi / Los Angeles (2022) / Sky
Winter Challenges
Get 1st place in a race 30 times.
Bowser (2022)
Tour Challenges 2
Get 1 item from the Daily Selects section of the Shop.
Peach vs. Bowser (November–December 2022)
Tour Challenges 2
Get 1 item from the Daily Selects section of the Shop.
056
Trick (2021)
Tour Challenges 2
Use point-boost tickets 3 times.
Wario vs. Waluigi
Tour Challenges 1
Use point-boost tickets 3 times.
Summer (2023)
Tour Challenges 1
Get 3rd place or higher 30 times.
056-1
Wild West
Tour Challenges 1
Race in Landscape mode.
Wario vs. Waluigi
Tour Challenges 2
Earn a score of 7,000 or higher on 3 T or R/T courses.
Anniversary (2023)
Tour Challenges 1
Get 3rd place or higher 30 times.
057
Yoshi (2020)
Tour Challenges 1
Take out 3 pipes.
New Year's 2021
New Year's Challenges
Use a level-boost ticket.
Peach vs. Daisy
Tour Challenges 1
Use a points-cap ticket.
Mario (2021) / Yoshi (2021)
1.5 Year Anniversary Challenges 1
Land a hit with a Banana 10 times in a course with Yoshi in the name.
Summer (2021) / Los Angeles (2021) / Mario vs. Peach
Summertime Challenges 1
Get 1st place in a race 15 times.
Kamek
Tour Challenges 1
Use point-boost tickets 3 times.
Autumn (2021) / Halloween (2021)
Autumn Challenges 1
Get 1st place in a race 15 times.
Wario vs. Waluigi / Los Angeles (2022) / Sky
Winter Challenges
Get 1st place in a race 20 times.
Yoshi (2022)
Tour Challenges 1
Get 1 item from the Daily Selects section of the Shop.
Anniversary (2022)
Tour Challenges 2
Use point-boost tickets 3 times.
Pipe
Tour Challenges 1
Drive a distance of 20,000 or more.
058
Berlin
Tour Challenges 1
Land 3 hits with Bob-ombs using a driver with a hatI.
Mario vs. Luigi (2022)
Tour Challenges 1
Get 1st place in a 100cc or higher race 2 times in a row.
059
Cooking
Tour Challenges 1
Earn a score of 10,000 or higher on 3 courses.
Peach
Tour Challenges 1
Earn a score of 8,000 or higher on a T or R/T course.
New Year's 2022
Tour Challenges 2
Use point-boost tickets 3 times.
Los Angeles (2022)
Tour Challenges 2
Get a Fantastic combo a total of 5 times.
Yoshi (2022)
Tour Challenges 2
Earn a score of 7,000 or higher on 3 T or R/T courses.
New Year's (2023)
Tour Challenges 1
Get a Fantastic combo a total of 5 times.
060
Winter (2019)
Tour Challenges 1
Do 3 Slipstream boosts in a single race.
Winter (2020)
Tour Challenges 1
Earn a score of 9,000 or higher on Merry Mountain.
Winter (2023) / Exploration (2023)
Winter Challenges
Get 1st place 30 times.
Summer (2023)
Tour Challenges 1
Get a Fantstic combo a total of 5 times.
061
New York
Tour Challenges 1
Take out 3 pipes.
Tokyo
Tour Challenges 1
Get 1st place 3 times in a row in races 100cc or above.
Tokyo
Tour Challenges 2
Take out 3 pipes.
Winter (2019)
Tour Challenges 1
Take out 3 pipes in a single race.
Exploration (2020)
Tour Challenges 2
Take out 3 pipes.
Summer Festival
Tour Challenges 2
Earn a score of 9,000 or higher on a Tokyo course.
New Year's 2021
Tour Challenges 2
Get a Fantastic combo a total of 5 times.
Mario (2021)
Tour Challenges 2
Send Greeting Coins to a friend.
Yoshi (2021)
Tour Challenges 1
Get a fantastic combo a total of 3 times.
Trick (2021)
Tour Challenges 1
Drive a distance of 20,000 or more.
Wedding
Tour Challenges 1
Send Greeting Coins to a friend.
Penguin
Tour Challenges 2
Get 1st place on an SNES course using a driver with a mustacheF.
Los Angeles (2022)
Tour Challenges 2
Cause opponents to crash 5 times using a driver with a hatI.
Piranha Plant
Tour Challenges 2
Do 30 Jump Boosts using a driver with a hatI.
Battle
Tour Challenges 1
Get a Fantastic combo a total of 5 times.
Doctor (2023)
Tour Challenges 1
Drive a distance of 20,000 or more.
Bowser (2023)
Tour Challenges 1
Do 100 Jump Boosts.
Sunshine
Tour Challenges 1
Land 5 hits with Red Shells.
063
Yoshi (2023)
Tour Challenges 1
Cause an opponent to crash while gliding.
Pipe
Tour Challenges 2
Glide a total distance of 5,000.
Anniversary (2023)
Tour Challenges 1
Cause an opponent to crash while gliding.
064
Halloween (2020)
Tour Challenges 1
Take out a Jack-o'-lantern.
Spring
Tour Challenges 1
Drive a distance of 20,000 or more.
066
Base game
Standard Challenges 1-2
Raise 3 drivers, karts, or gliders to skill level 2.
Base game
Standard Challenges 1-3
Raise 3 drivers, karts, or gliders to skill level 3.
Base game
Standard Challenges 1-4
Raise 3 drivers, karts, or gliders to skill level 4.
Base game
Standard Challenges 1-5
Raise 3 drivers, karts, or gliders to skill level 5.
067
Tokyo
Tour Challenges 1
Land 5 hits with Bananas in a single race.
Halloween (2019)
Tour Challenges 2
Land 5 hits with Bananas.
Paris (2019)
Tour Challenges 2
Land 5 hits with Bananas.
Winter (2019)
Tour Challenges 1
Land 5 hits with Bananas.
London
Tour Challenges 2
Land 10 hits with Bananas.
Holiday (2019)
Tour Challenges 1
Land 10 hits with Bananas.
New Year's (2020)
Tour Challenges 1
Land 10 hits with Bananas.
Ice
Tour Challenges 2
Land 10 hits with Bananas.
Valentine's
Tour Challenges 2
Land 20 hits with Bananas.
Vancouver
Tour Challenges 2
Land 5 hits with Bananas.
Baby Rosalina
Tour Challenges 2
Land 5 hits with Bananas.
Flower
Tour Challenges 1
Land 10 hits with Bananas.
Jungle
Tour Challenges 1
Land 5 hits with Bananas.
Peach
Tour Challenges 1
Land 5 hits with Bananas.
Snow
Tour Challenges 2
Land 5 hits with Bananas.
Summer (2021)
Tour Multiplayer Challenges
Land 3 hits with Bananas in multiplayer.
Frost
Tour Challenges 1
Land 5 hits with Bananas.
2nd Anniversary
Tour Challenges 1
Land 5 hits with Bananas.
Space (2021)
Tour Challenges 1
Land 5 hits with Bananas.
New Year's 2022
Tour Challenges 2
Land 5 hits with Bananas.
Los Angeles (2022)
Tour Challenges 1
Land 5 hits with Bananas.
Samurai
Tour Challenges 1
Land 5 hits with Bananas.
Doctor (2022)
Tour Challenges 1
Land 5 hits with Bananas.
Piranha Plant
Tour Challenges 1
Land 5 hits with Bananas.
Ninja (2023)
Tour Challenges 1
Land 5 hits with Bananas.
Bowser (2023)
Tour Challenges 1
Land 5 hits with Bananas.
Sunshine
Tour Challenges 1
Land 5 hits with Bananas.
Summer (2023)
Tour Challenges 1
Land 5 hits with Bananas.
Sundae (2023)
Tour Challenges 1
Land 5 hits with Bananas.
068
New York
Tour Challenges 2
Land 10 hits with Green Shells.
Tokyo
Tour Challenges 2
Land 10 hits with Green Shells.
Halloween (2019)
Tour Challenges 2
Land 5 hits with Green Shells in a single race.
Paris (2019)
Tour Challenges 1
Land 3 hits with Green Shells.
Winter (2019)
Tour Challenges 2
Land 10 hits with Green Shells.
London
Tour Challenges 1
Land 3 hits with Green Shells.
Ice
Tour Challenges 1
Land 3 hits with Green Shells.
Vancouver
Tour Challenges 1
Land 3 hits with Green Shells.
Mario Bros.
Tour Challenges 2
Land 3 hits with Green Shells.
Yoshi (2020)
Tour Challenges 1
Land 5 hits with Green Shells.
Trick (2020)
Tour Challenges 1
Land 3 hits with Green Shells.
Jungle
Tour Challenges 1
Land 5 hits with Green Shells.
Wild West
Tour Challenges 2
Land 3 hits with Green Shells.
Summer Festival
Tour Challenges 1
Land 3 hits with Green Shells.
1st Anniversary
Tour Challenges 1
Land 3 hits with Green Shells.
Sunset
Tour Challenges 2
Land 3 hits with Green Shells.
Rosalina
Tour Challenges 1
Land 3 hits with Green Shells.
Cat (2021)
Tour Challenges 1
Land 3 hits with Green Shells.
Snow
Tour Challenges 2
Land 3 hits with Green Shells.
Bowser vs. DK
Tour Challenges 2
Land 3 hits with Green Shells.
Summer (2021)
Tour Challenges 1
Land 3 hits with Green Shells.
Frost
Tour Challenges 2
Land 3 hits with Green Shells.
Space (2021)
Tour Challenges 1
Land 5 hits with Green Shells.
Penguin
Tour Challenges 2
Land 3 hits with Green Shells.
Wario vs. Waluigi
Tour Challenges 2
Land 3 hits with Green Shells.
Sky
Tour Challenges 1
Land 3 hits with Green Shells.
Yoshi (2022)
Tour Challenges 1
Land 3 hits with Green Shells.
Peach vs. Bowser (May 2022)
Tour Multiplayer Challenges
Land 3 hits with Green Shells in multiplayer.
Metropolitan
Tour Challenges 1
Land 3 hits with Green Shells.
Sundae (2022)
Tour Challenges 2
Land 3 hits with Green Shells.
Mario vs. Luigi (2022)
Tour Challenges 2
Land 3 hits with Green Shells.
Battle
Tour Challenges 2
Land 3 hits with Green Shells.
Animal
Tour Challenges 2
Land 3 hits with Green Shells.
New Year's (2023)
Tour Challenges 1
Land 3 hits with Green Shells.
Mario (2023)
Tour Challenges 1
Land 3 hits with Green Shells.
Yoshi (2023)
Tour Challenges 2
Land 3 hits with Green Shells.
Princess
Tour Challenges 1
Land 3 hits with Green Shells.
Night
Tour Challenges 2
Land 3 hits with Green Shells.
Vacation
Tour Challenges 1
Land 3 hits with Green Shells.
Anniversary (2023)
Tour Challenges 2
Land 3 hits with Green Shells.
069
Paris (2019)
Tour Challenges 1
Land 3 hits with Bob-ombs in a single race.
Winter (2019)
Tour Challenges 1
Land 3 hits with Bob-ombs in a single race.
London
Tour Challenges 1
Land 5 hits with Bob-ombs.
Holiday (2019)
Tour Challenges 2
Land 3 hits with Bob-ombs.
Ice
Tour Challenges 2
Land 3 hits with Bob-ombs in a single race.
Valentine's
Tour Challenges 1
Land 10 hits with Bob-ombs.
Vancouver
Tour Challenges 2
Land 10 hits with Bob-ombs.
Mario Bros.
Tour Challenges 1
Land 5 hits with Bob-ombs.
Baby Rosalina
Tour Challenges 1
Land 3 hits with Bob-ombs.
Hammer Bro
Tour Challenges 1
Land 5 hits with Bob-ombs.
Peach
Tour Challenges 1
Land 3 hits with Bob-ombs.
Marine
Tour Challenges 2
Land 5 hits with Bob-ombs.
Pirate
Tour Challenges 1
Land 3 hits with Bob-ombs.
Summer Festival
Tour Challenges 2
Land 3 hits with Bob-ombs.
Los Angeles (2020)
Tour Challenges 1
Land 3 hits with Bob-ombs.
Halloween (2020)
Tour Challenges 1
Land 3 hits with Bob-ombs.
Ninja (2021)
Tour Challenges 1
Land 3 hits with Bob-ombs.
Sydney (September 2021)
Tour Challenges 2
Land 3 hits with Bob-ombs.
Penguin
Tour Challenges 2
Land 3 hits with Bob-ombs.
Wario vs. Waluigi
Tour Multiplayer Challenges
Land 3 hits with Bob-ombs in multiplayer.
Sky
Tour Multiplayer Challenges
Land 3 hits with Bob-ombs in multiplayer.
Mii (2022)
Tour Challenges 1
Land 3 hits with Bob-ombs.
Yoshi (2022)
Tour Multiplayer Challenges
Land 3 hits with Bob-ombs in multiplayer.
Metropolitan
Tour Challenges 2
Land 3 hits with Bob-ombs.
Anniversary (2022)
Tour Challenges 2
Land 3 hits with Bob-ombs.
Space (2023)
Tour Challenges 1
Land 3 hits with Bob-ombs.
070
Vancouver
Tour Challenges 2
Earn a score of 10,000 or higher on 5 courses.
Peach
Tour Challenges 2
Get 1st place on Rainbow Road.
2nd Anniversary
2nd Anniversary Challenges
Race on a city course.
Space (2021)
Tour Challenges 1
Get 1st place 5 times.
New Year's 2022
Tour Challenges 1
Get a Fantastic combo a total of 5 times.
Space (2023)
Tour Challenges 1
Get 3rd place or higher 30 times.
071
Base game
Standard Challenges 1-1
Raise 1 driver, kart, or glider to skill level 2.
Base game
Standard Challenges 1-2
Raise 1 driver, kart, or glider to skill level 3.
Base game
Standard Challenges 1-3
Raise 1 driver, kart, or glider to skill level 4.
Base game
Standard Challenges 1-4
Raise 1 driver, kart, or glider to skill level 5.
Base game
Standard Challenges 1-5
Raise 1 driver, kart, or glider to skill level 6.
072
Cooking
Tour Challenges 2
Get 1st place in a race 3 times in a row.
Snow
Tour Challenges 2
Get an item from the Tier Shop.
Summer (2021)
Tour Challenges 2
Use point-boost tickets 3 times.
Los Angeles (2021)
Tour Challenges 1
Use point-boost tickets 3 times.
Halloween (2021)
Tour Challenges 2
Use point-boost tickets 3 times.
Space (2021)
Tour Challenges 2
Earn a score of 7,000 or higher on 3 T or R/T courses.
Winter (2023)
Tour Challenges 1
Use point-boost tickets 3 times.
073
Sydney (April–May 2021)
Tour Challenges 1
Land a hit with a Blooper.
Sydney (September 2021)
Tour Challenges 2
Get 1st place a total of 5 times on a Sydney course.
2nd Anniversary
Tour Challenges 1
Land a hit with a Blooper.
Toad vs. Toadette
Tour Challenges 1
Land a hit with a Blooper.
Penguin
Tour Challenges 1
Land a hit with a Blooper.
Los Angeles (2022)
Tour Challenges 1
Land a hit with a Blooper.
Yoshi (2022)
Tour Challenges 1
Land a hit with a Blooper.
Doctor (2022)
Tour Challenges 1
Land a hit with a Blooper.
Bangkok
Tour Challenges 1
Land a hit with a Blooper.
Ocean
Tour Challenges 2
Land a hit with a Blooper.
Mario vs. Luigi (2022)
Tour Challenges 1
Land a hit with a Blooper.
Animal
Tour Challenges 1
Land a hit with a Blooper.
New Year's (2023)
Tour Challenges 1
Land a hit with a Blooper.
Doctor (2023)
Tour Challenges 1
Land a hit with a Blooper.
074
Yoshi (2020)
Tour Challenges 2
Get 1st place in a multiplayer race.
New Year's 2021
New Year's Challenges
Join a multiplayer race.
Berlin
Tour Challenges 1
Send Greeting Coins to a friend.
Mario (2021)
Tour Challenges 1
Race in auto mode.
Yoshi (2021)
Tour Challenges 2
Send Greeting Coins to a friend.
Bowser vs. DK
Tour Challenges 2
Cause opponents to crash a total of 3 times using a driver wearing glovesM.
Paris (2021)
Tour Challenges 1
Drive a distance of 20,000 or more.
Summer (2021)
Tour Challenges 1
Send Greeting Coins to a friend.
Los Angeles (2021)
Tour Challenges 2
Cause opponents to crash using a Mega Mushroom.
Frost
Tour Challenges 1
Send Greeting Coins to a friend.
Kamek
Tour Multiplayer Challenges
Join a multiplayer race.
Sydney (September 2021)
Tour Challenges 1
Send Greeting Coins to a friend.
2nd Anniversary
Tour Multiplayer Challenges
Join a multiplayer race.
Autumn (2021)
Tour Challenges 1
Send Greeting Coins to a friend.
Halloween (2021) / Toad vs. Toadette
Autumn Challenges 2
Join a multiplayer race.
Holiday (2021) / Penguin / New Year's 2022
Holiday Challenges
Join a multiplayer race.
New Year's 2022
New Year's Challenges
Make 5 friends.
Singapore
Tour Challenges 2
Send Greeting Coins to a friend.
Wario vs. Waluigi / Los Angeles (2022) / Sky
Winter Challenges
Join a multiplayer race.
Peach vs. Bowser (May 2022)
Tour Challenges 2
Use point-boost tickets 3 times.
Battle
Tour Challenges 1
Get 3rd place or higher 30 times.
075
Flower
Tour Challenges 2
Earn 200,000 or more total points in a tour.
Ninja (2023)
Tour Challenges 1
Use point-boost tickets 3 times.
Sundae (2023)
Tour Challenges 1
Use point-boost tickets 3 times.
076
Sunset
Tour Challenges 1
Earn a score of 8,000 or higher on a T or R/T course.
Berlin
Tour Challenges 2
Earn a score of 8,000 or higher on a T or R/T course.
Cat (2021)
Tour Challenges 1
Earn a score of 8,000 or higher on a T or R/T course.
Exploration (2023)
Tour Challenges 1
Do 100 Jump Boosts.
Princess
Tour Challenges 2
Use 15 Mushrooms.
Vacation
Tour Challenges 2
Use 15 Mushrooms.
Summer (2023)
Tour Challenges 2
Use 10 Mushrooms.
077
Halloween (2019)
Tour Challenges 2
Take out 5 traffic cones.
Paris (2019)
Tour Challenges 2
Take out 5 traffic cones.
Exploration (2020)
Tour Challenges 1
Take out 5 traffic cones.
Winter (2020)
Tour Challenges 1
Earn a score of 7,000 or higher on 3 T courses.
Rosalina
Tour Challenges 1
Earn a score of 7,000 or higher on 3 T courses.
New Year's 2021
Tour Challenges 1
Get a combo count of ×30 or higher.
Cat (2021)
Tour Challenges 2
Get a Fantastic combo a total of 5 times.
Ninja (2021)
Tour Challenges 1
Earn a score of 7,000 or higher on 3 T courses.
Sydney (April–May 2021)
Tour Challenges 1
Get a Fantastic combo a total of 5 times.
Mario vs. Peach
Tour Challenges 1
Use point-boost tickets 3 times.
2nd Anniversary
Tour Challenges 2
Get a Fantastic combo a total of 5 times.
Toad vs. Toadette
Tour Challenges 1
Get a Fantastic combo a total of 5 times.
New Year's 2022
Tour Challenges 2
Drive a distance of 20,000 or more.
Los Angeles (2022)
Tour Challenges 1
Drive a distance of 15,000 or more on a Los Angeles course.
Samurai
Tour Challenges 2
Drive a distance of 20,000 or more.
New Year's (2023)
Tour Challenges 2
Get 1 item from the Daily Selects section of the Shop.
078
Paris (2021)
Tour Challenges 1
Do 30 Jump Boosts on a Paris course.
Metropolitan
Tour Challenges 2
Get 1 item from the Daily Selects section of the Shop.
Ninja (2023)
Tour Challenges 2
Get 1 item from the Daily Selects section of the Shop.
Sundae (2023)
Tour Challenges 2
Get 1 item from the Daily Selects section of the Shop.
079
Paris (2019)
Tour Challenges 1
Finish a race by crashing over the finish line a total of 3 times.
Valentine's
Tour Challenges 1
Pick up a dropped Mushroom for a burst of speed.
1st Anniversary
Tour Challenges 2
Earn a score of 7,000 or higher on a Paris course.
Cat (2021)
Tour Challenges 1
Earn a score of 7,000 or higher on a Paris course.
080
Paris (2019)
Tour Challenges 2
Get 1st place without crashing.
Valentine's
Tour Challenges 2
Finish a race by gliding over the finish line.
Paris (2021)
Tour Challenges 2
Race in every course of every cup, including bonus challenges.
2nd Anniversary
2nd Anniversary Challenges
Get 1st place a total of 5 times on a Paris course.
Metropolitan
Tour Challenges 1
Drive a distance of 20,000 or more on a city course.
081
Valentine's
Tour Challenges 2
Land 3 hits with Bob-ombs in a single race.
Pirate
Tour Challenges 2
Earn a score of 10,000 or higher on a T or R/T course.
Mii (2023)
Tour Challenges 1
Get a Fantastic combo a total of 5 times.
082
Sydney (April–May 2021)
Tour Challenges 2
Race in every course of every cup, including bonus challenges.
Sydney (September 2021)
Tour Challenges 2
Race in every course of every cup, including bonus challenges.
2nd Anniversary
2nd Anniversary Challenges
Get 1st place a total of 5 times on a Sydney course.
083
Anniversary (2022)
Tour Challenges 2
Drive a distance of 20,000 or more on a city course.
084
Tokyo
Tour Challenges 2
Use a HeartS a total of 3 times.
Flower
Tour Challenges 2
Use a HeartS a total of 3 times.
Peach vs. Daisy
Tour Challenges 1
Do 10 Mini-Turbos in a single race using a driver wearing earringsK.
Wedding
Tour Challenges 2
Get 1st place in a race 3 times using a driver wearing a crownJ.
Mario vs. Peach
Tour Challenges 2
Do 10 Mini-Turbos in a single race using a driver wearing earringsK.
Halloween (2021)
Tour Challenges 1
Cause opponents to crash a total of 10 times using a driver wearing a crownJ.
New Year's 2022
Tour Challenges 2
Do 10 Mini-Turbos in a single race using a driver wearing earringsK.
Samurai
Tour Challenges 2
Do 10 Mini-Turbos in a single race using a driver wearing earringsK.
Peach vs. Bowser (May 2022)
Tour Challenges 1
Get 3rd place or higher in a race 30 times.
Sunshine
Tour Challenges 2
Drive a distance of 15,000 or more using a driver wearing earringsK.
085
Summer Festival
Tour Challenges 2
Race in every course of every cup, including bonus challenges.
1st Anniversary
Tour Challenges 1
Earn a score of 7,000 or Higher on a Tokyo course.
Mario (2021) / Yoshi (2021)
1.5 Year Anniversary Challenges 1
Do 50 Jump Boosts on a Tokyo course.
Bowser vs. DK
Tour Challenges 2
Get 1st place in a 150cc or higher race 3 times.
Paris (2021)
Tour Challenges 2
Get 1st place in a 150cc or higher race 3 times.
2nd Anniversary
Tour Challenges 1
Earn a score of 7,000 or higher on 3 T or R/T courses.
Peach vs. Bowser (May 2022)
Tour Challenges 2
Do 5 Rocket Starts using driver wearing a shell.[sic]
Battle
Tour Challenges 2
Drive a distance of 20,000 or more.
Exploration (2023)
Tour Challenges 2
Use point-boost tickets 3 times.
086
New York
Tour Challenges 1
Land 10 hits with Bananas.
New York
Tour Challenges 2
Land 5 hits with Bananas in a single race.
Tokyo
Tour Challenges 1
Use a Giant BananaU a total of 3 times.
Vancouver
Tour Challenges 1
Land 3 hits with Bananas in a single race.
Baby Rosalina
Tour Challenges 1
Land 3 hits with Bananas in a single race.
Hammer Bro
Tour Challenges 2
Land 5 hits with Bananas.
Trick (2020)
Tour Challenges 2
Land 5 hits with Bananas.
Cooking
Tour Challenges 1
Land 10 hits with Bananas.
Wild West
Tour Challenges 1
Land 5 hits with Bananas.
Pirate
Tour Challenges 2
Land 5 hits with Bananas.
Halloween (2020)
Tour Challenges 2
Land 5 hits with Bananas.
Mario vs. Luigi (2020)
Tour Challenges 1
Land 5 hits with Bananas.
Rosalina
Tour Challenges 2
Land 5 hits with Bananas.
New Year's 2021
Tour Challenges 1
Land 5 hits with Bananas.
Berlin
Tour Challenges 1
Land 5 hits with Bananas.
Sydney (April–May 2021)
Tour Challenges 1
Land 5 hits with Bananas.
Trick (2021)
Tour Challenges 1
Land 5 hits with Bananas.
Mario vs. Peach
Tour Challenges 2
Land 5 hits with Bananas.
Kamek
Tour Challenges 2
Land 5 hits with Bananas.
Halloween (2021)
Tour Challenges 1
Land 5 hits with Bananas.
Holiday (2021)
Tour Challenges 2
Land 5 hits with Bananas.
Wario vs. Waluigi
Tour Challenges 1
Land 5 hits with Bananas.
Amsterdam
Tour Challenges 2
Land 5 hits with Bananas.
Ocean
Tour Challenges 2
Land 5 hits with Bananas.
Battle
Tour Challenges 1
Land 5 hits with Bananas.
Exploration (2023)
Tour Challenges 1
Land 5 hits with Bananas.
Mii (2023)
Tour Challenges 1
Land 5 hits with Bananas.
087
Halloween (2019)
Tour Challenges 1
Take out 5 Sidesteppers.
Paris (2019)
Tour Challenges 2
Take out 5 Sidesteppers.
New Year's (2020)
Tour Challenges 2
Take out 5 Sidesteppers.
Ice
Tour Challenges 1
Take out 5 Sidesteppers.
Marine
Tour Challenges 2
Cause opponents to crash 5 times while underwater.
Sydney (April–May 2021)
Tour Challenges 2
Cause opponents to crash a total of 10 times on a Sydney course.
Pipe
Tour Challenges 1
Land a hit with a Blooper.
Vacation
Tour Challenges 1
Finish every course of every cup, including bonus challenges.
088
London
Tour Challenges 1
Hit a festive tree with an item 10 times.
Baby Rosalina
Tour Challenges 1
Break 10 barrels.
1st Anniversary
Tour Challenges 1
Earn a score 07 7,000 or Higher on a London course.
Halloween (2021)
Tour Challenges 1
Get a combo count of ×15 or higher on a London course.
088-1
London
Tour Challenges 2
Do 5 Ultra Mini-Turbo boosts in a single race.
Metropolitan
Tour Challenges 1
Do 100 Jump Boosts.
089
Base game
Standard Challenges 1-1
Use 1 point-boost ticket.
090
Base game
Standard Challenges 1-2
Use 10 point-boost tickets.
091
Base game
Standard Challenges 1-3
Use 30 point-boost tickets.
092
Base game
Standard Challenges 1-3
Use 10 level-boost tickets.
Holiday (2021) / Penguin / New Year's 2022
Holiday Challenges
Get 3rd place or higher 20 times in multiplayer races.
093
Base game
Standard Challenges 1-4
Use 30 level-boost tickets.
Base game
Standard Challenges 1-5
Use 50 level-boost tickets.
Holiday (2021) / Penguin / New Year's 2022
Holiday Challenges
Get 3rd place or higher 10 times in a multiplayer race.
095
London
Tour Challenges 2
Take out 10 snowpeople.
Baby Rosalina
Tour Challenges 2
Race in every course of every cup, including bonus challenges.
2nd Anniversary
Tour Challenges 2
Activate Frenzy mode 3 times on a city course.
Mario vs. Luigi (2022)
Tour Challenges 1
Race in every course of every cup, including bonus challenges.
Space (2023)
Tour Challenges 1
Get a Fantastic combo a total of 5 times.
096
Princess
Tour Challenges 1
Get 3rd place or higher 30 times.
097
New Year's 2021
New Year's Challenges
Drive a distance of 2,021 on a T course.
Samurai / Yoshi (2022)
2.5 Year Anniversary Challenges
Race on a ranked cup's course 20 times.
Night
Tour Challenges 1
Cause an opponent to crash while gliding.
Pipe
Tour Challenges 1
Do 5 Rocket Starts.
098
New York
Tour Challenges 2
Get 1st place in a 100cc or higher race 5 times.
London
Tour Challenges 2
Get 1st place in a race 3 times in a row.
New Year's (2020)
Tour Challenges 1
Get 1st place in a race 3 times in a row.
Ice
Tour Challenges 1
Get 1st place in a 150cc or higher race 3 times in a row.
Baby Rosalina
Tour Challenges 2
Get 1st place in a race 3 times in a row.
Trick (2020)
Tour Challenges 2
Get 1st place in a race 2 times in a row.
Flower
Tour Challenges 1
Get 1st place in a 100cc or higher race 2 times in a row.
Jungle
Tour Challenges 2
Get 1st place in a race 2 times in a row.
Super Mario Kart
Tour Challenges 1
Get 1st place in a 100cc or higher race 2 times in a row.
Los Angeles (2020)
Tour Challenges 2
Get 1st place 5 times.
Halloween (2020)
Tour Challenges 1
Get 1st place 5 times.
Ninja (2021)
Tour Challenges 2
Get 1st place in a 150cc or higher race 3 times.
Trick (2021)
Tour Challenges 2
Get 1st place in a race 3 times.
Mii (2022)
Tour Challenges 2
Get 1st place in a 100cc or higher race 2 times in a row.
Bangkok
Tour Challenges 1
Get 1st place in a 100cc or higher race 2 times in a row.
Ocean / Sundae (2022)
Summer Challenges
Get 1st place in a race 15 times.
Mario vs. Luigi (2022) / Anniversary (2022)
3rd Anniversary Challenges 1
Get 1st place 15 times.
Spring
Tour Challenges 1
Get 3rd place or higher 30 times.
099
Paris (2019)
Tour Challenges 1
Get 1st place in a 150cc or higher race 3 times.
Valentine's
Tour Challenges 1
Get 1st place in a 150cc or higher race 3 times in a row.
Hammer Bro
Tour Challenges 2
Get 1st place in a race 3 times.
1st Anniversary
Anniversary Challenges
Do 30 Jump Boosts on a city course.
Berlin
Tour Challenges 2
Get 1st place 3 times in a row in races 100cc or above.
Peach vs. Daisy
Tour Challenges 1
Get 1st place in a 150cc or higher race 3 times.
Yoshi (2021) / Ninja (2021)
1.5 Year Anniversary Challenges 2
Drive a distance of 15,000 or more on a T course.
Sydney (September 2021)
Tour Challenges 1
Get 1st place 3 times in a row in races 100cc or above.
Los Angeles (2022)
Tour Challenges 1
Get 1st place in a 100cc or higher race 2 times in a row.
Samurai
Tour Challenges 1
Get 1st place in a 100cc or higher race 2 times in a row.
Amsterdam
Tour Challenges 2
Get 1st place in a 100cc or higher race 2 times in a row.
Peach vs. Bowser (May 2022)
Tour Challenges 1
Get 1st place in a 100cc or higher race 2 times in a row.
Ocean / Sundae (2022)
Summer Challenges
Get 1st place in a race 30 times.
Mario vs. Luigi (2022) / Anniversary (2022)
3rd Anniversary Challenges 1
Get 1st place 30 times.
Holiday (2022) / New Year's (2023)
Holiday Challenges
Participate in 10 races.
Bowser (2023)
Tour Challenges 1
Get 1st place 2 times in a row in 100cc or above.
Summer (2023)
Tour Challenges 1
Drive a distance of 20,000 or more.
100
New York
Tour Challenges 1
Get 1st place 3 times in a row in races 100cc or above.
Halloween (2019)
Tour Challenges 2
Get 1st place 3 times in a row in races 100cc or above.
Winter (2019)
Tour Challenges 2
Get 1st place 3 times in a row in races 100cc or above.
Ice
Tour Challenges 2
Get 1st place 3 times in a row in races 100cc or above.
Mario Bros.
Tour Challenges 1
Get 1st place in a 100cc or higher race 3 times.
Hammer Bro
Tour Challenges 1
Get 1st place in a 150cc or higher race 2 times.
Flower
Tour Challenges 2
Get 1st place in a 100cc or higher race 3 times.
Cooking
Tour Challenges 1
Get 1st place in a 100cc or higher race 3 times.
Rosalina
Tour Challenges 1
Get 1st place in a 100cc or higher race 3 times.
Cat (2021)
Tour Challenges 2
Get 1st place in a 100cc or higher race 2 times in a row.
Yoshi (2021) / Ninja (2021)
1.5 Year Anniversary Challenges 2
Drive a distance of 15,000 or more on a R course.
Kamek
Tour Challenges 1
Get 1st place 5 times.
New Year's 2022
New Year's Challenges
Race in every course of every cup, including bonus challenges.
Yoshi (2022)
Tour Challenges 2
Get 1st place in a 100cc or higher race 2 times in a row.
Doctor (2022) / Peach vs. Bowser (May 2022)
Doctor Challenges
Participate in 10 races.
Piranha Plant
Tour Challenges 2
Get 1st place in a 100cc or higher race 2 times in a row.
Ocean / Sundae (2022)
Summer Challenges
Get 1st place in a race 50 times.
Mario vs. Luigi (2022) / Anniversary (2022)
3rd Anniversary Challenges 1
Get 1st place 50 times.
Battle / Halloween (2022)
Autumn Challenges 1
Start a new tour.
Holiday (2022) / New Year's (2023)
Holiday Challenges
Start a new tour.
Winter (2023) / Exploration (2023)
Winter Challenges
Start a new tour.
Mii (2023)
Tour Challenges 1
Get 3rd place or higher 30 times.
Pipe
Tour Challenges 1
Get 3rd place or higher 30 times.
101
Halloween (2019)
Tour Challenges 1
Get a Fantastic combo a total of 5 times.
Holiday (2019)
Tour Challenges 1
Get a Fantastic combo a total of 10 times.
Vancouver
Tour Challenges 1
Get a Fantastic combo a total of 10 times.
Mario Bros.
Tour Challenges 2
Activate Frenzy mode 3 times.
Baby Rosalina
Tour Challenges 2
Get a Fantastic combo a total of 3 times.
Yoshi (2020)
Tour Challenges 1
Get a Fantastic combo a total of 3 times.
Jungle
Tour Challenges 1
Get a Fantastic combo a total of 3 times.
Peach
Tour Challenges 2
Get a Fantastic combo a total of 3 times.
Exploration (2020)
Tour Challenges 2
Get a Fantastic combo a total of 3 times.
Pirate
Tour Challenges 1
Get a Fantastic combo a total of 3 times.
Los Angeles (2020)
Tour Challenges 1
Get a Fantastic combo a total of 5 times.
Halloween (2020)
Tour Challenges 2
Get a Fantastic combo a total of 5 times.
Mario vs. Luigi (2020)
Tour Challenges 1
Race in auto mode.
Winter (2020)
Tour Challenges 2
Get a Fantastic combo a total of 3 times.
Rosalina
Tour Challenges 2
Get a Fantastic combo a total of 5 times.
New Year's 2021
Tour Challenges 1
Race in auto mode.
Berlin
Tour Challenges 2
Get a Fantastic combo a total of 3 times.
Cat (2021)
Tour Challenges 1
Race in auto mode.
Peach vs. Daisy
Tour Challenges 2
Get a Fantastic combo a total of 3 times.
Mario (2021)
Tour Challenges 2
Get a Fantastic combo a total of 5 times.
Yoshi (2021)
Tour Challenges 2
Get a combo count of ×30 or higher.
Ninja (2021)
Tour Challenges 2
Get a Fantastic combo a total of 3 times.
Sydney (April–May 2021)
Tour Challenges 2
Race in auto mode.
Trick (2021)
Tour Challenges 1
Race in auto mode.
Wedding
Tour Challenges 1
Get a Fantastic combo a total of 5 times.
Summer (2021)
Tour Challenges 2
Race in auto mode.
Los Angeles (2021)
Tour Challenges 1
Race in auto mode.
Mario vs. Peach
Tour Challenges 2
Race in auto mode.
Kamek
Tour Challenges 1
Race in auto mode.
2nd Anniversary
Tour Challenges 1
Race in auto mode.
Autumn (2021)
Tour Challenges 1
Race in auto mode.
Halloween (2021)
Tour Challenges 2
Race in auto mode.
Space (2021)
Tour Challenges 2
Race in auto mode.
Holiday (2021)
Tour Challenges 1
Race in auto mode.
Penguin
Tour Challenges 2
Race in auto mode.
Wario vs. Waluigi
Tour Challenges 1
Get a Fantastic combo a total of 5 times.
Sky
Tour Challenges 2
Race in auto mode.
Mii (2022)
Tour Challenges 1
Get a Fantastic combo a total of 5 times.
Samurai
Tour Challenges 1
Get a Fantastic combo a total of 5 times.
Doctor (2022)
Tour Challenges 2
Race in auto mode.
Peach vs. Bowser (May 2022)
Tour Challenges 2
Race in auto mode.
Metropolitan
Tour Challenges 2
Race in auto mode.
Piranha Plant
Tour Challenges 2
Race in auto mode.
Sundae (2022)
Tour Challenges 2
Race in auto mode.
Anniversary (2022)
Tour Challenges 2
Get a Fantastic combo a total of 5 times.
Battle
Tour Challenges 2
Race in auto mode.
Peach vs. Bowser (November–December 2022)
Tour Challenges 2
Race in auto mode.
New Year's (2023)
Tour Challenges 2
Race in auto mode.
Winter (2023)
Tour Challenges 2
Race in auto mode.
102
Base game
Standard Challenges 1-4
Raise 10 drivers, karts, or gliders to skill level 2.
Base game
Standard Challenges 1-5
Raise 10 drivers, karts, or gliders to skill level 3.
103
Winter (2019)
Tour Challenges 2
Get a Fantastic combo a total of 10 times.
Los Angeles (2021)
Tour Multiplayer Challenges
Get 1st place 3 times in a multiplayer race.
Holiday (2021)
Tour Multiplayer Challenges
Get 1st place 3 times in a multiplayer race.
Vacation
Tour Challenges 2
Do a total of 5 Slipstream boosts.
104
Mario Bros.
Tour Challenges 2
Get a Fantastic combo a total of 10 times.
Baby Rosalina
Tour Challenges 1
Use a total of 10 Mushrooms in Standard Races.
Yoshi (2020)
Tour Challenges 2
Use 15 Mushrooms.
Trick (2020)
Tour Challenges 1
Pick up a dropped Mushroom for a speed boost 3 times.
Flower
Tour Challenges 1
Use 3 Mushrooms in a single race.
Jungle
Tour Challenges 2
Pick up a dropped Mushroom for a speed boost 3 times.
Cooking
Tour Challenges 2
Use 10 Mushrooms.
Exploration (2020)
Tour Challenges 1
Use 3 Mushrooms in a single race.
Wild West
Tour Challenges 2
Pick up a dropped Mushroom for a burst of speed.
Super Mario Kart
Tour Challenges 2
Use 3 Mushrooms in a single race.
Peach vs. Daisy
Tour Challenges 2
Use 10 Mushrooms.
Bowser vs. DK
Tour Challenges 2
Use 15 Mushrooms.
Wedding
Tour Challenges 2
Use 10 Mushrooms.
Paris (2021)
Tour Challenges 1
Use 10 Mushrooms.
Los Angeles (2021)
Tour Challenges 2
Use 15 Mushrooms.
Sydney (September 2021)
Tour Challenges 1
Use 10 Mushrooms.
2nd Anniversary
Tour Challenges 2
Use 10 Mushrooms.
Autumn (2021)
Tour Challenges 2
Use 10 Mushrooms.
Halloween (2021)
Tour Challenges 1
Use 10 Mushrooms.
Toad vs. Toadette
Tour Challenges 2
Use 15 Mushrooms.
Space (2021)
Tour Challenges 2
Use 15 Mushrooms.
Singapore
Tour Challenges 2
Use 10 Mushrooms.
Sky
Tour Challenges 1
Use 10 Mushrooms.
Mii (2022)
Tour Challenges 2
Use 10 Mushrooms.
Samurai / Yoshi (2022)
2.5 Year Anniversary Challenges
Clear 5 cups.
Amsterdam
Tour Challenges 2
Use 10 Mushrooms.
Halloween (2022) / Autumn (2022)
Autumn Challenges 2
Get 1st place 3 times.
Bowser (2023)
Tour Challenges 1
Get 3rd place or higher 30 times.
105
Winter (2019)
Tour Challenges 1
Land 5 hits with fireballsQ.
Mario Bros.
Tour Challenges 1
Land a hit with a fireballQ.
Hammer Bro
Tour Challenges 2
Land a hit with a fireballQ.
Super Mario Kart
Tour Challenges 1
Land a hit with a fireballQ.
Mario vs. Luigi (2020)
Tour Challenges 2
Race in every course of every cup, including bonus challenges.
Holiday (2021) / Penguin / New Year's 2022
Holiday Challenges
Reach grade E in multiplayer.
Samurai / Yoshi (2022)
2.5 Year Anniversary Challenges
Clear 8 cups.
Night
Tour Challenges 2
Get 1st place 2 times in a row in 100cc or above.
106
Baby Rosalina
Tour Challenges 1
Get 1st place in a multiplayer race.
Kamek
Tour Multiplayer Challenges
Use the Super Star item in multiplayer.
2nd Anniversary
Tour Multiplayer Challenges
Use the Super Star item in multiplayer.
Holiday (2021) / Penguin / New Year's 2022
Holiday Challenges
Reach grade D in multiplayer.
Samurai / Yoshi (2022)
2.5 Year Anniversary Challenges
Clear 12 cups.
Halloween (2022) / Autumn (2022)
Autumn Challenges 2
Get 1st place 30 times.
Space (2023)
Tour Challenges 1
Glide a total distance of 5,000.
Winter (2023) / Exploration (2023)
Winter Challenges
Clear 3 cups.
107
Peach vs. Daisy
Tour Challenges 1
Activate Frenzy mode using a driver wearing a crownJ.
Anniversary (2022)
3rd Anniversary Challenges 2
Clear 10 cups.
Halloween (2022) / Autumn (2022)
Autumn Challenges 2
Get 1st place 15 times.
Winter (2023) / Exploration (2023)
Winter Challenges
Clear 6 cups.
Sunshine
Tour Challenges 1
Get 3rd place or higher 30 times.
108
Baby Rosalina
Tour Challenges 1
Land a hit with a Green Shell while racing via With Friends or Others Nearby.
Hammer Bro
Tour Challenges 2
Land 3 hits with Green Shells in a single race.
Bangkok
Tour Challenges 2
Land 3 hits with Green Shells.
Bowser (2022)
Tour Challenges 1
Land 3 hits with Green Shells.
Anniversary (2022)
3rd Anniversary Challenges 2
Clear 5 cups.
Halloween (2022)
Tour Challenges 2
Land 3 hits with Green Shells.
Peach vs. Bowser (November–December 2022)
Tour Challenges 2
Land 3 hits with Green Shells.
Space (2023)
Tour Challenges 2
Land 3 hits with Green Shells.
Winter (2023) / Exploration (2023)
Winter Challenges
Clear 15 cups.
109
Holiday (2022) / New Year's (2023)
Holiday Challenges
Play multiplayer.
Mario vs. Luigi (2023)
Tour Challenges 1
Land 5 hits with Bananas.
110
Doctor (2022) / Peach vs. Bowser (May 2022)
Doctor Challenges
Clear 6 cups.
Metropolitan / Bangkok
City Course Challenges
Clear 6 cups.
Ocean / Sundae (2022)
Summer Challenges
Clear 6 cups.
Mario vs. Luigi (2022) / Anniversary (2022)
3rd Anniversary Challenges 1
Clear 6 cups.
Holiday (2022) / New Year's (2023)
Holiday Challenges
Get 3rd place or higher 3 times in multiplayer.
Vacation
Tour Challenges 1
Get 3rd place or higher 30 times.
111
Halloween (2019)
Tour Challenges 1
Flatten opponents 3 times during races.
Mario (2021)
Tour Challenges 1
Use Lightning.
Paris (2021)
Tour Challenges 1
Use Lightning.
Space (2021)
Tour Challenges 1
Use Lightning.
Yoshi (2022)
Tour Challenges 2
Use Lightning.
Doctor (2022) / Peach vs. Bowser (May 2022)
Doctor Challenges
Clear 12 cups.
Metropolitan / Bangkok
City Course Challenges
Clear 12 cups.
Ocean / Sundae (2022)
Summer Challenges
Clear 12 cups.
Bowser (2022)
Tour Challenges 2
Use Lightning.
Mario vs. Luigi (2022) / Anniversary (2022)
3rd Anniversary Challenges 1
Clear 12 cups.
Holiday (2022) / New Year's (2023)
Holiday Challenges
Get 3rd place or higher 15 times in multiplayer.
112
Summer (2021)
Tour Multiplayer Challenges
Join 10 multiplayer races.
Los Angeles (2021)
Tour Multiplayer Challenges
Join 20 multiplayer races.
Mario vs. Peach
Tour Multiplayer Challenges
Join 10 multiplayer races.
Frost
Tour Multiplayer Challenges
Join 10 multiplayer races.
Sydney (September 2021)
Tour Multiplayer Challenges
Join 10 multiplayer races.
Autumn (2021)
Tour Multiplayer Challenges
Join 10 multiplayer races.
Halloween (2021)
Tour Multiplayer Challenges
Join 10 multiplayer races.
Toad vs. Toadette
Tour Multiplayer Challenges
Join 10 multiplayer races.
Space (2021)
Tour Multiplayer Challenges
Join 10 multiplayer races.
Penguin
Tour Multiplayer Challenges
Join 10 multiplayer races.
New Year's 2022
Tour Multiplayer Challenges
Join 10 multiplayer races.
Wario vs. Waluigi
Tour Multiplayer Challenges
Join 10 multiplayer races.
Sky
Tour Multiplayer Challenges
Join 10 multiplayer races.
Mii (2022)
Tour Multiplayer Challenges
Join 10 multiplayer races.
Yoshi (2022)
Tour Multiplayer Challenges
Join 10 multiplayer races.
Amsterdam
Tour Multiplayer Challenges
Join 10 multiplayer races.
Doctor (2022)
Tour Multiplayer Challenges
Join 10 multiplayer races.
Peach vs. Bowser (May 2022)
Tour Multiplayer Challenges
Join 10 multiplayer races.
Metropolitan
Tour Multiplayer Challenges
Join 10 multiplayer races.
Bangkok
Tour Multiplayer Challenges
Join 10 multiplayer races.
Piranha Plant
Tour Multiplayer Challenges
Join 10 multiplayer races.
Ocean
Tour Multiplayer Challenges
Join 10 multiplayer races.
Bowser (2022)
Tour Multiplayer Challenges
Join 10 multiplayer races.
Mario vs. Luigi (2022)
Tour Multiplayer Challenges
Join 10 multiplayer races.
Anniversary (2022)
Tour Multiplayer Challenges
Join 10 multiplayer races.
Battle
Tour Multiplayer Challenges
Play multiplayer 10 times.
Halloween (2022)
Tour Multiplayer Challenges
Play multiplayer 10 times.
Autumn (2022)
Tour Multiplayer Challenges
Play multiplayer 10 times.
Peach vs. Bowser (November–December 2022)
Tour Multiplayer Challenges
Play multiplayer 10 times.
Holiday (2022)
Tour Multiplayer Challenges
Play multiplayer 10 times.
New Year's (2023)
Tour Multiplayer Challenges
Play multiplayer 10 times.
Winter (2023)
Tour Multiplayer Challenges
Play multiplayer 10 times.
Exploration (2023)
Tour Multiplayer Challenges
Play multiplayer 10 times.
Mario (2023)
Tour Multiplayer Challenges
Play multiplayer 10 times.
Ninja (2023)
Tour Multiplayer Challenges
Play multiplayer 10 times.
Yoshi (2023)
Tour Multiplayer Challenges
Play multiplayer 10 times.
Bowser (2023)
Tour Multiplayer Challenges
Play multiplayer 10 times.
Mii (2023)
Tour Multiplayer Challenges
Play multiplayer 10 times.
Mario vs. Luigi (2023)
Tour Multiplayer Challenges
Play multiplayer 10 times.
Night
Tour Multiplayer Challenges
Play multiplayer 10 times.
Sunshine
Tour Multiplayer Challenges
Play multiplayer 10 times.
Vacation
Tour Multiplayer Challenges
Play multiplayer 10 times.
Summer (2023)
Tour Multiplayer Challenges
Play multiplayer 10 times.
Anniversary (2023)
Tour Multiplayer Challenges
Play multiplayer 10 times.
112-1
Summer (2021)
Tour Multiplayer Challenges
Join 5 Multiplayer races.
Los Angeles (2021)
Tour Multiplayer Challenges
Join 10 multiplayer races.
Mario vs. Peach
Tour Multiplayer Challenges
Join 5 multiplayer races.
Frost
Tour Multiplayer Challenges
Join 5 multiplayer races.
Sydney (September 2021)
Tour Multiplayer Challenges
Join 5 multiplayer races.
Autumn (2021)
Tour Multiplayer Challenges
Join 5 multiplayer races.
Halloween (2021)
Tour Multiplayer Challenges
Join 5 multiplayer races.
Toad vs. Toadette
Tour Multiplayer Challenges
Join 5 multiplayer races.
Space (2021)
Tour Multiplayer Challenges
Join 5 multiplayer races.
Penguin
Tour Multiplayer Challenges
Join 5 multiplayer races.
New Year's 2022
Tour Multiplayer Challenges
Join 5 multiplayer races.
Wario vs. Waluigi
Tour Multiplayer Challenges
Join 5 multiplayer races.
Sky
Tour Multiplayer Challenges
Join 5 multiplayer races.
Mii (2022)
Tour Multiplayer Challenges
Join 5 multiplayer races.
Yoshi (2022)
Tour Multiplayer Challenges
Join 5 multiplayer races.
Amsterdam
Tour Multiplayer Challenges
Join 5 multiplayer races.
Doctor (2022)
Tour Multiplayer Challenges
Join 5 multiplayer races.
Peach vs. Bowser (May 2022)
Tour Multiplayer Challenges
Join 5 multiplayer races.
Metropolitan
Tour Multiplayer Challenges
Join 5 multiplayer races.
Bangkok
Tour Multiplayer Challenges
Join 5 multiplayer races.
Piranha Plant
Tour Multiplayer Challenges
Join 5 multiplayer races.
Ocean
Tour Multiplayer Challenges
Join 5 multiplayer races.
Bowser (2022)
Tour Multiplayer Challenges
Join 5 multiplayer races.
Mario vs. Luigi (2022)
Tour Multiplayer Challenges
Join 5 multiplayer races.
Anniversary (2022)
Tour Multiplayer Challenges
Join 5 multiplayer races.
Battle
Tour Multiplayer Challenges
Play multiplayer 5 times.
Halloween (2022)
Tour Multiplayer Challenges
Play multiplayer 5 times.
Autumn (2022)
Tour Multiplayer Challenges
Play multiplayer 5 times.
Peach vs. Bowser (November–December 2022)
Tour Multiplayer Challenges
Play multiplayer 5 times.
Holiday (2022)
Tour Multiplayer Challenges
Play multiplayer 5 times.
New Year's (2023)
Tour Multiplayer Challenges
Play multiplayer 5 times.
Winter (2023)
Tour Multiplayer Challenges
Play multiplayer 5 times.
Exploration (2023)
Tour Multiplayer Challenges
Play multiplayer 5 times.
Mario (2023)
Tour Multiplayer Challenges
Play multiplayer 5 times.
Ninja (2023)
Tour Multiplayer Challenges
Play multiplayer 5 times.
Yoshi (2023)
Tour Multiplayer Challenges
Play multiplayer 5 times.
Bowser (2023)
Tour Multiplayer Challenges
Play multiplayer 5 times.
Mii (2023)
Tour Multiplayer Challenges
Play multiplayer 5 times.
Mario vs. Luigi (2023)
Tour Multiplayer Challenges
Play multiplayer 5 times.
Night
Tour Multiplayer Challenges
Play multiplayer 5 times.
Sunshine
Tour Multiplayer Challenges
Play multiplayer 5 times.
Vacation
Tour Multiplayer Challenges
Play multiplayer 5 times.
Summer (2023)
Tour Multiplayer Challenges
Play multiplayer 5 times.
Anniversary (2023)
Tour Multiplayer Challenges
Play multiplayer 5 times.
112-2
Base game
Standard Challenges 1-1
Complete Coin Rush 1 time.
112-3
Summer (2021)
Tour Multiplayer Challenges
Join 3 multiplayer races.
Los Angeles (2021)
Tour Multiplayer Challenges
Join a multiplayer race.
Mario vs. Peach
Tour Multiplayer Challenges
Join 3 multiplayer races.
Frost
Tour Multiplayer Challenges
Join 3 multiplayer races.
Sydney (September 2021)
Tour Multiplayer Challenges
Join 3 multiplayer races.
Autumn (2021)
Tour Multiplayer Challenges
Join 3 multiplayer races.
Halloween (2021)
Tour Multiplayer Challenges
Join 3 multiplayer races.
Toad vs. Toadette
Tour Multiplayer Challenges
Join 3 multiplayer races.
Space (2021)
Tour Multiplayer Challenges
Join 3 multiplayer races.
Penguin
Tour Multiplayer Challenges
Join 3 multiplayer races.
New Year's 2022
Tour Multiplayer Challenges
Join 3 multiplayer races.
Wario vs. Waluigi
Tour Multiplayer Challenges
Join 3 multiplayer races.
Sky
Tour Multiplayer Challenges
Join 3 multiplayer races.
Mii (2022)
Tour Multiplayer Challenges
Join 3 multiplayer races.
Yoshi (2022)
Tour Multiplayer Challenges
Join 3 multiplayer races.
Amsterdam
Tour Multiplayer Challenges
Join 3 multiplayer races.
Doctor (2022)
Tour Multiplayer Challenges
Join 3 multiplayer races.
Peach vs. Bowser (May 2022)
Tour Multiplayer Challenges
Join 3 multiplayer races.
Metropolitan
Tour Multiplayer Challenges
Join 3 multiplayer races.
Bangkok
Tour Multiplayer Challenges
Join 3 multiplayer races.
Piranha Plant
Tour Multiplayer Challenges
Join 3 multiplayer races.
Ocean
Tour Multiplayer Challenges
Join 3 multiplayer races.
Bowser (2022)
Tour Multiplayer Challenges
Join 3 multiplayer races.
Mario vs. Luigi (2022)
Tour Multiplayer Challenges
Join 3 multiplayer races.
Anniversary (2022)
Tour Multiplayer Challenges
Join 3 multiplayer races.
Battle
Tour Multiplayer Challenges
Play multiplayer 3 times.
Halloween (2022)
Tour Multiplayer Challenges
Play multiplayer 3 times.
Autumn (2022)
Tour Multiplayer Challenges
Play multiplayer 3 times.
Peach vs. Bowser (November–December 2022)
Tour Multiplayer Challenges
Play multiplayer 3 times.
Holiday (2022)
Tour Multiplayer Challenges
Play multiplayer 3 times.
New Year's (2023)
Tour Multiplayer Challenges
Play multiplayer 3 times.
Winter (2023)
Tour Multiplayer Challenges
Play multiplayer 3 times.
Exploration (2023)
Tour Multiplayer Challenges
Play multiplayer 3 times.
Mario (2023)
Tour Multiplayer Challenges
Play multiplayer 3 times.
Ninja (2023)
Tour Multiplayer Challenges
Play multiplayer 3 times.
Yoshi (2023)
Tour Multiplayer Challenges
Play multiplayer 3 times.
Bowser (2023)
Tour Multiplayer Challenges
Play multiplayer 3 times.
Mii (2023)
Tour Multiplayer Challenges
Play multiplayer 3 times.
Mario vs. Luigi (2023)
Tour Multiplayer Challenges
Play multiplayer 3 times.
Night
Tour Multiplayer Challenges
Play multiplayer 3 times.
Sunshine
Tour Multiplayer Challenges
Play multiplayer 3 times.
Vacation
Tour Multiplayer Challenges
Play multiplayer 3 times.
Summer (2023)
Tour Multiplayer Challenges
Play multiplayer 3 times.
Anniversary (2023)
Tour Multiplayer Challenges
Play multiplayer 3 times.
115
Tokyo
Tour Challenges 2
Do 5 Rocket Starts.
Halloween (2019)
Tour Challenges 2
Do 5 Rocket Starts.
New Year's (2020)
Tour Challenges 1
Do 3 Rocket Starts.
Vancouver
Tour Challenges 2
Do 5 Rocket Starts.
Baby Rosalina
Tour Challenges 1
Do 10 Rocket Starts.
Hammer Bro
Tour Challenges 1
Do 5 Rocket Starts.
Cooking
Tour Challenges 2
Do 5 Rocket Starts.
Marine
Tour Challenges 1
Do 3 Rocket Starts.
Wild West
Tour Challenges 2
Do 5 Rocket Starts.
Summer Festival
Tour Challenges 1
Do 10 Rocket Starts.
Super Mario Kart
Tour Challenges 1
Do 5 Rocket Starts.
1st Anniversary
Tour Challenges 1
Do 5 Rocket Starts.
Sunset
Tour Challenges 1
Do 3 Rocket Starts.
Cat (2021)
Tour Challenges 1
Do 5 Rocket Starts.
Snow
Tour Challenges 1
Do 3 Rocket Starts.
Yoshi (2021)
Tour Challenges 2
Do 5 Rocket Starts.
Sydney (April–May 2021)
Tour Challenges 1
Do 5 Rocket Starts.
Bowser vs. DK
Tour Challenges 1
Do 5 Rocket Starts.
Trick (2021)
Tour Challenges 2
Do 10 Rocket Starts.
Wedding
Tour Challenges 1
Do 5 Rocket Starts.
Paris (2021)
Tour Challenges 2
Do 5 Rocket Starts.
Summer (2021) / Los Angeles (2021) / Mario vs. Peach
Summertime Challenges 1
Do 5 Rocket Starts.
Frost
Tour Challenges 1
Do 5 Rocket Starts.
Sydney (September 2021)
Tour Challenges 1
Do 5 Rocket Starts.
2nd Anniversary
Tour Challenges 2
Do 5 Rocket Starts.
Autumn (2021) / Halloween (2021)
Autumn Challenges 1
Do 5 Rocket Starts.
Toad vs. Toadette
Tour Challenges 1
Do 5 Rocket Starts.
Space (2021)
Tour Challenges 2
Do 5 Rocket Starts.
Holiday (2021)
Tour Challenges 1
Do 5 Rocket Starts.
Penguin
Tour Challenges 2
Do 5 Rocket Starts.
New Year's 2022
New Year's Challenges
Do 5 Rocket Starts.
New Year's 2022
Tour Multiplayer Challenges
Do 3 Rocket Starts in multiplayer.
Singapore
Tour Challenges 1
Do 5 Rocket Starts.
Wario vs. Waluigi / Los Angeles (2022) / Sky
Winter Challenges
Do 5 Rocket Starts.
Mii (2022)
Tour Challenges 1
Do 5 Rocket Starts.
Samurai / Yoshi (2022)
2.5 Year Anniversary Challenges
Start a new tour.
Amsterdam
Tour Challenges 1
Do 5 Rocket Starts.
Doctor (2022) / Peach vs. Bowser (May 2022)
Doctor Challenges
Start a new tour.
Cat (2022)
Tour Challenges 2
Do 5 Rocket Starts.
Metropolitan / Bangkok
City Course Challenges
Start a new tour.
Ocean / Sundae (2022)
Summer Challenges
Start a new tour.
Bowser (2022)
Tour Challenges 1
Do 5 Rocket Starts.
Mario vs. Luigi (2022) / Anniversary (2022)
3rd Anniversary Challenges 1
Start a new tour.
Anniversary (2022)
3rd Anniversary Challenges 2
Start a new tour.
Battle / Halloween (2022)
Autumn Challenges 1
Do 5 Rocket Starts.
Autumn (2022)
Tour Challenges 2
Do 5 Rocket Starts.
Animal
Tour Challenges 1
Do 5 Rocket Starts.
Peach vs. Bowser (November–December 2022)
Tour Challenges 2
Do 5 Rocket Starts.
Holiday (2022)
Tour Challenges 1
Do 5 Rocket Starts.
New Year's (2023)
Tour Challenges 2
Do 5 Rocket Starts.
Winter (2023)
Tour Challenges 1
Do 5 Rocket Starts.
Exploration (2023)
Tour Challenges 2
Do 5 Rocket Starts.
Ninja (2023)
Tour Challenges 2
Do 5 Rocket Starts.
Bowser (2023)
Tour Challenges 2
Do 5 Rocket Starts.
Mario vs. Luigi (2023)
Tour Challenges 2
Do 5 Rocket Starts.
Sunshine
Tour Challenges 2
Do 5 Rocket Starts.
Sundae (2023)
Tour Challenges 2
Do 5 Rocket Starts.
116
Base game
Standard Challenges 1-1
Use 1 item ticket.
117
New York
Tour Challenges 2
Do a total of 5 Slipstream boosts.
London
Tour Challenges 1
Do a total of 10 Slipstream boosts.
Holiday (2019)
Tour Challenges 2
Do a total of 3 Slipstream boosts.
Ice
Tour Challenges 2
Do a total of 3 Slipstream boosts.
Baby Rosalina
Tour Challenges 1
Do a total of 3 Slipstream boosts.
Trick (2020)
Tour Challenges 1
Do a total of 5 Slipstream boosts.
Cooking
Tour Challenges 2
Do a total of 5 Slipstream boosts.
Pirate
Tour Challenges 2
Do a total of 3 Slipstream boosts.
Summer Festival
Tour Challenges 2
Do a total of 3 Slipstream boosts.
Halloween (2020)
Tour Challenges 2
Do a total of 3 Slipstream boosts.
Mario vs. Luigi (2020)
Tour Challenges 2
Do a total of 3 Slipstream boosts.
Winter (2020)
Tour Challenges 2
Do a total of 5 Slipstream boosts.
New Year's 2021
Tour Challenges 2
Do a total of 3 Slipstream boosts.
Cat (2021)
Tour Challenges 2
Do a total of 3 Slipstream boosts.
Mario (2021)
Tour Challenges 2
Do a total of 3 Slipstream boosts.
Summer (2021)
Tour Challenges 2
Do a total of 3 Slipstream boosts.
Toad vs. Toadette
Tour Challenges 2
Do a total of 3 Slipstream boosts.
New Year's 2022
New Year's Challenges
Join a multiplayer race.
Los Angeles (2022)
Tour Challenges 2
Do a total of 3 Slipstream boosts.
Yoshi (2022)
Tour Challenges 2
Do a total of 3 Slipstream boosts.
Peach vs. Bowser (May 2022)
Tour Challenges 2
Do a total of 3 Slipstream boosts.
Bangkok
Tour Challenges 2
Do a total of 3 Slipstream boosts.
Mario vs. Luigi (2022)
Tour Challenges 2
Do a total of 5 Slipstream boosts.
Halloween (2022)
Tour Challenges 2
Do a total of 5 Slipstream boosts.
Holiday (2022)
Tour Challenges 2
Do a total of 5 Slipstream boosts.
Winter (2023)
Tour Challenges 2
Do a total of 5 Slipstream boosts.
Mario (2023)
Tour Challenges 2
Do a total of 5 Slipstream boosts.
Spring
Tour Challenges 2
Do a total of 5 Slipstream boosts.
Pipe
Tour Challenges 2
Do a total of 5 Slipstream boosts.
118
Base game
Standard Challenges 1-1
Raise 1 driver's points to 600 or more.
Base game
Standard Challenges 1-2
Raise 5 drivers' points to 600 or more.
Base game
Standard Challenges 1-3
Raise 10 drivers' points to 600 or more.
Base game
Standard Challenges 1-4
Raise 15 drivers' points to 600 or more.
Base game
Standard Challenges 1-5
Raise 20 drivers' points to 600 or more.
118-1
Base game
Standard Challenges 1-1
Raise 1 kart's points to 300 or more.
Base game
Standard Challenges 1-2
Raise 5 karts' points to 300 or more.
Base game
Standard Challenges 1-3
Raise 10 karts' points to 300 or more.
Base game
Standard Challenges 1-4
Raise 15 karts' points to 300 or more.
Base game
Standard Challenges 1-5
Raise 20 karts' points to 300 or more.
118-2
Base game
Standard Challenges 1-1
Raise 1 glider's points to 300 or more.
Base game
Standard Challenges 1-2
Raise 5 gliders' points to 300 or more.
Base game
Standard Challenges 1-3
Raise 7 gliders' points to 300 or more.
Base game
Standard Challenges 1-4
Raise 10 gliders' points to 300 or more.
Base game
Standard Challenges 1-5
Raise 15 gliders' points to 300 or more.
119
New York
Tour Challenges 2
Do 30 Mini-Turbo boosts in a single race.
Tokyo
Tour Challenges 1
Do 150 Mini-Turbo boosts.
Halloween (2019)
Tour Challenges 2
Do 30 Mini-Turbo boosts in a single race.
Paris (2019)
Tour Challenges 1
Do 100 Mini-Turbo boosts.
Winter (2019)
Tour Challenges 1
Do 150 Mini-Turbo boosts.
Holiday (2019)
Tour Challenges 2
Do 150 Mini-Turbo boosts.
Ice
Tour Challenges 1
Do 150 Mini-Turbo boosts.
Valentine's
Tour Challenges 1
Do 100 Mini-Turbo boosts.
Mario Bros.
Tour Challenges 1
Do 50 Mini-Turbo boosts.
Yoshi (2020)
Tour Challenges 1
Do 50 Mini-Turbo boosts.
Trick (2020)
Tour Challenges 2
Do 100 Mini-Turbo boosts.
Exploration (2020)
Tour Challenges 1
Do 50 Mini-Turbo boosts.
Wild West
Tour Challenges 1
Do 20 Ultra Mini-Turbo boosts.
Summer Festival
Tour Challenges 1
Do 50 Mini-Turbo boosts.
Mario vs. Luigi (2020)
Tour Challenges 1
Do 50 Mini-Turbo boosts.
Winter (2020)
Tour Challenges 2
Do 50 Mini-Turbo boosts.
New Year's 2021
Tour Challenges 1
Do 50 Mini-Turbo boosts.
Berlin
Tour Challenges 2
Do 50 Mini-Turbo boosts.
Ninja (2021)
Tour Challenges 1
Do 50 Mini-Tubo boosts.
Bowser vs. DK
Tour Challenges 1
Do 50 Mini-Turbo boosts.
Trick (2021)
Tour Challenges 1
Do 50 Mini-Turbo boosts.
Paris (2021)
Tour Challenges 1
Do 50 Mini-Turbo boosts.
Los Angeles (2021)
Tour Challenges 1
Do 50 Mini-Turbo boosts.
Kamek
Tour Challenges 1
Do 50 Mini-Turbo boosts.
Sydney (September 2021)
Tour Challenges 2
Do 50 Mini-Turbo boosts.
Autumn (2021)
Tour Challenges 1
Do 50 Mini-Turbo boosts.
Halloween (2021)
Tour Challenges 2
Do 50 Mini-Turbo boosts.
Holiday (2021)
Tour Challenges 1
Do 50 Mini-Turbo boosts.
New Year's 2022
Tour Challenges 1
Do 50 Mini-Turbo boosts.
Wario vs. Waluigi
Tour Challenges 1
Do 50 Mini-Turbo boosts.
Mii (2022)
Tour Challenges 1
Do 50 Mini-Turbo boosts.
Samurai
Tour Challenges 1
Do 50 Mini-Turbo boosts.
Cat (2022)
Tour Challenges 1
Do 50 Mini-Turbo boosts.
Piranha Plant
Tour Challenges 1
Do 50 Mini-Turbo boosts.
Mario vs. Luigi (2022)
Tour Challenges 1
Do 50 Mini-Turbo boosts.
Ninja (2023)
Tour Challenges 1
Do 50 Mini-Turbo boosts.
Sundae (2023)
Tour Challenges 1
Do 50 Mini-Turbo boosts.
119-1
Wild West
Tour Challenges 2
Do 20 Mini-Turbo boosts using a driver with a hatI.
Halloween (2020)
Tour Challenges 1
Do 50 Mini-Turbo boosts.
Yoshi (2021)
Tour Challenges 1
Do 50 Mini-Turbo boosts.
Halloween (2021)
Tour Multiplayer Challenges
Do 30 Mini-Turbo boosts in multiplayer.
Toad vs. Toadette
Tour Multiplayer Challenges
Do 30 Mini-Turbo boosts in multiplayer.
Space (2021)
Tour Multiplayer Challenges
Do 30 Mini-Turbo boosts in multiplayer.
Holiday (2021)
Tour Multiplayer Challenges
Do 30 Mini-Turbo boosts in multiplayer.
New Year's 2022
Tour Multiplayer Challenges
Do 30 Mini-Turbo boosts in multiplayer.
Wario vs. Waluigi
Tour Multiplayer Challenges
Do 30 Mini-Turbo boosts in multiplayer.
Sky
Tour Multiplayer Challenges
Do 30 Mini-Turbo boosts in multiplayer.
Yoshi (2022)
Tour Multiplayer Challenges
Do 30 Mini-Turbo boosts in multiplayer.
Doctor (2022)
Tour Multiplayer Challenges
Do 50 Mini-Turbo boosts in multiplayer.
Bangkok
Tour Multiplayer Challenges
Do 50 Mini-Turbo boosts in multiplayer.
Bowser (2022)
Tour Multiplayer Challenges
Do 30 Mini-Turbo boosts in multiplayer.
Anniversary (2022)
Tour Challenges 1
Do 50 Mini-Turbo boosts.
Halloween (2022)
Tour Multiplayer Challenges
Do 30 Mini-Turbo boosts in multiplayer.
New Year's (2023)
Tour Multiplayer Challenges
Do 30 Mini-Turbo boosts in multiplayer.
Ninja (2023)
Tour Multiplayer Challenges
Do 30 Mini-Turbo boosts in multiplayer.
Mario vs. Luigi (2023)
Tour Multiplayer Challenges
Do 30 Mini-Turbo boosts in multiplayer.
Summer (2023)
Tour Multiplayer Challenges
Do 30 Mini-Turbo boosts in multiplayer.
119-2
Super Mario Kart
Tour Challenges 1
Do 10 Ultra Mini-Turbo boosts.
1st Anniversary
Tour Challenges 2
Do 10 Ultra Mini-Turbo boosts.
Rosalina
Tour Challenges 2
Do 10 Ultra Mini-Turbo boosts.
Summer (2021)
Tour Multiplayer Challenges
Do 30 Mini-Turbo boosts in multiplayer.
Frost
Tour Multiplayer Challenges
Do 30 Mini-Turbo boosts in multiplayer.
Kamek
Tour Multiplayer Challenges
Do 50 Mini-Turbo boosts in multiplayer.
2nd Anniversary
Tour Multiplayer Challenges
Do 50 Mini-Turbo boosts in multiplayer.
Singapore
Tour Multiplayer Challenges
Do 50 Mini-Turbo boosts in multiplayer.
Los Angeles (2022)
Tour Multiplayer Challenges
Do 50 Mini-Turbo boosts in multiplayer.
Samurai
Tour Multiplayer Challenges
Do 50 Mini-Turbo boosts in multiplayer.
Cat (2022)
Tour Multiplayer Challenges
Do 50 Mini-Turbo boosts in multiplayer.
Sundae (2022)
Tour Multiplayer Challenges
Do 50 Mini-Turbo boosts in multiplayer.
Animal
Tour Multiplayer Challenges
Do 50 Mini-Turbo boosts in multiplayer.
Space (2023)
Tour Multiplayer Challenges
Do 50 Mini-Turbo boosts in multiplayer.
Doctor (2023)
Tour Multiplayer Challenges
Do 50 Mini-Turbo boosts in multiplayer.
Spring
Tour Multiplayer Challenges
Do 50 Mini-Turbo boosts in multiplayer.
Princess
Tour Multiplayer Challenges
Do 50 Mini-Turbo boosts in multiplayer.
Mario vs. Luigi (2023)
Tour Challenges 1
Do 50 Mini-Turbo boosts.
Pipe
Tour Multiplayer Challenges
Do 50 Mini-Turbo boosts in multiplayer.
Sundae (2023)
Tour Multiplayer Challenges
Do 50 Mini-Turbo boosts in multiplayer.
120
Wario vs. Waluigi
Tour Challenges 1
Drive a distance of 16,000 or more on a 3DS course.
Sundae (2023)
Tour Challenges 1
Drive a distance of 20,000 or more.
121
Cat (2021)
Tour Challenges 1
Send Greeting Coins to a friend.
Trick (2021)
Tour Challenges 1
Get 1 item from the Daily Selects section of the Shop.
Los Angeles (2021) / Mario vs. Peach
Summertime Challenges 2
Complete Coin Rush 1 time.
Halloween (2021) / Toad vs. Toadette
Autumn Challenges 2
Complete Coin Rush 1 time.
New Year's 2022
Tour Challenges 2
Complete Coin Rush 1 time.
Wario vs. Waluigi
Tour Challenges 2
Send Greeting Coins to a friend.
Cat (2022)
Tour Challenges 2
Send Greeting Coins to a friend.
Bangkok
Tour Challenges 2
Complete Coin Rush 1 time.
Ocean / Sundae (2022)
Summer Challenges
Collect a total of 1,000 coins in races.
Bowser (2022)
Tour Challenges 2
Complete Coin Rush 1 time.
Mario vs. Luigi (2022) / Anniversary (2022)
3rd Anniversary Challenges 1
Collect a total of 600 coins in races.
Doctor (2023)
Tour Challenges 2
Complete Coin Rush 1 time.
Vacation
Tour Challenges 1
Get 1 item from the Daily Selects section of the Shop.
Summer (2023)
Tour Challenges 2
Complete Coin Rush 1 time.
122
Vancouver
Tour Challenges 2
Race in every course of every cup, including bonus challenges.
1st Anniversary
Tour Challenges 2
Drive a distance of 8,000 or more on a Vancouver course.
2nd Anniversary
2nd Anniversary Challenges
Get 1st place a total of 5 times on a Vancouver course.
Penguin
Tour Challenges 1
Race in every course of every cup, including bonus challenges.
Autumn (2022)
Tour Challenges 1
Do 30 Jump Boosts on a city course.
Winter (2023) / Exploration (2023)
Winter Challenges
Get 1st place 3 times.
123
New Year's (2020)
Tour Challenges 2
Clear all of the cups in the New Year's Tour.
New Year's 2021
Tour Challenges 2
Race in every course of every cup, including bonus challenges.
New Year's 2022
Tour Challenges 1
Get 1st place 5 times.
New Year's (2023)
Tour Challenges 1
Finish every course of every cup, including bonus challenges.
124
Base game
Standard Challenges 1-2
Use 1 quick ticket.
124-1
Halloween (2019)
Tour Challenges 2
Land 10 hits with BoomerangsW.
Vancouver
Tour Challenges 1
Get 1st place without crashing.
Mario (2021) / Yoshi (2021)
1.5 Year Anniversary Challenges 1
Get 1st place 3 times on a Tokyo course.
Space (2023)
Tour Challenges 1
Get 1 item from the Daily Selects section of the Shop.
125
Singapore
Tour Challenges 2
Earn a score of 9,000 or higher using a driver with a mustacheF.
Mario vs. Luigi (2022)
Tour Challenges 2
Drive a distance of 20,000 or more.
Mario vs. Luigi (2023)
Tour Challenges 2
Get 1 item from the Daily Selects section of the Shop.
126
Summer Festival
Tour Challenges 1
Do 10 Mini-Turbo boosts in a single race on a Tokyo course.
1st Anniversary
Tour Challenges 1
Get 1st place 3 times on a Tokyo course.
Mario (2021)
Tour Challenges 2
Race in every course of every cup, including bonus challenges.
Sydney (April–May 2021)
Tour Challenges 2
Use point-boost tickets 3 times.
Toad vs. Toadette
Tour Challenges 2
Drive a distance of 16,000 or more on a 3DS course.
New Year's 2022
Tour Challenges 2
Get 1 item from the Daily Selects section of the Shop.
Amsterdam
Tour Challenges 2
Use point-boost tickets 3 times.
Cat (2022)
Tour Challenges 1
Get 1st place in a 100cc or higher race 2 times in a row.
New Year's (2023)
Tour Challenges 2
Earn a score of 7,000 or higher on 3 T or R/T courses.
127
Summer (2021)
Tour Multiplayer Challenges
Land 3 hits with Green Shells in multiplayer.
Kamek
Tour Multiplayer Challenges
Land 3 hits with Green Shells in multiplayer.
Sydney (September 2021)
Tour Multiplayer Challenges
Land 3 hits with Green Shells in multiplayer.
2nd Anniversary
Tour Multiplayer Challenges
Land 3 hits with Green Shells in multiplayer.
Autumn (2021)
Tour Multiplayer Challenges
Land 3 hits with Green Shells in multiplayer.
Holiday (2021)
Tour Multiplayer Challenges
Land 3 hits with Green Shells in multiplayer.
Singapore
Tour Multiplayer Challenges
Land 3 hits with Green Shells in multiplayer.
Los Angeles (2022)
Tour Multiplayer Challenges
Land 3 hits with Green Shells in multiplayer.
Samurai
Tour Multiplayer Challenges
Land 3 hits with Green Shells in multiplayer.
Peach vs. Bowser (May 2022)
Tour Challenges 1
Race in every course of every cup, including bonus challenges.
Cat (2022)
Tour Multiplayer Challenges
Land 3 hits with Green Shells in multiplayer.
Ocean
Tour Multiplayer Challenges
Land 3 hits with Green Shells in multiplayer.
Sundae (2022)
Tour Multiplayer Challenges
Land 3 hits with Green Shells in multiplayer.
Mario vs. Luigi (2022)
Tour Multiplayer Challenges
Land 3 hits with Green Shells in multiplayer.
Battle
Tour Multiplayer Challenges
Land 3 hits with Green Shells in multiplayer.
Autumn (2022)
Tour Multiplayer Challenges
Land 3 hits with Green Shells in multiplayer.
Animal
Tour Multiplayer Challenges
Land 3 hits with Green Shells in multiplayer.
Holiday (2022)
Tour Multiplayer Challenges
Land 3 hits with Green Shells in multiplayer.
Space (2023)
Tour Multiplayer Challenges
Land 3 hits with Green Shells in multiplayer.
Winter (2023)
Tour Multiplayer Challenges
Land 3 hits with Green Shells in multiplayer.
Doctor (2023)
Tour Multiplayer Challenges
Land 3 hits with Green Shells in multiplayer.
Mario (2023)
Tour Multiplayer Challenges
Land 3 hits with Green Shells in multiplayer.
Yoshi (2023)
Tour Multiplayer Challenges
Land 3 hits with Green Shells in multiplayer.
Spring
Tour Multiplayer Challenges
Land 3 hits with Green Shells in multiplayer.
Mii (2023)
Tour Multiplayer Challenges
Land 3 hits with Green Shells in multiplayer.
Princess
Tour Multiplayer Challenges
Land 3 hits with Green Shells in multiplayer.
Night
Tour Multiplayer Challenges
Land 3 hits with Green Shells in multiplayer.
Pipe
Tour Multiplayer Challenges
Land 3 hits with Green Shells in multiplayer.
Vacation
Tour Multiplayer Challenges
Land 3 hits with Green Shells in multiplayer.
Sundae (2023)
Tour Multiplayer Challenges
Land 3 hits with Green Shells in multiplayer.
Anniversary (2023)
Tour Multiplayer Challenges
Land 3 hits with Green Shells in multiplayer.
128
London
Tour Challenges 1
Break 10 barrels.
Autumn (2022)
Tour Challenges 1
Get 3rd place or higher 30 times.
129
Summer (2021)
Tour Multiplayer Challenges
Get 3rd place or higher 5 times in a multiplayer race.
Los Angeles (2021)
Tour Multiplayer Challenges
Get 3rd place or higher 10 times in a multiplayer race.
Mario vs. Peach
Tour Multiplayer Challenges
Get 3rd place or higher 5 times in a multiplayer race.
Frost
Tour Multiplayer Challenges
Get 3rd place or higher 5 times in a multiplayer race.
Sydney (September 2021)
Tour Multiplayer Challenges
Get 3rd place or higher 5 times in a multiplayer race.
Autumn (2021)
Tour Multiplayer Challenges
Get 3rd place or higher 5 times in a multiplayer race.
Halloween (2021)
Tour Multiplayer Challenges
Get 3rd place or higher 5 times in a multiplayer race.
Toad vs. Toadette
Tour Multiplayer Challenges
Get 3rd place or higher 5 times in a multiplayer race.
Space (2021)
Tour Multiplayer Challenges
Get 3rd place or higher 5 times in a multiplayer race.
Holiday (2021)
Tour Multiplayer Challenges
Get 3rd place or higher 5 times in a multiplayer race.
Penguin
Tour Multiplayer Challenges
Get 3rd place or higher 5 times in a multiplayer race.
New Year's 2022
Tour Multiplayer Challenges
Get 3rd place or higher 5 times in a multiplayer race.
Wario vs. Waluigi
Tour Multiplayer Challenges
Get 3rd place or higher 5 times in a multiplayer race.
Sky
Tour Multiplayer Challenges
Get 3rd place or higher 5 times in a multiplayer race.
Mii (2022)
Tour Multiplayer Challenges
Get 3rd place or higher 5 times in a multiplayer race.
Yoshi (2022)
Tour Multiplayer Challenges
Get 3rd place or higher 5 times in a multiplayer race.
Amsterdam
Tour Multiplayer Challenges
Get 3rd place or higher 5 times in a multiplayer race.
Doctor (2022)
Tour Multiplayer Challenges
Get 3rd place or higher 5 times in a multiplayer race.
Peach vs. Bowser (May 2022)
Tour Multiplayer Challenges
Get 3rd place or higher 5 times in a multiplayer race.
Metropolitan
Tour Multiplayer Challenges
Get 3rd place or higher 5 times in a multiplayer race.
Bangkok
Tour Multiplayer Challenges
Get 3rd place or higher 5 times in a multiplayer race.
Piranha Plant
Tour Multiplayer Challenges
Get 3rd place or higher 5 times in a multiplayer race.
Ocean
Tour Multiplayer Challenges
Get 3rd place or higher 5 times in a multiplayer race.
Bowser (2022)
Tour Multiplayer Challenges
Get 3rd place or higher 5 times in a multiplayer race.
Mario vs. Luigi (2022)
Tour Multiplayer Challenges
Get 3rd place or higher 5 times in a multiplayer race.
Anniversary (2022)
Tour Multiplayer Challenges
Get 3rd place or higher 5 times in a multiplayer race.
Battle
Tour Multiplayer Challenges
Get 3rd place or higher 5 times in multiplayer.
Halloween (2022)
Tour Multiplayer Challenges
Get 3rd place or higher 5 times in multiplayer.
Autumn (2022)
Tour Multiplayer Challenges
Get 3rd place or higher 5 times in multiplayer.
Peach vs. Bowser (November–December 2022)
Tour Multiplayer Challenges
Get 3rd place or higher 5 times in multiplayer.
Holiday (2022)
Tour Multiplayer Challenges
Get 3rd place or higher 5 times in multiplayer.
New Year's (2023)
Tour Multiplayer Challenges
Get 3rd place or higher 5 times in multiplayer.
Winter (2023)
Tour Multiplayer Challenges
Get 3rd place or higher 5 times in multiplayer.
Exploration (2023)
Tour Multiplayer Challenges
Get 3rd place or higher 5 times in multiplayer.
Mario (2023)
Tour Multiplayer Challenges
Get 3rd place or higher 5 times in multiplayer.
Ninja (2023)
Tour Multiplayer Challenges
Get 3rd place or higher 5 times in multiplayer.
Yoshi (2023)
Tour Multiplayer Challenges
Get 3rd place or higher 5 times in multiplayer.
Bowser (2023)
Tour Multiplayer Challenges
Get 3rd place or higher 5 times in multiplayer.
Mii (2023)
Tour Multiplayer Challenges
Get 3rd place or higher 5 times in multiplayer.
Mario vs. Luigi (2023)
Tour Multiplayer Challenges
Get 3rd place or higher 5 times in multiplayer.
Night
Tour Multiplayer Challenges
Get 3rd place or higher 5 times in multiplayer.
Sunshine
Tour Multiplayer Challenges
Get 3rd place or higher 5 times in multiplayer.
Vacation
Tour Multiplayer Challenges
Get 3rd place or higher 5 times in multiplayer.
Summer (2023)
Tour Multiplayer Challenges
Get 3rd place or higher 5 times in multiplayer.
Anniversary (2023)
Tour Multiplayer Challenges
Get 3rd place or higher 5 times in multiplayer.
130
Los Angeles (2020)
Tour Challenges 1
Earn a score of 7,000 or higher on an RMX course.
Summer (2021)
Tour Multiplayer Challenges
Get 3rd place or higher in a multiplayer race.
Los Angeles (2021)
Tour Multiplayer Challenges
Get 3rd place or higher 3 times in a multiplayer race.
Mario vs. Peach
Tour Multiplayer Challenges
Get 3rd place or higher in a multiplayer race.
Frost
Tour Multiplayer Challenges
Get 3rd place or higher in a multiplayer race.
Sydney (September 2021)
Tour Multiplayer Challenges
Get 3rd place or higher in a multiplayer race.
Autumn (2021)
Tour Multiplayer Challenges
Get 3rd place or higher in a multiplayer race.
Halloween (2021)
Tour Multiplayer Challenges
Get 3rd place or higher in a multiplayer race.
Toad vs. Toadette
Tour Multiplayer Challenges
Get 3rd place or higher in a multiplayer race.
Space (2021)
Tour Multiplayer Challenges
Get 3rd place or higher in a multiplayer race.
Holiday (2021)
Tour Multiplayer Challenges
Join 5 multiplayer races.
Penguin
Tour Multiplayer Challenges
Get 3rd place or higher in a multiplayer race.
New Year's 2022
Tour Multiplayer Challenges
Get 3rd place or higher in a multiplayer race.
Wario vs. Waluigi
Tour Multiplayer Challenges
Get 3rd place or higher in a multiplayer race.
Sky
Tour Multiplayer Challenges
Get 3rd place or higher in a multiplayer race.
Mii (2022)
Tour Multiplayer Challenges
Get 3rd place or higher in a multiplayer race.
Yoshi (2022)
Tour Multiplayer Challenges
Get 3rd place or higher in a multiplayer race.
Amsterdam
Tour Multiplayer Challenges
Get 3rd place or higher in a multiplayer race.
Doctor (2022)
Tour Multiplayer Challenges
Get 3rd place or higher in a multiplayer race.
Peach vs. Bowser (May 2022)
Tour Multiplayer Challenges
Get 3rd place or higher in a multiplayer race.
Metropolitan
Tour Multiplayer Challenges
Get 3rd place or higher in a multiplayer race.
Bangkok
Tour Multiplayer Challenges
Get 3rd place or higher in a multiplayer race.
Piranha Plant
Tour Multiplayer Challenges
Get 3rd place or higher in a multiplayer race.
Ocean
Tour Multiplayer Challenges
Get 3rd place or higher in a multiplayer race.
Bowser (2022)
Tour Multiplayer Challenges
Get 3rd place or higher in a multiplayer race.
Mario vs. Luigi (2022)
Tour Multiplayer Challenges
Get 3rd place or higher in a multiplayer race.
Anniversary (2022)
Tour Multiplayer Challenges
Get 3rd place or higher in a multiplayer race.
Battle
Tour Multiplayer Challenges
Get 3rd place or higher in multiplayer.
Halloween (2022)
Tour Multiplayer Challenges
Get 3rd place or higher in multiplayer.
Autumn (2022)
Tour Multiplayer Challenges
Get 3rd place or higher in multiplayer.
Peach vs. Bowser (November–December 2022)
Tour Multiplayer Challenges
Get 3rd place or higher in multiplayer.
Holiday (2022)
Tour Multiplayer Challenges
Get 3rd place or higher in multiplayer.
New Year's (2023)
Tour Multiplayer Challenges
Get 3rd place or higher in multiplayer.
Winter (2023)
Tour Multiplayer Challenges
Get 3rd place or higher in multiplayer.
Exploration (2023)
Tour Multiplayer Challenges
Get 3rd place or higher in multiplayer.
Mario (2023)
Tour Multiplayer Challenges
Get 3rd place or higher in multiplayer.
Ninja (2023)
Tour Multiplayer Challenges
Get 3rd place or higher in multiplayer.
Yoshi (2023)
Tour Multiplayer Challenges
Get 3rd place or higher in multiplayer.
Bowser (2023)
Tour Multiplayer Challenges
Get 3rd place or higher in multiplayer.
Mii (2023)
Tour Multiplayer Challenges
Get 3rd place or higher in multiplayer.
Mario vs. Luigi (2023)
Tour Multiplayer Challenges
Get 3rd place or higher in multiplayer.
Night
Tour Multiplayer Challenges
Get 3rd place or higher in multiplayer.
Sunshine
Tour Multiplayer Challenges
Get 3rd place or higher in multiplayer.
Vacation
Tour Multiplayer Challenges
Get 3rd place or higher in multiplayer.
Summer (2023)
Tour Multiplayer Challenges
Get 3rd place or higher in multiplayer.
Anniversary (2023)
Tour Multiplayer Challenges
Get 3rd place or higher in multiplayer.
131
Summer (2021)
Tour Multiplayer Challenges
Get 3rd place or higher 3 times in a multiplayer race.
Los Angeles (2021)
Tour Multiplayer Challenges
Get 3rd place or higher 5 times in a multiplayer race.
Mario vs. Peach
Tour Multiplayer Challenges
Get 3rd place or higher 3 times in a multiplayer race.
Frost
Tour Multiplayer Challenges
Get 3rd place or higher 3 times in a multiplayer race.
Sydney (September 2021)
Tour Multiplayer Challenges
Get 3rd place or higher 3 times in a multiplayer race.
Autumn (2021)
Tour Multiplayer Challenges
Get 3rd place or higher 3 times in a multiplayer race.
Halloween (2021)
Tour Multiplayer Challenges
Get 3rd place or higher 3 times in a multiplayer race.
Toad vs. Toadette
Tour Multiplayer Challenges
Get 3rd place or higher 3 times in a multiplayer race.
Space (2021)
Tour Multiplayer Challenges
Get 3rd place or higher 3 times in a multiplayer race.
Holiday (2021)
Tour Multiplayer Challenges
Get 3rd place or higher 3 times in a multiplayer race.
Penguin
Tour Multiplayer Challenges
Get 3rd place or higher 3 times in a multiplayer race.
New Year's 2022
Tour Multiplayer Challenges
Get 3rd place or higher 3 times in a multiplayer race.
Wario vs. Waluigi
Tour Multiplayer Challenges
Get 3rd place or higher 3 times in a multiplayer race.
Sky
Tour Multiplayer Challenges
Get 3rd place or higher 3 times in a multiplayer race.
Mii (2022)
Tour Multiplayer Challenges
Get 3rd place or higher 3 times in a multiplayer race.
Yoshi (2022)
Tour Multiplayer Challenges
Get 3rd place or higher 3 times in a multiplayer race.
Amsterdam
Tour Multiplayer Challenges
Get 3rd place or higher 3 times in a multiplayer race.
Doctor (2022)
Tour Multiplayer Challenges
Get 3rd place or higher 3 times in a multiplayer race.
Peach vs. Bowser (May 2022)
Tour Multiplayer Challenges
Get 3rd place or higher 3 times in a multiplayer race.
Metropolitan
Tour Multiplayer Challenges
Get 3rd place or higher 3 times in a multiplayer race.
Bangkok
Tour Multiplayer Challenges
Get 3rd place or higher 3 times in a multiplayer race.
Piranha Plant
Tour Multiplayer Challenges
Get 3rd place or higher 3 times in a multiplayer race.
Ocean
Tour Multiplayer Challenges
Get 3rd place or higher 3 times in a multiplayer race.
Bowser (2022)
Tour Multiplayer Challenges
Get 3rd place or higher 3 times in a multiplayer race.
Mario vs. Luigi (2022)
Tour Multiplayer Challenges
Get 3rd place or higher 3 times in a multiplayer race.
Anniversary (2022)
Tour Multiplayer Challenges
Get 3rd place or higher 3 times in a multiplayer race.
Battle
Tour Multiplayer Challenges
Get 3rd place or higher 3 times in multiplayer.
Halloween (2022)
Tour Multiplayer Challenges
Get 3rd place or higher 3 times in multiplayer.
Autumn (2022)
Tour Multiplayer Challenges
Get 3rd place or higher 3 times in multiplayer.
Peach vs. Bowser (November–December 2022)
Tour Multiplayer Challenges
Get 3rd place or higher 3 times in multiplayer.
Holiday (2022)
Tour Multiplayer Challenges
Get 3rd place or higher 3 times in multiplayer.
New Year's (2023)
Tour Multiplayer Challenges
Get 3rd place or higher 3 times in multiplayer.
Winter (2023)
Tour Multiplayer Challenges
Get 3rd place or higher 3 times in multiplayer.
Exploration (2023)
Tour Multiplayer Challenges
Get 3rd place or higher 3 times in multiplayer.
Mario (2023)
Tour Multiplayer Challenges
Get 3rd place or higher 3 times in multiplayer.
Ninja (2023)
Tour Multiplayer Challenges
Get 3rd place or higher 3 times in multiplayer.
Yoshi (2023)
Tour Multiplayer Challenges
Get 3rd place or higher 3 times in multiplayer.
Bowser (2023)
Tour Multiplayer Challenges
Get 3rd place or higher 3 times in multiplayer.
Mii (2023)
Tour Multiplayer Challenges
Get 3rd place or higher 3 times in multiplayer.
Mario vs. Luigi (2023)
Tour Multiplayer Challenges
Get 3rd place or higher 3 times in multiplayer.
Night
Tour Multiplayer Challenges
Get 3rd place or higher 3 times in multiplayer.
Sunshine
Tour Multiplayer Challenges
Get 3rd place or higher 3 times in multiplayer.
Vacation
Tour Multiplayer Challenges
Get 3rd place or higher 3 times in multiplayer.
Summer (2023)
Tour Multiplayer Challenges
Get 3rd place or higher 3 times in multiplayer.
Anniversary (2023)
Tour Multiplayer Challenges
Get 3rd place or higher 3 times in multiplayer.
132
Jungle
Tour Challenges 1
Get 1st place using a driver from the Kong familyB.
1st Anniversary
Tour Challenges 1
Earn a score of 7,000 or Higher on a New York course.
Bowser vs. DK
Tour Challenges 2
Race in every course of every cup, including bonus challenges.
Autumn (2022)
Tour Challenges 2
Get 1 item from the Daily Selects section of the Shop.
133
New York
Tour Challenges 1
Do 100 Jump Boosts.
Tokyo
Tour Challenges 2
Do 20 Jump Boosts in a single race.
Halloween (2019)
Tour Challenges 1
Do 100 Jump Boosts.
Winter (2019)
Tour Challenges 2
Do 100 Jump Boosts.
London
Tour Challenges 2
Do 20 Jump Boosts.
New Year's (2020)
Tour Challenges 2
Do 20 Jump Boosts.
Vancouver
Tour Challenges 1
Do 20 Jump Boosts.
Baby Rosalina
Tour Challenges 2
Do 10 Jump Boosts in a single race.
Hammer Bro
Tour Challenges 2
Do 20 Jump Boosts.
Trick (2020)
Tour Challenges 1
Do 100 Jump Boosts.
Flower
Tour Challenges 1
Do 20 Jump Boosts.
Peach
Tour Challenges 2
Do 10 Jump Boosts in a single race.
Marine
Tour Challenges 2
Do 20 Jump Boosts.
Exploration (2020)
Tour Challenges 1
Do 50 Jump Boosts.
Wild West
Tour Challenges 1
Do 100 Jump Boosts.
Pirate
Tour Challenges 2
Do 50 Jump Boosts.
Los Angeles (2020)
Tour Challenges 2
Do 50 Jump Boosts.
1st Anniversary
Tour Challenges 2
Do 20 Jump Boosts.
Sunset
Tour Challenges 2
Do 20 Jump Boosts.
Winter (2020)
Tour Challenges 1
Do 20 Jump Boosts.
Berlin
Tour Challenges 1
Do 20 Jump Boosts.
Mario (2021)
Tour Challenges 1
Do 20 Jump Boosts.
Sydney (April–May 2021)
Tour Challenges 2
Do 20 Jump Boosts.
Trick (2021)
Tour Challenges 1
Do 20 Jump Boosts.
Wedding
Tour Challenges 2
Do 20 Jump Boosts.
Mario vs. Peach
Tour Challenges 1
Do 100 Jump Boosts.
Frost
Tour Challenges 1
Do 100 Jump Boosts.
2nd Anniversary
Tour Challenges 1
Do 20 Jump Boosts.
Autumn (2021) / Halloween (2021)
Autumn Challenges 1
Take out 200 Jack-o'-lanterns.
Toad vs. Toadette
Tour Challenges 1
Do 100 Jump Boosts.
Penguin
Tour Challenges 1
Do 100 Jump Boosts.
Singapore
Tour Multiplayer Challenges
Do 50 Jump Boosts in multiplayer.
Los Angeles (2022)
Tour Multiplayer Challenges
Do 50 Jump Boosts in multiplayer.
Sky
Tour Challenges 1
Do 100 Jump Boosts.
Samurai
Tour Multiplayer Challenges
Do 50 Jump Boosts in multiplayer.
Amsterdam
Tour Challenges 1
Do 30 Jump Boosts on a city course.
Cat (2022)
Tour Multiplayer Challenges
Do 50 Jump Boosts in multiplayer.
Sundae (2022)
Tour Multiplayer Challenges
Do 50 Jump Boosts in multiplayer.
Battle / Halloween (2022)
Autumn Challenges 1
Take out 5 Jack-o'-lanterns.
Animal
Tour Multiplayer Challenges
Do 50 Jump Boosts in multiplayer.
Peach vs. Bowser (November–December 2022)
Tour Challenges 1
Do 50 Jump Boosts.
Space (2023)
Tour Multiplayer Challenges
Do 50 Jump Boosts in multiplayer.
Doctor (2023)
Tour Multiplayer Challenges
Do 50 Jump Boosts in multiplayer.
Mario (2023)
Tour Challenges 1
Do 100 Jump Boosts.
Spring
Tour Multiplayer Challenges
Do 50 Jump Boosts in multiplayer.
Princess
Tour Multiplayer Challenges
Do 50 Jump Boosts in multiplayer.
Night
Tour Challenges 1
Do 50 Jump Boosts.
Pipe
Tour Multiplayer Challenges
Do 50 Jump Boosts in multiplayer.
Summer (2023)
Tour Challenges 1
Do 50 Jump Boosts.
Sundae (2023)
Tour Multiplayer Challenges
Do 50 Jump Boosts in multiplayer.
134
Jungle
Tour Challenges 2
Do 20 Jump Boosts.
Mario vs. Luigi (2020)
Tour Challenges 2
Do 50 Jump Boosts.
Peach vs. Daisy
Tour Challenges 1
Do 20 Jump Boosts.
Ninja (2021)
Tour Challenges 1
Activate Frenzy mode 5 times using a driver with a hatI.
Mario vs. Peach
Tour Multiplayer Challenges
Do 10 Jump Boosts in multiplayer.
Kamek
Tour Multiplayer Challenges
Do 50 Jump Boosts in multiplayer.
Sydney (September 2021)
Tour Multiplayer Challenges
Do 10 Jump Boosts in multiplayer.
2nd Anniversary
Tour Multiplayer Challenges
Do 50 Jump Boosts in multiplayer.
Autumn (2021)
Tour Multiplayer Challenges
Do 10 Jump Boosts in multiplayer.
Halloween (2021)
Tour Challenges 1
Do 100 Jump Boosts.
Toad vs. Toadette
Tour Multiplayer Challenges
Do 10 Jump Boosts in multiplayer.
Penguin
Tour Multiplayer Challenges
Do 10 Jump Boosts in multiplayer.
New Year's 2022
New Year's Challenges
Participate in a race.
Singapore
Tour Challenges 2
Do 100 Jump Boosts.
Los Angeles (2022)
Tour Challenges 1
Do 100 Jump Boosts.
Amsterdam
Tour Multiplayer Challenges
Do 50 Jump Boosts in multiplayer.
Peach vs. Bowser (May 2022)
Tour Multiplayer Challenges
Do 10 Jump Boosts in multiplayer.
Metropolitan
Tour Multiplayer Challenges
Do 50 Jump Boosts in multiplayer.
Piranha Plant
Tour Multiplayer Challenges
Do 50 Jump Boosts in multiplayer.
Ocean
Tour Multiplayer Challenges
Do 10 Jump Boosts in multiplayer.
Sundae (2022)
Tour Challenges 1
Do 100 Jump Boosts.
Anniversary (2022)
Tour Multiplayer Challenges
Do 10 Jump Boosts in multiplayer.
Battle
Tour Multiplayer Challenges
Do 10 Jump Boosts in multiplayer.
Halloween (2022)
Tour Challenges 1
Do 5 Rocket Starts.
Peach vs. Bowser (November–December 2022)
Tour Multiplayer Challenges
Do 10 Jump Boosts in multiplayer.
Holiday (2022)
Tour Multiplayer Challenges
Do 10 Jump Boosts in multiplayer.
Space (2023)
Tour Challenges 1
Do 50 Jump Boosts.
Exploration (2023)
Tour Multiplayer Challenges
Do 10 Jump Boosts in multiplayer.
Doctor (2023)
Tour Challenges 1
Do 50 Jump Boosts.
Mario (2023)
Tour Multiplayer Challenges
Do 10 Jump Boosts in multiplayer.
Yoshi (2023)
Tour Challenges 1
Do 50 Jump Boosts.
Bowser (2023)
Tour Multiplayer Challenges
Do 10 Jump Boosts in multiplayer.
Mii (2023)
Tour Multiplayer Challenges
Do 10 Jump Boosts in multiplayer.
Sunshine
Tour Multiplayer Challenges
Do 10 Jump Boosts in multiplayer.
Vacation
Tour Multiplayer Challenges
Do 10 Jump Boosts in multiplayer.
Anniversary (2023)
Tour Challenges 1
Do 50 Jump Boosts.
135
Bowser (2023)
Tour Challenges 1
Glide a total distance of 5,000.
Sunshine
Tour Challenges 1
Glide a total distance of 5,000.
136
Mario vs. Luigi (2020)
N/A
Buy the Team Mario Red Standard 8 Pack or the Team Luigi Green Standard 8 Pack.
137
Vancouver
Tour Challenges 1
Pass through every ring in the Ring Race bonus challenge of the Mario Cup.
Hammer Bro
Tour Challenges 1
Pass through every ring in the Ring Race bonus challenge of the Hammer Bro Cup.
Los Angeles (2021)
Tour Multiplayer Challenges
Get 1st place 2 times in a multiplayer race.
Holiday (2021)
Tour Multiplayer Challenges
Get 1st place 2 times in a multiplayer race.
138
Holiday (2021)
Tour Challenges 1
Get 3rd place or higher in a race 30 times.
Singapore
Tour Multiplayer Challenges
Join a multiplayer race.
Los Angeles (2022)
Tour Multiplayer Challenges
Join a multiplayer race.
Samurai
Tour Multiplayer Challenges
Join a multiplayer race.
Cat (2022)
Tour Multiplayer Challenges
Join a multiplayer race.
Sundae (2022)
Tour Multiplayer Challenges
Join a multiplayer race.
Animal
Tour Multiplayer Challenges
Play multiplayer.
Space (2023)
Tour Multiplayer Challenges
Play multiplayer.
Doctor (2023)
Tour Multiplayer Challenges
Play multiplayer.
Spring
Tour Multiplayer Challenges
Play multiplayer.
Princess
Tour Multiplayer Challenges
Play multiplayer.
Pipe
Tour Multiplayer Challenges
Play multiplayer.
Sundae (2023)
Tour Multiplayer Challenges
Play multiplayer.
Anniversary (2023)
Tour Challenges 1
Get a Fantastic combo a total of 5 times.
140
1st Anniversary
Tour Challenges 1
Get a combo count of ×15 or higher on a London course.
Halloween (2021)
Tour Challenges 2
Get 1st place a total of 5 times on a London course.
Metropolitan
Tour Challenges 1
Get a Fantastic combo a total of 5 times.
Yoshi (2023)
Tour Challenges 2
Use point-boost tickets 3 times.
Night
Tour Challenges 2
Use point-boost tickets 3 times.
141
Peach
Tour Challenges 2
Get 1st place on an SNES course using a driver with a mustacheF.
Los Angeles (2020)
Tour Challenges 1
Do 30 Mini-Turbos on a Los Angeles course.
Sunset
Tour Challenges 2
Race in auto mode.
Mario vs. Luigi (2020)
Tour Challenges 1
Earn a score of 7,000 or higher on an RMX course.
Rosalina
Tour Challenges 2
Send Greeting Coins to a friend.
Peach vs. Daisy
Tour Challenges 2
Race in auto mode.
Mario (2021)
Tour Challenges 1
Get 1st place on an SNES course using a driver with a mustacheF.
Yoshi (2021)
Tour Challenges 1
Cause opponents to crash 5 times using a driver with a hatI.
Ninja (2021)
Tour Challenges 2
Race in auto mode.
Wedding
Tour Challenges 1
Cause opponents to crash 5 times in a single race using a driver with a hatI.
Kamek
Tour Challenges 1
Do 30 Jump Boosts using a driver with a hatI.
Samurai / Yoshi (2022)
2.5 Year Anniversary Challenges
Race on a ranked cup's course 10 times.
Metropolitan
Tour Challenges 2
Cause opponents to crash 5 times using a driver with a hatI.
Mario vs. Luigi (2022)
Tour Challenges 1
Get 3rd place or higher in a race 30 times.
Animal
Tour Challenges 2
Cause opponents to crash 5 times using a driver with a hatI.
Princess
Tour Challenges 2
Use point-boost tickets 3 times.
Vacation
Tour Challenges 2
Use point-boost tickets 3 times.
Summer (2023)
Tour Challenges 2
Get 1 item from the Daily Selects section of the Shop.
142
Animal
Tour Challenges 2
Earn a score of 7,000 or higher on 3 T or R/T courses.
143
Ice
Tour Challenges 1
Pass through 10 rings created by a Dash RingX Item.
Peach
Tour Challenges 1
Get 1st place in a race 3 times using a driver wearing a crownJ.
Peach vs. Bowser (May 2022)
Tour Challenges 2
Drive a distance of 15,000 or more using a driver wearing earringsK.
Battle / Halloween (2022)
Autumn Challenges 1
Take out 200 Jack-o'-lanterns.
Peach vs. Bowser (November–December 2022)
Tour Challenges 2
Earn a score of 7,000 or higher on 3 T or R/T courses.
144
Mario (2021) / Yoshi (2021)
1.5 Year Anniversary Challenges 1
Activate Frenzy mode 3 times on courses with Yoshi in the name.
Sydney (September 2021)
Tour Challenges 2
Do 30 Jump Boosts using a driver wearing a shellH.
Autumn (2021) / Halloween (2021)
Autumn Challenges 1
Take out 100 Jack-o'-lanterns.
New Year's 2022
Tour Challenges 2
Do a total of 3 Slipstream boosts.
Battle / Halloween (2022)
Autumn Challenges 1
Take out 30 Jack-o'-lanterns.
Ninja (2023)
Tour Challenges 1
Get a Fantastic combo a total of 5 times.
Yoshi (2023)
Tour Challenges 1
Get 3rd place or higher 30 times.
Sundae (2023)
Tour Challenges 1
Get a Fantastic combo a total of 5 times.
145
New Year's 2021
Tour Challenges 2
Do 50 Jump Boosts on an RMX course.
Snow
Tour Challenges 1
Do 50 Jump Boosts on an RMX course.
Sydney (September 2021)
Tour Challenges 1
Cause opponents to crash a total of 10 times on a Sydney course.
Autumn (2021) / Halloween (2021)
Autumn Challenges 1
Take out 30 Jack-o'-lanterns.
Holiday (2021)
Tour Challenges 1
Cause opponents to crash 100 times.
Samurai
Tour Challenges 2
Do 5 Rocket Starts.
Peach vs. Bowser (May 2022)
Tour Challenges 1
Do 5 Rocket Starts.
Metropolitan / Bangkok
City Course Challenges
Do 50 Jump Boosts on a city course.
Ocean
Tour Challenges 2
Do 5 Rocket Starts.
Mario vs. Luigi (2022)
Tour Multiplayer Challenges
Do 10 Jump Boosts in multiplayer.
Anniversary (2022)
3rd Anniversary Challenges 2
Do 50 Jump Boosts on a city course.
Battle / Halloween (2022)
Autumn Challenges 1
Take out 100 Jack-o'-lanterns.
Autumn (2022)
Tour Multiplayer Challenges
Do 10 Jump Boosts in multiplayer.
Winter (2023)
Tour Multiplayer Challenges
Do 10 Jump Boosts in multiplayer.
Yoshi (2023)
Tour Multiplayer Challenges
Do 10 Jump Boosts in multiplayer.
Spring
Tour Challenges 1
Get a Fantastic combo a total of 5 times.
Mii (2023)
Tour Challenges 1
Do 50 Jump Boosts.
Princess
Tour Challenges 1
Do 100 Jump Boosts.
Night
Tour Multiplayer Challenges
Do 10 Jump Boosts in multiplayer.
Pipe
Tour Challenges 1
Get a Fantastic combo a total of 5 times.
Anniversary (2023)
Tour Multiplayer Challenges
Do 10 Jump Boosts in multiplayer.
146
Holiday (2019)
Tour Challenges 1
Use 30 Mushrooms.
Valentine's
Tour Challenges 2
Use 15 Mushrooms.
Peach
Tour Challenges 2
Use 10 Mushrooms.
Exploration (2020)
Tour Challenges 2
Use 10 Mushrooms.
Pirate
Tour Challenges 1
Use 15 Mushrooms.
Super Mario Kart
Tour Challenges 1
Use 10 Mushrooms.
Sunset
Tour Challenges 2
Use 15 Mushrooms.
Mario vs. Luigi (2020)
Tour Challenges 2
Use 10 Mushrooms.
Rosalina
Tour Challenges 1
Do 5 Rocket Starts.
Snow
Tour Challenges 2
Use 15 Mushrooms.
Ninja (2021)
Tour Challenges 2
Use 10 Mushrooms.
Summer (2021)
Tour Challenges 2
Use 10 Mushrooms.
2nd Anniversary
Tour Multiplayer Challenges
Do 3 Rocket Starts in multiplayer.
Los Angeles (2022)
Tour Multiplayer Challenges
Do 3 Rocket Starts in multiplayer.
Samurai
Tour Multiplayer Challenges
Do 3 Rocket Starts in multiplayer.
Cat (2022)
Tour Multiplayer Challenges
Do 3 Rocket Starts in multiplayer.
Bangkok
Tour Challenges 1
Do 5 Rocket Starts.
Ocean
Tour Multiplayer Challenges
Do 3 Rocket Starts in multiplayer[sic]
Sundae (2022)
Tour Multiplayer Challenges
Do 3 Rocket Starts in multiplayer[sic]
Mario vs. Luigi (2022)
Tour Multiplayer Challenges
Do 3 Rocket Starts in multiplayer[sic]
Battle
Tour Multiplayer Challenges
Do 3 Rocket Starts in multiplayer[sic]
Autumn (2022)
Tour Multiplayer Challenges
Do 3 Rocket Starts in multiplayer[sic]
Animal
Tour Multiplayer Challenges
Do 3 Rocket Starts in multiplayer[sic]
Holiday (2022)
Tour Multiplayer Challenges
Do 3 Rocket Starts in multiplayer[sic]
Space (2023)
Tour Multiplayer Challenges
Do 3 Rocket Starts in multiplayer[sic]
Winter (2023)
Tour Multiplayer Challenges
Do 3 Rocket Starts in multiplayer[sic]
Doctor (2023)
Tour Multiplayer Challenges
Do 3 Rocket Starts in multiplayer[sic]
Mario (2023)
Tour Multiplayer Challenges
Do 3 Rocket Starts in multiplayer[sic]
Yoshi (2023)
Tour Multiplayer Challenges
Do 3 Rocket Starts in multiplayer[sic]
Spring
Tour Multiplayer Challenges
Do 3 Rocket Starts in multiplayer[sic]
Mii (2023)
Tour Multiplayer Challenges
Do 3 Rocket Starts in multiplayer[sic]
Princess
Tour Multiplayer Challenges
Do 3 Rocket Starts in multiplayer[sic]
Night
Tour Multiplayer Challenges
Do 3 Rocket Starts in multiplayer[sic]
Pipe
Tour Multiplayer Challenges
Do 3 Rocket Starts in multiplayer[sic]
Vacation
Tour Multiplayer Challenges
Do 3 Rocket Starts in multiplayer[sic]
Sundae (2023)
Tour Multiplayer Challenges
Do 3 Rocket Starts in multiplayer[sic]
Anniversary (2023)
Tour Multiplayer Challenges
Do 3 Rocket Starts in multiplayer[sic]
147
Bowser vs. DK
Tour Challenges 1
Land 3 hits with Green Shells in a single race using a driver wearing a shellH.
Los Angeles (2021) / Mario vs. Peach
Summertime Challenges 2
Cause opponents to crash 200 times.
Kamek
Tour Multiplayer Challenges
Cause opponents to crash 30 times in multiplayer.
Sydney (September 2021)
Tour Multiplayer Challenges
Cause opponents to crash 5 times in multiplayer.
2nd Anniversary
Tour Multiplayer Challenges
Cause opponents to crash 30 times in multiplayer.
Autumn (2021)
Tour Multiplayer Challenges
Cause opponents to crash 5 times in multiplayer.
Halloween (2021) / Toad vs. Toadette
Autumn Challenges 2
Cause opponents to crash 200 times.
Space (2021)
Tour Challenges 1
Cause opponents to crash 100 times.
New Year's 2022
New Year's Challenges
Cause opponents to crash 100 times.
Singapore
Tour Multiplayer Challenges
Cause opponents to crash 30 times in multiplayer.
Los Angeles (2022)
Tour Multiplayer Challenges
Cause opponents to crash 30 times in multiplayer.
Sky
Tour Multiplayer Challenges
Cause opponents to crash 5 times in multiplayer.
Mii (2022)
Tour Multiplayer Challenges
Cause opponents to crash 5 times in multiplayer.
Samurai
Tour Multiplayer Challenges
Cause opponents to crash 30 times in multiplayer.
Yoshi (2022)
Tour Multiplayer Challenges
Cause opponents to crash 5 times in multiplayer.
Doctor (2022)
Tour Multiplayer Challenges
Cause opponents to crash 5 times in multiplayer.
Cat (2022)
Tour Multiplayer Challenges
Cause opponents to crash 30 times in multiplayer.
Metropolitan / Bangkok
City Course Challenges
Cause opponents to crash a total of 10 times on a city course.
Sundae (2022)
Tour Multiplayer Challenges
Cause opponents to crash 30 times in multiplayer.
Bowser (2022)
Tour Challenges 1
Cause an opponent to crash while gliding.
Anniversary (2022)
3rd Anniversary Challenges 2
Cause opponents to crash a total of 10 times on a city course.
Halloween (2022) / Autumn (2022)
Autumn Challenges 2
Get 1st place 10 times.
Animal
Tour Multiplayer Challenges
Cause opponents to crash 30 times in multiplayer.
Peach vs. Bowser (November–December 2022)
Tour Challenges 1
Use point-boost tickets 3 times.
Holiday (2022) / New Year's (2023)
Holiday Challenges
Pop 5 balloons in battles.
Space (2023)
Tour Multiplayer Challenges
Cause opponents to crash 30 times in multiplayer.
Exploration (2023)
Tour Challenges 1
Cause an opponent to crash while gliding.
Doctor (2023)
Tour Multiplayer Challenges
Cause opponents to crash 30 times in multiplayer.
Spring
Tour Multiplayer Challenges
Cause opponents to crash 30 times in multiplayer.
Princess
Tour Multiplayer Challenges
Cause opponents to crash 30 times in multiplayer.
Pipe
Tour Multiplayer Challenges
Cause opponents to crash 30 times in multiplayer.
Sundae (2023)
Tour Multiplayer Challenges
Cause opponents to crash 30 times in multiplayer.
148
Winter (2019)
Tour Challenges 1
Finish a race by crashing over the finish line a total of 3 times.
Holiday (2019)
Tour Challenges 2
Finish a race by crashing over the finish line.
Winter (2020)
Tour Challenges 2
Use a points-cap ticket.
Cat (2021)
Tour Challenges 2
Use point-boost tickets 3 times.
Trick (2021)
Tour Challenges 1
Earn a score of 8,000 or higher on a T or R/T course.
Singapore
Tour Challenges 2
Race on 5 city courses.
Bangkok
Tour Challenges 2
Earn a score of 7,000 or higher on 3 T or R/T courses.
Autumn (2022)
Tour Challenges 2
Earn a score of 7,000 or higher on 3 T or R/T courses.
149
Berlin
Tour Challenges 1
Get 1st place a total of 3 times on a Berlin course.
Los Angeles (2021)
Tour Multiplayer Challenges
Get 1st place in a multiplayer race.
Holiday (2021)
Tour Multiplayer Challenges
Get 1st place in a multiplayer race.
Spring
Tour Challenges 2
Race in auto mode.
Pipe
Tour Challenges 2
Race in auto mode.
152
Marine
Tour Challenges 2
Earn a total score of 20,000 or higher in the Baby Luigi Cup.
Paris (2021)
Tour Challenges 1
Earn a total score of 20,000 or higher in the Baby Luigi Cup.
Mario vs. Luigi (2023)
Tour Challenges 2
Earn a total score of 15,000 or higher in the Baby Luigi Cup.
153
Mario Bros.
Tour Challenges 2
Earn a total score of 15,000 or higher in the Baby Mario Cup.
Jungle
Tour Challenges 2
Earn a total score of 20,000 or higher in the Baby Mario Cup.
Peach
Tour Challenges 1
Earn a total score of 20,000 or higher in the Baby Mario Cup.
154
Mario vs. Luigi (2022)
Tour Challenges 2
Earn a total score of 20,000 or higher in the Baby Peach Cup.
Space (2023)
Tour Challenges 2
Earn a total score of 15,000 or higher in the Baby Peach Cup.
158
Tokyo
Tour Challenges 2
Do 20 Jump Boosts in a single race using a driver with a ribbonL.
New Year's (2020)
Tour Challenges 2
Pick up 5 dropped Mushrooms using a driver with a ribbonL.
Yoshi (2020)
Tour Challenges 2
Do 20 Jump Boosts in a single race using a driver with a ribbonL.
Cooking
Tour Challenges 1
Earn a total score of 18,000 or higher in the Birdo Cup.
Peach
Tour Challenges 2
Earn a total score of 18,000 or higher in the Birdo Cup.
Yoshi (2021)
Tour Challenges 2
Do 10 Mini-Turbo boosts in a single race using a driver with a ribbonL.
Kamek
Tour Challenges 1
Do 10 Mini-Turbo boosts in a single race using a driver with a ribbonL.
New Year's (2023)
Tour Challenges 2
Earn a total score of 15,000 or higher in the Birdo Cup.
159
Valentine's
Tour Challenges 2
Earn a total score of 25,000 or higher in the Daisy Cup.
Pirate
Tour Challenges 2
Earn a total score of 15,000 or higher in the Daisy Cup.
Peach vs. Daisy
Tour Challenges 2
Earn a total score of 25,000 or higher in the Daisy Cup.
160
Trick (2020)
Tour Challenges 2
Earn a total score of 20,000 or higher in the Diddy Kong Cup.
Jungle
Tour Challenges 1
Earn a total score of 20,000 or higher in the Diddy Kong Cup.
Trick (2021)
Tour Challenges 2
Earn a total score of 20,000 or higher in the Diddy Kong Cup.
Mario vs. Peach
Tour Challenges 1
Earn a total score of 20,000 or higher in the Diddy Kong Cup.
Wario vs. Waluigi
Tour Challenges 2
Earn a total score of 20,000 or higher in the Diddy Kong Cup.
Winter (2023)
Tour Challenges 2
Earn a total score of 15,000 or higher in the Diddy Kong Cup.
161
Summer (2021)
Tour Challenges 1
Earn a total score of 15,000 or higher in the Donkey Kong Cup.
Toad vs. Toadette
Tour Challenges 2
Earn a total score of 15,000 or higher in the Donkey Kong Cup.
Yoshi (2022)
Tour Challenges 2
Earn a total score of 15,000 or higher in the Donkey Kong Cup.
Ocean
Tour Challenges 2
Earn a total score of 15,000 or higher in the Donkey Kong Cup.
Night
Tour Challenges 2
Do 20 Jump Boosts using a driver wearing a tieN.
162
Peach vs. Bowser (May 2022)
Tour Challenges 2
Earn a total score of 25,000 or higher in the Funky Kong Cup.
Holiday (2022)
Tour Challenges 2
Earn a total score of 15,000 or higher in the Funky Kong Cup.
163
Pipe
Tour Challenges 2
Cause opponents to crash a total of 3 times using a driver wearing glovesM.
164
Trick (2020)
Tour Challenges 1
Earn a total score of 20,000 or higher in the Shy Guy Cup.
Yoshi (2021) / Ninja (2021)
1.5 Year Anniversary Challenges 2
Activate Frenzy mode 3 times on a course with bamboo.
Kamek
Tour Challenges 2
Earn a total score of 20,000 or higher in the Shy Guy Cup.
Autumn (2021)
Tour Challenges 1
Earn a total score of 20,000 or higher in the Shy Guy Cup.
165
Winter (2020)
Tour Challenges 2
Earn a total score of 25,000 or higher in the Dry Bowser Cup.
Sydney (September 2021)
Tour Challenges 2
Earn a total score of 25,000 or higher in the Dry Bowser Cup.
166
Exploration (2020)
Tour Challenges 1
Earn a total score of 20,000 or higher in the Lakitu Cup.
Summer Festival
Tour Challenges 1
Earn a total score of 20,000 or higher in the Lakitu Cup.
2nd Anniversary
Tour Challenges 1
Earn a total score of 20,000 or higher in the Lakitu Cup.
167
Summer (2023)
Tour Challenges 2
Earn a total score of 15,000 or higher in the Kamek Cup.
168
Flower
Tour Challenges 1
Earn a total score of 20,000 or higher in the Dry Bones Cup.
Super Mario Kart
Tour Challenges 2
Earn a total score of 20,000 or higher in the Dry Bones Cup.
Bangkok
Tour Challenges 2
Earn a total score of 20,000 or higher in the Dry Bones Cup.
169
New Year's 2021
Tour Challenges 1
Earn a total score of 20,000 or higher in the Toadette Cup.
Sydney (April–May 2021)
Tour Challenges 1
Earn a total score of 20,000 or higher in the Toadette Cup.
Wedding
Tour Challenges 2
Earn a total score of 20,000 or higher in the Toadette Cup.
Los Angeles (2021)
Tour Challenges 2
Earn a total score of 20,000 or higher in the Toadette Cup.
Frost
Tour Challenges 1
Earn a total score of 20,000 or higher in the Toadette Cup.
Toad vs. Toadette
Tour Challenges 2
Cause opponents to crash 10 times using a driver wearing a helmetK.
170
Baby Rosalina
Tour Challenges 2
Use 10 Mushrooms.
Halloween (2020)
Tour Challenges 1
Earn a total score of 18,000 or higher in the Toad Cup.
Cat (2021)
Tour Challenges 2
Earn a total score of 18,000 or higher in the Toad Cup.
Toad vs. Toadette
Tour Challenges 1
Get 1st place 5 times.
Sundae (2022)
Tour Challenges 2
Earn a total score of 18,000 or higher in the Toad Cup.
Pipe
Tour Challenges 2
Earn a total score of 15,000 or higher in the Toad Cup.
171
Paris (2019)
Tour Challenges 2
Land 3 hits with Bowser's ShellV.
Summer Festival
Tour Challenges 2
Earn a total score of 20,000 or higher in the Bowser Cup.
Samurai
Tour Challenges 2
Earn a total score of 20,000 or higher in the Bowser Cup.
173
Valentine's
Tour Challenges 1
Earn a total score of 20,000 or higher in the Luigi Cup.
Mario vs. Luigi (2020)
Tour Challenges 2
Earn a total score of 20,000 or higher in the Luigi Cup.
Sydney (April–May 2021)
Tour Challenges 2
Earn a total score of 20,000 or higher in the Luigi Cup.
Sydney (September 2021)
Tour Challenges 1
Earn a total score of 20,000 or higher in the Luigi Cup.
Halloween (2021)
Tour Challenges 2
Earn a total score of 20,000 or higher in the Luigi Cup.
Halloween (2022)
Tour Challenges 2
Earn a total score of 20,000 or higher in the Luigi Cup.
174
Mario vs. Luigi (2020)
Tour Challenges 1
Earn a total score of 20,000 or higher in the Mario Cup.
Mario (2021)
Tour Challenges 1
Earn a total score of 20,000 or higher in the Mario Cup.
Kamek
Tour Challenges 1
Earn a total score of 20,000 or higher in the Mario Cup.
Autumn (2021)
Tour Challenges 2
Earn a total score of 20,000 or higher in the Mario Cup.
175
Cooking
Tour Challenges 2
Earn a total score of 20,000 or higher in the Koopa Troopa Cup.
Bowser (2022)
Tour Challenges 2
Earn a total score of 20,000 or higher in the Koopa Troopa Cup.
Spring
Tour Challenges 1
Land 3 hits with Green Shells.
175-1
Mario vs. Peach
Tour Multiplayer Challenges
Land 3 hits with Red Shells in multiplayer.
Frost
Tour Multiplayer Challenges
Land 3 hits with Red Shells in multiplayer.
Singapore
Tour Challenges 1
Land 5 hits with Red Shells.
Wario vs. Waluigi
Tour Challenges 2
Land 10 hits with Red Shells.
Los Angeles (2022)
Tour Challenges 2
Land 5 hits with Red Shells.
Mii (2022)
Tour Challenges 2
Land 5 hits with Red Shells.
Peach vs. Bowser (May 2022)
Tour Challenges 1
Land 5 hits with Red Shells.
Metropolitan
Tour Challenges 1
Land 5 hits with Red Shells.
Piranha Plant
Tour Challenges 2
Land 5 hits with Red Shells.
Sundae (2022)
Tour Challenges 2
Land 5 hits with Red Shells.
Anniversary (2022)
Tour Challenges 1
Land 5 hits with Red Shells.
Autumn (2022)
Tour Challenges 1
Land 5 hits with Red Shells.
Animal
Tour Challenges 2
Land 5 hits with Red Shells.
Peach vs. Bowser (November–December 2022)
Tour Challenges 1
Land 5 hits with Red Shells.
Space (2023)
Tour Challenges 2
Land 5 hits with Red Shells.
Exploration (2023)
Tour Challenges 1
Land 5 hits with Red Shells.
Doctor (2023)
Tour Challenges 2
Land 5 hits with Red Shells.
Bowser (2023)
Tour Challenges 1
Land 5 hits with Red Shells.
176
Piranha Plant
Tour Challenges 2
Drive a distance of 20,000 or more.
177
Spring
Tour Challenges 2
Glide a total distance of 5,000.
178
Super Mario Kart
Tour Challenges 1
Earn a total score of 20,000 or higher in the Peach Cup.
Rosalina
Tour Challenges 2
Cause opponents to crash a total of 10 times using a driver wearing a crownJ.
Berlin
Tour Challenges 1
Earn a total score of 20,000 or higher in the Peach Cup.
Peach vs. Daisy
Tour Challenges 1
Earn a total score of 20,000 or higher in the Peach Cup.
Space (2021)
Tour Challenges 2
Earn a total score of 20,000 or higher in the Peach Cup.
Anniversary (2022)
Tour Challenges 2
Earn a total score of 20,000 or higher in the Peach Cup.
178-1
Exploration (2023)
Tour Challenges 1
Earn a total score of 15,000 or higher in the Cat Peach Cup.
179
Marine
Tour Challenges 1
Earn a total score of 20,000 or higher in the Rosalina Cup.
Ninja (2021)
Tour Challenges 1
Earn a total score of 20,000 or higher in the Rosalina Cup.
Mario vs. Peach
Tour Challenges 2
Earn a total score of 20,000 or higher in the Rosalina Cup.
2nd Anniversary
Tour Challenges 2
Earn a total score of 20,000 or higher in the Rosalina Cup.
180
Halloween (2022)
Tour Challenges 2
Earn a score of 7,000 or higher on 3 T or R/T courses.
181
Pirate
Tour Challenges 1
Earn a total score of 20,000 or higher in the King Boo Cup.
Frost
Tour Challenges 2
Earn a total score of 25,000 or higher in the King Boo Cup.
Princess
Tour Challenges 2
Earn a total score of 15,000 or higher in the King Boo Cup.
182
Wild West
Tour Challenges 2
Earn a total score of 20,000 or higher in the Waluigi Cup.
Yoshi (2021)
Tour Challenges 2
Earn a total score of 20,000 or higher in the Waluigi Cup.
Wedding
Tour Challenges 1
Earn a total score of 20,000 or higher in the Waluigi Cup.
Los Angeles (2022)
Tour Challenges 2
Earn a total score of 15,000 or higher in the Waluigi Cup.
183
New Year's 2021
Tour Challenges 2
Earn a total score of 25,000 or higher in the Wario Cup.
Sky
Tour Challenges 2
Earn a total score of 25,000 or higher in the Wario Cup.
Night
Tour Challenges 2
Earn a total score of 15,000 or higher in the Wario Cup.
184
Yoshi (2020)
Tour Challenges 1
Earn a score of 15,000 or higher in the Yoshi Cup.
Yoshi (2021)
Tour Challenges 1
Earn a total score of 15,000 or higher in the Yoshi Cup.
Halloween (2021)
Tour Challenges 1
Earn a total score of 15,000 or higher in the Yoshi Cup.
New Year's 2022
Tour Challenges 2
Earn a total score of 15,000 or higher in the Yoshi Cup.
Metropolitan
Tour Challenges 2
Earn a total score of 15,000 or higher in the Yoshi Cup.
184-1
Yoshi (2021) / Ninja (2021)
1.5 Year Anniversary Challenges 2
Activate Frenzy mode 10 times using Yoshi.
184-2
Yoshi (2022)
Tour Challenges 2
Do 30 Jump Boosts using a driver wearing a shellH.
185
Sunshine
Tour Challenges 2
Earn a total score of 15,000 or higher in the King Bob-omb Cup.
186
Hammer Bro
Tour Challenges 2
Race in every course of every cup, including bonus challenges.
Los Angeles (2020)
Tour Challenges 1
Earn a total score of 18,000 or higher in the Hammer Bro Cup.
Snow
Tour Challenges 2
Earn a total score of 18,000 or higher in the Hammer Bro Cup.
Trick (2021)
Tour Challenges 1
Earn a total score of 18,000 or higher in the Hammer Bro Cup.
Mii (2022)
Tour Challenges 2
Earn a total score of 18,000 or higher in the Hammer Bro Cup.
Battle
Tour Challenges 2
Earn a total score of 18,000 or higher in the Hammer Bro Cup.
186-1
Vacation
Tour Challenges 2
Earn a total score of 15,000 or higher in the Boomerang Bro Cup.
186-2
Sunset
Tour Challenges 1
Earn a total score of 20,000 or higher in the Fire Bro Cup.
Snow
Tour Challenges 1
Earn a total score of 20,000 or higher in the Fire Bro Cup.
Bowser vs. DK
Tour Challenges 1
Earn a total score of 20,000 or higher in the Fire Bro Cup.
Paris (2021)
Tour Challenges 2
Earn a total score of 20,000 or higher in the Fire Bro Cup.
Los Angeles (2021)
Tour Challenges 1
Earn a total score of 20,000 or higher in the Fire Bro Cup.
Penguin
Tour Challenges 2
Earn a total score of 20,000 or higher in the Fire Bro Cup.
186-3
Cat (2022)
Tour Challenges 2
Earn a total score of 15,000 or higher in the Ice Bro Cup.
187
Autumn (2022)
Tour Challenges 2
Earn a total score of 15,000 or higher in the Peachette Cup.
191
Tokyo
Tour Challenges 1
Earn a score of 6,000 or higher using a KoopalingC driver.
New Year's (2020)
Tour Challenges 2
Earn a score of 6,000 or higher using a KoopalingC driver.
Pirate
Tour Challenges 1
Earn a score of 6,000 or higher using a KoopalingC driver.
192
Halloween (2020)
Tour Challenges 2
Earn a total score of 20,000 or higher in the Larry Cup.
Ninja (2021)
Tour Challenges 2
Earn a total score of 20,000 or higher in the Larry Cup.
Bowser (2023)
Tour Challenges 2
Earn a total score of 15,000 or higher in the Larry Cup.
194
Amsterdam
Tour Challenges 2
Earn a total score of 15,000 or higher in the Ludwig Cup.
Mario (2023)
Tour Challenges 2
Earn a total score of 15,000 or higher in the Ludwig Cup.
195
Sunset
Tour Challenges 2
Earn a total score of 18,000 or higher in the Metal Mario Cup.
Mario (2021)
Tour Challenges 2
Earn a total score of 18,000 or higher in the Metal Mario Cup.
Holiday (2021)
Tour Challenges 2
Earn a total score of 18,000 or higher in the Metal Mario Cup.
Anniversary (2023)
Tour Challenges 2
Earn a total score of 15,000 or higher in the Metal Mario Cup.
196
London
Tour Challenges 2
Earn a score of 9,000 or higher using a driver with 3 hairsE.
Doctor (2023)
Tour Challenges 2
Earn a total score of 15,000 or higher in the Morton Cup.
Mii (2023)
Tour Challenges 2
Earn a total score of 15,000 or higher in the Morton Cup.
198
Ice
Tour Challenges 1
Earn a total score of 20,000 or higher in the Rosalina Cup.
Vancouver
Tour Challenges 1
Get 1st place 3 times using a driver wearing a dressP.
Rosalina
Tour Challenges 1
Get 1st place a total of 10 times on Rosalina's Ice World.
Space (2023)
Tour Challenges 2
Get 1st place 2 times in a row in 100cc or above.
199
Baby Rosalina
Tour Challenges 2
Earn a score of 7,000 or higher using a driver with a ribbonL.
Wild West
Tour Challenges 1
Earn a total score of 20,000 or higher in the Wendy Cup.
Los Angeles (2020)
Tour Challenges 1
Pass through every ring in the Ring Race bonus challenge of the Wendy Cup.
Rosalina
Tour Challenges 2
Earn a total score of 15,000 or higher in the Wendy Cup.
Bowser vs. DK
Tour Challenges 2
Earn a total score of 20,000 or higher in the Wendy Cup.
Doctor (2022)
Tour Challenges 2
Earn a total score of 20,000 or higher in the Wendy Cup.
Vacation
Tour Challenges 2
Land a hit with a Bob-omb using a driver with a ribbonL.
200
Ice
Tour Challenges 2
Earn a total score of 25,000 or higher in the Pauline Cup.
Singapore
Tour Challenges 2
Earn a total score of 25,000 or higher in the Pauline Cup.
Animal
Tour Challenges 2
Earn a total score of 15,000 or higher in the Pauline Cup.
201
Kamek
Tour Multiplayer Challenges
Land 3 hits with Bob-ombs in multiplayer.
2nd Anniversary
Tour Multiplayer Challenges
Land 3 hits with Bob-ombs in multiplayer.
Halloween (2021)
Tour Multiplayer Challenges
Land 3 hits with Bob-ombs in multiplayer.
Space (2021)
Tour Multiplayer Challenges
Land 3 hits with Bob-ombs in multiplayer.
Singapore
Tour Multiplayer Challenges
Land 3 hits with Bob-ombs in multiplayer.
202
New York
Tour Challenges 2
Earn a score of 7,000 or higher using a driver wearing a dressP.
Hammer Bro
Tour Challenges 1
Earn a score of 8,000 or higher using a driver wearing a crownJ.
Flower
Tour Challenges 1
Get 1st place using a driver wearing a dressP.
Rosalina
Tour Challenges 1
Activate Frenzy mode 5 times using a driver wearing a crownJ.
Peach vs. Daisy
Tour Challenges 1
Send Greeting Coins to a friend.
Summer (2021)
Tour Challenges 2
Drive a distance of 15,000 or more using a driver wearing earringsK.
Bangkok
Tour Challenges 2
Do 10 Mini-Turbos in a single race using a driver wearing earringsK.
Ocean
Tour Challenges 1
Race in every course of every cup, including bonus challenges.
Princess
Tour Challenges 2
Cause opponents to crash a total of 10 times using a driver wearing a crownJ.
203
Tokyo
Tour Challenges 2
Earn a score of 6,000 or higher using a driver with a hatI.
Halloween (2019)
Tour Challenges 2
Earn a score of 7,000 or higher using a driver with a hatI.
Winter (2019)
Tour Challenges 2
Earn a score of 7,000 or higher using a driver with a hatI.
Ice
Tour Challenges 2
Cause opponents to crash 5 times in a single race using a driver with a hatI.
Baby Rosalina
Tour Challenges 1
Earn a score of 7,000 or higher using a driver with a hatI.
Cooking
Tour Challenges 1
Land 3 hits with Bob-ombs using a driver with a hatI.
Marine
Tour Challenges 2
Do 20 Mini-Turbo boosts using a driver with a hatI.
Pirate
Tour Challenges 2
Earn a score of 7,000 or higher using a driver with a hatI.
Los Angeles (2020)
Tour Challenges 2
Do 20 Mini-Turbo boosts using a driver with a hatI.
Sunset
Tour Challenges 2
Do 20 Mini-Turbo boosts using a driver with a hatI.
Winter (2020)
Tour Challenges 2
Cause opponents to crash 5 times using a driver with a hatI.
New Year's 2021
Tour Challenges 1
Do 30 Jump Boosts using a drver with a hatI.
Cat (2021)
Tour Challenges 2
Do 20 Mini-Turbo boosts using a driver with a hatI.
Peach vs. Daisy
Tour Challenges 2
Cause opponents to crash 5 times in a single race using a driver with a hatI.
Snow
Tour Challenges 2
Activate Frenzy mode 5 times using a driver with a hatI.
Bowser vs. DK
Tour Challenges 2
Do 30 Jump Boosts using a driver with a hatI.
204
Halloween (2019)
Tour Challenges 1
Cause opponents to crash 10 times in a single race using a driver wearing a tieN.
Ice
Tour Challenges 1
Land 30 hits with Bananas using a driver wearing a tieN.
205
Marine
Tour Challenges 2
Race in every course of every cup, including bonus challenges.
Summer Festival
Tour Challenges 1
Earn a score of 7,000 or higher on a Tokyo course.
Sunset
Tour Challenges 1
Land a hit with a Blooper.
Mario vs. Luigi (2020)
Tour Challenges 2
Land a hit with a Blooper.
Holiday (2021)
Tour Challenges 1
Land a hit with a Blooper.
New Year's 2022
Tour Challenges 1
Land a hit with a Blooper.
Mii (2022)
Tour Challenges 1
Land a hit with a Blooper.
Cat (2022)
Tour Challenges 1
Land a hit with a Blooper.
Piranha Plant
Tour Challenges 1
Land a hit with a Blooper.
Sundae (2022)
Tour Challenges 1
Land a hit with a Blooper.
Battle
Tour Challenges 1
Land a hit with a Blooper.
Peach vs. Bowser (November–December 2022)
Tour Challenges 1
Land a hit with a Blooper.
Winter (2023)
Tour Challenges 1
Land a hit with a Blooper.
Summer (2023)
Tour Challenges 1
Land a hit with a Blooper.
206
Hammer Bro
Tour Challenges 1
Earn a score of 7,000 or higher using a driver wearing a shellH.
Trick (2020)
Tour Challenges 1
Earn a score of 9,000 or higher using a driver wearing a helmetK.
Sunset
Tour Challenges 2
Earn a score of 7,000 or higher using a driver wearing a helmetK.
Trick (2021)
Tour Challenges 2
Cause opponents to crash 10 times using a driver wearing a helmetK.
Autumn (2021)
Tour Challenges 2
Do 50 Mini-Turbo boosts using a driver wearing a helmetK.
Bowser (2023)
Tour Challenges 2
Do 50 Mini-Turbo boosts using a driver wearing a shellH.
207
Winter (2019)
Tour Challenges 2
Earn a score of 8,000 or higher using a driver with 3 hairsE.
Valentine's
Tour Challenges 2
Earn a score of 8,000 or higher using a driver with 3 hairsE.
Ninja (2023)
Tour Challenges 1
Cause an opponent to crash while gliding.
Sundae (2023)
Tour Challenges 1
Cause an opponent to crash while gliding.
208
Kamek
Tour Challenges 2
Race in every course of every cup, including bonus challenges.
Sky
Tour Challenges 2
Do 20 Mini-Turbo boosts using a driver with a hatI.
209
Holiday (2019)
Tour Challenges 2
Earn a score of 9,000 or higher using a driver wearing glovesM.
New Year's (2020)
Tour Challenges 1
Earn a score of 5,000 or higher using a driver wearing glovesM.
Yoshi (2020)
Tour Challenges 1
Earn a score of 9,000 or higher using a driver wearing glovesM.
Exploration (2020)
Tour Challenges 2
Earn a score of 9,000 or higher using a driver wearing glovesM.
Cat (2021)
Tour Challenges 2
Cause opponents to crash a total of 3 times using a driver wearing glovesM.
Snow
Tour Challenges 1
Earn a score of 9,000 or higher using a driver wearing glovesM.
Frost
Tour Challenges 1
Cause opponents to crash a total of 3 times using a driver wearing glovesM.
Piranha Plant
Tour Challenges 2
Cause opponents to crash a total of 3 times using a driver wearing glovesM.
Halloween (2022)
Tour Challenges 1
Get 3rd place or higher 30 times.
210
Tokyo
Tour Challenges 2
Use a Bullet Bill.
Paris (2019)
Tour Challenges 1
Cause opponents to crash a total of 3 times using Bullet Bill.
Kamek
Tour Multiplayer Challenges
Use the Bullet Bill item in multiplayer.
Singapore
Tour Multiplayer Challenges
Use the Bullet Bill item in multiplayer.
Los Angeles (2022)
Tour Multiplayer Challenges
Use the Bullet Bill item in multiplayer.
Samurai
Tour Multiplayer Challenges
Use the Bullet Bill item in multiplayer.
Cat (2022)
Tour Multiplayer Challenges
Use the Bullet Bill item in multiplayer.
Sundae (2022)
Tour Multiplayer Challenges
Use the Bullet Bill item in multiplayer.
Animal
Tour Multiplayer Challenges
Use the Bullet Bill item in multiplayer.
Space (2023)
Tour Multiplayer Challenges
Use the Bullet Bill item in multiplayer.
Doctor (2023)
Tour Multiplayer Challenges
Use the Bullet Bill item in multiplayer.
Spring
Tour Multiplayer Challenges
Use the Bullet Bill item in multiplayer.
Princess
Tour Multiplayer Challenges
Use the Bullet Bill item in multiplayer.
Pipe
Tour Multiplayer Challenges
Use the Bullet Bill item in multiplayer.
Sundae (2023)
Tour Multiplayer Challenges
Use the Bullet Bill item in multiplayer.
212
Holiday (2019)
Tour Challenges 1
Earn a score of 9,000 or higher using a driver with hornsD.
Pirate
Tour Challenges 2
Race in every course of every cup, including bonus challenges.
Bowser (2022)
Tour Challenges 1
Get 3rd place or higher in a race 30 times.
Peach vs. Bowser (November–December 2022)
Tour Challenges 1
Get 3rd place or higher 30 times.
213
Pirate
Tour Challenges 1
Earn a score of 9,000 or higher using a driver wearing a shellH.
Berlin
Tour Challenges 2
Earn a score of 6,000 or higher using a baby driverA.
Kamek
Tour Challenges 2
Earn a score of 9,000 or higher using a driver wearing a shellH.
Bowser (2022)
Tour Challenges 2
Do 50 Mini-Turbo boosts using a driver wearing a shellH.
Yoshi (2023)
Tour Challenges 2
Earn a total score of 15,000 or higher in the Bowser Jr. Cup.
214
Mario (2021)
Tour Challenges 1
Take out 3 Goombas.
Sydney (April–May 2021)
Tour Challenges 1
Take out 3 Goombas.
Halloween (2021)
Tour Challenges 1
Take out 3 Goombas.
215
London
Tour Challenges 1
Earn a score of 9,000 or higher using a driver with a hatI.
New Year's (2020)
Tour Challenges 2
Hit a kadomatsu with an item 5 times.
Mario Bros.
Tour Challenges 2
Earn a score of 9,000 or higher using a driver with a mustacheF.
Exploration (2020)
Tour Challenges 1
Earn a score of 9,000 or higher using a driver with a hatI.
Super Mario Kart
Tour Challenges 1
Land 3 hits with Bob-ombs using a driver with a hatI.
Mario vs. Luigi (2020)
Tour Challenges 2
Earn a score of 7,000 or higher using a driver with a mustacheF.
New Year's 2021
Tour Challenges 1
Activate Frenzy mode 5 times using a driver with a hatI.
Berlin
Tour Challenges 1
Activate Frenzy Mode 5 times using a driver with a mustacheF.
Ninja (2021)
Tour Challenges 2
Earn a score of 9,000 or higher using a driver with a mustacheF.
Trick (2021)
Tour Challenges 2
Cause opponents to crash a total of 3 times using a driver wearing glovesM.
Paris (2021)
Tour Challenges 1
Cause opponents to crash 5 times in a single race using a driver with a hatI.
Frost
Tour Challenges 2
Cause opponents to crash 5 times in a single race using a driver with a hatI.
2nd Anniversary
Tour Challenges 2
Earn a score of 9,000 or higher using a driver with a hatI.
Penguin
Tour Challenges 2
Cause opponents to crash 5 times using a driver with a hatI.
Doctor (2022)
Tour Challenges 2
Cause opponents to crash a total of 3 times using a driver wearing glovesM.
Cat (2022)
Tour Challenges 2
Cause opponents to crash a total of 3 times using a driver wearing glovesM.
Anniversary (2022)
Tour Challenges 2
Cause opponents to crash a total of 3 times using a driver wearing glovesM.
Mario vs. Luigi (2023)
Tour Challenges 2
Land 10 hits on opponents with Bob-ombs using a driver with a mustacheF.
Sundae (2023)
Tour Challenges 2
Glide a distance of 2,000 or longer using a driver with a mustacheF.
216
New York
Tour Challenges 1
Earn a score of 6,000 or higher using a driver with a mustacheF.
Halloween (2019)
Tour Challenges 1
Earn a score of 7,000 or higher using a driver with a mustacheF.
New Year's (2020)
Tour Challenges 2
Land 10 hits on opponents with Bob-ombs using a driver with a mustacheF.
Mario Bros.
Tour Challenges 1
Earn a score of 9,000 or higher using a driver with a hatI.
Trick (2020)
Tour Challenges 2
Earn a score of 9,000 or higher using a driver with a mustacheF.
Flower
Tour Challenges 2
Earn a score of 10,000 or higher using a driver with a mustacheF.
Cooking
Tour Challenges 2
Earn a score of 9,000 or higher using a driver with a mustacheF.
Wild West
Tour Challenges 1
Do 20 Mini-Turbo boosts using a driver with a hatI.
Super Mario Kart
Tour Challenges 2
Earn a score of 9,000 or higher using a driver wearing glovesM.
Los Angeles (2020)
Tour Challenges 1
Glide a distance of 2,000 or longer using a driver with a mustacheF.
Mario vs. Luigi (2020)
Tour Challenges 1
Cause opponents to crash 3 times using a driver wearing glovesM.
Winter (2020)
Tour Challenges 1
Do 30 Jump Boosts using a driver with a hatI.
New Year's 2021
Tour Challenges 2
Activate Frenzy mode 5 times using a driver with a mustacheF.
Berlin
Tour Challenges 2
Cause opponents to crash 5 times using a driver with a hatI.
Mario (2021)
Tour Challenges 1
Earn a score of 9,000 or higher using a river with a hatI.
Sydney (April–May 2021)
Tour Challenges 2
Earn a score of 9,000 or higher using a driver wearing glovesM.
Trick (2021)
Tour Challenges 1
Do 100 Jump Boosts on courses with Mario in the name.
Wedding
Tour Challenges 1
Earn a score of 9,000 or higher using a driver wearing glovesM.
Summer (2021)
Tour Challenges 2
Earn a score of 9,000 or higher using a driver wearing glovesM.
Mario vs. Peach
Tour Challenges 1
Cause opponents to crash 5 times using a driver with a hatI.
Kamek
Tour Challenges 2
Cause opponents to crash a total of 3 times using a driver wearing glovesM.
Autumn (2021)
Tour Challenges 1
Cause opponents to crash 5 times using a driver with a hatI.
Doctor (2022)
Tour Challenges 1
Do 100 Jump Boosts.
Holiday (2022)
Tour Challenges 2
Do 20 Mini-Turbo boosts using a driver with a hatI.
Mario (2023)
Tour Challenges 1
Glide a total distance of 5,000.
217
Autumn (2022)
Tour Challenges 2
Cause opponents to crash 10 times using a driver wearing a helmetK.
218
Mario Bros.
Tour Challenges 1
Do 3 Slipstream boosts in a single race.
Yoshi (2020)
Tour Challenges 1
Land 3 hits with Green Shells in a single race.
Ninja (2023)
Tour Challenges 1
Land 3 hits with Green Shells.
Sundae (2023)
Tour Challenges 1
Land 3 hits with Green Shells.
219
New York
Tour Challenges 1
Land 3 hits with Green Shells in a single race using a driver wearing a shellH.
Tokyo
Tour Challenges 1
Ride on air currents 5 times.
Tokyo
Tour Challenges 2
Earn a score of 7,000 or higher using driver wearing a shellH.[sic]
Halloween (2019)
Tour Challenges 1
Earn a score of 6,000 or higher using a driver wearing a shellH.
Paris (2019)
Tour Challenges 1
Land 3 hits with Green Shells in a single race using a driver with a shellH.
Marine
Tour Challenges 1
Do 50 Mini-Turbo boosts using a driver wearing a shellH.
Summer Festival
Tour Challenges 1
Do 50 Mini-Turbo boosts using a driver wearing a shellH.
Halloween (2020)
Tour Challenges 2
Do 50 Mini-Turbo boosts using a driver wearing a shellH.
Yoshi (2021)
Tour Challenges 1
Do 50 Mini-Turbo boosts using a driver wearing a shellH.
220
Paris (2019)
Tour Challenges 2
Take out 5 Piranha Plants.2
Ninja (2021)
Tour Challenges 1
Take out 5 Piranha Plants.2
Piranha Plant
Tour Challenges 1
Race in every course of every cup, including bonus challenges.
Exploration (2023)
Tour Challenges 2
Earn a score of 7,000 or higher on 3 T or R/T courses.
221
Holiday (2019)
Tour Challenges 2
Collect 50 Coins in a single race using a driver wearing a dressP.
Flower
Tour Challenges 1
Earn a score of 6,000 or higher using a driver wearing earringsK.
Peach
Tour Challenges 1
Earn a score of 8,000 or higher using a driver wearing earringsK.
Marine
Tour Challenges 2
Earn a score of 8,000 or higher using a driver wearing earringsK.
Summer Festival
Tour Challenges 2
Earn a score of 8,000 or higher using a driver wearing earringsK.
Halloween (2020)
Tour Challenges 1
Earn a score of 9,000 or higher using a driver wearing a dressP.
Rosalina
Tour Challenges 1
Do 5 Ultra Mini-Turbo boosts using a driver wearing earringsK.
Peach vs. Daisy
Tour Challenges 2
Earn a score of 9,000 or higher using a driver wearing glovesM.
Snow
Tour Challenges 1
Do 5 Ultra Mini-Turbo boosts using a driver wearing earringsK.
Sydney (April–May 2021)
Tour Challenges 1
Do 5 Ultra Mini-Turbo boosts using a driver wearing earringsK.
Paris (2021)
Tour Challenges 2
Do 5 Ultra Mini-Turbo boosts using a driver wearing earringsK.
Mario vs. Peach
Tour Challenges 1
Activate Frenzy using a driver wearing a crownJ.
Autumn (2021)
Tour Challenges 2
Drive a distance of 15,000 or more using a driver wearing earringsK.
Sky
Tour Challenges 2
Cause opponents to crash a total of 3 times using a driver wearing glovesM.
Halloween (2022)
Tour Challenges 2
Do 10 Mini-Turbos in a single race using a driver wearing earringsK.
Peach vs. Bowser (November–December 2022)
Tour Challenges 2
Cause opponents to crash a total of 10 times using a driver wearing a crownJ.
Summer (2023)
Tour Challenges 2
Cause opponents to crash a total of 10 times using a driver wearing a crownJ.
Anniversary (2023)
Tour Challenges 2
Cause opponents to crash a total of 10 times using a driver wearing a crownJ.
222
Summer (2021)
Tour Challenges 2
Race in every course of every cup, including bonus challenges.
Sunshine
Tour Challenges 1
Do 100 Jump Boosts.
223
Halloween (2019)
Tour Challenges 1
Land 5 hits with Bob-ombs in a single race using a driver with an extended tongueG.
Yoshi (2021)
Tour Challenges 2
Earn a score of 7,000 or higher using a driver with an extended tongueG.
Halloween (2022)
Tour Challenges 1
Get 1st place 2 times in a row in 100cc or above.
224
Ninja (2023)
Tour Challenges 2
Land 5 hits with Red Shells.
Princess
Tour Challenges 1
Land 5 hits with Red Shells.
Mario vs. Luigi (2023)
Tour Challenges 2
Land 5 hits with Red Shells.
Vacation
Tour Challenges 1
Land 5 hits with Red Shells.
Summer (2023)
Tour Challenges 2
Land 5 hits with Red Shells.
Sundae (2023)
Tour Multiplayer Challenges
Land 3 hits with Red Shells in multiplayer.
225
London
Tour Challenges 2
Land 5 hits with Bananas in a single race using a driver with a mustacheF.
Wild West
Tour Challenges 2
Glide a total distance of 2,000 or longer using a driver with a mustacheF.
Halloween (2021)
Tour Challenges 1
Activate Frenzy mode 5 times using a driver with a hatI.
Wario vs. Waluigi
Tour Challenges 2
Cause opponents to crash 5 times using a driver with a hatI.
Spring
Tour Challenges 2
Do 30 Jump Boosts using a driver with a hatI.
226
Paris (2019)
Tour Challenges 1
Earn a score of 7,000 or higher using a driver wearing short sleevesO.
Vancouver
Tour Challenges 2
Earn a score of 7,000 or higher using a driver with a hatI.
Cooking
Tour Challenges 2
Earn a score of 7,000 or higher using a driver wearing short sleevesO.
Wild West
Tour Challenges 1
Earn a score of 7,000 or higher using a driver wearing short sleevesO.
Snow
Tour Challenges 2
Glide a total distance of 2,000 or longer using a driver with a mustacheF.
Wario vs. Waluigi
Tour Challenges 1
Get 3rd place or higher in a race 30 times.
Ninja (2023)
Tour Challenges 2
Cause opponents to crash a total of 3 times using a driver wearing glovesM.
227
Holiday (2019)
Tour Challenges 1
Earn a score of 7,000 or higher using a driver wearing a shellH.
Yoshi (2020)
Tour Challenges 2
Earn a score of 8,000 or higher using a driver with an extended tongueG.
Mario vs. Luigi (2020)
Tour Challenges 2
Earn a score of 7,000 or higher using a driver with an extended tongueG.
Winter (2020)
Tour Challenges 2
Do 30 Jump Boosts using a driver wearing a shellH.
Mario (2021) / Yoshi (2021)
1.5 Year Anniversary Challenges 1
Get 1st place a total of 5 times in a course with Yoshi in the name.
Sydney (September 2021)
Tour Challenges 1
Get 1st place 5 times using Yoshi.
Yoshi (2023)
Tour Challenges 2
Do 30 Jump Boosts using a driver wearing a shellH.
229
Paris (2019)
Tour Challenges 2
Earn a score of 7,000 or higher using a driver wearing a crownJ.
Valentine's
Tour Challenges 2
Clear all of the cups in the Valentine's Tour.
1st Anniversary
Tour Challenges 2
Do 30 Jump Boosts on a Paris Course.
Paris (2021)
Tour Challenges 2
Earn a score of 7,000 or higher on a Paris course.
Metropolitan
Tour Challenges 2
Drive a distance of 20,000 or more.
Vacation
Tour Challenges 1
Do 100 Jump Boosts.
231
Spring
Tour Challenges 2
Get 1 item from the Daily Selects section of the Shop.
Pipe
Tour Challenges 2
Get 1 item from the Daily Selects section of the Shop.
232
Berlin
Tour Challenges 1
Cause opponents to crash 3 times while underwater.
Summer (2021)
Tour Challenges 1
Cause opponents to crash 3 times while underwater.
Mario vs. Peach
Tour Multiplayer Challenges
Cause opponents to crash 5 times in multiplayer.
Halloween (2021)
Tour Multiplayer Challenges
Cause opponents to crash 5 times in multiplayer.
Toad vs. Toadette
Tour Challenges 2
Cause opponents to crash 3 times while underwater.
Space (2021)
Tour Multiplayer Challenges
Cause opponents to crash 5 times in multiplayer.
Penguin
Tour Multiplayer Challenges
Cause opponents to crash 5 times in multiplayer.
Ocean
Tour Challenges 1
Get 3rd place or higher in a race 30 times.
Holiday (2022) / New Year's (2023)
Holiday Challenges
Pop 10 balloons in battles.
Mario vs. Luigi (2023)
Tour Challenges 1
Cause an opponent to crash while gliding.
233
Los Angeles (2021) / Mario vs. Peach
Summertime Challenges 2
Cause opponents to crash 300 times.
Halloween (2021) / Toad vs. Toadette
Autumn Challenges 2
Cause opponents to crash 300 times.
Doctor (2022) / Peach vs. Bowser (May 2022)
Doctor Challenges
Join 5 multiplayer races.
Ocean / Sundae (2022)
Summer Challenges
Join a multiplayer race.
Mario vs. Luigi (2022) / Anniversary (2022)
3rd Anniversary Challenges 1
Join a multiplayer race.
Battle
Tour Challenges 1
Finish every course of every cup, including bonus challenges.
Holiday (2022) / New Year's (2023)
Holiday Challenges
Pop 20 balloons in battles.
234
Jungle
Tour Challenges 2
Do 50 Jump Boosts using a driver from the Kong familyB.
Bowser vs. DK
Tour Challenges 1
Earn a score of 7,000 or higher on 3 T courses.
235
Rosalina
Tour Challenges 2
Race in every course of every cup, including bonus challenges.
Amsterdam
Tour Challenges 1
Get 3rd place or higher in a race 30 times.
Sundae (2022)
Tour Challenges 2
Drive a distance of 15,000 or more using a driver wearing earringsK.
Space (2023)
Tour Challenges 2
Use point-boost tickets 3 times.
Spring
Tour Challenges 2
Earn a total score of 15,000 or higher in the Rosalina Cup.
236
New Year's (2020)
Tour Challenges 2
Get a Fantastic combo a total of 10 times.
Mario Bros.
Tour Challenges 2
Cause opponents to crash a total of 3 times using a driver wearing glovesM.
Flower
Tour Challenges 2
Get 1st place in a multiplayer race.
1st Anniversary
Tour Challenges 2
Race in every course of every cup, including bonus challenges.
Mario (2021)
Tour Challenges 2
Cause opponents to crash a total of 3 times using a driver wearing glovesM.
Wedding
Tour Challenges 2
Earn a score of 9,000 or higher using a driver with a mustacheF.
Frost
Tour Challenges 1
Activate Frenzy mode 5 times using a driver with a mustacheF.
2nd Anniversary
Tour Challenges 1
Glide a distance of 2,000 or longer using a driver with a mustacheF.
Doctor (2022) / Peach vs. Bowser (May 2022)
Doctor Challenges
Race on a ranked cup's course 10 times.
Sundae (2022)
Tour Challenges 2
Glide a distance of 2,000 or longer using a driver with a mustacheF.
Battle
Tour Challenges 2
Cause opponents to crash 5 times using a driver with a hatI.
Mario (2023)
Tour Challenges 2
Get 1st place 30 times using Mario.
237
Peach
Tour Challenges 2
Drive a distance of 15,000 or more using a driver wearing earringsK.
Exploration (2020)
Tour Challenges 2
Earn a score of 8,000 or higher on an N64 course.
Wedding
Tour Challenges 2
Race in every course of every cup, including bonus challenges.
Vacation
Tour Challenges 2
Race in auto mode.
238
Holiday (2019)
Tour Challenges 2
Clear all of the cups in the Holiday Tour.
Winter (2020)
Tour Challenges 2
Race in every course of every cup, including bonus challenges.
Holiday (2021)
Tour Challenges 2
Earn a score of 9,000 or higher using a driver with a mustacheF.
Holiday (2022)
Tour Challenges 1
Finish every course of every cup, including bonus challenges.
239
Mario Bros.
Tour Challenges 2
Race in every course of every cup, including bonus challenges.
Jungle
Tour Challenges 2
Get 1st place in a course with Mario in its name.
Peach
Tour Challenges 1
Get 1st place in a course with Mario in its name.
Marine
Tour Challenges 1
Earn a score of 7,000 or higher on an SNES course.
Exploration (2020)
Tour Challenges 1
Do 20 jump boosts on an SNES course.
Sunset
Tour Challenges 1
Drive a distance of 20,000 or more.
New Year's 2021
New Year's Challenges
Drive a distance of 2,021 on an R course.
Cat (2021)
Tour Challenges 1
Drive a distance of 20,000 or more.
Mario (2021) / Yoshi (2021)
1.5 Year Anniversary Challenges 1
Land 10 hits with Green Shells using Mario.
Summer (2021) / Los Angeles (2021) / Mario vs. Peach
Summertime Challenges 1
Participate in a race.
Autumn (2021) / Halloween (2021)
Autumn Challenges 1
Participate in a race.
Holiday (2021) / Penguin / New Year's 2022
Holiday Challenges
Participate in a race.
Wario vs. Waluigi / Los Angeles (2022) / Sky
Winter Challenges
Participate in a race.
Sky / Mii (2022)
Winter Multiplayer Challenges
Participate in a race.
Samurai
Tour Challenges 1
Get 3rd place or higher in a race 30 times.
New Year's (2023)
Tour Challenges 1
Get 3rd place or higher 30 times.
Mario vs. Luigi (2023)
Tour Challenges 2
Get 1st place 2 times in a row in 100cc or above.
240
Mario (2021) / Yoshi (2021)
1.5 Year Anniversary Challenges 1
Do 30 Mini-Turbo boosts using Mario.
Los Angeles (2021) / Mario vs. Peach
Summertime Challenges 2
Race on a city course.
Halloween (2021) / Toad vs. Toadette
Autumn Challenges 2
Participate in a race.
Metropolitan / Bangkok
City Course Challenges
Get 1st place 3 times on a city course.
Anniversary (2022)
3rd Anniversary Challenges 2
Get 1st place 3 times on a city course.
Battle / Halloween (2022)
Autumn Challenges 1
Pop 1 balloon in battles.
Yoshi (2023)
Tour Challenges 2
Get 1st place 2 times in a row in 100cc or above.
Mii (2023)
Mii Challenges
Start a new tour.
241
Yoshi (2021) / Ninja (2021)
1.5 Year Anniversary Challenges 2
Get 1st place 5 times using Yoshi.
Metropolitan / Bangkok
City Course Challenges
Get 1st place 15 times on a city course.
Anniversary (2022)
3rd Anniversary Challenges 2
Get 1st place 10 times on a city course.
Battle / Halloween (2022)
Autumn Challenges 1
Pop 5 balloons in battles.
Spring
Tour Challenges 2
Get 1st place 2 times in a row in 100cc or above.
Pipe
Tour Challenges 2
Get 1st place 2 times in a row in 100cc or above.
242
Los Angeles (2021) / Mario vs. Peach
Summertime Challenges 2
Get 1st place 3 times on a city course.
Metropolitan / Bangkok
City Course Challenges
Get 1st place 30 times on a city course.
Anniversary (2022)
3rd Anniversary Challenges 2
Get 1st place 20 times on a city course.
Pipe
Tour Challenges 1
Do 50 Mini-Turbo boosts.
243
Los Angeles (2021) / Mario vs. Peach
Summertime Challenges 2
Drive a distance of 20,000 or more on a city course.
Battle / Halloween (2022)
Autumn Challenges 1
Pop 10 balloons in battles.
Princess
Tour Challenges 2
Race in auto mode.
245
Singapore
Tour Challenges 1
Get 3rd place or higher in a race 30 times.
Mario vs. Luigi (2023)
Tour Challenges 1
Get a Fantastic combo a total of 5 times.
246
New Year's 2021
New Year's Challenges
Complete Coin Rush 1 time.
Summer (2021) / Los Angeles (2021) / Mario vs. Peach
Summertime Challenges 1
Collect a total of 1,000 coins in races.
Toad vs. Toadette
Tour Challenges 2
Send Greeting Coins to a friend.
Singapore
Tour Challenges 2
Complete Coin Rush 1 time.
Wario vs. Waluigi
Tour Challenges 2
Get 1 item from the Daily Selects section of the Shop.
Halloween (2022)
Tour Challenges 2
Send Greeting Coins to a friend.
Exploration (2023)
Tour Challenges 2
Send Greeting Coins to a friend.
Ninja (2023)
Tour Challenges 2
Send Greeting Coins to a friend.
Mario vs. Luigi (2023)
Tour Challenges 2
Send Greeting Coins to a friend.
Sundae (2023)
Tour Challenges 2
Send Greeting Coins to a friend.
247
Yoshi (2020)
Tour Challenges 2
Race in every course of every cup, including bonus challenges.
Yoshi (2021)
Tour Challenges 2
Race in every course of every cup, including bonus challenges.
Yoshi (2022)
Tour Challenges 1
Race in every course of every cup, including bonus challenges.
249
Super Mario Kart
Tour Challenges 2
Earn a score of 7,000 or higher on an SNES course.
Yoshi (2023) / Spring
Spring Challenges 2
Start a new tour.
250
Yoshi (2023) / Spring
Spring Challenges 2
Activate Frenzy mode 10 times.
251
Yoshi (2023) / Spring
Spring Challenges 2
Do 30 Jump Boosts.
252
Yoshi (2023) / Spring
Spring Challenges 2
Land 30 hits with Bananas.
253
Yoshi (2023) / Spring
Spring Challenges 2
Cause opponents to crash 100 times.
253-1
Yoshi (2023) / Spring
Spring Challenges 2
Cause opponents to crash 300 times.
254
Yoshi (2023) / Spring
Spring Challenges 2
Collect a total of 100 coins in races and battles.
255
Yoshi (2023) / Spring
Spring Challenges 2
Cause opponents to crash 200 times.
256
Sunshine / Vacation / Summer (2023)
Summer Challenges 1
Start a new tour.
257
Sunshine / Vacation / Summer (2023)
Summer Challenges 1
Collect a total of 100 coins in races and battles.
258
Sunshine / Vacation / Summer (2023)
Summer Challenges 1
Participate in 10 races or battles.
259
Sunshine / Vacation / Summer (2023)
Summer Challenges 1
Get 1st place 5 times.
260
Sunshine / Vacation / Summer (2023)
Summer Challenges 1
Get 1st place 10 times.
261
Sunshine / Vacation / Summer (2023)
Summer Challenges 1
Collect a total of 600 coins in races and battles.
262
Sunshine / Vacation / Summer (2023)
Summer Challenges 1
Get 1st place 30 times.
263
Sunshine / Vacation / Summer (2023)
Summer Challenges 1
Get 1st place 50 times.
264
Super Mario Kart
Tour Challenges 2
Race in every course of every cup, including bonus challenges.
Yoshi (2023) / Spring
Spring Challenges 2
Do 20 Rocket Starts.
Anniversary (2023)
Anniversary Challenges
Start a new tour.
265
Anniversary (2023)
Anniversary Challenges
Clear 5 cups.
266
Anniversary (2023)
Anniversary Challenges
Cause opponents to crash 50 times.
267
Anniversary (2023)
Anniversary Challenges
Clear 3 cups.
268
Anniversary (2023)
Anniversary Challenges
Cause opponents to crash 10 times.
269
Anniversary (2023)
Anniversary Challenges
Get 1st place 5 times.
270
Super Mario Kart
Tour Challenges 1
Do 50 Jump Boosts using a driver from the Kong familyB.
Anniversary (2023)
Anniversary Challenges
Cause opponents to crash 20 times.
271
Anniversary (2023)
Anniversary Challenges
Get 1st place 3 times.
272
Mario (2023)
Tour Challenges 1
Finish every course of every cup, including bonus challenges.
Ninja (2023) / Yoshi (2023) / Spring
Spring Challenges 1
Start a new tour.
273
Ninja (2023) / Yoshi (2023) / Spring
Spring Challenges 1
Collect a total of 100 coins in races and battles.
274
Bowser (2022)
Tour Challenges 1
Race in every course of every cup, including bonus challenges.
Ninja (2023) / Yoshi (2023) / Spring
Spring Challenges 1
Participate in 10 races or battles.
Bowser (2023)
Tour Challenges 1
Finish every course of every cup, including bonus challenges.
275
Ninja (2023) / Yoshi (2023) / Spring
Spring Challenges 1
Get 1st place 5 times.
276
Ninja (2023) / Yoshi (2023) / Spring
Spring Challenges 1
Get 1st place 10 times.
277
Ninja (2023) / Yoshi (2023) / Spring
Spring Challenges 1
Collect a total of 600 coins in races and battles.
278
Ninja (2023) / Yoshi (2023) / Spring
Spring Challenges 1
Get 1st place 30 times.
279
Ninja (2023) / Yoshi (2023) / Spring
Spring Challenges 1
Get 1st place 50 times.
280
Ninja (2023) / Yoshi (2023) / Spring
Spring Challenges 1
Collect a total of 1,000 coins in races and battles.
Mario vs. Luigi (2023)
Tour Challenges 1
Finish every course of every cup, including bonus challenges.
Sunshine / Vacation / Summer (2023)
Summer Challenges 1
Collect a total of 1,000 coins in races and battles.
281
Anniversary (2023)
Anniversary Challenges
Clear 10 cups.
282
Mario (2023)
Mario Challenges
Participate in 20 races or battles.
282-1
Mario (2023)
Mario Challenges
Do 5 Rocket Starts.
283
Retweet Campaign
N/A
More than 15,000 combined retweets on a specified tweet.
Mario vs. Luigi (2023)
Mario vs. Luigi Challenges
Start a new tour.
283-1
Mario vs. Luigi (2023)
Mario vs. Luigi Challenges
Race on a course with Luigi in the name 10 times.
284
Mario vs. Luigi (2023)
Mario vs. Luigi Challenges
Race on a course with Mario in the name 3 times.
284-1
Mario vs. Luigi (2023)
Mario vs. Luigi Challenges
Race on a course with Luigi in the name 15 times.
285
Mario vs. Luigi (2023)
Mario vs. Luigi Challenges
Race on a course with Mario in the name 5 times.
285-1
Mario vs. Luigi (2023)
Mario vs. Luigi Challenges
Get 1st place on a course with Luigi in the name 5 times.
286
Bowser (2023)
Bowser Challenges
Start a new tour.
287
Bowser (2023)
Bowser Challenges
Race on a course with Bowser in the name 15 times.
288
Bowser (2023)
Bowser Challenges
Land 10 hits with Green Shells.
288-1
Bowser (2023)
Bowser Challenges
Land 10 hits with Red Shells.
289
Mario (2023)
Tour Challenges 1
Get 1 item from the Daily Selects section of the Shop.
289-1
Mario (2023)
Tour Challenges 2
Get 1st place 2 times in a row in 100cc or above.
290
Mario (2023)
Mario Challenges
Cause opponents to crash 10 times.
290-1
Mario (2023)
Mario Challenges
Cause opponents to crash 20 times.
291
Bowser (2023)
Bowser Challenges
Use a Bullet Bill.
292
Mario (2023)
Mario Challenges
Collect a total of 100 coins in races and battles.
293
Mario vs. Luigi (2023)
Mario vs. Luigi Challenges
Use a Mushroom 5 times.
294
Mario vs. Luigi (2023)
Mario vs. Luigi Challenges
Land 5 hits with fireballs.
295
Mario vs. Luigi (2023)
Mario vs. Luigi Challenges
Activate Frenzy mode.
296
Mario (2023)
Mario Challenges
Start a new tour.
297
Mario (2023)
Mario Challenges
Participate in 10 races or battles.
298
Bowser (2023)
Bowser Challenges
Get 1st place on a course with Bowser in the name 5 times.
299
Bowser (2023)
Bowser Challenges
Race on a course with Bowser in the name 10 times.
300
Bowser (2023)
Bowser Challenges
Land a hit with a Blooper.
301
Mario (2023)
Mario Challenges
Activate Frenzy mode.
302
Mario (2023)
Tour Challenges 2
Earn a score of 7,000 or higher on 3 T or R/T courses.
303
Base game
Extreme Challenges
Get 1st place in tier 99 in This Week's Ranking 10 times.
304
Mario (2023)
Tour Challenges 1
Get a Fantastic combo a total of 5 times.
Pipe
Tour Challenges 1
Finish every course of every cup, including bonus challenges.
305
Mario (2023)
Tour Challenges 2
Cause opponents to crash using a Mega Mushroom.
306
Mario (2023)
Mario Challenges
Get 1st place 5 times.
307