Mario Tennis 64 Original Soundtrack
From the Super Mario Wiki, the Mario encyclopedia
Jump to navigation
Jump to search
It has been requested that at least one audio and/or video file related to this article be uploaded.
Please upload all related music, sound effects, voice clips, or any videos for this article. See the help page for information on how to get started.
Mario Tennis 64 Original Soundtrack
Composed by:
Motoi Sakuraba
Publisher(s)
Enterbrain
Release date
September 21, 2000

Media
Compact disc
Track(s)
58
Length
57:26
The Mario Tennis 64 Original Soundtrack is a soundtrack album that includes all of the music from Mario Tennis for the Nintendo 64. It was released only in Japan.
Tracklist
[
edit
]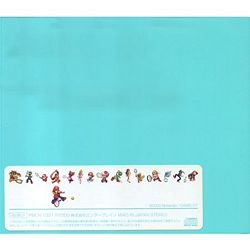 | # | Title | Length |
| --- | --- | --- |
| 1 | Opening - Entrance | 0:41 |
| 2 | Opening - Wario, Waluigi Enter the Scene | 0:54 |
| 3 | Opening - Koopa Enters the Scene | 0:27 |
| 4 | Opening - Let's All Play! | 0:30 |
| 5 | Mario Tennis 64 | 0:18 |
| 6 | Menu | 2:11 |
| 7 | Status | 1:56 |
| 8 | Tournament | 1:48 |
| 9 | Entrance ~VS Theme~ (Tournament) | 0:51 |
| 10 | Tournament 1st Match | 2:06 |
| 11 | Game Point - Break Point | 1:29 |
| 12 | Tournament 2nd Match | 2:21 |
| 13 | Game Point - Break Point | 2:04 |
| 14 | Tournament Finals | 2:05 |
| 15 | Tiebreak | 1:52 |
| 16 | Set Point - Match Point | 1:20 |
| 17 | Match Results | 1:23 |
| 18 | Entrance ~VS Theme~ | 0:37 |
| 19 | Exhibition | 3:36 |
| 20 | Ring Shot (Singles) | 1:35 |
| 21 | Ring Shot (Doubles) | 1:35 |
| 22 | Pakkun Challenge | 1:49 |
| 23 | Special Game | 1:46 |
| 24 | Ring Tournament | 1:48 |
| 25 | Mario Bros. Court | 1:20 |
| 26 | Mario & Luigi Court | 1:07 |
| 27 | Koopa Stage | 1:49 |
| 28 | Donkey Kong Court | 1:23 |
| 29 | Wario & Waluigi Court | 1:15 |
| 30 | Baby Mario & Yoshi Court | 1:29 |
| 31 | Invincibility Theme | 0:31 |
| 32 | Ending | 3:08 |
| 33 | Ending Jingle | 0:11 |
| 34 | Trophy Award - Mario | 0:27 |
| 35 | Trophy Award - Luigi | 0:15 |
| 36 | Trophy Award - Wario | 0:14 |
| 37 | Trophy Award - Waluigi | 0:16 |
| 38 | Trophy Award - Peach | 0:21 |
| 39 | Trophy Award - Deiji (Daisy) | 0:19 |
| 40 | Trophy Award - Baby Mario/Nina | 0:26 |
| 41 | Trophy Award - Kinopio (Toad) | 0:16 |
| 42 | Trophy Award - Yoshi | 0:12 |
| 43 | Trophy Award - Kyasarin (Birdo) | 0:10 |
| 44 | Trophy Award - Koopa (Bowser) | 0:22 |
| 45 | Trophy Award - Donkey Kong | 0:11 |
| 46 | Trophy Award - Hei-Ho (Shy Guy) | 0:13 |
| 47 | Trophy Award - Patapata (Paratroopa) | 0:12 |
| 48 | Trophy Award - Teresa (Boo) | 0:12 |
| 49 | Trophy Award - Donkey Kong Jr. | 0:13 |
| 50 | Trophy Award - Singles | 0:13 |
| 51 | Trophy Award - Doubles | 0:26 |
| 52 | Trophy Award - Alex | 0:18 |
| 53 | Trophy Award - Kate | 0:32 |
| 54 | Trophy Award - Harry | 0:20 |
| 55 | Winning Jingle | 0:32 |
| 56 | Losing Jingle | 0:52 |
| 57 | Winning Jingle | 0:09 |
| 58 | Losing Jingle | 0:30 |