Waluigi's Foot Fault
From the Super Mario Wiki, the Mario encyclopedia
Jump to navigation
Jump to search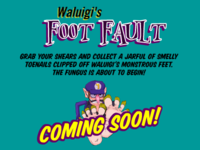 Waluigi's Foot Fault, also known as Waluigi's Toenail Clipping Party, is a game that was supposedly playable on the official website for Mario Tennis for the Nintendo 64. It is the only game where Waluigi is the main character.
History
[
edit
]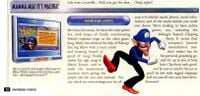 The September 2000 issue of Nintendo Power contains a "Nintendo Power Online" area on page 12, featuring a section titled "Mamma Mia! It's Waluigi!" The accompanying text introduces Waluigi and claims that Waluigi's Toenail Clipping Party is an upcoming online game:
He's lean, he's mean, he hates the color green! Yes, with hopes of finally overthrowing Mario's supreme reign as the video game king, Wario has enlisted the help of Waluigi. The big fellow with a nasty smirk and burning hatred of good, ol' Luigi finally shows his ugly mug in Mario Tennis, and to mark the momentous occasion we're giving the purple one his very own website! You can check out www.waluigi.com for all your evil sidekick needs: photos, secret information, and all the wacky hijinks you could ever desire. We're looking to have online games, too, including the[sic] Waluigi's Toenail Clipping Party. It seems that everyone's favorite mustachioed mischief maker has let his personal grooming go, and it's up to you to help him. Clip those nails good, and be sure to aim for the jar, or you'll be left with ragged clippings and toe jam all over your hard drive. Eewwww!
At the time of the Nintendo Power issue's release, the website waluigi.com was identical to the official website for Mario Tennis, mariotennis.com. One of the files hosted on the Mario Tennis website was the Adobe Flash file toenails_coming.swf,[1] which is an advertisement for the game depicting Waluigi's bare feet. Another file hosted on the website was toenails.swf,[2] which was supposedly the game itself. However, the waluigi.com domain has since been turned into a redirect to the official Nintendo website.[3] The toenails.swf file was not preserved, and has currently not resurfaced.
Game description
[
edit
]
Grab your shears and collect a jarful of smelly toenails clipped off Waluigi's monstrous feet. The fungus is about to begin!
References
[
edit
]
^ Nintendo: Mario Tennis. Nintendo. Archived from the original on October 17, 2000, 12:13:40 UTC via Wayback Machine. Retrieved February 14, 2023.
^ Nintendo: Mario Tennis. Nintendo. Archived from the original on August 7, 2012, 19:12:28 UTC via Wayback Machine. Retrieved February 14, 2023.
^ Trace Results. WhereGoes. Retrieved January 17, 2023. (Archived January 17, 2023, 20:29:02 UTC via Wayback Machine.)