Classic Dragster
From the Super Mario Wiki, the Mario encyclopedia
Jump to navigation
Jump to search
Classic Dragster
Nostalgia 1

Mario sitting on his Classic Dragster
Size class
Medium
Strong stats
Acceleration, Handling, Drift, Mini-Turbo
Average stats
Speed, Weight, Off-Road
Weak stats
None
Appears in
Mario Kart Wii
The Classic Dragster (known as the Nostalgia 1 in the British English version) is a medium-sized kart which appears in Mario Kart Wii. It resembles a late-1930s Grand Prix racecar, particularly those produced by Mercedes-Benz. It also resembles the Cucumber from Mario Kart DS. The emblem is located on the hood and on a license plate on the rear. Although it lacks a bike counterpart for its size class, its small counterpart is the Cheep Charger.
A similar kart, W 25 Silver Arrow, appears in Mario Kart 8 as a downloadable kart body and part of Mercedes-Benz × Mario Kart 8 DLC.
The Classic Dragster is a well-balanced Acceleration-type kart that features great acceleration with good handling, Mini-Turbo, and drifting. Its speed, weight, and off-road are around average. It is the second lightest and second slowest medium kart in the game, having the same speed as the Wario Bike. It has the same weight as the Dolphin Dasher, while it has the same acceleration as the Bit Bike. Its handling is the same as that of the Offroader and it has the same drift as the Standard Bike S. It has the best acceleration of all the medium vehicles. If Luigi or Peach ride the Classic Dragster, its speed will tie with the Offroader. Additionally, if Peach uses the Classic Dragster, it will have the same acceleration as the Cheep Charger, and if Daisy rides the Classic Dragster, it will have the same speed stat as the Zip Zip. The Classic Dragster has the highest stat total of all karts in the game, having 338 stat points.
Color schemes
[
edit
]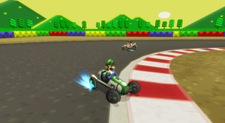 | Character | Color scheme | Image | Character | Color scheme | Image |
| --- | --- | --- | --- | --- | --- |
| Mario | White body, red stripes and rims, blue wheel nuts, gold dual-exhaust | | Luigi | White body, green stripes, gray rims, green wheel nuts, silver dual-exhaust | |
| Peach | White body, pink stripes, silver rims, pink wheel nuts, gold dual-exhaust | | Daisy | White body, orange stripes and rims, teal wheel nuts, gold dual-exhaust | |
| Yoshi | White body, light green stripes and rims, orange wheel nuts, bronze dual-exhaust | | Birdo | White body, purple stripes and rims, hot pink wheel nuts, silver dual-exhaust | |
| Diddy Kong | Beige body, dark brown stripes, black rims, red wheel nuts, black dual-exhaust | | Bowser Jr. | White body, yellow stripes, green rims, yellow wheel nuts, bronze dual-exhaust | |
| Male Mii | White body, blue stripes, rims and wheel nuts, gold dual-exhaust | | Female Mii | Coral body, white stripes, coral rims and wheel nuts, silver dual-exhaust | |
Gallery
[
edit
]
Names in other languages
[
edit
]
Language
Name
Meaning
Japanese
ノスタルジア
Nosutarujia
Nostalgia
French (NOA)
Dragster Classique
Classic Dragster
French (NOE)
Nostalgia
-
German
Nostalgia 1
-
Italian
Nostalgia 1
-
Korean
노스텔지아
Noseuteljia
Nostalgia
Spanish
Modelo Clásico
Classic Model