Scubi
From the Super Mario Wiki, the Mario encyclopedia
Jump to navigation
Jump to search
The title of this article is official, but it comes from a non-English source. If an acceptable English source is found, then the article should be moved to its appropriate title.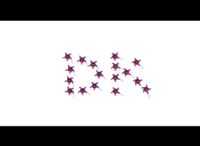 Scubis are a variant of Shuri that appear in Donkey Kong 64. They have a purple body with orange spots. Scubis wear a diving helmet and a rope, and their face is slightly visible through the green glass of the helmet. Unlike Shuris, they appear inside the Tiny Kong portion of the tipped-over sunken ship in Gloomy Galleon, where there are two; one of these can be seen from the Lanky Kong portion, but not interacted with. They do not spin nor are they aggressive, instead quickly swimming in a predetermined loop through undulating their bodies.
One also appears in Splish Splash Salvage among normal Shuris, where it acts more similar to them.
In the 101% completion ending, there is a scene where Scubis form Donkey Kong's initials.
Names in other languages
[
edit
]
Language
Name
Meaning
Japanese
スキュービ[1]
Sukyūbi
Scubi
References
[
edit
]