Donkey Kong Match-Up
From the Super Mario Wiki, the Mario encyclopedia
Jump to navigation
Jump to search
Donkey Kong Match-Up
Publisher
Nintendo
Platform(s)
Browser
Genre
Match-up
Rating(s)
N/A
Mode(s)
Single player
Input
Mouse/touchscreen
Donkey Kong Match-Up is a Memory Match-up activity on the Play Nintendo website.[1] It features characters and items from Donkey Kong Country: Tropical Freeze.
Overview
[
edit
]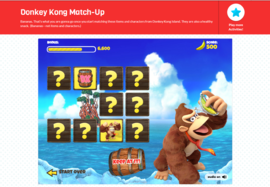 The player must first pick one of three different difficulty levels: Easy (which features eight cards and starts at 5000 points), Medium (which features twelve cards and starts at 9000 points), and Hard (which features twenty-four cards and starts at 12000 points). Once the player selects a difficulty, the game begins. The player then has to match up all of the cards as quickly as possible, while keeping an eye on the score which deducts 100 points to the time bonus for every second elapsed. Each match is worth 500 points. Once the player matches every card, they receive a final score as well as a "What's THAT?" button to find out more about the characters and items they saw during their game.
Descriptions
[
edit
]
Description and tagline
[
edit
]
Donkey Kong Match-Up
Bananas. That's what you are gonna go once you start matching these items and characters from Donkey Kong Island. They are also a healthy snack. (Bananas—not items and characters.)
A matching game to flip over
Careful: it's a jungle in there.
Gallery
[
edit
]
References
[
edit
]