Super Mario Maker Ghost House Tips
From the Super Mario Wiki, the Mario encyclopedia
Jump to navigation
Jump to search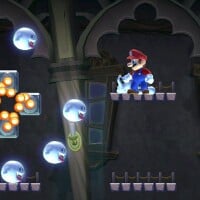 Super Mario Maker Ghost House Tips, referred to as Super (Spooky) Mario Maker by its description, was a post featuring a gallery in Play Nintendo's Tips & Tricks section. The gallery was about Super Mario Maker and contained 7 images. This gallery did not contain image captions.
Five tips from our experts to get the most out of your ghosts!

[

edit

]
Tip 1: Boo

[

edit

]
You can't have a Ghost House without plenty of ghosts, so be sure to fill your course with lots of Boos. Drag a Super Mushroom over to make them giant or shake them to make a horde of Boo Buddies.
Tip 2: Creepy crawlies

[

edit

]
Drag a Boo to the ground and watch it transform into a Stretch, a crawling menace that pops out of nowhere to give you a scare. You can even hang them from the ceiling!
Tip 3: Bones and Bloopers

[

edit

]
Boos aren't the only frightful foes that fit in a Ghost House. Dry Bones are great at haunting houses and Bloopers look pretty creepy floating through a corridor.
There are lots of ways to make your Ghost House extra spooky besides creepy bad guys. Use some Invisible ? Blocks to unleash surprises or confuse players with Warp Doors to nowhere!
Tip 5: Scares beneath the sea

[

edit

]
Your scary scene doesn't even have to be in a Ghost House level. Try making a spooky Underwater course, filled with floating Boos and frightening Fish Bones (yep, when Dry Bones is placed underwater it becomes Fish Bones!).
Looking for inspiration? Check out this gallery!
Description
[
edit
]
In the Super Mario Maker game, you can make and play a nearly infinite number of custom Super Mario courses. With Halloween right around the corner, it's the perfect time to make a super spooky Ghost House level.
Gallery
[
edit
]
External links
[
edit
]