Ornament Creator
From the Super Mario Wiki, the Mario encyclopedia
Jump to navigation
Jump to search
Ornament Creator

Title screen
Publisher
Nintendo
Platform(s)
Browser
Rating(s)
N/A
Input
Pointing device/keyboard
Ornament Creator, referred to as Nintendo Holiday Ornament Creator in the title of its web page, is an activity on the Play Nintendo website.[1] It is an application that allows the user to design their own printable holiday ornaments (similar to the ones found in the website's Crafts section) using various elements from Super Mario and other Nintendo franchises.
Overview
[
edit
]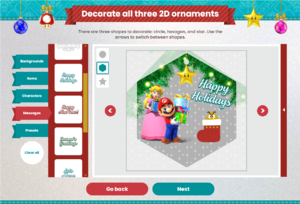 At first, the user has to choose whether they would like to design a set of three flat ornaments or a single cubical ornament. The user is then shown an empty canvas containing an outline of the chosen ornament format. Here, they can add holiday-themed decorations such as items, characters, messages, and a background. Alternatively, they can apply one of the available preset designs; when opening the preset section, the user is reminded that using a preset will overwrite their current design. Decorations added to the canvas can be repositioned using a pointing device or the keyboard. An option to clear the user's current design is also available.
The three flat ornaments, each one in the shape of a circle, hexagon, or star, are customized separately from each other. To switch between ornaments, the user can either select one of the representative shapes shown at the top left of the canvas, or use the arrow buttons present on the sides of the canvas. The cubical ornament is shown on its canvas as a cross-shaped net, displaying several guides which can be toggled off and on. There is also an option to see a reference of the cubical ornament in assembled form.
When finished, the user can opt to download their ornament(s) as a printable sheet—which also contains assembly instructions—, return to the editing screen to make changes, or start their design from scratch.
Controls
[
edit
]
Once a decoration is placed on a canvas, the user can select and move it around by way of a pointing device (mouse, touchscreen etc.) Upon selecting the decoration, it displays two adjacent buttons which perform different actions: one can simultaneously rotate and resize the decoration when dragged, and the other deletes it when selected. Alternatively, keyboard controls may be used:
+-
Bigger/smaller

←

↑

→

↓

Move
<>
Rotate
[]
Re-order
Delete
Delete
Shift + Any
Modify
W
Align top
A
Align left
S
Align bottom
D
Align right
C
Center horizontally
V
Center vertically
Decorations
[
edit
]
Backgrounds
[
edit
]
Characters
[
edit
]
Messages
[
edit
]
Presets
[
edit
]
Several predetermined designs are available for both groups of ornaments in this application. The following table shows printable sheets with ornaments that use these designs.
2D ornaments
[
edit
]
| Preset icon | Printable sheet |
| --- | --- |
| | |
| | |
| | |
| | |
3D ornaments
[
edit
]
| Preset icon | Printable sheet |
| --- | --- |
| | |
| | |
| | |
| | |
Website descriptions
[
edit
]
Holiday Ornament Creator
This holiday season you can deck the halls with papercraft ornaments decorated and designed by…you! The Holiday Ornament Creator lets you create your own Nintendo-inspired 2D or 3D ornaments to print and display. You can make a set of three 2D ornaments or a single 3D ornament (folding instructions included). Happy holidays!
Holiday Ornament Creator
You can decorate and create your own Nintendo-inspired 2D or 3D papercraft ornaments in this fun-for-all-ages activity!
Gallery
[
edit
]
References
[
edit
]