Color Capture
From the Super Mario Wiki, the Mario encyclopedia
Jump to navigation
Jump to search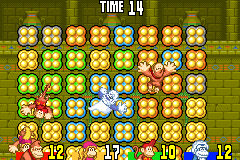 Color Capture is an event in the Jungle Jam Tournament which appears in the DK: King of Swing. Color Capture is set inside of a pyramid, similar to the level Puzzling Pyramid. The objective of the event is to climb the most peg boards within the time limit of forty seconds. When a player climbs on a peg board, it turns into a certain color corresponding to that player. However, if an opponent later covers the same peg board, it changes color corresponding to the opponent. A player can reclaim the peg board as many times as they need as long as it is within the time limit. Each peg board is worth one point. Once time is up, the player with the most points will win the Color Capture event. After the game is over, the player will be shown a screen which displays all previous records. If the winning player's score is within the top four of their previous records, it will get recorded.
The player number corresponds to the color. Player one's color is red, player two's color is light blue, player three's color is yellow, and player four's color is green.
Controls
[
edit
]
Move character -

and

In-game description
[
edit
]
Change the panels to your color! Don't let your foes box you in.