Stone (status effect)
From the Super Mario Wiki, the Mario encyclopedia
Jump to navigation
Jump to search

Stone is a status effect in Paper Mario and Mario + Rabbids Kingdom Battle.
In Paper Mario, Mario gains this status when he uses a Stone Cap. The animation for the Stone status depicts him crouched in his defense position. While in Stone form, he is impervious to enemy attacks, but also prevents Mario from moving, leaving only his partner to attack. While wearing the Feeling Fine Badge, Stone will always end on Mario's next turn. Whether this is a glitch or not is currently unknown.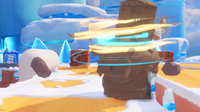 The status effect returns in Mario + Rabbids Kingdom Battle, where it prevents inflicted characters from acting at all for one turn, combining the effects of Honey, Ink, and Freeze. Unlike Paper Mario's Stone status, affected characters can still take damage.
See also
[
edit
]