Peek-a-Boo (enemy)
From the Super Mario Wiki, the Mario encyclopedia
Jump to navigation
Jump to search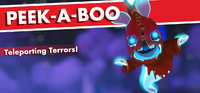 "My sensors tell me that these enemies are masters of long range attacks AND teleportation! They could outflank us, attack and then vanish before we could react! Talk about unsporting! Also, beware their seductive charms! Peek-a-Boos can pull you towards them like a Siren leading a sailor to his doom!"
Peek-a-Boos are Rabbid enemies in Mario + Rabbids Kingdom Battle. They are enemies capable of teleporting to certain parts of the battlefield, thus evading normal "line of sight" techniques. Peek-a-Boos' long range allows them to snipe characters from afar while also outflanking them. They can also lure characters towards them and out of cover.
The only times they are moving without teleporting is when they are either hit with a weapon that has a chance of either Burn, Push, or Bounce or when Rabbid Mario's Magnet Dance or Rabbid Yoshi's Scaredy Rabbid is active.
In their introductory cutscene, the characters start levitating, then they notice that a Peek-a-Boo is lifting them into the air while teleporting around. The introductory tagline then appears while the Peek-a-Boo faces the screen.
Variants
[
edit
]
There are two Peek-a-Boo variants, one for each area apart from Ancient Gardens and Sherbet Desert.
Spooky Peek-a-Boo: Encountered in Spooky Trails, this 180 HP Peek-a-Boo appears to be a ghost, with a pale body, glowing blue eyes, and black accessories. Its Precision rifle has Vamp.
Lava Peek-a-Boo: The other Peek-a-Boo variant is encountered in the Lava Pits, with glowing orange eyes, a magma-like appearance, a Bowser Jr. bandanna worn like a sheet, and 270 HP. Its Precision rifle has Push.
Mario + Rabbids Kingdom Battle

enemy
Spooky Peek-a-Boo
Health Points
180 / 405
Team Jump
None
Dash
None
Area of Movement
15 Cells
Primary Weapon
Precision
Secondary Weapon
62 DMG / 90 DMG
None
Pipe Exit Range
None
Primary Technique
Magnet Dance
Secondary Technique
Draws oppenents
None
Chase Range
None
Tertiary Technique
Teleporting Terrors!
None
Mario + Rabbids Kingdom Battle

enemy
Lava Peek-a-Boo
Health Points
270 / 405
Team Jump
None
Dash
None
Area of Movement
15 Cells
Primary Weapon
Precision
Secondary Weapon
74 DMG / 90 DMG
None
Pipe Exit Range
None
Primary Technique
Magnet Dance
Secondary Technique
Draws opponents
None
Chase Range
None
Tertiary Technique
Teleporting Terrors!
None
Gallery
[
edit
]
Names in other languages
[
edit
]
Language
Name
Meaning
Japanese
ピーカーブー
Pīkābū
Peek-a-Boo
Italian
Boobusettete
Portmanteau of "Boo" and bubusettete ("peek-a-boo")
Russian
Убежастик
Ubezhastik
Жуткий убежастик
Zhutkiy ubezhastik
Лавовый убежастик
Lavovyi ubezhastik

Portmanteau of "ужастик" (uzhastik, a colloquial term for "horror movie") and "убегать" (ubegat, "to flee")

Spooky Peek-a-Boo

Lava Peek-a-Boo