Valkyrie
From the Super Mario Wiki, the Mario encyclopedia
Jump to navigation
Jump to search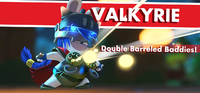 "Valkyries go to great lengths to protect themselves and others. Watch for their Team Jump - it ends with a Ground Pound! Don't let them get the drop on you... literally! Also beware their, er... 'unique' yet powerful shooting technique."
Valkyries are Rabbid enemies in Mario + Rabbids Kingdom Battle. They wear armor equipped with machine guns that destroy Mega Blocks and inflict multiple hits on their targets. Like Hoppers, they can perform Team Jumps; however, their jumps end with a Ground Pound that can damage anyone within range of their landing. They are also capable of using Protection to shield allies, reducing the damage inflicted to them by absorbing some of it themselves.
The introductory cutscene starts with the characters strolling through the area, where they get confused when bullets getting shot everywhere around them form a heart shape. A Valkyrie then Ground Pounds nearby and starts attacking the heroes with the Rumblebang-like weapons on its chest, followed by the introductory tagline appearing above it.
The Valkyries' armor can be seen at the start of Mario + Rabbids Sparks of Hope's Rayman in the Phantom Show DLC.
Variants
[
edit
]
There are two Valkyrie variants, one for each area apart from Ancient Gardens and Sherbet Desert.
Spooky Valkyrie: Encountered in Spooky Trails after defeating Calavera, this 360 HP Valkyrie appears to be undead, with a pale body, glowing blue eyes, a red cape, and blue hair with a braid. Its attacks can inflict the Bounce Super Effect.
Lava Valkyrie: The other Valkyrie variant is encountered in the Lava Pit, with a charred appearance, glowing orange eyes, a Bowser Jr. bandanna cape, red hair with a braid, and 540 HP. Its attacks can Burn opponents.
Mario + Rabbids Kingdom Battle

enemy
Spooky Valkyrie
Health Points
360 / 810
Ground Pound
6 Cells
Dash
None
Area of Movement
6 Cells
Primary Weapon
Rumblebang
Secondary Weapon
55-75 DMG / 100-120 DMG
None
Pipe Exit Range
3 Cells
Primary Technique
Protection
Secondary Technique
50% DMG Reduction
None
Chase Range
None
Tertiary Technique
Double Barreled Baddies!
None
Mario + Rabbids Kingdom Battle

enemy
Lava Valkyrie
Health Points
540 / 810
Ground Pound
6 Cells
Dash
None
Area of Movement
6 Cells
Primary Weapon
Rumblebang
Secondary Weapon
75-95 DMG / 100-120 DMG
None
Pipe Exit Range
3 Cells
Primary Technique
Protection
Secondary Technique
50% DMG Reduction
None
Chase Range
None
Tertiary Technique
Double Barreled Baddies!
None
Names in other languages
[
edit
]
Language
Name
Meaning
Japanese
ブワルキリー
Buwarukirī
From "bwah" (the sound made by Rabbids) and "valkyrie"
German
Walküre; same as Air Raid
Valkyrie
Italian
Valchiria
Valkyrie
Russian
Валькирия
Val'kiriya
Жуткая валькирия
Zhutkaya val'kiriya
Лавовая валькирия
Lavovaya val'kiriya

Valkirye

Spooky Valkyrie

Lava Valkyrie