Squasher
From the Super Mario Wiki, the Mario encyclopedia
Jump to navigation
Jump to search
"Squashers are EVERYWHERE. I'm afraid to even s-s-stamp my feet for warmth! I-I-If you could clear out at least THREE Squashers I could m-m-maybe make a run for some vegan chai hot chocolate."
Squashers are Rabbid enemies in Mario + Rabbids Sparks of Hope, first encountered in Pristine Peaks. They are pig-Rabbid hybrids that carry Thwomps on their backs. Squashers attack by jumping and crushing heroes with their Stomp Jump. They are weak to Ooze but resistant against Shock.
Profiles
[
edit
]
Tacticam analysis
[
edit
]
Movement

Solo Stomp x1

Ally not needed to Jump! Damages opponents by stomping on them.
SQUASHERS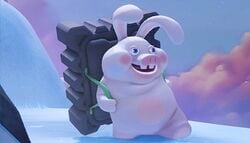 Cursa has merged gentle pigs with Rabbid DNA - then turned them loose against us. These creatures proudly carry Thwomps on their backs, which they use to shake the Heroes to their foundations by leaping into the air unaided and crash-landing nearby. They are resistant to electricity but vulnerable to ooze, proving that even with Cursa, trades-offs are necessary.
Variants
[
edit
]
There is only one variant of Squasher.
Squashettes, female Squashers wearing blue dresses and cone hats. When they land after jumping, they cause the Gust Super Effect around them.
Gallery
[
edit
]
Names in other languages
[
edit
]
Language
Name
Meaning
Japanese
ストンパー
Sutonpā
Stomper
Italian
Porchetto
Little pig; also a masculine form of porchetta (roast pork)
Spanish
Gorrinador