Secret Zone
From the Super Mario Wiki, the Mario encyclopedia
Jump to navigation
Jump to search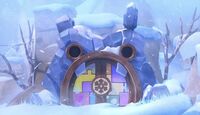 Secret Zones are hidden areas located on all five main planets in Mario + Rabbids Sparks of Hope. There are doors, which can only be opened by purchasing their respective Planet Keys from SALESBOT 9.99+TX. These Planet Keys cost Planet Coins, which can be obtained by completing Side Quests on the planets. The Melodic Gardens does not have a Secret Zone.
Each Secret Zone leads to a unique area, where the heroes must traverse through. These areas can have enemies and puzzles. Some Secret Zones only have the latter. A Spark is trapped in each Secret Zone, and will join the heroes once they are rescued. The background music track that plays in the Secret Zones is "At the Tower's Feet" from Mario + Rabbids Kingdom Battle.
After completing the Secret Zone, the portal changes color, from blue, to green, to finally yellow. Entering a Secret Zone a second time will provide a time challenge for the heroes, and the prize is a Weapon Skin for the heroes, instead of a Spark. If the heroes run away from an enemy battle, they will lose ten seconds of time. The timer will not go down during battles.
After the second completion, the prize will be a treasure chest with coins, and will continue to be that reward without changing.
List of Secret Zones
[
edit
]
Profiles
[
edit
]
A GATE TO ANOTHER WORLD
The Rabbids' frenetic creativity prompted them to make secret playgrounds for themselves on every planet they inhabit. Unfortunately, any pains they took to hide them were ineffective against Cursa.
Fortunately, a less than scrupulous merchant, SALESBOT 9.99+TX, sells its own custom-made keys to unlock them, payable only with a localized (and untraceable) currency - "Planet Coins".