Cursa
From the Super Mario Wiki, the Mario encyclopedia
Jump to navigation
Jump to search
This article is about the character. For the boss battle, see Cursa!!!

Not to be confused with

Cursya

.
"I NEED the energy of those creatures! Bring them to ME!"
Cursa is the main antagonist in the game Mario + Rabbids Sparks of Hope. It is an entity that wants to consume Sparks and spread matter known as Darkmess across the galaxy, which it uses to drain the Sparks of their power.[1] Cursa is large, imposing, and covered in a purple cloak with a spiral shape on its face, and possesses floating human-like hands. Underneath its cloak, it has a red, menacing eye which changes to blue whenever Rosalina takes control.[2]
Cursa was created by a fragment of the Megabug, the main antagonist of Mario + Rabbids Kingdom Battle. After the fragment mutated with stellar debris, it gained sentience. It then fed on the life energies of the galaxy, eventually transforming into Cursa. Later on, Cursa was drawn to the Comet Observatory, where it would attack Rosalina and some Rabbids and Lumas that were there. While Rosalina was fending off Cursa, the Rabbids and Lumas merged together to create a powerful new species, Sparks. The battle resulted in Rosalina merging with Cursa; although Cursa was in control, Rosalina tried to rebel against it. Cursa then created an army of corrupted Rabbids and controlled minions of Bowser, along with the Spark Hunters to lead them.
Main article: Cursa!!!
The final battle against Cursa has three phases. In all three, the heroes are divided in three battlefields with three heroes each; Mario, Princess Peach, and Rabbid Rosalina on the first, Luigi, Rabbid Mario, and Rabbid Luigi on the second, and Bowser, Edge, and Rabbid Peach on the third. The battlefield and team of heroes changes every turn, and each battlefield also has various other enemies on it.
Phase one
[
edit
]
For the first phase, Cursa attacks with its Astral Arms which must be destroyed. During each turn, one of the Astral Arms floats directly above one of the heroes and stays above them when they move around. If that hero or a nearby hero does a Team Jump or jumps off a trampoline, the Astral Arm grabs them and throws them back on the ground, dealing heavy damage. A hero that does not have the Astral Arm over them must jump off a trampoline to cause a giant spike to emerge in its place. The hero with the Astral Arm over them must position themselves onto this object during the enemies' turn. This cancels the Astral Arm's attack and deals damage to it.
Phase two
[
edit
]
The heroes must attack Cursa directly for this phase. Cursa attacks by firing a beam at a hero which deals massive damage and inflicts them with the Exhaust Super effect.
Phase three
[
edit
]
Following Cursa's defeat in the previous phase, Rosalina breaks free from its control. However, Cursa evolves into another form, and Rosalina places three projections of her wand at the end of each battlefield. The heroes must fire at the projections to fill Rosalina's power gauge, allowing her to attack Cursa. Stronger attacks can fill up more of the gauge at once. The gauge must be filled three times, the first and second to burn Cursa's wings, and the third to finish it off. Like the previous phase, Cursa attacks the heroes with a beam that causes the Exhaust Super effect, although while its wings are still active it follows up by using them to damage the heroes on the second and third battlefields.
Once Cursa is defeated, Rosalina uses her magic for the last time, then launches it. Then, Sparks create an arrow that can impale Cursa. Once it is nearly injured, Mario and the gang use their weapons to shoot it one last time, following Rosalina using her magic to form an arrow, thus disintegrating Cursa for good.
Profiles
[
edit
]
Tacticam analyses
[
edit
]
Cursa's Astral Arm
[
edit
]

CURSA'S ASTRAL ARM
A projection created by Cursa. Though it may appear to have no physical form, its attacks are devastating.
NEUTRAL
No strengths or weaknesses
Location(s)
Cursa's stronghold
Attacks

Astral Grab

Chooses 1 target and follows it everywhere. On the NEXT turn the target is grabbed and thrown.

Astral Slam

Chooses a target and follows it. On the NEXT turn the target is hit, creating a Shock Wave that inflicts area DMG.

Astral Sight

Reacts to any Team Jump performed within its range.

CURSA
Cursa can move between platforms and attack one opponent in front of her.
NEUTRAL
No strengths or weaknesses
Location(s)
Cursa's stronghold
Attack

Spiral Ray

A long-range beam fired at one target. Reduces the target's weapon damage after a successful hit.
Final Cursa
[
edit
]
CURSA
Cursa attacks one opponent in front of her. Cannot be defeated by regular weapons. Her wings can push away exposed opponents.
NEUTRAL
No strengths or weaknesses
Location(s)
Cursa's stronghold
Attack

Spiral Ray

A long-range beam fired at one target. Reduces the target's weapon damage after a successful hit.
CURSA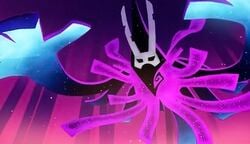 There is no question that Cursa is more powerful, cunning, and relentless than any single one of us, yet together - with aid from Rosalina - it was vanquished. Still, its corrupting influence reached nearly every corner of the galaxy, where much of it lingers still. We have stopped the Darkmess at its source, but we have much work to do if we are to remove the rest before it can cause any more harm.[3]
Gallery
[
edit
]
Artwork of Cursa and its minions against Mario's team (with logo)
Names in other languages
[
edit
]
Language
Name
Meaning
Japanese
クルサ[4]
Kurusa
Cursa
Chinese (Simplified)
库煞[5]
Kùshā
Cursa
Chinese (Traditional)
咒煞[6]
Zhòushā
Curse Demon
Dutch
Gesela
From "gesel" (scourge)
French
Cursa
German
Misera
From "misere" (misery)
Italian
Cursa
Korean
보라마녀
Boramanyeo
Purple Witch
Portuguese
Calamita
From "calamidade" (calamity) with diminutive suffix "-ita"
Spanish
Cursa
Astral arm
[
edit
]
Language
Name
Meaning
Japanese
アストラ・ハンド
Asutora Hando
Astra Hand
French
Bras astral
Astral arm
Italian
Braccio astrale di Cursa
Cursa's astral arm
Portuguese (NOA)
Braço astral
Astral arm
Spanish
Brazo astral
Astral arm
In the Japanese version, Cursa's single line of dialogue consists only of katakana.[7]
Cursa is referred to with both gender neutral and female pronouns. Two Memory entries[8][9] and several lines of dialogue[10][11] refer to Cursa with gender neutral pronouns, while Tacticam information for its second[12] and final[13] battle phase and a line of dialogue from JEANIE in the latter phase[14] give it female pronouns.
References
[
edit
]