Team Barrier
From the Super Mario Wiki, the Mario encyclopedia
Jump to navigation
Jump to search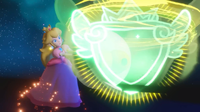 Team Barrier is a Technique in Mario + Rabbids Sparks of Hope. It is used by Princess Peach. When used, it creates charges of shields around the user and nearby allies. It has a cooldown of four turns. Whenever a character is attacked, a charge disappears, and they take no damage and receive no Super Effects.
Team Barrier can be upgraded in Princess Peach's Skill Tree, such as increasing the range, reducing the cooldown, and increasing the charges. There is also an upgrade that causes a 5m explosion that damages all nearby enemies when a charge is gone. Additionally, there are two upgrades in the "Movement" and "Weapon" branches, with one for each. For Movement, there is an upgrade that grants one Team Barrier charge to the hero that helps Princess Peach with her Team Jump. For Weapon, there is an upgrade that grants Princess Peach one Team Barrier charge if an enemy is defeated by her Boom-Brella. Only one charge can be earned, even if more than one enemy is defeated at once.
There is one enemy that can also use Team Barrier: Medicians. They can only grant one charge to themselves and nearby allies with each use.
Profiles and statistics
[
edit
]
Description
[
edit
]
Creates a Barrier that protects allies within range against all damage or Super Effects. Grants (#) charges.
Base stats
[
edit
]
Radius: 9m
Duration: 1 turn
Cooldown: 4 turns
Charges: 2
Skill Tree skills
[
edit
]
TECHNIQUE
Upgrade
Skill Prism cost
Effect
Description

Team Barrier Range
1, 1
Adds 3, 3 meters to range (12, 15)
Increases Peach's Team Barrier range of effectiveness.

Team Barrier Cooldown
2
Minus 1 turn to cooldown
Peach's Team Barrier takes fewer turns to recharge.

Team Barrier Charge
3, 4
Adds 1, 1 Team Barrier charge(s) (3, 4)
Gives additional Team Barrier charges.

Team Barrier Discharge
4
Produces an explosion upon Team Barrier destruction
Produce a 5m Area Damage when a Team Barrier charge is destroyed.
Names in other languages
[
edit
]
Language
Name
Meaning
Japanese
チームプロテクト
Chīmu Purotekuto
Team Protect
Italian
Barriera Team
Team Barrier