Mt. Spout
From the Super Mario Wiki, the Mario encyclopedia
Jump to navigation
Jump to search
"A drought is looming. Terra Flora's famous water volcano, Mt. Spout, has gone dormant."
Mt. Spout is a water volcano located on the planet Terra Flora in Mario + Rabbids Sparks of Hope. It provides the water for all of the plants on the planet. It is exploitable on the inside, where higher altitudes could be reached.
A Darkmess Tentacle takes over Mt. Spout, and it causes a drought for the entirety of Terra Flora. After it is cleared out, Mt. Spout erupts again and waters all of the plants. The Druid Alkementor and his Spark companion Toxicomet live inside of Mt. Spout, and the former has a workshop where potions are created. SALESBOT 9.99+TX has a location about halfway up Mt. Spout. The Giant Magikoopa can be fought and defeated in an optional area.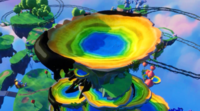 On the outside, Mt. Spout is very colorful and has many pools to hold water. It is in the general shape of a volcano, although this one holds water instead of lava. In the Memory image, a rainbow arcs over Mt. Spout.
Inside of Mt. Spout is a large cave that has paths that lead upward. Magnafowls wander around the interior. The Darkmess Tentacle is located at the top of Mt. Spout. While the heroes travel upwards to reach to it, puzzles that involve pushing blocks, moving Giant blocks using Beep-0's Wave Power and revealing hidden objects using Beep-0's Scan Power must be solved to move on. Near the peak of Mt. Spout is a giant rock blocking the way. The heroes must cover up all of the leaks in the ground to cause a large geyser beneath the rock to break it apart.
Alkementor and Toxicomet can be found close to the top, with a side path leading to the workshop of Alkementor. It can only be accessed during and after the The Quest for Courage Side Quest. The Blue Coin Challenge is found in a blue pipe while traveling upwards.
Another side path leads to a golden pipe, which leads to the Giant Magikoopa. To unlock the pipe, the heroes must rescue at least 28 Sparks. After defeating the Giant Magikoopa, the heroes are awarded a Gold Skill Prism, as well as a Planet Coin.
Two Teleport Flags are found within Mt. Spout: "Mt. Spout Entrance Flag", and "Depths of Mt. Spout Flag".
Main Quests
[
edit
]
Side Quests
[
edit
]
Enemies
[
edit
]
Sparks found
[
edit
]
Memories found
[
edit
]
Mt. Spout
The Druids' Vista
Galactic Atlas: Terra Flora
Profiles
[
edit
]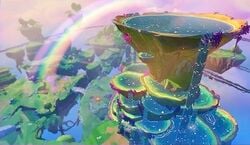 MT. SPOUT
The secret to Terra Flora's perpetually blossoming florae is a highly unique "water volcano" known as Mount Spout, which regularly discharges mineral-rich sparkling water into the planet's canals and aquifers. The rainbow-hued fields of flowers on Terra Flora may get all the glory, but it is the stark, yet consistent volcano that allows them to thrive.
Names in other languages
[
edit
]
Language
Name
Meaning
Japanese
フンスイ山
Funsui Yama
Mount Fountain
Italian
Monte Zampillo
Mount Spurt