Stormblade
From the Super Mario Wiki, the Mario encyclopedia
Jump to navigation
Jump to search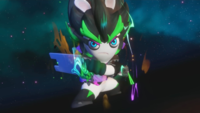 Stormblade is Edge's Technique in Mario + Rabbids Sparks of Hope.
Stormblade is a reaction-based attack that strikes all enemies in a close range to Edge. When an enemy moves within range, Edge will strike all enemies in range, even those who did not move. If Edge has a Super Effect from a Spark, the enemies will receive it. The cooldown for Stormblade is three turns. Edge will hold her Flying Blade while Stormblade is active.
Stormblade can be upgraded in Edge's Skill Tree, which can increase the damage and range, as well as adding a second charge to the Technique. There is also an upgrade that allows Edge to take 50% less damage from all sources while Stormblade is active.
Darkmess Edge has the "Darkmess Stormblade" Technique, which is identical to the normal Stormblade.
Profiles and statistics
[
edit
]
Description
[
edit
]
All targets within range are dealt +(X)% DMG plus any Super Effects if any one of them move within line of sight. Has (#) charge(s).
Base stats
[
edit
]
Range: 7m
Weapon DMG Usage: 140%
Cooldown: 3 turns
Charges: 1
Skill Tree skills
[
edit
]
TECHNIQUE
Upgrade
Skill Prism cost
Effect
Description

Stormblade Damage
1, 2
Adds 20%, 35% Weapon DMG usage (160%, 195%)
Increases damage caused by Edge's Stormblade.

Stormblade Range
2, 2
Adds 2, 2 meters to Stormblade range (9, 11)
Increases the target range of Edge's Stormblade.

Mountain Stance
4
Stormblade activated provides 50% DMG reduction
When Stormblade is active, Edge receives 50% less damage from any source.

▼ This skill requires at least one upgrade of Stormblade Damage ▼


Additional Stormblade Charge
4
Adds 1 react charge
Gives an additional Stormblade charge.
Gallery
[
edit
]
Names in other languages
[
edit
]
Language
Name
Meaning
Japanese
ストームブレード
Sutōmuburēdo
Stormblade
Italian
Lama Furiosa
Furious Blade
Stormblade is the only Technique in Mario + Rabbids Sparks of Hope to not have a cooldown upgrade.