Concert Pond
From the Super Mario Wiki, the Mario encyclopedia
Jump to navigation
Jump to search
"Beep-0: This is the Concert Pond - I recognize it from the many pictures I've seen. It is - or was - the very heart of the planet.
JEANIE: Beep-0 , I am detecting several Rabbid life forms within that Darkmess Puddle !
Beep-0: That must be the Melodic Gardens' award-winning musicians trapped inside! Hurry!"
The Concert Pond is a location in Mario + Rabbids Sparks of Hope, specifically in the The Last Spark Hunter DLC. It is a concert hall inside a giant lily, with lily pads serving as the ground and houses in behind the stage. Lots of water filled up the majority of the Concert Pond.
When the heroes arrive at the Concert Pond, they find that a giant Darkmess Puddle has taken over. All of the Rabbid musicians are also trapped inside the Darkmess Puddle, and must be freed in a battle. After the Rabbid musicians are freed, the Spark Vampgeddon joins the heroes, and Allegra shows up and tells the heroes what had happened to the Melodic Gardens. The heroes then follow Allegra to her Friend.
While following Allegra, Kanya shows up and tells Allegra that might be too late for her pet, causing Allegra to run off in fear for her friend. Kanya then attacks the heroes with the Proto Mecha King Bob-omb, which the heroes destroy in a battle. Kanya then applauds the heroes and leaves the area. The Spark Electroquake is also rescued from the battle.
After the defeat of Kanya, everyone is at the Concert Pond, where Allegra plays a biophony for the heroes as thanks.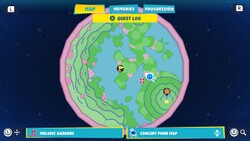 The Concert Pond has a path of lily pads that lead to the path to the Music Jungle and Swamp. A blue pipe is on the right side of the Concert Pond, leading to the Blue Coin Challenge.
A Teleport Flag can be found in the concert area of the Concert Pond.
After exiting the lily to travel to the Swamp, there is a short passage that is part of the Concert Pond.
Main Quests
[
edit
]
Side Quests
[
edit
]
Enemies
[
edit
]
No enemies roam the concert pond, but the following listed below are only encountered in battle:
Sparks found here
[
edit
]
Memories found
[
edit
]
Concert Pond
Melodic Gardens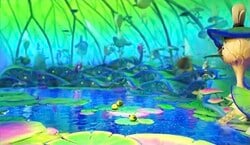 CONCERT POND
The beauty of the Melodic Gardens' Concert Pond is perhaps impossible to describe, even for those with the capacity to appreciate such extraordinary manifestations of the natural world. It is towering, it is transcendent; it is warm and glowing and that it is even before the biophony begins. The Rabbid musicians decorate themselves with "mood shade", to add to the splendor. I hope to see it again one day.
Names in other languages
[
edit
]
| Language | Name | Meaning |
| --- | --- | --- |
| Italian | Stagno da concerto | Condert pond/Pond for concerts |