Smasher
From the Super Mario Wiki, the Mario encyclopedia
Jump to navigation
Jump to search
It has been requested that at least one image be uploaded for this article. Remove this notice only after the additional image(s) have been added. Reason: Tropical Smasher portrait
This article is about the Rabbid from Mario + Rabbids Kingdom Battle. For the ghost from Luigi's Mansion also known as a "smasher", see Blue Twirler.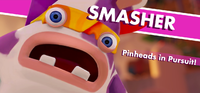 "My sensors reveal two interesting facts regarding Smasher behavior... One - their temper. If struck by a weapon they will charge their attacker like a raging bull! Two - they have the stamina of a walrus after an all-you-can-eat fish fry. If you're far enough away they stop charging."
Smashers are Rabbid enemies appearing in Mario + Rabbids Kingdom Battle. Hence their name, they carry large slabs which they use to attack characters. They have very low stamina which can lead them to not having a great movement range, but can prematurely move towards any character that attacks them, even counterattacking if they reach said character, including friendly fire on other enemies like Supporters and Bucklers. Additionally, all variants, except the Garden Smasher and the Tropical Smasher, are capable of using a technique that boosts the attack power of itself and other enemies close to it.
In the Smasher's introductory cutscene, multiple Toads are seen getting launched around. The view then shifts to a Smasher who notices a Toad rolling around. It roars at him and slams its block of stone into the ground, causing the Toad to be launched away. The Smasher starts smiling, but then notices the player with a confused expression and the introductory tagline appears beneath it, thus starting the battle.
Variants
[
edit
]
There are five Smasher variants, one for each area.
Mario + Rabbids Kingdom Battle

enemy
Garden Smasher
Health Points
150 / 765
Team Jump
None
Dash
None
Area of Movement
4 Cells
Primary Weapon
Melee
Secondary Weapon
60 DMG / 175 DMG
None
Pipe Exit Range
2 Cells
Primary Technique
Secondary Technique
None
None
Chase Range
4 Cells
Tertiary Technique
Pinheads in Pursuit!
None
Mario + Rabbids Kingdom Battle

enemy
Sherbet Smasher
Health Points
225 / 765
Team Jump
None
Dash
None
Area of Movement
4 Cells
Primary Weapon
Melee
Secondary Weapon
80 DMG / 175 DMG
None
Pipe Exit Range
2 Cells
Primary Technique
NME Empowerment
Secondary Technique
+70% DMG
None
Chase Range
4 Cells
Tertiary Technique
Pinheads in Pursuit!
None
Mario + Rabbids Kingdom Battle

enemy
Spooky Smasher
Health Points
340 / 765
Team Jump
None
Dash
None
Area of Movement
4 Cells
Primary Weapon
Melee
Secondary Weapon
105 DMG / 175 DMG
None
Pipe Exit Range
2 Cells
Primary Technique
NME Empowerment
Secondary Technique
+70% DMG
None
Chase Range
4 Cells
Tertiary Technique
Pinheads in Pursuit!
None
Mario + Rabbids Kingdom Battle

enemy
Lava Smasher
Health Points
510 / 765
Team Jump
None
Dash
None
Area of Movement
4 Cells
Primary Weapon
Melee
Secondary Weapon
135 DMG / 175 DMG
None
Pipe Exit Range
2 Cells
Primary Technique
NME Empowerment
Secondary Technique
+70% DMG
None
Chase Range
4 Cells
Tertiary Technique
Pinheads in Pursuit!
None
Mario + Rabbids Kingdom Battle

enemy
Tropical Smasher
Health Points
180
Team Jump
None
Dash
None
Area of Movement
4 Cells
Primary Weapon
Melee
Secondary Weapon
60 DMG
None
Pipe Exit Range
2 Cells
Primary Technique
Weaken
Secondary Technique
-50% DMG
None
Chase Range
4 Cells
Tertiary Technique
Pinheads in Pursuit!
None
Names in other languages
[
edit
]
Language
Name
Meaning
Japanese
スマッシャー
Sumasshā
Smasher
Italian
Bestione
Big Beast
Korean
쿵딱이
Kungttagi
-
Russian
Крушитель
Krushitel'
Садовый крушитель
Sadovyi krushitel'
Заснеженный крушитель
Zasnezhennyi krushitel'
Жуткий крушитель
Zhutkiy krushitel'
Лавовый крушитель
Lavovyi krushitel'
Тропический крушитель
Tropicheskiy krushitel'

Smasher

Garden Smasher

Snowy Smasher

Spooky Smasher

Lava Smasher

Tropical Smasher