Hopper
From the Super Mario Wiki, the Mario encyclopedia
Jump to navigation
Jump to search
It has been requested that at least one image be uploaded for this article. Remove this notice only after the additional image(s) have been added. Reason: Tropical Hopper portrait
This article is about the enemy in Mario + Rabbids Kingdom Battle. For the actor of the same last name who played President Koopa in the Super Mario Bros. film, see Dennis Hopper.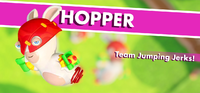 Hoppers are Rabbid enemies in Mario + Rabbids Kingdom Battle. They behave similarly to Ziggies, but with higher HP and small guns on their wrists. They are identifiable by their oddly shaped masks and springs on their feet. Instead of Dash attacks, they can increase their movement range with Team Jumps, using the springs on their feet to bounce off of their allies' heads. All variants except the Garden Hopper can deploy a protective shield that negates the damage (but not the Super Effects) of one attack; they normally do this after moving, although if any hero activates a reaction shot technique, the Hopper deploys its shield first. They can perform up to two Team Jumps per turn if their allies are in range.
In their introductory cutscene, three Hoppers are seen doing multiple team jumps on each other, and after two of them do team jumps on the other one, they strike a pose, and the introductory tagline appears from the top view. Afterward, one of them falls into a pit, and the other two help him back up.
Variants
[
edit
]
There are five Hopper variants, one for each area.
Mario + Rabbids Kingdom Battle

enemy
Garden Hopper
Health Points
90 / 465
Team Jump
7 Cells
Dash
None
Area of Movement
6 Cells
Primary Weapon
Blaster
Secondary Weapon
35 DMG / 105 DMG
None
Pipe Exit Range
3 Cells
Primary Technique
Secondary Technique
None
None
Chase Range
None
Tertiary Technique
Team Jumping Jerks!
None
Mario + Rabbids Kingdom Battle

enemy
Sherbet Hopper
Health Points
135 / 465
Double Jump
7 Cells
Dash
None
Area of Movement
6 Cells
Primary Weapon
Blaster
Secondary Weapon
45 DMG / 105 DMG
None
Pipe Exit Range
3 Cells
Primary Technique
Shield
Secondary Technique
Global DMG reduction
None
Chase Range
None
Tertiary Technique
Team Jumping Jerks!
None
Mario + Rabbids Kingdom Battle

enemy
Spooky Hopper
Health Points
205 / 465
Double Jump
7 Cells
Dash
None
Area of Movement
6 Cells
Primary Weapon
Blaster
Secondary Weapon
60 DMG / 105 DMG
None
Pipe Exit Range
3 Cells
Primary Technique
Shield
Secondary Technique
Global DMG reduction
None
Chase Range
None
Tertiary Technique
Team Jumping Jerks!
None
Mario + Rabbids Kingdom Battle

enemy
Lava Hopper
Health Points
310 / 465
Double Jump
7 Cells
Dash
None
Area of Movement
6 Cells
Primary Weapon
Blaster
Secondary Weapon
80 DMG / 105 DMG
None
Pipe Exit Range
3 Cells
Primary Technique
Shield
Secondary Technique
Global DMG reduction
None
Chase Range
None
Tertiary Technique
Team Jumping Jerks!
None
Mario + Rabbids Kingdom Battle

enemy
Tropical Hopper
Health Points
110
Double Jump (Vamp)
8 Cells
Dash
None
Area of Movement
6 Cells
Primary Weapon
Blaster
Secondary Weapon
30 DMG
None
Pipe Exit Range
3 Cells
Primary Technique
Shield
Secondary Technique
-100% DMG
None
Chase Range
None
Tertiary Technique
Team Jumping Jerks!
None
Names in other languages
[
edit
]
Language
Name
Meaning
Japanese
ホッパー
Hoppā
Hopper; shared with Hop-Chops and Punchy Paddy
Italian
Balzelloso
Bounce-lous
Korean
폴짝이
Poljjagi
Jumper
Russian
Попрыгунчик
Poprygunchik
Садовый попрыгунчик
Sadovyi poprygunchik
Заснеженный попрыгунчик
Zasnezhennyi poprygunchik
Жуткий попрыгунчик
Zhutkiy poprygunchik
Лавовый попрыгунчик
Lavovyi poprygunchik
Тропический попрыгунчик
Tropicheskiy poprygunchik

Hopper

Garden Hopper

Snowy Hopper

Spooky Hopper

Lava Hopper

Tropical Hopper