Ziggy
From the Super Mario Wiki, the Mario encyclopedia
Jump to navigation
Jump to search
It has been requested that at least one image be uploaded for this article. Remove this notice only after the additional image(s) have been added. Reason: Tropical Ziggy portrait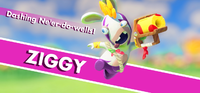 Ziggies are Rabbid enemies in Mario + Rabbids Kingdom Battle. They are the first enemies encountered in the game, and as such have basic stats. Ziggies are identifiable by their various styles of gun slings and small guns. They generally are not much of a threat compared to other enemies, but all variants except the Garden Ziggy can use a "reaction shot" technique that allows them to hit the heroes in motion (whether moving on their turn or being forced to move by a Super Effect or special technique). Along with Bucklers, Ziggies are also one of the only enemies to have a dash attack. Their name is taken from Ziggy Stardust, a character and stage persona created by English rock musician David Bowie, tying in with Garden Ziggies' glam rock-inspired outfits and makeup. The latter further references the character by depicting lightning bolts over the Rabbids' faces, nodding to a similar design that Bowie wears on the cover photo for his 1973 album Aladdin Sane, his last release before retiring Ziggy as a stage persona.
During the opening cutscene, one Ziggy is shown to be created from Spawny accidentally merging a Rabbid with a brush. Three of them are next seen using honey to stick Goombas together, which Rabbid Peach sees as "cute". After they notice Mario, Rabbid Luigi, and Rabbid Peach, they bring out their guns and slowly start moving back (while occasionally losing balance on their feet), with the last one turning around completely, and the introductory tagline appearing while it is running. Ziggies are the only characters whose introductory cutscene does not immediately end with the battle starting or the cutscene continuing, as the player can move around the area before the battle starts.
Variants
[
edit
]
There are five Ziggy variants, one for each area.
Mario + Rabbids Kingdom Battle

enemy
Garden Ziggy
Health Points
50 / 265
Team Jump
None
Dash
20 DMG / 75 DMG
Area of Movement
6 Cells
Primary Weapon
Blaster
Secondary Weapon
30 DMG / 85 DMG
None
Pipe Exit Range
3 Cells
Primary Technique
Secondary Technique
None
None
Chase Range
None
Tertiary Technique
Dashing Ne'er-do-wells!
None
Mario + Rabbids Kingdom Battle

enemy
Sherbet Ziggy
Health Points
75 / 265
Team Jump
None
Dash
30 DMG / 75 DMG
Area of Movement
6 Cells
Primary Weapon
Blaster
Secondary Weapon
40 DMG / 85 DMG
None
Pipe Exit Range
3 Cells
Primary Technique
Villain Sight
Secondary Technique
40-40 DMG / 85-85 DMG
None
Chase Range
None
Tertiary Technique
Dashing Ne'er-do-wells!
None
Mario + Rabbids Kingdom Battle

enemy
Spooky Ziggy
Health Points
115 / 265
Team Jump
None
Dash
40 DMG / 75 DMG
Area of Movement
6 Cells
Primary Weapon
Blaster
Secondary Weapon
50 DMG / 85 DMG
None
Pipe Exit Range
3 Cells
Primary Technique
Villain Sight
Secondary Technique
50-50 DMG / 85-85 DMG
None
Chase Range
None
Tertiary Technique
Dashing Ne'er-do-wells!
None
Mario + Rabbids Kingdom Battle

enemy
Lava Ziggy
Health Points
175 / 265
Team Jump
None
Dash
55 DMG / 75 DMG
Area of Movement
6 Cells
Primary Weapon
Blaster
Secondary Weapon
65 DMG / 85 DMG
None
Pipe Exit Range
3 Cells
Primary Technique
Villain Sight
Secondary Technique
65-65 DMG / 85-85 DMG
None
Chase Range
None
Tertiary Technique
Dashing Ne'er-do-wells!
None
Mario + Rabbids Kingdom Battle

enemy
Tropical Ziggy
Health Points
80
Team Jump
None
Double Dash
20 DMG
Area of Movement
6 Cells
Primary Weapon
Blaster
Secondary Weapon
25 DMG
None
Pipe Exit Range
3 Cells
Primary Technique
Villain Sight
Secondary Technique
25 DMG
None
Chase Range
None
Tertiary Technique
Dashing Ne'er-do-wells!
None
Names in other languages
[
edit
]
Language
Name
Meaning
Japanese
ジギー
Jigī
Ziggy
Italian
Ziggy
-
Korean
휘정이
Hwijeong-i
Whi Jung Yi
Russian
Садовый Ziggy
Sadovyi Ziggy
Заснеженный Ziggy
Zasnezhennyi Ziggy
Жуткий Ziggy
Zhutkiy Ziggy
Лавовый Ziggy
Lavovyi Ziggy
Тропический Ziggy
Tropicheskiy Ziggy

Garden Ziggy

Snowy Ziggy

Spooky Ziggy

Lava Ziggy

Tropical Ziggy