Koopa Bros. Fortress
From the Super Mario Wiki, the Mario encyclopedia
Jump to navigation
Jump to search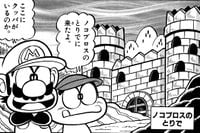 Koopa Bros. Fortress is a fortress that was once home to Bob-ombs but was taken over by the Koopa Bros. prior to the events of Paper Mario. The Koopa Bros. first traveled here in search of excitement, finding their native home of Koopa Village too boring. They were apparently well-received by the fortress's Bob-omb inhabitants at first, although Kammy Koopa's admiration of them corrupted them into the vain and evil characters players are familiar with and even made them turn up against the Bob-ombs, enslaving them. In Chapter 1, Mario, Goombario, and Kooper travel here from Pleasant Path to find the first Star Spirit, solving several puzzles and fighting enemies such as Koopa Troopas, Paratroopas, and Bob-ombs. On the way, one of the Koopa Bros. traps them in a cell, where they meet Bombette (as well as several other imprisoned Bob-ombs who had previously risen up against the Koopa Bros.), who makes an escape route by exploding. They reach the Koopa Bros., defeat them, and rescue Eldstar, the first Star Spirit.
Very little is known about the origin or purpose of the Fortress, as little history is given in Tattles and other sources. According to Goombario, Koopa Bros. Fortress was first erected by an unknown group around the same time that Bob-ombs began inhabiting Pleasant Path (which was said earlier in Paper Mario to have been not long before the game's setting), and that the Bob-ombs soon took over the fortress from its creators and became its caretakers. The fortress was in ruins, suggested to be a consequence of frequent Bob-omb detonations by Goombario, and was restored to a functioning state by the Koopa Bros.
In volume 26 of Super Mario-Kun, Mario and his partners encounter the fortress later in the story compared to the games.
Characters found
[
edit
]
Main article: List of minor NPCs in Paper Mario#Koopa Bros. Fortress
Enemies found
[
edit
]
For enemy formations in Koopa Bros. Fortress, see here.
Enemies
[
edit
]
Items found
[
edit
]
Item
Icon
Location
Fortress Key
Held by the Koopa Troopa in the first room.
On the west end of the basement, which can be accessed by lowering the stairs in the east.
Locked behind bars on the first floor. Mario can get it by blasting the wall with Bombette.
Locked behind bars on the first floor. Mario can get it by lowering the stairs on the second floor.
Power Bounce
Locked behind bars on the first floor. Mario can get it by blasting the wall or enter from the back side.
Refund
In a small area outside the fortress that can be accessed by blasting the wall on the east end.
Smash Charge
Guarded by a Bob-omb at the end of the slope stair on the third floor.
Maple Syrup
At the Bullet Bill dodging scene, in a question block at the southwestern corner.
Area Tattles
[
edit
]
In-game map descriptions
[
edit
]
After Chapter 1
Gallery
[
edit
]
Names in other languages
[
edit
]
Language
Name
Meaning
Japanese
ノコブロスのとりで
Nokoburosu no Toride
Koopa Bros. Fortress
Chinese
喏库兄弟要塞
Nuòkù Xiōngdì Yàosài
Noko Brothers Fortress. Noko is from the Japanese name for Koopa Troopas, nokonoko.
French
Forteresse des frères Koopa
Koopa Bros. Fortress
German
Festung der Koopa-Brüder
Fortress of the Koopa Bros.
Spanish
Fortaleza Hnos. Koopa
Koopa Bros. Fortress
External link
[
edit
]