List of Tayce T. recipes
From the Super Mario Wiki, the Mario encyclopedia
Jump to navigation
Jump to search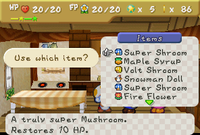 This is the list of recipes that can be made by Tayce T., a Toad Town chef in Paper Mario.
At first, she can only bake with one ingredient. After Mario gives her the Cookbook dropped by Gourmet Guy, she can also use two ingredients, but they cannot be the same. (For example, she cannot cook a Mushroom with another Mushroom.) When she cooks certain dishes, such as the Bland Meal, she mentions that it is one of her specialties.
In total, there are fifty recipes (not counting the Mistake) in the game. This means there are fifty-one resulting items, but they can be made in various ways. The following list shows each recipe, its ingredients, its effect, and its selling price in Toad Town. As mentioned in the game, prices may vary from store to store.
Items that are colored

green

can be cooked from a Mystery?, and doing so does count toward the recipe total. Cooking a Mystery? has a 50% chance of resulting in a Mistake and about a 2.17% chance of resulting in each of the other possible items.
Recipes that have an * marking require the Cookbook even though they are made with only one item and will otherwise result in a Mistake.
Recipes that have a ** marking make a Life Shroom rather than a Volt Shroom in the Japanese version of the game.
Name of Recipe
Sell Price (in coins)
Ingredients
Effect
First
Second

Apple Pie

10
Apple
Cake Mix
Restores 5 HP and 15 FP.

Big Cookie

10
Egg
Cake Mix
Restores 20 FP.
Goomnut
Cake Mix
Red Berry
Cake Mix
Yellow Berry
Cake Mix
Blue Berry
Cake Mix

Bland Meal

15
Koopa Leaf
Goomnut
Restores 10 HP and 10 FP.
Koopa Leaf
Red Berry
Koopa Leaf
Yellow Berry
Koopa Leaf
Blue Berry
Strange Leaf
Goomnut
Strange Leaf
Dried Pasta
Iced Potato
Mushroom
Iced Potato
Volt Shroom
Iced Potato
Super Shroom
Iced Potato
Life Shroom
Iced Potato
Cake Mix
Iced Potato
Egg
Iced Potato
Coconut
Iced Potato
Dried Pasta
Fire Flower
Goomnut
Fire Flower
Volt Shroom
Fire Flower
Super Shroom
Fire Flower
Life Shroom
Fried Shroom
Potato Salad
Egg
Mushroom
Egg
Volt Shroom
Egg
Super Shroom
Egg
Life Shroom
Egg
Dried Pasta
Dried Pasta
Goomnut
Dried Pasta
Coconut
Dried Pasta
Mushroom
Dried Pasta
Volt Shroom
Dried Pasta
Super Shroom
Dried Pasta
Life Shroom
Dried Pasta
Red Berry
Dried Pasta
Yellow Berry
Dried Pasta
Blue Berry

Boiled Egg

10
Egg
Strange Leaf
Restores 8 HP and 8 FP.
Egg
Stinky Herb
Cake
15
Cake Mix
—
Restores 15 FP.
Coco Pop
12
Coconut
Cake Mix
Restores 3 HP and 15 FP.
Deluxe Feast
70
Whacka's Bump
Strange Leaf
Restores 40 HP and 40 FP.
Potato Salad
Shroom Steak

Dizzy Dial

6
Strange Leaf*
—
Makes weak enemies dizzy.
Strange Leaf
Volt Shroom
Strange Leaf
Stinky Herb

Egg Missile

10
Fire Flower
Egg
Deals 6 HP of damage to one enemy.
Electro Pop
25
Volt Shroom
Cake Mix
Restores 15 FP and makes Mario electrified.

Fire Flower

4
Dried Fruit
Strange Leaf
Deals 3 HP of damage to all enemies.
Fire Pop
20
Cake Mix
Fire Flower
Deals 1 HP of damage to Mario and restores 20 FP.

Fried Egg

7
Egg
—
Restores 10 HP.

Fried Shroom

5
Dried Shroom*
—
Restores 6 HP and 2 FP.
Mushroom
—
Super Shroom
—
Dried Shroom
Mushroom
Dried Shroom
Fire Flower
Frozen Fries
18
Fire Flower
Iced Potato
Restores 15 HP.
Healthy Juice
25
Special Shake
Stinky Herb
Restores 40 FP.
Special Shake
Dried Shroom
Special Shake
Strange Leaf
Honey Candy
15
Cake Mix
Honey Syrup
Restores 20 FP.

Honey Shroom

10
Mushroom
Honey Syrup
Restores 5 HP and 5 FP.
Honey Super
20
Super Shroom
Honey Syrup
Restores 10 HP and 5 FP.
Life Shroom
Honey Syrup
Volt Shroom
Honey Syrup
Honey Ultra
75
Ultra Shroom
Honey Syrup
Restores 50 HP and 5 FP.
Hot Shroom
15
Dried Shroom
Super Shroom
Restores 15 HP and 5 FP.
Mushroom
Super Shroom
Dried Shroom
Volt Shroom
Mushroom
Volt Shroom
Super Shroom
Volt Shroom
Mushroom
Fire Flower
Life Shroom
—
Volt Shroom
—
Jelly Pop
100
Cake Mix
Jammin' Jelly
Restores 64 FP.
Jelly Shroom
75
Mushroom
Jammin' Jelly
Restores 5 HP and 50 FP.
Jelly Super
85
Super Shroom
Jammin' Jelly
Restores 10 HP and 50 FP.
Life Shroom
Jammin' Jelly
Volt Shroom
Jammin' Jelly
Jelly Ultra
200
Ultra Shroom
Jammin' Jelly
Restores 50 HP and 50 FP.

Kooky Cookie

12
Cake Mix
Koopa Leaf
Restores 15 FP and makes Mario electrified, invisible, or sleeping.
Cake Mix
Stinky Herb
Cake Mix
Maple Syrup

Koopasta

10
Koopa Leaf
Dried Pasta
Restores 7 HP and 7 FP.

Koopa Tea

3
Koopa Leaf
—
Restores 7 FP.
Lemon Candy
15
Lemon
Cake Mix
Restores 5 HP and 15 FP.

Life Shroom

20
Super Shroom
Koopa Leaf
Restores 10 HP. Used automatically when Mario runs out of HP.
Volt Shroom
Koopa Leaf
Ultra Shroom
Koopa Leaf
Life Shroom
Koopa Leaf
Super Shroom
Goomnut
Volt Shroom
Goomnut
Ultra Shroom
Goomnut
Life Shroom
Goomnut
Super Shroom
Strange Leaf
Ultra Shroom
Strange Leaf
Life Shroom
Strange Leaf
Lime Candy
15
Lime
Cake Mix
Restores 20 FP.
Maple Shroom
25
Mushroom
Maple Syrup
Restores 5 HP and 10 FP.
Maple Super
35
Super Shroom
Maple Syrup
Restores 10 HP and 10 FP.
Life Shroom
Maple Syrup
Volt Shroom
Maple Syrup
Maple Ultra
100
Ultra Shroom
Maple Syrup
Restores 50 HP and 10 FP.

Mistake

1
Any invalid combination
Restores 1 HP and 1 FP.
Nutty Cake
6
Goomnut
—
Restores 10 FP.

Potato Salad

6
Iced Potato
—
Restores 10 HP.
Shroom Cake
20
Mushroom
Cake Mix
Restores 10 HP and 10 FP.
Super Shroom
Cake Mix
Shroom Steak
45
Ultra Shroom
—
Restores 30 HP and 10 FP.
Ultra Shroom
Mushroom
Ultra Shroom
Super Shroom
Life Shroom
Mushroom
Life Shroom
Super Shroom
Life Shroom
Ultra Shroom
Volt Shroom
Ultra Shroom
Dried Shroom
Ultra Shroom
Dried Shroom
Life Shroom

Sleepy Sheep

4
Red Berry
Strange Leaf
Makes weak enemies sleep.
Yellow Berry
Strange Leaf
Blue Berry
Strange Leaf

Spaghetti

7
Dried Pasta
—
Restores 6 HP and 4 FP.

Special Shake

10
Melon
—
Restores 20 FP.
Melon
Lime
Melon
Lemon
Melon
Honey Syrup
Melon
Maple Syrup
Melon
Jammin Jelly
Melon
Apple
Melon
Red Berry
Melon
Yellow Berry
Melon
Blue Berry
Melon
Koopa Leaf
Melon
Strange Leaf
Jammin Jelly
Coconut
Jammin Jelly
Lime
Jammin Jelly
Lemon
Jammin Jelly
Honey Syrup
Jammin Jelly
Maple Syrup
Jammin Jelly
Apple
Jammin Jelly
Red Berry
Jammin Jelly
Yellow Berry
Jammin Jelly
Blue Berry

Spicy Soup

10
Fire Flower
—
Restores 4 HP and 4 FP.
Strange Cake
10
Strange Leaf
Cake Mix
Makes Mario electrified, invisible, or sleepy.

Super Soda

7
Honey Syrup
—
Restores 5 FP and cures poison and shrinking.
Maple Syrup
—
Apple
—
Blue Berry*
—
Red Berry*
—
Yellow Berry*
—
Jammin Jelly
—
Honey Syrup
Maple Syrup
Honey Syrup
Koopa Leaf
Lime
Maple Syrup
Apple
Maple Syrup
Lime
Koopa Leaf
Lime
Lemon
Lime
Blue Berry
Lime
Red Berry
Lime
Yellow Berry
Lime
Apple
Lemon
Blue Berry
Lemon
Red Berry
Lemon
Yellow Berry
Lemon
Maple Syrup
Lemon
Koopa Leaf
Lemon
Apple
Apple
Blue Berry
Apple
Red Berry
Apple
Yellow Berry
Jammin Jelly
Koopa Leaf
Yellow Berry
Blue Berry
Yellow Berry
Red Berry
Blue Berry
Red Berry
Coconut
Blue Berry
Coconut
Red Berry
Coconut
Yellow Berry
Coconut
Apple
Coconut
Melon
Coconut
Koopa Leaf
Blue Berry
Maple Syrup
Red Berry
Maple Syrup
Yellow Berry
Maple Syrup
Koopa Leaf
Maple Syrup
Coconut
Maple Syrup
Sweet Shroom
50
Cake Mix
Ultra Shroom
Restores 30 HP and 20 FP.
Cake Mix
Life Shroom

Tasty Tonic

1
Red Berry
Honey Syrup
Cures poison and shrinking.
Yellow Berry
Honey Syrup
Blue Berry
Honey Syrup
Apple
Honey Syrup
Lemon
Honey Syrup
Lime
Honey Syrup
Coconut
Honey Syrup
Lime
—
Lemon
—
Bubble Berry*
—
Coconut
—

Thunder Rage

8
Dried Fruit
Volt Shroom
Deals 5 HP of damage to all enemies.

Volt Shroom

7
Mushroom**
Koopa Leaf**
Makes Mario electrified.
Mushroom**
Goomnut**
Mushroom**
Strange Leaf**
Mushroom
Dried Fruit
Super Shroom
Dried Fruit
Ultra Shroom
Dried Fruit
Life Shroom
Dried Fruit
Yoshi Cookie
20
Melon
Cake Mix
Restores 15 HP and 15 FP.
Yummy Meal
15
Whacka's Bump*
—
Restores 20 HP and 20 FP.
Dried Fruit
Dried Pasta
Dried Fruit
Iced Potato
Fire Flower
Ultra Shroom
Dried Pasta
Ultra Shroom
Egg
Ultra Shroom
Iced Potato
Ultra Shroom
Strange Leaf
Iced Potato
Hot Shroom
Potato Salad
Spaghetti
Potato Salad