Goomnut
From the Super Mario Wiki, the Mario encyclopedia
Jump to navigation
Jump to search
Goomnut
Paper Mario description
A special nut found only in Goomba Village. Restores 3 FP.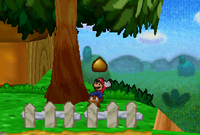 A Goomnut is a chestnut that appears in Paper Mario. The name "Goomnut" is a portmanteau of "Goomba" and "chestnut." Mario can only get them by hitting the Goomnut Tree near Goombario's house in Goomba Village with his Hammer. When Mario fights the Goomba King, there will be a Goomnut Tree in the background. Mario can hit the tree's bandaged root to make a huge Spiky Goomnut (resembling a chestnut still inside the spiny shell) hit the Goomba King and the Red & Blue Goomba Bros., instantly defeating the latter two due to their low HP. Similarly, though, the Goomba King himself can also attack this root, sending a barrage of smaller Spiky Goomnuts to attack Mario and Goombario.
A Goomnut heals three FP and Tayce T. can cook one to make a Nutty Cake. It is used mostly for recipes and is one of the few receivable items at the beginning of the game, resulting in its main use as an item coming then. Mixing Goomnuts with Super Shrooms is an easy way to get Life Shrooms.
In Luigi's Diary, Luigi mentions the Goomba family in Goomba Village giving him a Goomnut. He states that he recovered 3 FP after using it and then asks his diary, "Do you think Mario will notice?"
Recipes
[
edit
]
Profiles and statistics
[
edit
]
Paper Mario

enemy
Goomnut Tree
Max HP
1
Attack
0
Defense
0
Type
Ground
Level
1
Strong
None
Weak
None
Moves
Goomnut Drop
Sleep?
0%, 0
Dizzy?
0%, 0
Shock?
0%, 0
Shrink?
0%, 0
Stop?
0%, 0
Fright?
0%
Air Lift?
0%
Hurricane?
0%
Coins
N/A
Items
N/A
Run
N/A
Location(s)
Goomba Road
Tattle
This is a Goomnut Tree. Spiky Goomnuts will fall down if you hit this tree. They'll definitely hurt if they hit us, but it may be worth it to use them against the enemy.
Names in other languages
[
edit
]
Language
Name
Meaning
Japanese
くりくりマロン


Kurikuri Maron

From「くりくり」(kurikuri, a Japanese term for "big and round") and "marron" (a French word meaning "chestnut");「くりくり」itself is a play of「栗」(kuri, chestnut) or「クリボー」(Kuribō, Goomba)
Chinese
栗子
Lìzi
Chestnut
French
Noix Goom
Goom Nut
German
Gum-Nuss
Goom-Nut
Spanish
Nuez Goomba
Goomba Nut