List of selling prices in Paper Mario
From the Super Mario Wiki, the Mario encyclopedia
Jump to navigation
Jump to search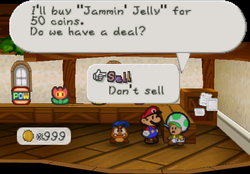 In Paper Mario, Mario can sell items from his inventory to shopkeepers in the nine item shops around the Mushroom Kingdom. Most items can be sold to the shopkeepers for a set price at every shop, however, some items will sell at a higher price depending on the location of the shop and the item itself. Mario can make a profit if he purchases an item at a low price from one store and sells it to another that will buy it from him at a higher price. This page lists every item and how much it can be sold for at each shop.
Selling prices
[
edit
]
Legend
Normal: Standard selling price, in coins.
Bold: Higher selling price than standard selling price.
Blue and Bold: Highest selling prices compared to other shops with other higher selling prices than the standard.
Red and Italicized: Lower selling price than standard. Applies only for some items sold back to the original seller.